These Magical Boston Holiday Celebrations Need to Go on Your Calendar Today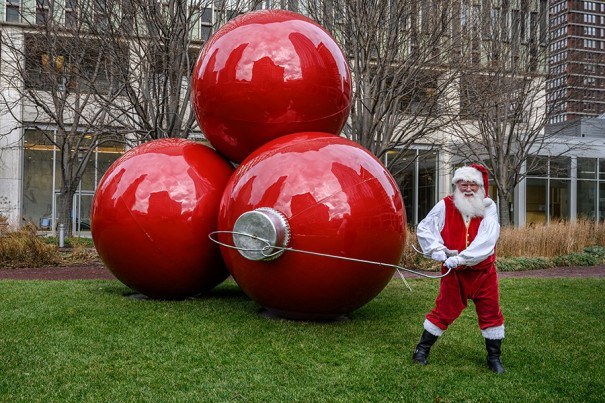 When the holiday season comes to Boston, it brings more than just the cold weather we've been anticipating all fall. The season also brings an energy of giving and celebration, sparkling light displays, and a whole calendar of events (both annual and new) that never fail to put us in the holiday spirit.
But as the holiday season becomes faster paced by the year with the holiday shopping craze, hectic travel planning, and inevitable fourth-quarter chaos at work, you may suddenly find that an event you wanted to go to or a lights display you meant to drive past on the long way home has come and gone. That's why now is your best chance to get your favorite events on the calendar.
So that you can take a pause before the year's end and enjoy the beauty and fun of the holiday season before it's passed yet again, here's a roundup of Prudential Center holiday happenings to take note of before it's too late.
Boston's Most Iconic Lights Display
Prudential Tower is an iconic Boston landmark, and it's visible from countless Boston homes and neighborhoods. That's why the 31 Nights of Light, in its 14th consecutive year of dazzling the Boston skyline and supporting local non-profits, is such a highly anticipated seasonal attraction.
31 Nights of Light is the tradition where the top of Prudential Tower is lit up with a different color in representation of that night's designated non-profit partner. For example, on the first of the Nights of Light, December 1, the top of Prudential Tower will glow blue and gold for Heading Home, a Boston organization that provides emergency shelter, transitional housing, and permanent housing for low-income families.
With the tower changing colors 31 times, it'll be hard to miss the Nights of Light no matter how chaotic your holiday season is this year. Plus, the lights have been off since January 1, 2022, so the lights will be brand new and better than ever. You can count on this Prudential Center tradition to be the festive nightly event you definitely won't miss this year.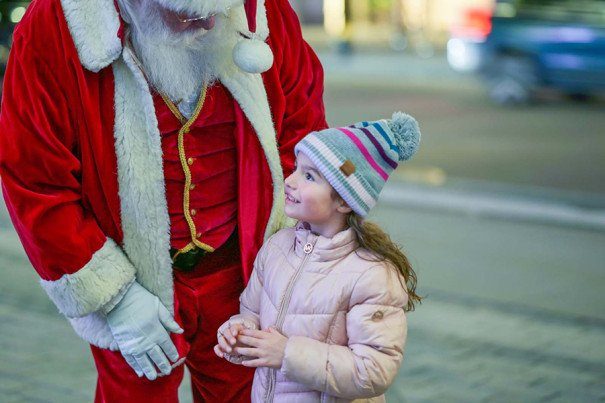 Santa's Coming to Town
Get the kids dressed in their best holiday attire to sit with Santa, who will be in-person this year at Prudential Center for Santa in the City. You'll leave with a professional photo with Santa and the kids for the memories, and, of course, a boost of holiday spirit. Bring the family to Hynes Court, across from Sweetgreen and next to Hynes Convention Center from November 25 to December 24, Fridays from 11 a.m. to 8 p.m., Saturdays from 10 a.m. to 8 p.m., and Sundays from 10 a.m. to 6 p.m.
Plus, bring your furry friends to the pet-friendly photos December 8 from 5:30 to 8:30 p.m., and take note of the Santa Sensory Friendly experience on December 14 from 5:30 to 8:30 p.m.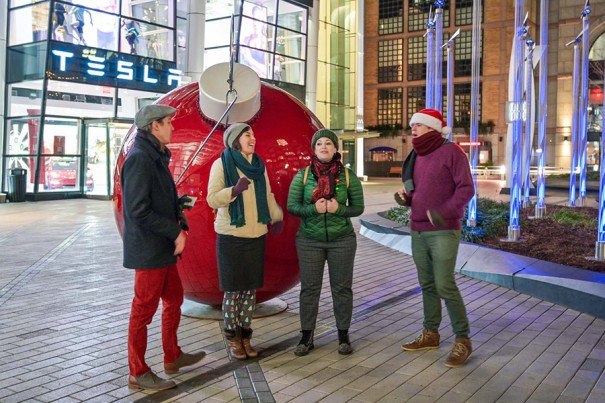 Soak in Holiday Tunes and Flavors
There are some essentials you just can't skip out on during the holiday season–classic holiday carols and hot cocoa are two of those things. Come to Carolers & Cocoa at Prudential Center, Fridays starting December 3 from 4 p.m. to 6 p.m. in Center Court (indoor location). The best part? You're in for some top-notch flavors and musical talent, with hot cocoa provided by Eataly and music provided by professional New York City- and Boston-based singers with a full repertoire of holiday- and winter-themed songs.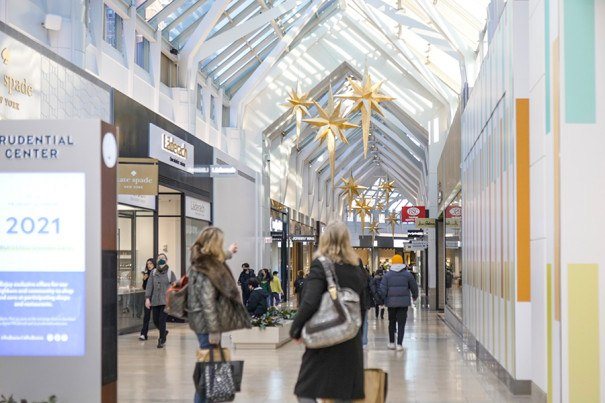 Do Your Christmas Shopping the Festive Way
Mark your calendars for Saturday, December 10 from 2 p.m. to 4 p.m., because Prudential Center is putting on an event for Boston holiday shoppers looking for special deals and promotions on premium brands. The Holiday Stroll will feature just that, with exclusive sales at participating shops and restaurants. Guests are encouraged to shop, eat, and visit the holiday-themed sip stations where they can take a break from the hustle and bustle of the season with a bit of bubbly.
The Holiday Stroll is a perfect event for you and your friends, with festive electric violin music from Vivian Luo, an a cappella quartet by Songful Artists. It's the perfect opportunity to get your loved ones the perfect gifts and take in the pleasant and familiar sounds and flavors of the holiday season. Plus, collect stamps from all the participating stores and enter to win a $1,000 holiday Prudential Center prize pack.
Want to join in the holiday fun? Visit prudentialcenter.com/events to make your festive plans today.
This is a paid partnership between Prudential Center and Boston Magazine
---