Flying Out of Boston? Here's the Ultimate Guide to Conquering Logan Airport
If there's two things Bostonians appreciate, it's efficiency and great food. Think dodging traffic on the way to Cape Cod and a fresh cannoli for dessert in the North End. These priorities make things like travel a little tricky—although we love to get away during the winter, we could do without the waiting and the often-half-hearted airport food.
This season, Bostonians may find that travel is actually kind of great after all, thanks to Boston Logan's newest redevelopment project, delivering Boston-born restaurants and new amenities curated for your travel needs.
Here's a guide to navigating the reimagined Boston Logan, terminal by terminal. It'll be easy with the fantastic new dining alongside you.
First thing's first: arrive early
We all know people—we see you, Boston moms and dads—who arrive at the airport hours early. Although you may still be subconsciously trying to prove your parents wrong by getting to your gate with just 15 minutes to spare, it could actually be in your best interest to let the apple fall where it's meant to land (right next to the tree, or at least two hours early for your flight).
If you still don't want to listen to your parents, listen to Massport and the TSA, who say you should arrive two hours before your domestic departure, and three hours before your international departure. Security checkpoints open one hour prior to the first departure of the day. Don't forget your ID and/or your passport, and review the website for a refresher on all the things you can't take through security, like liquids over 3.4 oz.
If you arrive early at the airport, you'll likely save yourself the anxiety of missing your flight, first and foremost, and you'll even have time to sit down for a real meal.
And considering all the top Boston restaurants serving satisfying meals for any time of day, this, if anything, should be your motivation to get to the airport with plenty of time to spare.
But life's not perfect–if you're in a bind and only have a half hour or so when you reach your gate, hope is not lost. BOS2GO is Logan's in-airport food delivery service, and it's here to support you through even your craziest travel days. BOS2GO is also great for those looking to try food that's in a different terminal, and those traveling in large groups.
If you're flying out of Terminal A
…you're in luck. As soon as you get through security, you have one of Boston's favorite Italian restaurants on your left. It's Chef Michael Schlow's Alta Strada, whose original location in MA is in Wellesley.
Alta Strada is serving up fresh appetizers, pizzas, sandwiches and burgers, and, of course, fresh pastas like spaghetti, tagliatelle, fettuccine Alfredo, and rigatoni. In addition to a beer and wine list, Alta Strada also mixes a mean Aperol spritz, a signature Strada margarita, and an ALTA old fashioned.
The best part? You don't have to choose between sitting at your gate to charge your device and having a meal. New restaurants at Boston Logan are all equipped with charging ports at each table. So, when your meal at Alta Strada is done and your devices are recharged, there's only one thing left to do: go to Dunkin' just across the way for your pre-flight coffee or tea (so you can recharge, too).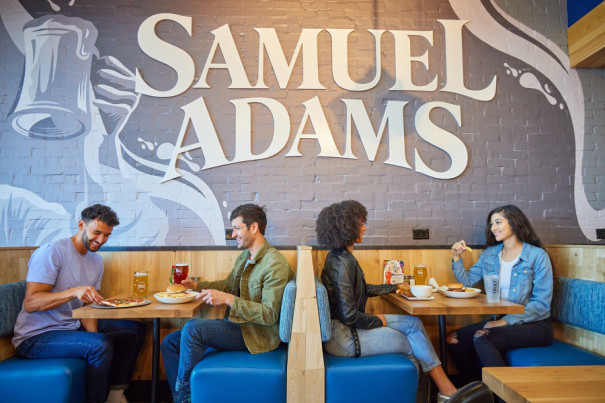 If you're flying out of Terminal B
…You'll enter the terminal in one of two locations, next to B28 or B14. Either way, you've got the perfect afternoon or evening meal waiting for you on the way to your gate: Kelly's Roast Beef is located on both sides of the terminal. This classic sandwich shop has been serving freshly prepared sandwiches and more since 1951.
Now, you can taste their iconic New England flavors and pay homage to Boston history before you depart. From a classic lobster roll to the original three-way roast beef sandwich (American Cheese, mayonnaise, James River BBQ sauce), Kelly's is one of the best ways to say goodbye (or hello) to Boston.
If you're looking for brews and classic pub fare, Sam Adams Brewhouse is the place for you and yours, serving all the essentials and bringing back memories of your times at the Boston Taproom on State Street.
If you're in the mood for Mexican, Temazcal Tequila Cantina is open all day near B17. That means you can catch a real breakfast before your early flight, lunch before your afternoon flight, and early dinner before your evening flight. Temazcal has one of Boston's favorite Mexican menus, from chopped salad to salmon tacos and specialty tacos, enchiladas, and fajitas. Temazcal Cantina can fit solo travelers, couples, even larger families, so your herd won't have to make laps around the terminal trying to find a place you can all sit.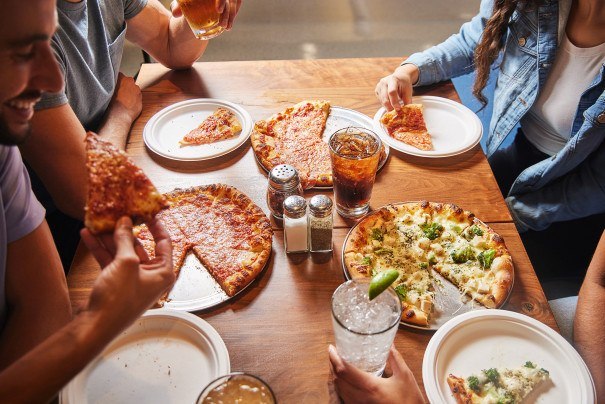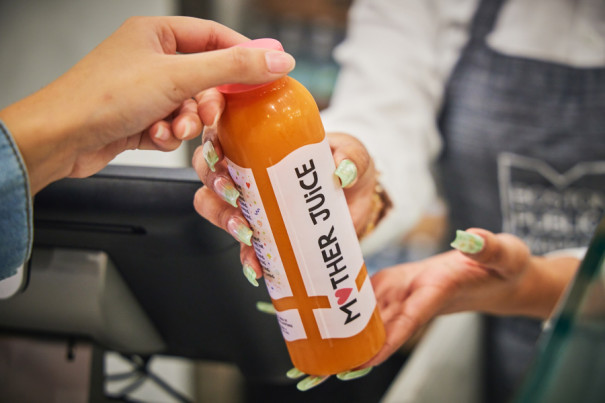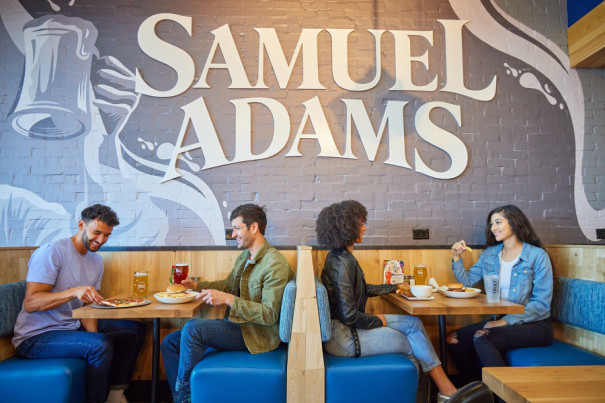 If you're flying out of Terminal C
…you might decide you want to stay in Boston, because as soon as you exit security, you'll be met with Davio's Northern Italian Steakhouse. This Boston-area staple for fine dining has humble family roots in Back Bay, and now, it can be your dining destination before you reach your final destination. You're likely to find that a meal at Davios at Logan is just like a meal at Davios in the city, with its signature northern Italian steaks, fresh seafood, and handmade pasta dishes.
Shōjō is the perfect option for an Asian fusion meal, located next to C19 and originating from Boston's Chinatown. Shōjō offers modern Asian cuisine like pork belly dumplings, the Shojonator, their signature burger complete with smoked bacon, kimcheese on a sesame bao bun, and specialty drinks like the Rolls Royce (gin, sweet vermouth, dry vermouth, Benedictine) that will raise your cocktail standards.
For a quick meal East Boston,'s Santarpio's Pizza is now open next to gate C21. A landmark to locals best known for their classic Boston-style pizza, Santarpio's is the perfect way to satisfy that pizza craving (you know the one) and relax with a reliable comfort food before your flight.
If you're looking for a fresh farm to table experience on the go, you can rely on Boston Public Market next to C26 for a quick yet satisfying meal. Home toThe Market Bar, Market Bagels, Red's Best, Mother Juice, Beantown Pastrami, and Fresh Eats. Ingredients come from New England farmers, fishers, artisans, and food entrepreneurs.
Mother Juice, a current Boston Favorite in Kendall Square and Newbury Street, serves juices, breakfast bowls, vegan and gluten free baked goods, and fresh salads. If you're looking for a protein-packed meal, try Red's Best fish market, where they're serving fish sandwiches, clam chowder and lobster bisque, classic plates like lobster rolls and crab cakes, and an essential collection of mouthwatering sides. With all these options (and more), maybe you won't have to settle for peanuts or pretzels on your flight.
If you're flying out of Terminal E
…you're likely flying out of the country, so having a quintessential Boston meal before you go is that much more meaningful. Monica's is an iconic Italian restaurant in the North End brought to you by the Mendoza family. You can enjoy salads, pizzas, and sandwiches before your travels abroad.
Another Boston icon: Stephanie's, which also has a location in Terminal B. Stephanie's is a full-service restaurant and bar—you may recognize it from Newbury street, where they've been serving elevated comfort foods from a fantastic seasonal menu. When you look up from your plate, you'll be surprised to find yourself across from gate E7. Either way, tastes like home.
Another quick-serve option in Terminal E is located right next to Monica's: Wow Bao. It's Asian-inspired street food like bao, potstickers, and bowls. Breakfast Bao? No problem.
This is a paid partnership between MarketPlace Development and Boston Magazine's City/Studio
---