This Massachusetts Town Is Becoming Bostonians' Go-To For Finding the Newest Food, Fashion, and Fun
May flowers have finally arrived in Boston, inspiring new energy and excitement in and around the city. Many of us will find ourselves out on the town more often, looking to embrace our new leases on life with shopping sprees, fresh-food finds, and entertainment that makes the good weather and good vibes even more euphoric.
There's no better way to fill that need for new experiences than exploring Boston's most exciting store openings, and fortunately, just outside Boston, outdoor experiential shopping destinations like Legacy Place in Dedham, Massachusetts, have been anticipating that need all winter. Now they're meeting Bostonians' spring fever with the food, personal style, wellness, and entertainment newness we've been waiting for all winter long. Here's how you can spend a day enjoying spring fashions, flavors, and films at Legacy Place's newest tenant openings.
Get Energized
The best way to start a day of shopping is by getting some pep in your step. For some of us, that means caffeine. Where to begin? Indulge in a fresh, inventive flavor. For this, try the brand-new MÖGE TEE bubble tea store.
Inspired by thousands of years of traditional Chinese tea culture, MÖGE TEE serves "New-Style Tea," a sweet, herbaceous blend with ingredients and toppings like fresh fruit, cheese foam (cream cheese, whipping cream, milk, salt, and sugar), and boba. You'll love the flavors, and you'll love the green-tea type energy it gives you.
For a classic, masterful latte in a real mug, hit Caffe Nero. It's a Boston staple, although it has its roots in London, and the Legacy Place location has outdoor seating so you can take advantage of all the energizing fresh air benefits, too.
For others, that energy is best served with some adrenaline and a quick sweat. Try an outdoor fitness class on the Legacy Place garage rooftop (or, by all means, pair a workout with a coffee or bubble tea for the optimum shopping-ready buzz). Stay tuned for the rooftop Body Burn class with Liah Malley and Allie Hurwitz on May 20 at 6 p.m.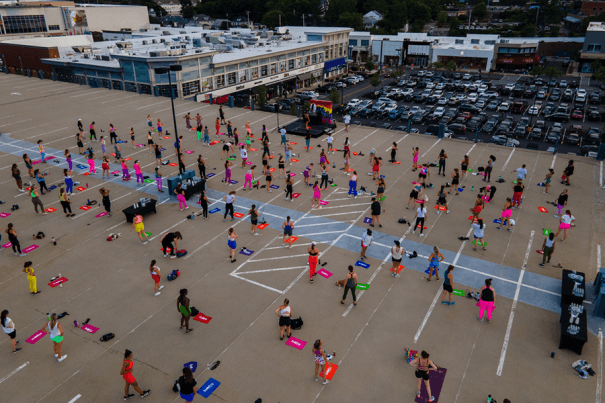 Sneak in Some Self-Care
When you arrive, you'll notice that the experience at Legacy Place is not all about clothes and shoes. That's because their collection of tenants offers a 360-degree range of retailers and services. When you come to spend the day, you can lead with some self-care to get you in the right mindset. After all, if you want to feel that spring freshness inside and out, that's the way to do it.
Restore Hyper Wellness is a key wellness option at Legacy Place. A new highlight in the neighborhood, Restore's mission is to improve the lives of their customers through cryotherapy, IV drip therapy, compression therapy, infrared sauna, assisted stretching, and more.
Also coming to Legacy Place for your self-care Saturdays (or any days) are Skin Laundry in May 2023 and Miniluxe (opening in fall 2023). The first is a full-service nail salon taking New England by storm with its own ethical and clean nail care products, and the second is a laser facial company where all facials are performed by registered nurses.
Productivity can be a form of self-care. Try this route by trying out a space at Industrious, the newest flexible workplace in Dedham. With more than 35,000 square feet of stunning private offices and suites, Industrious is the ideal environment to tune out the noise and get your to-do list done before you start your day of shopping. You can also book a tour before you invest in the space.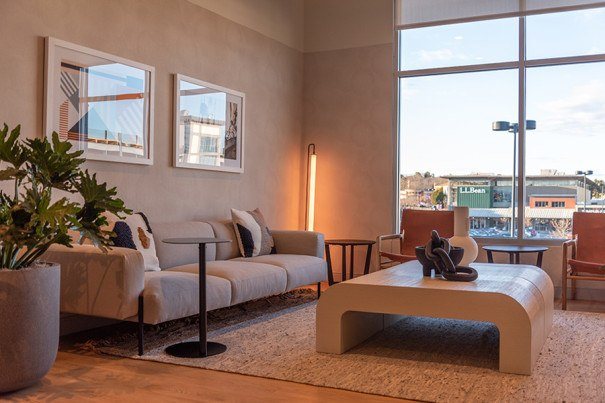 Get Your Spring Clothing Fix
When it comes to spring and summer clothing, Legacy Place is hitting a home run. Find the best florals and bohemian styles at Anthropologie, your new spring fitness gear at Booty by Brabants, and fun jewelry for your spring events at Kendra Scott.
TravisMathew is the new kid on the block, a Southern California brand with men's lifestyle and performance apparel that's perfect for golf attire and casual spring events. TravisMathew styles are laid-back and comfortable, making it the perfect Father's Day gift or a fix for someone in your life who loves to sport a new golf outfit.
For women, EVEREVE is a must-stop. The store curates pieces from brands like Rails, Citizens of Humanity, Michael Stars and more, plus inclusions from their own highly sought-after brand. From basics like tees and pants to statement dresses and bags, EVEREVE will be your new go-to for comfortable, practical, and flattering styles. Their approachable pieces and irresistible summer fashions will be hard not to wear right out of the store.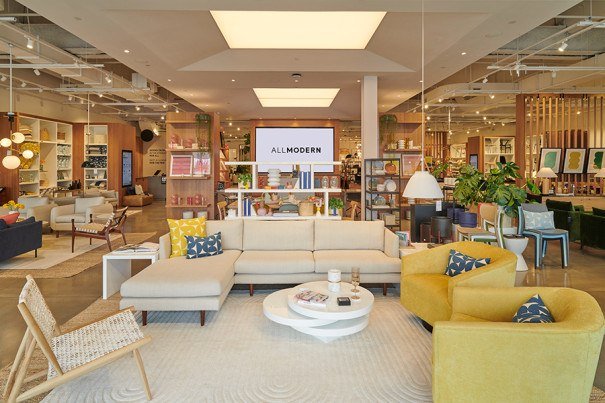 Make Over Your Favorite Home Spaces
Spring is all about the refresh—opening the windows, lightening the linens, gathering with friends after months of hibernation," says Reena Person, General Manager of AllModern. After staring at the same old rugs, couches, and curtains since the New England cold set in, spring is the best time to implement fresh changes in your home. In their second brick-and-mortar location, AllModern is bringing new offers for spring and summer (patio makeover, anyone?) plus new digital design technology and free design services.
AllModern's pieces range from smaller decor items to furniture like sofas and beds. "AllModern sells the best of modern design, across all styles you can imagine—Mid-Century, Minimalist, Scandinavian, Modern Farmhouse, Global, Maximalism," says Person. "You name it, we've got it." So whether you're in need of a complete room refresh or some new accent pieces to liven up the space, AllModern is the perfect place to collect inspiration and implement it in your favorite rooms.
Their design experts will lead you through decision making with their advice and guidance, and you'll leave with some exciting finds that don't break the bank, and a concrete vision to put together when you get back home.
The best part? Whether you're picking up smaller items in-store or ordering an item to be shipped to your home, you'll get that instant gratification you want—online items ship in days, not weeks.
Enjoy a Meal With The Freshest Ingredients
Legacy Place restaurants are welcoming patrons to their outdoor patio dining spaces for the season, so whichever restaurant you choose, you'll be joined by some sun and fresh air while you eat. For a mid-day marg, check out Temazcal Tequila Cantina; for a quick, hearty meal pop into Sweetgreen.
If you're craving seafood, Legal C Bar has just launched a fresh new look and a Sushi & Sake menu at all their restaurants, so stop in at their Legacy Place location and be one of the first to try the new fare.
Plus, Life Alive cafe and Capital Grille are opening at Legacy Place in the coming months. Life Alive is the perfect place to enjoy fresh, healthy fuel for the rest of your shopping. Their menu is organic and plant-forward, including warm grain bowls, cold salads, noodle bowls, wraps, smoothies, açaí bowls, cold-pressed juices, and wellness lattes.
Plus, their atmosphere is undeniably photo-worthy, with pops of color surrounding a space with cozy nooks, plus and free wifi, and homey-yet-eclectic decor.
For more of an upscale, formal-style lunch Capital Grille is a New England favorite serving classic American steakhouse fare and a fancier selection of drinks, apps, and entrees. The Capital Grille will be a great option if you're touring with out-of-town friends and want to treat them to an impressive meal, or if you're in the mood to indulge and treat yourself.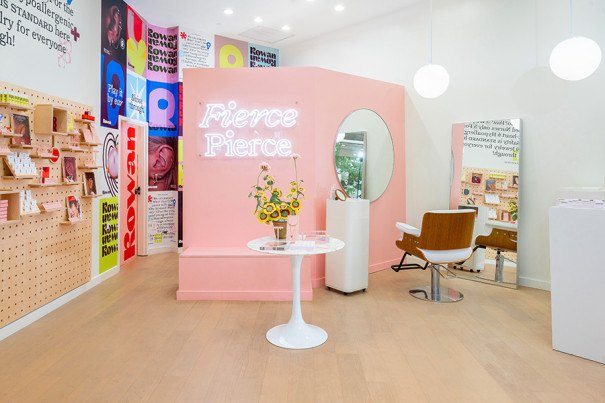 Settle in For Spring Celebrations and Entertainment
If you or a loved one is celebrating a birthday or milestone, Rowan piercing studio is here to celebrate with you. The Legacy Place store is their first Massachusetts piercing location, and they offer fun, safe, and celebratory piercings for everyone as young as infants. All Rowan piercings are done by licensed nurses, and their products are always hypoallergenic. It could be the change you didn't know you needed, or a fun surprise for a little one who's been begging to get their ears pierced.
Or, whether you have plans to stay at Legacy Place for an evening movie or want to plan another trip back, entertainment can be a great reason for a Dedham roadtrip. Showcase Cinema de Lux will be unveiling showings of Disney's The Little Mermaid starring Halle Bailey and Greta Gerwig's Barbie, so get your tickets so you don't miss those spring headliners coming soon.
Barnes and Noble, which opened last November as the property's first bookstore in several years, will also be participating in collaborative events with Showcase to celebrate the releases of film adaptations Are You There God, It's Me, Margaret and Harold and the Purple Crayon.
This is a paid partnership between WS Development and Boston Magazine's City/Studio
---