3 Lessons from Boston Veterinary Clinic, The Fear-Free Vet Coming to Your Boston Neighborhood
Unconditional love: It's one of the universe's most treasured entities, an emotional bond so highly-sought-after, and a pure and boundless connection. It's a miracle, really, that it extends past humankind—if you've ever had a family pet, you understand. We humans fall in love with our animals. We beam at their joy, we wince at their pain, and we feel their fear.
That's why going to the vet, for many pets and parents, is a huge challenge and sometimes a dreadful experience. Hiding behind familiar legs and in the safe corners of carrying cases, our pets (who, by nature, are harder to reason with than even human toddlers) often loathe vet visits. And because we love them, we often dread the visits, too.
Boston Veterinary Clinic (BVC) is serious about changing that standard for Boston-area pets. They're a certified Fear-Free clinic, meaning they work to reduce fear, anxiety, and stress (FAS) during the veterinary experience—for the patient and parent. We sat down with BVC's Dr. Brian Bourquin, better known as Dr. B, to learn about how it all works.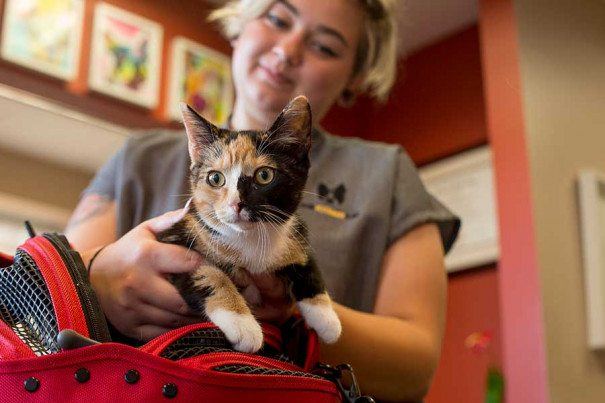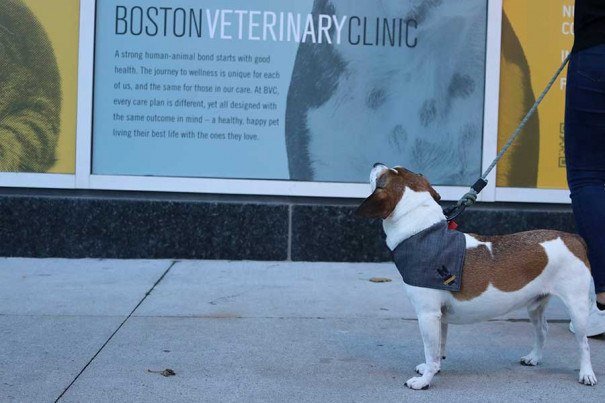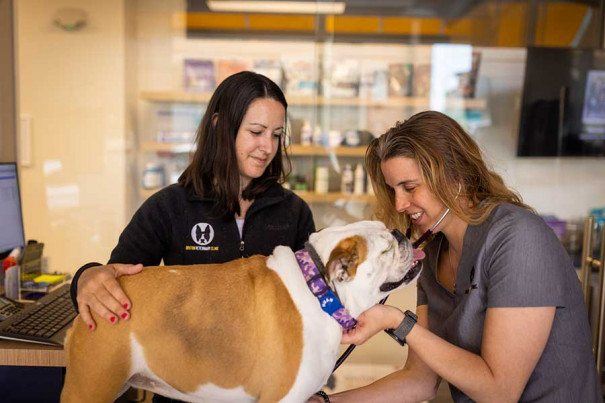 The story of BVC
BVC opened the doors to their first brick and mortar in 2014. At the time, Dr. B was disappointed in corporate ownership's impact on the quality of veterinary medicine. He wanted to establish a veterinary haven for Boston fur families. "We wanted our patients and their guardians to have the strongest bond over a long and healthy life," he says.
Today, BVC is AAHA accredited, joining only 12% of clinics in America with the honor, and is widely known as 'your other family doctor.' They put a significant focus on wellness, early detection, disease prevention to ensure our pets live a long and healthy life.
That care includes vaccinations, advanced diagnostics, dental cleaning, spay/neuters, behavior consultations, acupuncture, laser therapy, and in-clinic, board-certified cardiologists and internists.
Dr. B tells us that fear-free has been the philosophy since before it even had a name. "It wasn't until Dr. Marty Becker created the Fear Free Certification that we adopted the words," says Dr. B. "The sentiment, the goal, the mission was always there." And it always will be, he says, as the clinic expands thanks to a partnership with Denali Growth Partners, a Boston-based growth equity firm specializing in healthcare.
After the expansion, BVC will consist of BVC Bay Village and BVC Seaport, as well at an expanded BVC Brookline this summer, and brand-new Charlestown and Wellesley locations opening by Winter 2022.
"Our goal is to provide a continuity of care for Greater Boston's pets, accessible wherever our clients live, whenever they need care, and provide those services they need the most," says Dr. B.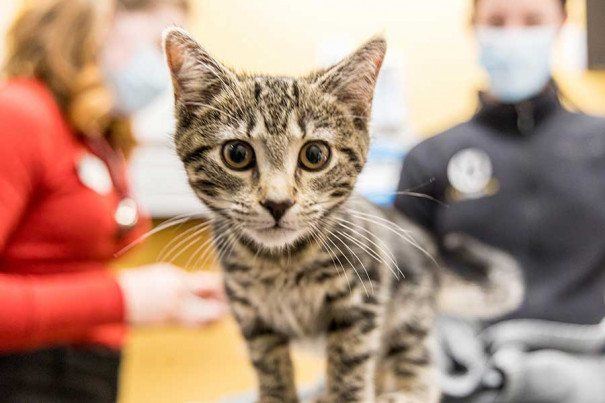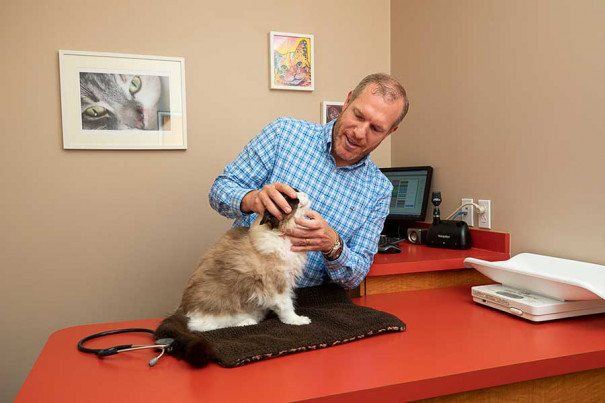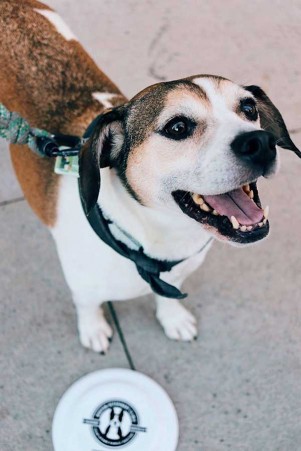 Lesson #1: Fear-free starts at home
It may come as a comfort that your pet's vet experience is, in part, within your control. "For cats, fearful of the carrier, or anxious doggies, we recommend carriers that are comfy and may double as a bed in the home, and pheromone sprays or familiar toys and blankets to calm the pet," Dr. B says.
He also recommends scheduling your vet appointment for a day when you can give your undivided attention to your animal, at a time when you may be able to tell them a story or speak to them calmly while in the car.
But even after a car-ride pep talk, when you enter the parking lot, the real challenge often begins. "This is where positive encouragement can definitely come into play, using soft tones, yummy treats, and a 'let's go' to get the pet on track," says Dr. B.
He recommends carrying cats and exotic pets gently and to consider putting a familiar blanket over the carrier to protect them from weather and other curious snouts on their own vet visits.
Sometimes BVC will even have you wait in the car until they are ready, avoiding the often-scary waiting room. They may also conduct the visit in a safe outdoor space to avoid entering the clinic at all.
Additionally, If the doctor believes it will help, they may prescribe pre-visit pharmaceuticals (PVP's), free-of-charge. "PVP's help calm the pet without affecting their ability to walk or experience the journey in," says Dr. B. "Sometimes that's enough to help the pet experience the adventure differently than before."
For all pets, BVC recommends stopping by to say hello while out on a walk or drive for a "happy visit," which requires no appointment. "Just drop in, see any of our team members, get some treats, maybe get them weighed, and then be on your way," says Dr. B. Your pet will begin to associate the visit with positivity (treats and affection), affirming their experience for smoother future visits.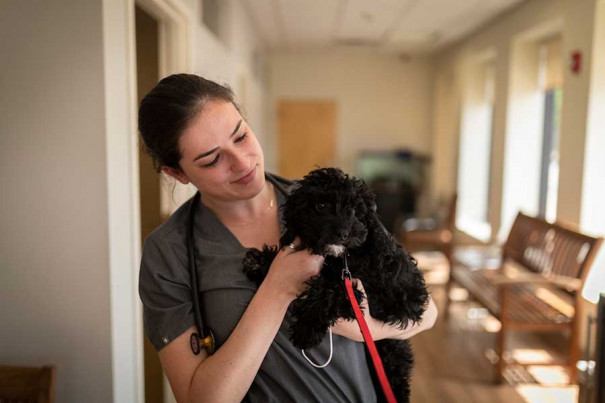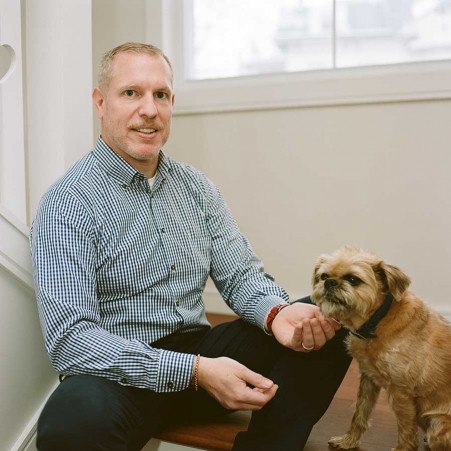 Lesson #2: Environmental details make a huge difference
Inside the clinic, you'll discover that BVC has curated every detail to optimize your animal's comfort. There are separate dog and cat exam rooms, waiting areas, and treatment areas. Treat jars are placed generously in every room, with varying 'reward' levels from all-natural dried chicken breast to cod skins to soft cheese.
Dr. B explains that they even chose warm wall colors specifically for pet comfort, as well as specific pheromone diffusers in all pet areas, and non-skid floors to avoid the startle of slipping.
Your pets will start their exams with a warm towel on a foam mat for ultimate comfort—with music playing in the background, of course—and vaccine chillers in-room to reduce the amount of movement by the team during the exam. Some rooms are bright, and some, for more fearful pets, have fewer windows.
There is even a quiet room option for higher FAS patients. Those rooms have couches, rugs, upholstered chairs, more space, and a private exit and entrance that bypass waiting rooms altogether.
Many exams will happen on the floor, where your pets feel most comfortable. BVC team members never use aggressive holding techniques, using instead more personnel to provide distraction with treats and soothing conversation. What's more, vaccines are only the highest quality and lowest volume on the market to reduce reactivity and injection site swelling.
Lesson #3: You are a partner, not a customer
This lesson can change the way you view the veterinary experience—it implies mutual effort, teamwork, and control from both parties. That means your vet relies on you to care for your pet at home, prepare them for their visit, and bring them by the clinic for happy visits. And in return, you rely on them to make sure your beloved animals are healthy and happy.
To deliver on this promise, the entire BVC team is trained in techniques, processes, and procedures designed to improve how they and their clients experience veterinary care. For example, if after three attempts at a procedure the patient is still resisting, BVC stops and asks you to come back free-of-charge to avoid overwhelming the patient.
"We have developed our techniques and processes over years of experience in providing fear-free care, and we continue to improve every day, with every pet," says Dr. B.
"And how we can tell it works," he says, "is when our patients are pulling their companions into our clinics, just to say hello and get a treat."
Dr. B and Boston Veterinary Clinic are here for their patients and guardians any time they stop by a BVC location. Dr. B is also the host of 'Tails from the City,' a podcast dedicated to everyday pet care tips for urban and suburban pets. To learn more about BVC's Fear-Free philosophy and book a personalized appointment today, visit bostonveterinary.com.
This is a paid partnership between Boston Veterinary Clinic and Boston Magazine's City/Studio
---