Get to Know Boston's Left Bank with a Guide to These 5 Cambridge Neighborhoods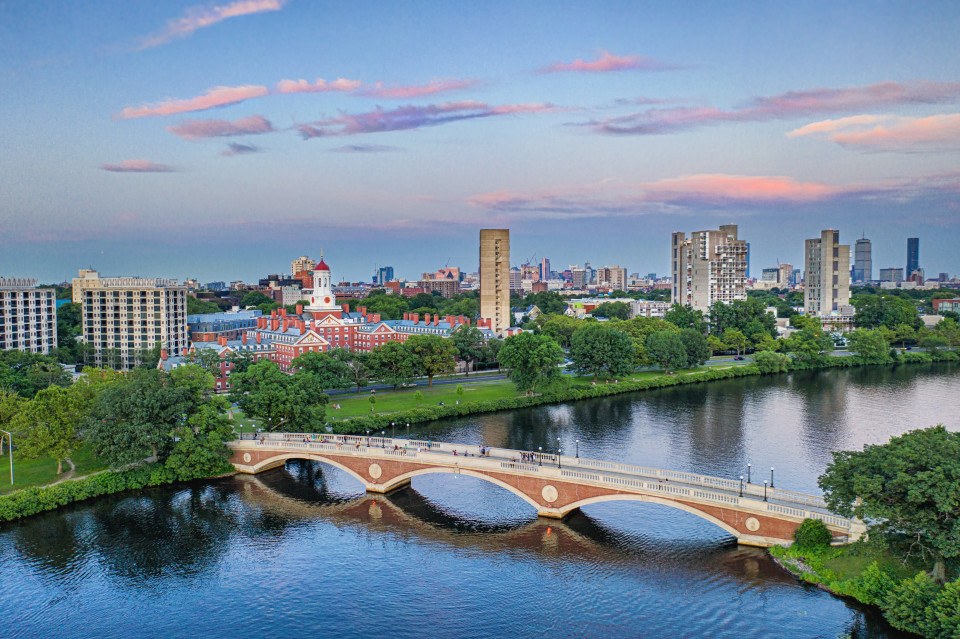 Cambridge, MA is located just across the Charles River, less than a 10-minute drive from downtown Boston. It's home to Harvard University, of course, but there's more for you to discover in the charming Cambridge neighborhoods that attracts visitors from near and far.
Cambridge neighborhoods offer eclectic and authentic bars and restaurants, including some of Boston's favorite options for international cuisine, and plenty of things to do for your visit.
That's because each of Cambridge's five main neighborhoods (or squares, as locals call them) has a personality all its own. Whether you're looking for a wholesome day trip, a place to spend the weekend, or a romantic date night, Cambridge has what you need.
Central Square
This tiny-but-tenacious patch of the city is an up-and-coming, trendy Cambridge neighborhood that you'll likely find yourself returning to very soon. When you visit, you'll find that expertly brewed coffee, Prohibition-inspired cocktails, and healthy smoothies are always close at hand here. You can find just about any cuisine you're in the mood for, from sushi, to hot pot, to global tapas, Lebanese, and more.
If you're a fan of thrift shopping and looking for vintage finds, this is your place. After your day of shopping, you can catch a show at Central Square Theater, which hosts the Nora Theatre Company and Underground Railway Theater.
Harvard Square
Especially if it's your first time in Boston or Cambridge neighborhoods, a trip to the city isn't complete without a visit to historic Harvard Square. Arrange for a guided stroll through Harvard Yard on The Hahvahd Tour to get a healthy dose of the Ivy League and take in some of the world's most renowned art pieces at the Harvard Art Museums.
Hit the Harvard Book Store if you're looking for something to read—check out the basement where the used bookshelves house discounted used books looking for a new owner. After your day of exploration and inspiration, hit Alden & Harlow for contemporary American subterranean dining destination. Finish your night at Shays Pub & Wine Bar, which will welcome you with its coziness and unique character.
Inman Square
On Inman Square's Cambridge Street, enjoy more authentic small businesses serving up lots of local and ethnic fare. Try traditional Portuguese dishes at Casa Portugal or The Portugalia Restaurante. Then enjoy a properly poured Guinness at The Druid, a popular Irish pub housed in the oldest wooden mercantile building in Cambridge. If you're in the mood for some live music, catch a performance at the award-winning music venue, the Lily Pad.
Try Christina's Homemade Ice Cream after (or before) dinner and bring home some spices and rare cooking ingredients from their partner store, Christina's Spice and Specialty Foods. When you and your friends are looking for something crafty, try gather here, a fun destination that doubles as a sewing studio and fabric and yarn shop. Even if you have no experience, staff will help you make something you'll love.
Kendall Square
Kendall Square is brimming with things to do and fantastic food and drinks to enjoy. You can tour MIT with Trademark Tours and learn all about the quintessential Boston campus. You'll want to stop at The Garment District, a vintage secondhand store like no other you've likely seen—it's catching people's attention across all of Boston.
For eats, try Area Four for brick oven pizza and weekend brunch, the Glass House for modern American bites plus a New England raw bar, and Mamaleh's Delicatessen for classic Jewish deli favorites like hand-sliced pastrami and matzah ball soup.
Porter Square
The 46-foot-tall, bright red "Gift of the Wind" kinetic sculpture greets you as soon as you step out of the subway station in bustling Porter Square, a densely packed commercial district where international restaurants abound. This is a great area to meet for leisurely lunches and strolls through town with friends. You can choose from savory options like Mediterranean fare at Baraka or the ramen menu at Yume Wo Katare.
If you're looking to stay in a Cambridge neighborhood for a long weekend, the Porter Square Hotel is a great option for you. It's a boutique hotel just steps away from the MBTA Red Line train. Porter Square is home to name brand shops for your perusing and has 25 restaurants for you to choose from.
For more information about Cambridge, MA and to plan your visit today, visit cambridgeusa.org.
This is a paid partnership between Cambridge Office for Tourism and Boston Magazine's City/Studio
---