An Insider's Guide to Planning the Ultimate Cape and Islands Getaway
You've been dreaming about it all winter. Toes in the sand, fresh lobster dinners, sailing into the sunset…an idyllic seaside escape. Here's the good news. The wait is finally over. New England's favorite vacation destinations are ready to safely welcome you back and turn your seasonal getaway dreams into reality.
It's no secret that spring is when Cape Cod, Martha's Vineyard, and Nantucket come to life. Miles of beautiful beaches and trails await to be explored just outside of quaint towns full of charming shops and restaurants. There's simply so much to do, see, eat, etc. that planning a trip can get overwhelming.
Don't stress. We asked the experts for their favorite, authentic Cape and Islands experiences that should be at the top of your itinerary, whether you're set on one destination or eager to experience all three. Here's your ultimate guide to each.
Insider Tip: Yes, you can visit all three destinations in one very rushed three-day weekend, but we recommend planning for a longer trip if you want to experience all the Cape and Islands have to offer. While the Islands are small, and the highlights of each can be seen in a day, Cape Cod is much larger and needs more time. If you're planning for a weekend, we suggest choosing just one or two destinations so you can enjoy them to the fullest.
Getting There: Located just 70 miles south of Boston, the Cape is just a short drive away—and Route 6A that runs all the way to Provincetown is as scenic as it gets. As alternatives, take a ferry to P-Town straight from Boston Harbor or hop aboard the weekend CapeFLYER passenger train from Boston!
Don't Miss: Exploring the Cape Cod National Seashore, which comprises six spectacular swimming beaches, picturesque lighthouses, rolling dunes, hiking trails, bike paths, and plenty of historic sights stretched out along 40 miles of the Atlantic.
More Authentic Experiences:
Insider Tip: The Cape is the ideal spot for an unforgettable whale-watching adventure and whale watching trips depart daily in season from Provincetown and Hyannis.
Getting There: A true island located 7 miles off the coast of Cape Cod, year-round passenger and vehicle ferry service to the Vineyard is available from Woods Hole on Cape Cod; and seasonal passenger-only ferry service can be found from Falmouth, Hyannis, New Bedford, Rhode Island, and New York. Year-round flight service is available from Boston, and seasonal service from New York, New Jersey, Washington DC, and South Carolina.
Don't Miss: A sightseeing tour. Whether by bus, van, bike or kayak, a tour can acquaint visitors with parts of the Island they might never otherwise see. A sampling of specialty tours includes the African American Heritage Trail, the self-guided Deaf Heritage Tour, or for lovers of the film, the Amity Island JAWS tour!
More Authentic Experiences:
Stop at a farm stand to enjoy produce, cheeses, and fresh baked goods all made on site.
Visit a few of the small, vibrant art galleries that dot the Island to discover one-of-a-kind treasures.
Take a nighttime paddleboarding or kayaking tour and experience the Island in a whole new way.
Insider Tip: Download the free TrailsMV app to discover miles of stunning hiking, walking, and cycling trails throughout the Island.
Getting There: Year-round passenger and vehicle ferry service to Nantucket is available from Hyannis on Cape Cod; and seasonal passenger-only ferry service can be found from Falmouth and Woods Hole. Or, for the quickest journey, hop on a plane from Boston, Hyannis, or New York and be in Nantucket in no time.
Don't Miss: The history and the great outdoors. Rent a bike to get around the island, shop around the historic downtown, enjoy fresh cuisine from around the globe, visit the many museums, historic locations, and monuments, or do their self-guided historic walking tour. Nantucket also has three awe-inspiring lighthouses that are just as photogenic as their surroundings.
Other Authentic Experiences:
Insider Tip: Find more of Nantucket's unparalleled offerings by downloading the Nantucket Chamber app with an interactive map.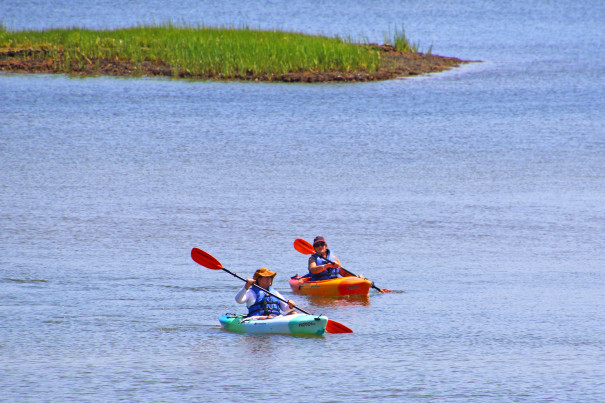 While some things have changed, the most important pieces haven't. You can still enjoy all of your favorite things about the Cape and Islands, like stepping back in time before chain stores to a place where authentic, one-of-a-kind experiences await. Wide open, natural spaces also make it easy to enjoy the great outdoors safely—whether it be kayaking, biking, fishing, hiking, or swimming. No matter how long your stay, the Cape and Islands can't wait to welcome you. So, what are you waiting for? Your dream escape awaits.
To discover more of all the Cape and Islands have to offer, visit CapeCodChamber.org, MVY.com, and NantucketChamber.org. This post is funded by the Massachusetts Office of Travel & Tourism.
This is a paid partnership between Cape Cod Chamber of Commerce, Martha's Vineyard Chamber of Commerce, Nantucket Island Chamber of Commerce and Massachusetts Office of Travel and Tourism and Boston Magazine
---