The Headache of Car Ownership in Boston Is a Problem—Here's How We Could Overcome It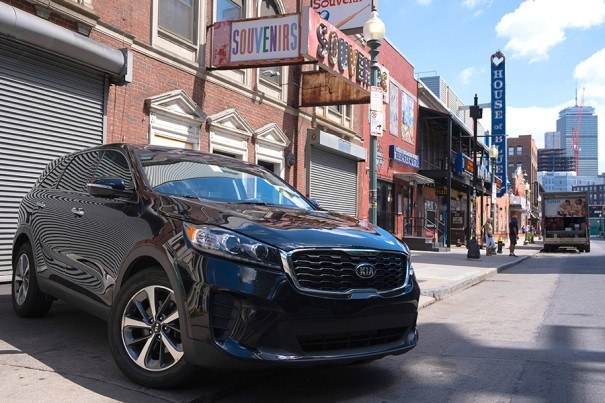 For Bostonians, the reasons to have a car in the driveway are endless. How else, for example, will you get down the street to your T stop in the frigid Boston winter? (We've all been there.)
However, the convenience of having your own transportation comes with car payments, fender benders, repairs, insurance, taxes, waiting months for a new car–you name it. It's the price we have to pay for convenience, right?
Not according to Flexcar, a company relatively new to Boston, that is set to completely change our relationship with cars. Flexcar presents a new car-subscription service model that gives you full access to your choice of vehicle, from economy sedans to luxury SUVs, for however long you want. It's like having your own car without the downsides of traditional car ownership, and without getting stuck in a long lease.
As the city continues to change in the often-chaotic, post-pandemic era, it's providing the flexibility everyday life in Boston requires. Here's how this new subscription model could change the way Bostonians get around–and what it might mean for you.
Saving Time
As Flexcar grows in popularity in Boston, it's demonstrating that having a car doesn't have to require hours of wasted time, in contrast to car ownership (especially in the current economy).
The first hassle you experience when you own a car happens before you even have it. Right now, because of supply chain issues, the barrier to entry for getting a car is crazy high. With supply so low, you could be looking at months before you have access to a car. In other words, as Bostonian and Flexcar user Thom Gennaro says, "Buying a new car is terrible."
This supply problem is intense enough in Boston that people are starting to catch on to the instant gratification of Flexcar. Take Gennaro, for example. "I downloaded the app; I put in my credit card and my driver's license." He then chose the car he wanted and picked it up the next day. The five locations to do so are in Braintree, Waltham, Peabody, Framingham, and Seaport.
"Given how difficult it is to buy cars right now, and that we are providing this great alternative, we have seen our business pick up," says Flexcar CEO Vikram Singh. "We'd love to get to a place where people choose not to buy or lease cars, but instead subscribe to cars because it is a service that they need," he says. "And we can provide that in a completely hassle-free way."
Plus, with Flexcar, he says, you'll also get to skip the mandatory Massachusetts inspection that's required when a car does finally arrive. (The inspection is mandatory every year for car owners and can take up to two hours.)
In fact, you'll never have to take a car to the mechanic ever again. For any maintenance on a Flexcar vehicle (including any collision damage that occurs), Singh says, the process couldn't be any simpler: "We'll swap out the car and give you a new one."
That also means no waiting for new parts to arrive for replacement, another current consequence of the supply chain problem.
Flexibility
Flexcar is catching on in Boston also because of its extreme flexibility (hence the name) for users. Singh says that while rideshare apps solved the 15-minute ride problem, Zipcar solved the two-to-three hour ride problem, and rental companies solved the two-to-three day problem, Flexcar is the only model that can fill the gap for any need, especially weeks- or months-long timeframes.
As life and the economy changes rapidly post-pandemic and post-Great Resignation, that flexibility of transportation is critical to many users, particularly in an urban environment.
Gennaro, for example, uses Flexcar for several weeks at a time to supplement the one car he and his wife currently own. "The initiation process is simple because it happens online," he says. If Gennaro knows he'll need to have his own car for a period of time, he'll subscribe to a Flexcar. "I'll pull up the app on Tuesday morning, select the car that I want, choose the location I'm going to pick it up at, and that's it," he says.
Plus, you get to hand-pick a vehicle based on your specific transportation need: small cars for low maintenance needs, big cars for travel, even electric vehicles to save on gas. Another reason Gennaro uses Flexcar is the flexibility to switch between small city cars and larger cars for road trips with different terrain (like the mountains of Vermont)—and transporting party supplies, on occasion. "We hosted a wedding several weeks ago in our small city backyard, and had to pick up tables and chairs," says Gennaro. "I can't really do that in the other car that we have."
Singh says this flexibility could make a huge difference for Boston-area people.
One common use Singh has seen is that families discover they need another car on occasion because of busy schedules and multiple drivers, but many don't want to commit to a whole new one. It's expensive, it takes weeks or longer to find the right car, and one type of car may not be suitable for all transportation needs.
But also, "It's that transition phase as well," says Singh. "If I'm between jobs, or I've just moved to a new city and I'm not ready to commit, or I'm not sure if this is the right kind of car or model for me. We see that, too."
This trial-period use case is especially relevant for people curious about electric vehicles. "How else are people going to get to try an EV for a week, or a few weeks, or a few months?" says Singh. Flexcar gives them the flexibility to do that. Although, according to Singh, many people in that scenario end up sticking with Flexcar because of its advantages.
"They find that it includes insurance, maintenance, I can return it when I want, I can swap it for a different model when I want, it's a completely hassle-free experience and it makes a lot of economic sense," he says. "They just stick with us."
Affordability
The flexibility that Flexcar affords its users ultimately helps save them money, according to Gennaro. "I can choose to take a Toyota Corolla, or the Jeep, whatever the cheapest car on there is," he says. "Plus, subscribing by the week and the month with the mileage costs is significantly cheaper than traditional car rental."
Even if you leased the car, Gennaro says, you're locked in for an extended period of time—but, as more individuals look for a break from the city, what about summer Cape Cod road-trippers or city folk who just need a car for a few months or weeks? With Flexcar, problem solved.
This flexibility also enables other modes of alternative transportation. "You know, there are plenty of people in Boston who love to cycle to work," says Singh. "For four months in the winter, that's not viable at all." Flexcar fills that need because it's not the standard lease or loan model.
The other big money saver? No need for insurance. "That's another monthly payment," says Gennaro. Plus: "The last thing I need is another conversation with the insurance company."
All in all, Singh says Flexcar can save you anywhere from 150 to 300 dollars a week compared to owning a car. It's no wonder they're seeing substantial growth every week in Boston.
"We're providing you access to mobility in a hassle-free and cost effective way," he says. Plus, as accessibility often goes, more of it could improve life for people in Boston in larger ways.
"If you don't have access to transportation, it can limit your employment, it can limit your education, and it limits the amount of growth you can experience as a person," he says. "Having access to transportation is critical for most people in this city, and we're happy to play a part in that."
Ready to save time, save money, and get behind the wheel of any car you want? Visit flexcar.com.
This is a paid partnership between Flexcar and Boston Magazine's City/Studio
---