Celebrate Under the Sea with The Greatest Party On Earth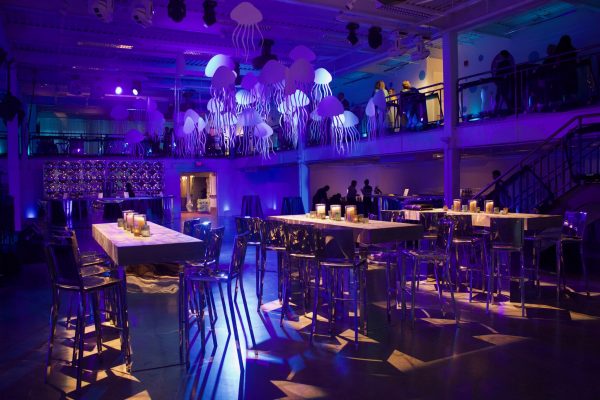 The 12th Annual Artists For Humanity annual gala featured student art and live performances
Celebrating nearly 27 years of creative youth entrepreneurship, the annual Artists For Humanity gala Greatest Party On Earth (GPOE) transformed the organization's EpiCenter gallery on a recent Saturday night into a Neptunian dreamscape and raised critical funds to support the future of Boston's creative youth.
The April 22nd event drew over 600 guests who were treated to culinary delights and entertainment set to the backdrop of a lush ocean wonderland, reflecting the organization's commitment to environmental sustainability and ocean protection. The underwater wonderland created by lighting designer Warren Cullmer of Frost Productions was complete with aquatic indigo and cobalt lighting, a shimmery jellyfish installation over the dance floor, and an eighty foot long cascading waterfall projected over the entire length of the room. In addition to the breathtaking lighting and decor, mermaid aerialists from Boston Circus Guild wowed from above.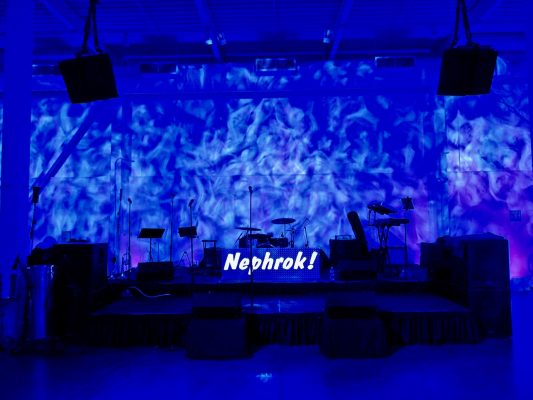 Frost Productions' use of white down lighting with a sea-glass like texture carved out each of the seating areas from the deep blue hues that filled the room while complimenting the lines of the polished chrome ALLOY chairs from Reserve Modern.
Guests sampled delectable dishes by Scampo's renowned Chef Lydia Shire and Gourmet Caterers paired with spirits from Brix Wine Shop, Tito's Handmade Vodka, and Harpoon Brewery. And a donut wall from Reserve Modern provided the a blast of sugary fun as the evening progressed.
The evening's festivities began with a live auction of one-of-a-kind shovels hand-painted and designed by AFH artists and mentors. As guests mingled and viewed artwork made by AFH's creative teens, the dance party started downstairs. The Nephrok! Allstars kicked things off with a Prince tribute and kept the energy on full blast all evening long, while breakdancers from Concept Artists inspired guests to hit the dance floor.
Cambridge's Brazilian samba ensemble SambaViva amazed guests with their spectacular dance moves and bejeweled headdresses that gave the party a shimmery taste of Carnival.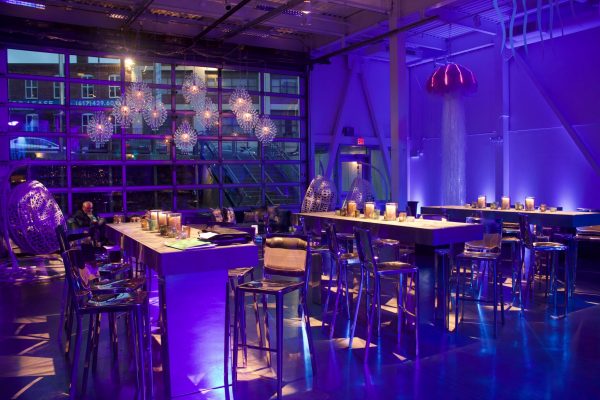 Proceeds from GPOE directly support the Summer Jobs Program at Artists For Humanity, as well as the organization's upcoming building expansion.
Each year, GPOE raises critical funds for the AFH's vibrant social enterprise, whose mission is to bridge economic, racial, and social divisions by providing under-resourced urban youth with the keys to self-sufficiency through paid employment in art and design. Last year, 100% of the teens employed at AFH graduated from high school and 100% were accepted into college.
This summer, AFH will break ground on an expansion to the EpiCenter. The 30,000 sq/ft addition will include more studio and gallery space, plus a makers studio and store. Most importantly, it will allow AFH to double the number of under-resourced urban youth they employ to 500 annually.
Efforts to support the $28M expansion are in full swing, but AFH needs your help. Your donation will create summer jobs for talented Boston teens and ensure they have a safe, productive space to develop creatively and professionally for years to come. Learn more about Artists for Humanity at afhboston.org and @afhboston.
This is a paid partnership between Frost Productions and Boston Magazine's City/Studio
---