Great Local Eats: Here's What's Cooking at The Street Chestnut Hill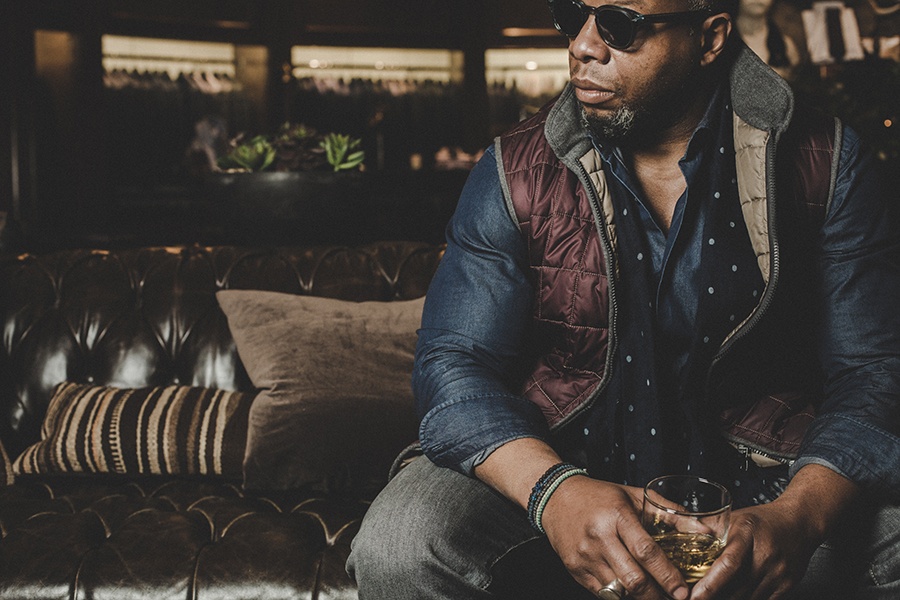 As life in the suburbs develops and neighborhood lifestyle destinations like The Street Chestnut Hill introduce exceptional restaurants to the community, the suburbs begin to attract city-wide attention. That includes incredibly talented restaurateurs and chefs, Boston food industry celebrities.
One of those icons is David Welch, a.k.a. Chef Dave, a 25-year Boston food veteran. According to him, city dwellers are even starting to come to the suburbs to get a taste of the talent. "I think the new restaurants bring in different crowds," he says. "It creates a little excitement."
Chefs like Welch have predicted the shift to excellent suburban dining for years. Now, that shift is taking shape at The Street Chestnut Hill, where these four eateries (including his very own, Chef Dave's) are giving you all the satisfying, skilled, flavorful meals you desire. "I think The Street is a great place for a restaurant," he says. "It's always fun up here—there's lots to do. I haven't had a boring moment here yet."
Bianca
From the James Beard Award-winning husband and wife team behind O Ya and Hojoko, Bianca specializes in wood-fire pizza and grilling, and a globally inspired menu with everything from classics to fresh takes on global flavors. If you're looking for a new date night spot, this is your place.
Bianca also has several private event spaces that can be booked for a variety of occasions—you can even book the whole restaurant for holiday parties and mitzvahs. The 32-seat Starlight room is perfect for meetings, showers, birthday dinners, lunches, and more, featuring full audio-visual capability and retractable windows for open-air. It also has a private entrance to the Starlight Patio, which can be booked as a supplement to the private dining room.
Bianca Bar also brings the perfect energy for your next cocktail reception or game day viewing party. The bar features four TV's and access to an adjoining patio. The long drink rails and bar top are perfect for buffet stations or stationary displays.
Chef Tim and Nancy Cushman have mastered a wide-ranging palate. They're serving appetizers like karaage Japanese fried chicken, seasonal burrata, and an extensive selection of sushi rolls, nigiri, and sashimi—try the hamachi crudo (playfully named "Kissed by Fire" on the menu) with Japanese charcoal-seared yellowtail, meyer lemon ponzu, smoked sea salt, and fresh horseradish.
From the wood-fire grill, try the Faroe Island salmon with meyer lemon beurre blanc, creamed leeks, and tarragon. Finally, the wood-fired pizzas are to die for, especially the spicy honey soppressata (fior di latte, bechamel) and a specialty vegan pizza, "The Faux-ni 'Roni," with 100 percent plant-based pepperoni, vegan mozzarella, and nutritional yeast.
Chef Dave's favorite? The Meat Me At Bianca: pepperoni, sausage, wild mushrooms, fior di latte, pomodoro sauce, paired with an old fashioned. If whiskey isn't your thing, there are plenty to choose from on the menu. Try the Okey Dokey: Plantation five-star rum, Cynar, grilled pineapple, and demerara. "They have a great selection where everyone can be pleased," he says.
Chef Dave's
At Chef Dave's, an intimate and stylish restaurant perfect for dates and special occasions, the menu is all about simplicity and undeniable quality. "It's cozy and warm," Chef Dave says. "It has great energy and honest, fresh food. That's what I provide." Chef Dave's is his first bistro concept, which comes after a career of produce buying for Formaggio Kitchen and private chef service for Boston notables.
As for menu highlights: "The lemon roasted half chicken is everyone's favorite," Welch says. It comes with roasted potatoes, green beans, and au jus. He also points out the pan-seared halibut, which comes with wilted spinach, cherry blossom soy, and Thai basil. "What we've been doing lately is serving it with a nice piccata sauce, which people absolutely love," he says.
Chef recommends a pairing of the top-selling Chef Dave's Manhattan and 8 oz. prime filet, which is served with horseradish Yukon mash, green beans, and demi glacé. The cucumber martini and palomas are also go-to cocktails.
Hummus v'Hummus
The Street is thrilled to welcome Hummus v'Hummus, an Israeli fast casual restaurant that comes from acclaimed Israeli-American Chef Avi Shemtov. Shemtov opened his first restaurant in Boston, The Chubby Chickpea, as an Israeli street food truck concept in 2010.
"Since the very first day I opened the Chubby Chickpea in 2010, I've dreamed of bringing my food to Chestnut Hill," says Shemtov. "When my wife and I got married, we lived around the corner from The Street and we have fond memories of grabbing a bite from a few of the amazing restaurants that were there at the time." He says the opening of Hummus v'Hummus is a dream come true—it's a dream come true for The Street and its hungry visitors, too.
Hummus v'Hummus is a combination of The Chubby Chickpea food truck concept and Shemtov's award-winning 2017 restaurant Simcha. The restaurant will be serving dine-in lunch and dinner, the menu featuring a variety of hummus bowls, rice bowls, salads, and pita pockets, as well as jachnun, a Yemeni slow-cooked bread.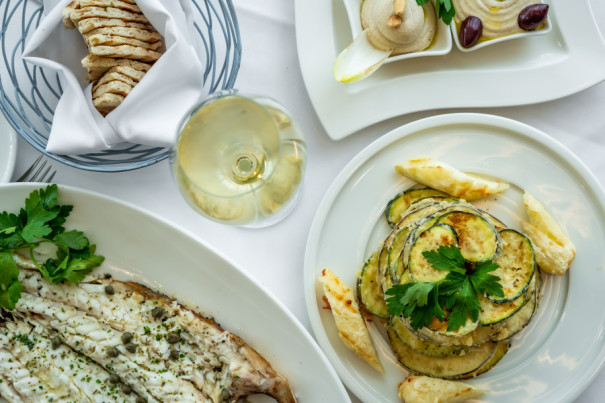 Limani
Limani is a Mediterranean restaurant with a focus on traditional Greek flavors. Their ingredients are exceptionally fresh and authentic, like capers from Santorini and saffron from Kozani. Quality is the constant on a menu ranging from classics to modern takes.
"Limani is a really nice restaurant that's offering beautiful, bountiful fish options and Greek flavors," says Welch. "I love having branzini and a martini sometimes for lunch," he says. "It's delicious."
Limani also offers private dining, perfect for intimate parties and large corporate events. Limani will customize cocktails and hors d'oeuvres in the lounge area, and the whole restaurant can be booked for your private events.
To get the authentic Mediterranean culinary experience, try the spanakopita for a lunch entree, served with Greek salad. Alternatively, try the kebab with pita, tzatziki, and French fries to get the fresh Limani experience.
If you're visiting for dinner, try the Limani sampler from the raw bar, complete with oysters, Little Neck clams, Ocean Garden shrimp, Maryland crab meat, P.E.I. mussels, and Maine lobster. Try the gigantes, Greek giant lima beans baked with tomato, dill, and parsley, and the sea bass for two.
For dessert, you'll need to try the loukoumades—Greek fried dough puffs drenched in honey, with walnuts and cinnamon. You'll never forget it. The cracked "spasmeno" baklava, made from layers of caramelized phyllo with a pistachio praline mousse, will have you coming back to Limani again and again.
Ready to taste what's cooking at The Street? Visit thestreetchestnuthill.com.
This is a paid partnership between WS Development and Boston Magazine's City/Studio
---