The 5 Easy Steps of Customizing an Engagement Ring that'll Have You Ready to Commit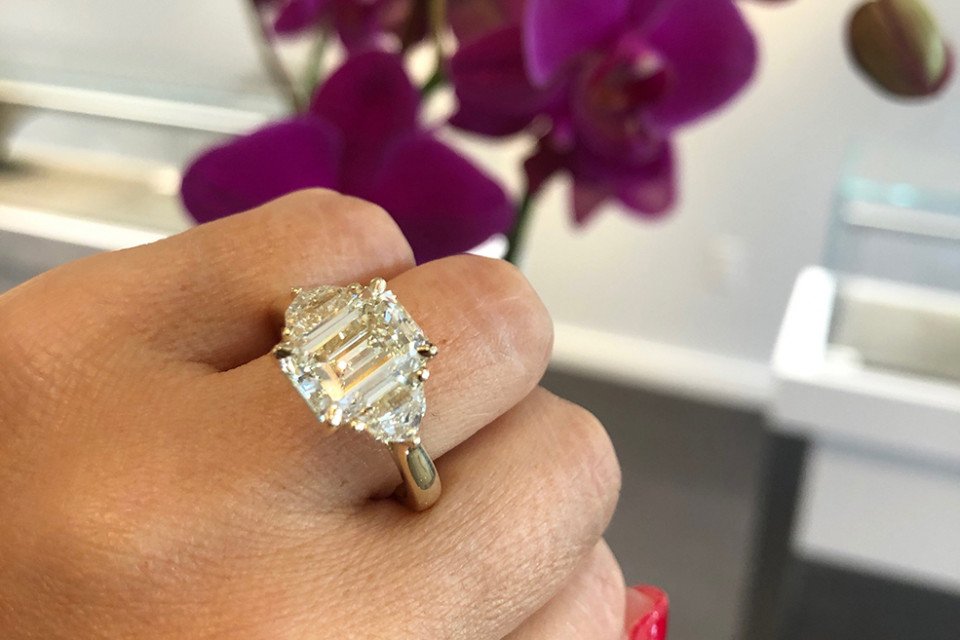 A dress, a tuxedo, a venue, a first dance song. Weddings are all about choices. But a part of your wedding that stays with you forever (besides your one true love, of course) is the engagement ring. Its permanence on yours or your fiancée's ring finger is symbolic of the commitment to your marriage, so it's important to find a ring that is as singular as the love you share.
That's why designing a custom engagement ring is one of the best decisions you can make ahead of your nuptials. Plus, it's much easier than you might think—especially with the guidance of Adamas Fine Jewelry. They have a beautiful selection of ready-made engagement rings that you can choose from, but in case you're looking for something truly one-of-a-kind, here are the five steps that will have your ring finger sparkling with the perfect personalized piece.

Step 1: In-showroom collaboration
First thing's first: your jeweler will need to get to know you. This first appointment in Adamas' incredible showroom is when you will discuss your needs and desires in an engagement ring—preferences, expectations, budget, and ideas around sizes and shapes. You can name the type of metal, gemstone, and finish you have your eye on, or your design consultant can suggest trends and styles that fit your unique profile. It's a simple, casual brainstorming chat that will steer you on the course to having a ring you or your fiancée will love for years to come.

Step 2: Digital designing and workshopping
After you've voiced your preferences and ideas, you get to see computer-generated models of different rings in order to better understand what they will look like in person. This eliminates any mystery or uncertainty when combining different metal, gemstone and finish styles. An idea that you like in your imagination may look quite different than you'd expect, so this stage in the process is one you can rely upon for idea elimination and ultimate satisfaction—you won't be surprised at the end, except maybe about how beautiful the ring looks in real life.

Step 3: Prototyping and personalization
Adamas Fine Jewelry will now craft a 3D wax or metal model of the ring you workshop in the showroom, so you can see its real-life size and proportion and hold it in your hand. At this time, you can also add personal touches to your ring to really make it your own unique design. Not only can you add embellishments to the metal itself, but you can also add engravings for extra special messages and further sentimentality.

Step 4: Making necessary changes
For Adamas Fine Jewelry, communication is the key to satisfaction. If you want or need, you can make changes to your prototype design. If you are unsure about a certain feature at your first visit, want to adjust your engraving, or decide on a different finish, for example, Adamas will welcome your changed preference with no questions asked. Remember, the ring you create with Adamas Fine Jewelry becomes a symbol of your unique relationship and continuing love. If you decide you will like yellow gold better than white gold years down the road, you should be able to make that change. And with Adamas, you can.
Step 5: The big reveal—with all the excitement, and none of the worry
In the best way, you won't be surprised at all when you finally get to see your finished product. You may be blown away by the quality and sparkling beauty compared to the digital models and prototypes, but the engagement ring that your jeweler gives to you will be the same ring that dazzled all your visions and imaginations, all your Adamas workshops and discussions. As we can only hope for all our wedding decisions, everything will look and feel just right.
For more information and products, and to schedule your custom engagement ring appointment today, visit adamasfinejewelry.com/landing/home
This is a paid partnership between Adamas Fine Jewelry and Boston Magazine
---