High-Tech Darts and Delicious Dining: This Seaport Bar Takes Your Night Out to the Next Level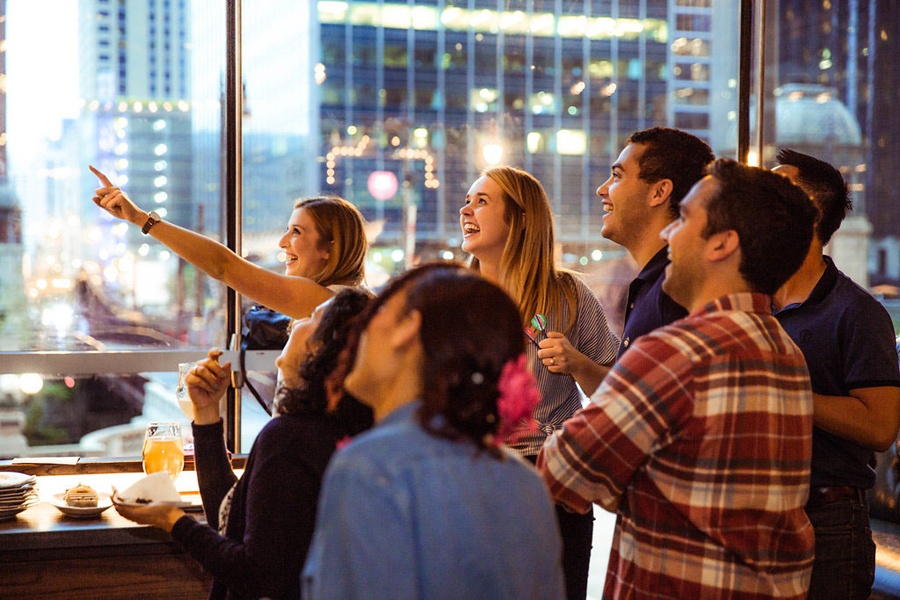 The perfect night out requires a few essential factors. Great food, of course. Drinks, another. A great vibe, and finally, entertainment that makes it a night worth remembering.
It's hard to get all of them at once–the bar may be lively and fun, but you're stuck with peanuts to eat, or the restaurant across the street might have fantastic food and drinks, but there's little to actually do. But there's one venue in Seaport that's taking all the ingredients of a great night out and perfecting them, while offering a new way to play.
That venue, Flight Club, is delivering a supercharged, sophisticated-British-pub-meets-Victorian-fairground experience in Boston, built around taking the classic game of darts, and making it as fun as possible. Flight Club brings the cutting-edge, the gourmet, and the whimsical in a take on darts that feels both avant garde and of-yore.
We spoke to Alan Cichon, US President of State of Play Hospitality, operator of Flight Club Darts USA, about how the establishment is hitting the Boston bar bullseye. Here's what you deserve on your night out (unabridged fun), and how Flight Club is making sure you get it.
Super high-tech darts games—that you can win at any skill level
The darts you play at Flight Club are unlike the darts games you played in your friend's basement growing up. These dart boards are technologically advanced—a former NASA engineer even had a hand in creating them.
Flight Club was founded in 2012 in London by Steve Moore and Paul Barham. They wanted to automate traditional dart boards, opting against the commonly used pressure plate scoring found in most other bars. To get the kind of tech that could seamlessly support that nostalgic experience, Moore and Barham knew they'd have to bring in a professional.
That's where astrophysicist Jason Dale, who worked on projects for NASA and the Defense Advanced Research Projects Agency (DARPA), enters the equation. "He designed the algorithm to track the flight of the darts in the air and pinpoint where they're going to land on the dartboard," says Cichon. Because cameras and forecasting facilitate this technology, the dart board remains wireless and authentic.
Dale did the math so you don't have to. "When you bring technology in, it automates all the scoring for you," says Cichon. Using that precise landing location, the board automatically tallies your point total.
"It brings an incredibly seamless experience for people when they come in, and it's really easy to get completely enveloped in the experience."
Plus, based on your self-evaluated darts skills, you can choose your own oche–that's the line you stand behind to throw your darts. "Each one of those lines increases people's accuracy by about 20 percent," says Cichon. That means anyone can win the game. Finally, a word of advice from Cichon about the savvy technology: When you do land the winning throw, be sure to strike a pose. Just trust us.
A real drink.
Drop your flat vodka sodas. With Flight Club in your night life, bland mixed drinks and monotony can (and should) be a thing of the past. Their signature cocktail menu, thanks to award-winning mixologist Peter Vestinos, is mouth-watering.
Flight Club built a cocktail program based off of botanicals, with ties back to London. They created a menu that has everything you'd get in a specialty cocktail bar— "but without waiting 15 minutes for your drink to be made," says Cichon.
"I think people would be really disappointed if they're having this amazing experience, and then their drink comes out and the cocktail is not very good," he says. "It's about creating a phenomenal experience from the beginning to the end."
Every cocktail on the menu will surprise you, with ingredients like curried coconut cream, Ancho Chile Liqueur, allspice, gunpowder green tea-infused gin, even gingerbread rooibos tea. That's an ingredient in The Iguana, which also features a blend of Jamaican rums, ginger, hibiscus liqueur, allspice, and lime.
"Our bartenders are fantastic," says Cichon. They're happy to mix drinks not on the menu, from espresso martinis to cosmopolitans. But if cocktails aren't your thing, Flight Club also offers an extensive list of your favorite standard, local, and craft beers, plus wine and sparkling lists and shareable beer buckets for large groups.
Some serious snacks (no more bar peanuts)
At Flight Club, you can come hungry. They've created a menu that gives clientele the ability to consume great food without having to stop playing darts. "We've built this phenomenal menu around things that you can eat while you play," says Cichon, "but with the highest quality in mind."
The menu rotates, with new offerings in the fall and spring. Cichon's current favorite: mini poke tacos with fennel, cucumber, and chili vinaigrette (pictured above). "We bring sushi grade tuna in, we cut it ourselves, marinate it, and it has a little dehydrated mandarin orange on top."
The menu is brimming with essentials and surprises, a strong lineup of everything you'd want to see on a shareables list. According to Cichon, every item on the menu comes to you with the careful curation and production of a fine dining establishment.
Take the bao buns for example: hoisin-glazed crispy pork belly, pickled daikon, jalapeno, carrot, cucumber, and cilantro. And the fries aren't just any fries–they're viper Fries: Snake Bite-spiced, sidewinder fries. Pair them with Flight Club Prime Sliders: griddled prime beef, butter lettuce, roasted tomato, Hickory Kidd cheese, and sesame seed buns.
Plus, if you're booking an event, with the Oche package you can choose two flatbreads, three appetizers, one housemade dip, and optional additions like 12-piece mini lobster rolls or popcorn for the group.
The menu also offers creative flatbreads and desserts (cotton candy and cronuts, anyone?), with the highlight being the cookie tower. That's flavored macarons, orange madeleines, and strawberry mousse-filled profiteroles with chocolate hazelnut sauces. After a night like this, you'll never settle for anything less.
Ready to eat, drink, and play? Visit us.flightclubdarts.com/boston to learn more and book your Social Darts game. Address: 60 Seaport Blvd
This is a paid partnership between Flight Club Darts USA and Boston Magazine's City/Studio
---