Eataly Boston's Restaurant Fest is Serving Guilty Pleasures this Fall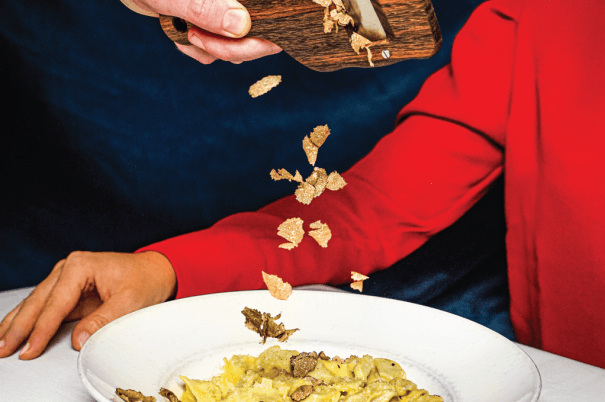 As Boston welcomes the cooler weather and starts to embrace all things fall, we're all about indulging in foods that bring happiness—in other words, it's the perfect time to enjoy some guilty pleasure foods, and Eataly Boston's bite-size guilty pleasures are the perfect place to begin. So take a break, set up your out of office reply, and indulge in Eataly Boston's highly anticipated Restaurant Fest, celebrating the fall season from October 14 to 30. Eataly has perfected a slate of miniature bites of happiness, putting a fall twist on everything from affordable luxury small plates to two-course meals at all three of their unique restaurants. Here's everything you need to know.
The 'Guilty Pleasures' Menu
Taking its cue from the Italian saying, la vita è troppo breve per mangiare e bere male (life is too short not to eat and drink well), this exciting culinary event showcases the ultimate guilty pleasures menu, featuring small bites with big flavor and the chance to indulge in blissful moments. Think fresh truffle and caviar bites starting at $8, so that you can experience mini delicacies at prices that make luxury dining an accessible treat.
At Eataly's La Piazza and La Pizza & La Pasta, you can expect decadent dishes like Manzo e Tartufo, the Piemontese version of decadent eye round tartare topped with slices of fresh Urbani black truffle, and Ricotta e Tartufo bite-sized bignè with fresh ricotta, Urbani black truffle, and white truffle honey. At the rooftop-oasis Terra, don't miss mini caviar bumps, slices of melt-in-your-mouth A5 Wagyu Beef, and truffles shaved table-side onto all of your favorite dishes.
The Two-Course Meal You Deserve
After you sample the 'Guilty Pleasures' menu, chances are you'll want more: so mark your calendar as 'busy' and sit down at all three of Eataly's restaurants for unforgettable two-course meals starting at $19. Plus, sip along with expertly paired $10 wines by the glass and even affordable tastes of luxurious Fontanafredda Barolo, Italy's King of Wines and the perfect fall vino.
Begin your two-course meal with dishes featuring best of the season ingredients, like bruschetta with shaved Urbani truffles, fried polenta with Parmigiano Reggiano DOP, and the incredibly festive Insalata con zucca—roasted pumpkin, pumpkin seeds, baby spinach, Italian radicchio, black kale, raisins, walnuts, and Ponti balsamic vinegar. And, of course, no autumnal meal at Eataly is complete without pasta—think pumpkin-filled ravioli with butter and sage, and pillowy potato gnocchi with hazelnuts.
Reservations for Restaurant Fest will be available for two weeks only, so cancel your last meeting: Life is short, and you deserve an unforgettable meal.
To learn more visit eataly.com/boston. To taste the guilty pleasures and fall flavors of Eataly Restaurant Fest, come to Eataly at the Prudential Center October 14-30.
"Guilty Pleasures" starting at $8.
Two-course menus starting at $19.
Wines by the glass for $10.
This is a paid partnership between Eataly and Boston Magazine's City/Studio
---