Exploring Providence's Most Exciting, Art-Filled Neighborhood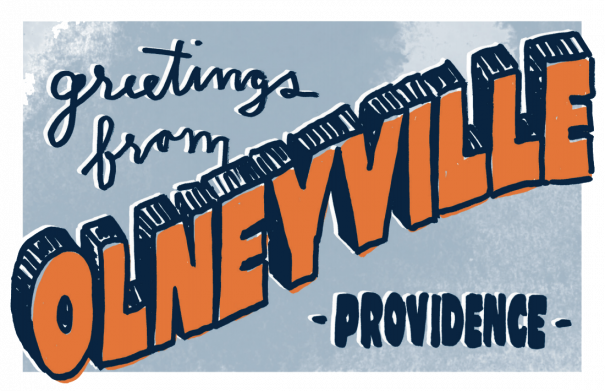 Providence doesn't just have an arts scene that's impressive for a city of its size—which, if you're counting, is slightly smaller in population than Worcester but slightly larger than Springfield. Providence has an impressive art scene, full stop. And it's worth the hour's drive to explore it.
Visitors come to the city for theatre performances and fine dining downtown, where the most ambitious culinary undertakings sometimes get the attention of the Boston press. They might take a historic walking tour on the East Side of places like Benefit Street, with its concentration of perfectly preserved early American homes, or stroll by the Providence River during WaterFire, the art installation that illuminates the Providence River on summer nights.
But people who aren't from the city often overlook the vibrant creative energy happening just a mile or two to the west, where a huge concentration of talented artists and makers are turning out work that's beautifying the city and making Olneyville a destination in its own right.
Once upon a time, Providence was the jewelry-making capital of the country, but those factories closed down once the manufacturing boom in New England was over. One of the parts of town hardest hit by that was Olneyville and the nearby Mill District, on the West Side of the city. Now, the once-vacant buildings there are being reimagined into artists' studios, like at the old Nicholson File building, where a collective of nearly 25 artists share studio space and have gallery shows at Nicholson File Art Studios, and people can browse creative works at two gallery spaces in The Wurks artist collaborative. The newest creative space to pop up: Public, a mixed-use space founded by Casandra, a writer and artist, and Spocka, a musician and performer, which hosts anything from gallery shows to poetry slams and movie screenings.
Dirt Palace began as an underground feminist art collective in an abandoned Olneyville library in 2000. Now, having served as an incubator for over 50 female artists and showcased the work of more than 200 others in its gallery, Dirt Palace is opening the Wedding Cake House, a grand Victorian home that has sat vacant since 1947, as artist-in-residence housing that also has gallery and performance space open to the public. Steel Yard, an industrial arts collective that also teaches kids and adults in areas like welding, blacksmithing, and jewelry making. Its annual events, like the Steel Yard Halloween Iron Pour, where molten iron is poured through 30-foot metal sculptures, are some of the most highly anticipated in the city. Even if you don't visit Steel Yard itself, you'll almost definitely see their work in Providence. The artists there have crafted bike racks, trash can holders, and sculptures all around the city.
The creative energy in the neighborhood extends to its food and drink, too. ISCO Spirits is Providence's first distillery since before Prohibition and has a tasting room just next to the Steel Yard with elevated cocktails made from its artisanal spirits. Revival Brewing's new taproom, making some of the best beer in New England, has just opened up shop nearby and hosts weekly art and food events.
Farm Fresh RI, a non-profit that connects Rhode Island's farm to the public, just opened a new facility that's part food incubator for small culinary businesses, part food advocacy organization, and part year-round farmers market. What Cheer Flower Farm is rehabilitating old factory land into flower beds, then donating bouquets to seniors, at-risk youth, and others in need (to the tune of 50,000 blooms gifted last year). You can also buy honey from their pollinator garden at the farm.
In the center of all this creative energy is Dye House, a new, intersectional hotel concept that opened in the spring of 2021 in Olneyville. In what was once a wool dyeing factory built-in 1880, Dye House was home to a furniture maker and then a pottery studio before becoming the experience it is today. Part boutique hotel, part event space, part food experience, Dye House has brought together some of the neighborhood's most creative minds, from the architect, Christine West of Kite Architects, who helped renovate the space to the handmade ceramics by Nidal Fakhouri and the bespoke furniture from O&G Studio and Ben and Aja Blanc.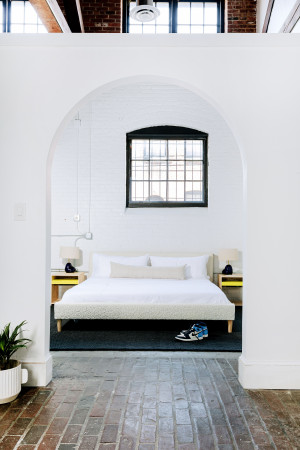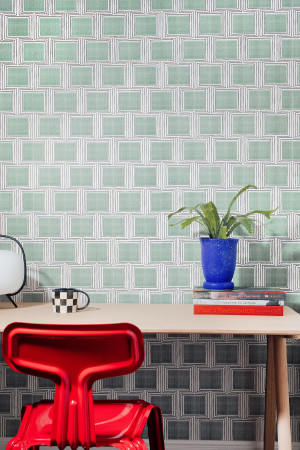 In addition to offering affordable luxury accommodations to guests, Dye House has a loft space where local culinary talents host weekly pop-up dinner events, which can accommodate up to 25 for private food events. It's also home to an artist maker space where DESIGNxRI grant winner Aleksandra Azbel, a natural fiber dyer, is collaborating with Olneyville weavers to create blankets for the hotel, available for purchase through Dye House's online art shop.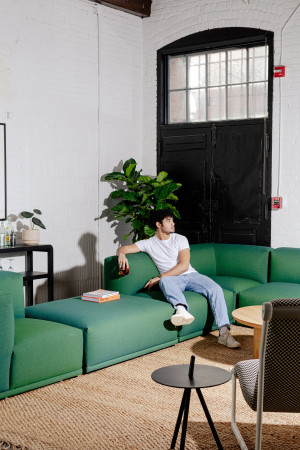 Olneyville isn't one of the city's main tourist attractions, but it should be. The neighborhood has an energy all its own. Come experience it.
To start planning your Olneyville getaway and book your stay, visit DyeHouseRI.com.
This is a paid partnership between Dye House and Boston Magazine
---