Here's Where You Can Get Your Food, Drinks, Sports, and Great Vibes All in One Place in Boston
We've got some big news for anyone in Boston who loves to—simply put—have a great time. With drinks and food for all tastes, live sporting events playing on a (really) big screen, and an ambience that is just begging to be the background of your next Instagram post, you and your friends will probably head home from your first time at High Street Place thinking: 'That might be our new favorite destination.'
High Street Place food hall is now open on High Street in Boston, and they have wasted no time providing things to do this spring for people throughout the city. Yoga plus happy hour? Check. Kentucky Derby party (with all the Derby vibes included)? They have that, too. Champagne vending machine—you get the idea.
Intrigued? Here's everything you need to know.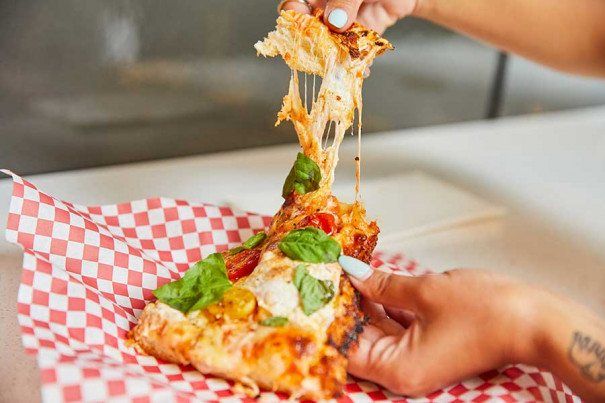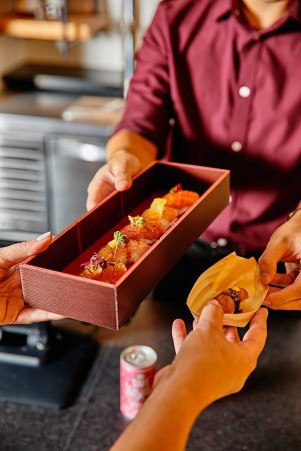 If you're looking for sports—but not just sports
…You're in the right place. In fact, you may even be in the best place without going to the stadium—Red Sox Games, College Football, and NFL games will always be shown on High Street's 28-foot video wall, with up to four games on display at once. That means you never miss a beat. Sure, you could hit the nearest sports bar to see the games, but what are you going to eat? Peanuts, probably.
How about freshly rolled sushi by Master Chef Jimmy Liang? Or a throwback-style, Tiffani Faison-created pizza? That may be more like it. The last thing you want is to be a hangry fan during the big game. Here are all your options for food and drink.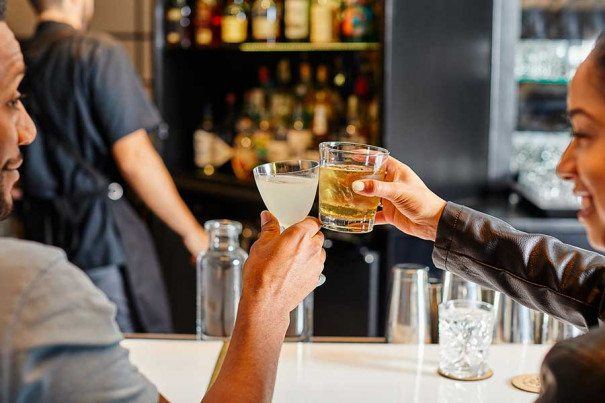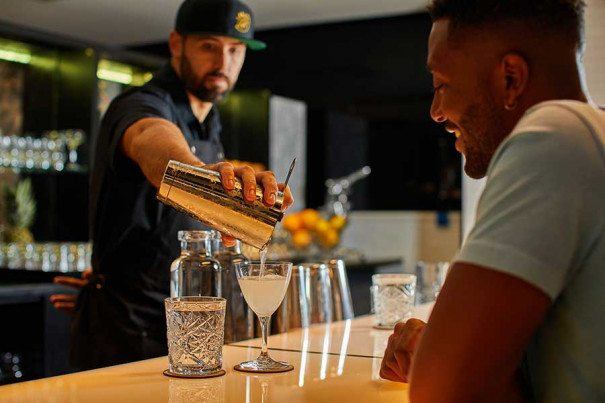 If you really resonate with the 'happy' in happy hour
Or if you think happy hour is the best part of the hospitality industry (or the universe), we think you'll fit in at High Street Place just fine. Every Friday in May at 5pm, Aperitivo Hour is here for you at 100 High Street. It's the perfect excuse to wind down in the early evening with a drink and some fun cicchetti after work. The drinks are creative aperitivo cocktails and pairing menus from the vendors at High Street Place, and it takes place in the fresh air on the patio. Think Aperol spritz, Campari and soda, and negronis with a twist.
Another Friday evening (and free!) event: Boston Women's Market, taking place Friday, May 13 from 4 to 7pm. Bring your friends to enjoy the live music by DJ L'Duke and shop Boston Women's Market makers, entrepreneurs, and artists. As you shop around you can eat your way through High Street, enter to win the Swag Bag Giveaway, take photos at the Photo Station.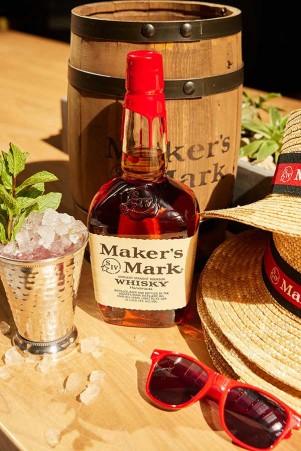 If Derby is a yes but Kentucky is a no
Can't make it to Churchill Downs this May 7? That's okay, just take the T to South Station on the Red Line, Downtown Crossing on the Orange/Red/Blue Line, and Park Street on the Green Line, then walk a few minutes to High Street Place where you'll be greeted by a Kentucky Derby Watch Party that you'll never forget. You can also park in the 100 High Street garage, but don't forget to designate a driver if you really have your sights set on a few Mint Juleps.
High Street will be showing all the races from Churchill Downs on the video wall and there will be carnival games, a betting window with proceeds benefitting Women's Lunch Place, and a festive photo wall. You're encouraged (but not required) to wear your best Derby-themed outfits, and don't worry if you can't find the perfect hat: You can make one at the hat making station. Then, you can win the best dressed, best hat, and best couple awards.
The event is $25 for a general admission ticket that includes a Maker's Mark Mint Julep or Aperol Spritz. If you're feeling like the Derby is especially important this year, VIP tickets are available for $75—you'll get early admission to reserve a seat, a drink ticket, and a $50 High Street gift card to use throughout the day.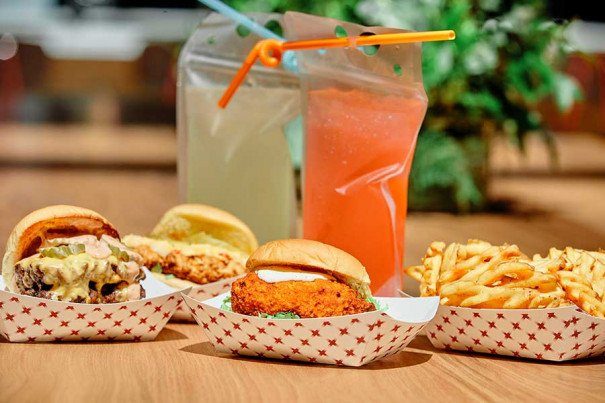 If your Saturday mornings are suddenly missing something
We understand the feeling. It's springtime, all the leaves and flowers and Bostonians are coming out of hiding, and it's starting to feel like under the blanket was only the best place to be on Saturday when it was freezing and snowing outside.
Spring out of bed bright and early like you're in a rom com, take your seasonal allergy pill, and follow that newfound spring stimulation to High Street Place. On Saturdays at 10am during the month of May, you can enjoy Sweat and Sip, a $25, hour-long yoga class that includes a $15 gift card for High Street Place to use after class. Yogis are loving post-class Aperol Spritz from Pennypacker's, smoothies from Mother Juice, and bagels with lox from Mammaleh's. It's just what your Saturday needs.
To see all 19 High Street Place vendors and read more about its history, how to get there, community involvement, and more, visit highstreetplace.com.
This is a paid partnership between High Street Place and Boston Magazine's City/Studio
---