How to Get the Modern Closet or Wardrobe of Your Dreams
It's the worst part of every man and woman's day.
It's the hunt to find a prized piece of something: a shirt, a sweater, that silver belt-buckle passed down from your uncle. Whatever it was, you needed it then, and you need it now. But after an unsuccessful, dimly-lit thrashing, pulling and yanking into the dark abyss known as the back of your closet, all you're left with are the beads of sweat covering your face and a mad dash to that meeting you definitely can't miss.
Whether you live in a sprawling mansion or a humble "pied-à-terre," we all need storage, and we need that storage to be organized.
Everyone in New England is familiar with the standard, bi-fold, reach-in closet. Nothing about this closet from the 1950s brings us control or piece of mind, but rather a pile of folded t-shirts toppling down constantly. Similarly, we are all well-acquainted with the typical walk-in closet, affixed with a few hanging rods, and shelving that never quite procures the ideal storage or organization.
But now, cutting-edge technology and ingenious design are finally culminating in both form and function. A new wave of wardrobe systems and walk-in closets are already lining walls, fitting into niches, and integrating into homes across the pond. The Europeans are at the helm of modern innovations within wardrobe solutions, and their efforts are raising the standards of organization, while saving the individual buyer thousands of dollars.
And while the new wardrobe is modern in function, it appeals to every kind of taste: traditional, transitional, or contemporary styles. These made-to-measure, highly customizable options speak to just about anyone.
Exterior elements
The exteriors or fronts of the European wardrobe or walk-in closet range from shaker-style wood and veneered doors to glass, mirrored, or even high-gloss, lacquered entry.
Innovative wooden veneers that run the gambit of tones and washes pave the way to your country retreat's own standing closet. Large glossy or matte handle-less surfaces fit seamlessly into your minimalist, metropolitan flat. Nothing is overlooked when every lifestyle is considered.
What elevates both the European wardrobes and walk-in closets is the meticulous care to details. In light of this, we find a slim wardrobe silhouette and both the swing door or its sliding alternative. The wardrobe is simply placed inside a pre-existing niche or along a freestanding wall. It can also act as a non-permanent room-divider for fans of the open-concept living space.
Interior elements
What's important to understand in these new closet systems is that they are a reaction to our evolving needs. The European wardrobe of today is versatile. Its design is fluid, its function non-conforming, and its interior fittings are as detail-oriented and customizable as its exterior fronts.
Luxury seeks council in newfound serenity. The effortless glide of the door front of a European wardrobe foreshadows the intrinsic feeling of resolve felt from the motion-censored, integrated lighting. The warm, soft glow of the carefully placed lights guide us through the calm effected by pull-out drawers, rods, and hampers. The opulent feel of leather and velvet brush your arm as you take in the heavenly view of your favorite sweaters, blouses, shoes, and dresses – everything organized in their rightful places. The small cubbies of eucalyptus wood ruminate throughout, enveloping your senses with their tranquil faculties. Your storage space is a reflection of your internal locus of control, never to return again to any formative dysfunction.
Consider the lover of all things shoe-related. There is an interior fitting perfectly suited for him or her. Whether it be five shoes or 500, showcase your favorite things in full transparency. Long legs? Dresses or pants that crease where they fall at the floor? Height-conscious innovations respect the tall and the small. Pull-down and swing-out hangings perfect the user experience for both ends of the spectrum and everything in between.
Click through for a look at Divine's favorite design elements available for a wardrobe's interior fittings:
Manual or electric pull-out hanging rods
Pull-out or fixed shoe racks and hampers
Pull-out trouser, tie, and belt racks
Fixed or pull-out shelving (wood, glass, aluminum, etc.)
Floor-sitting drawer units and cubbies
Sensor-activated, recessed LED lights
---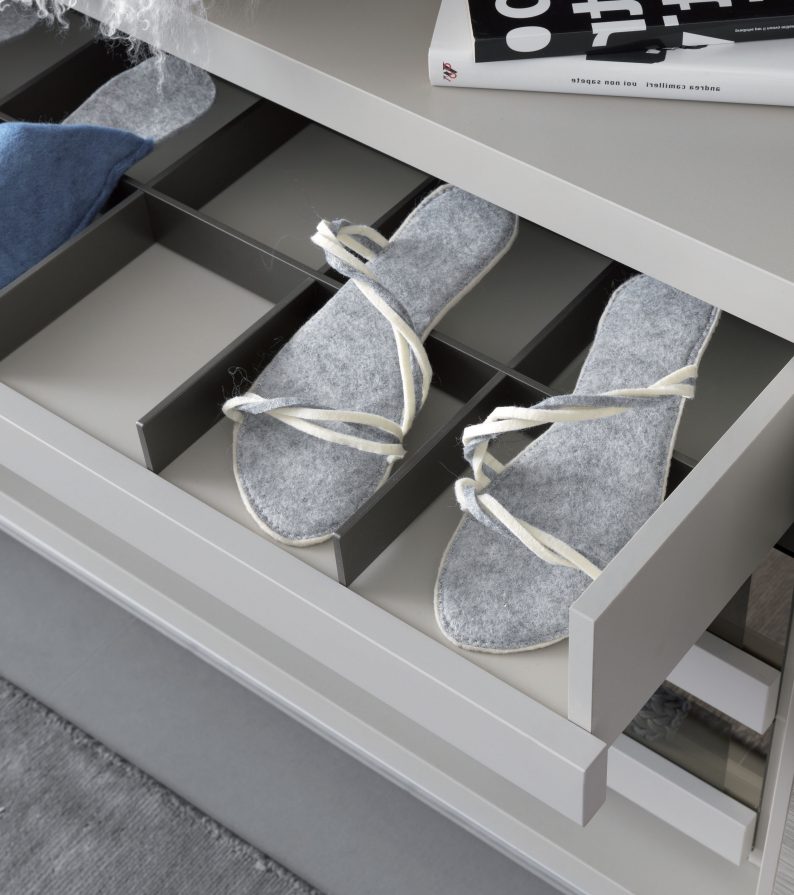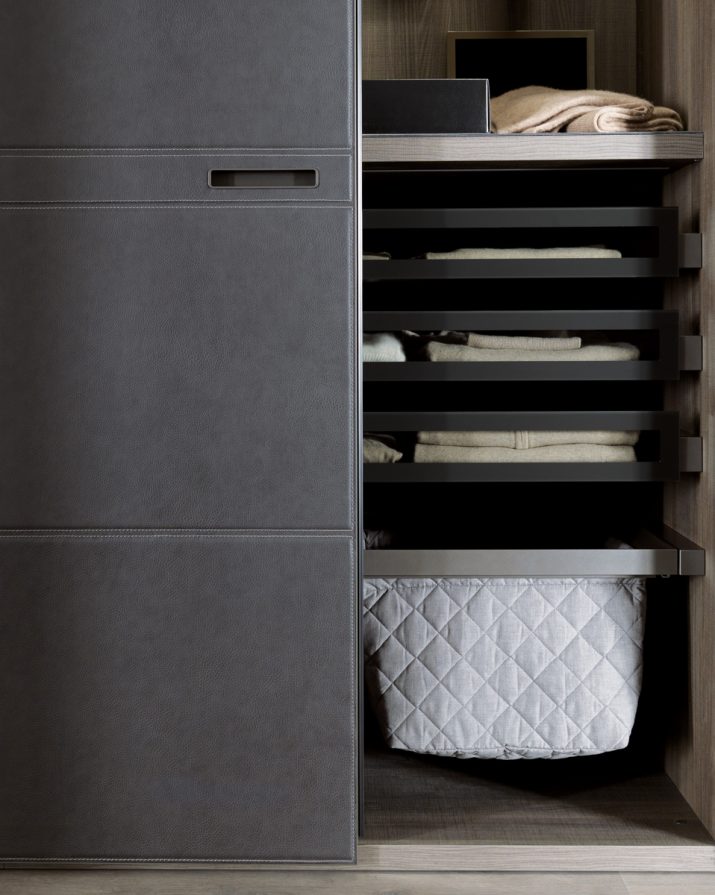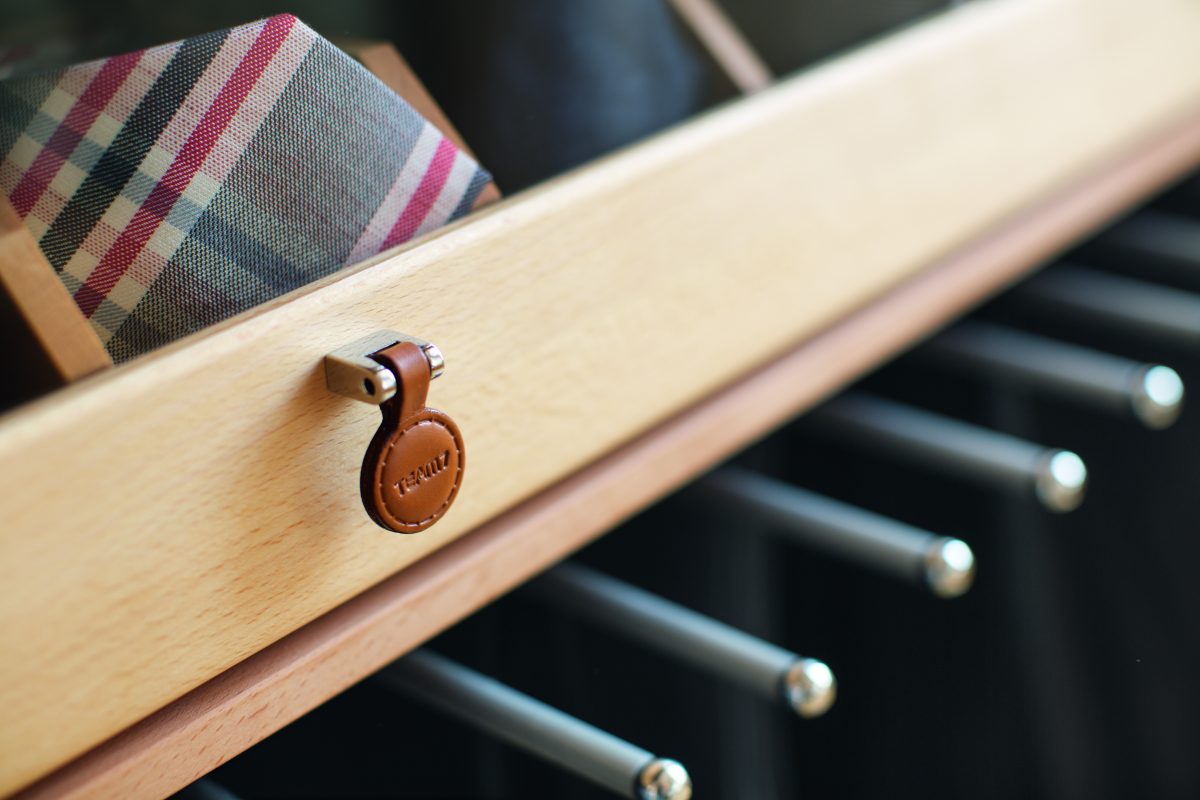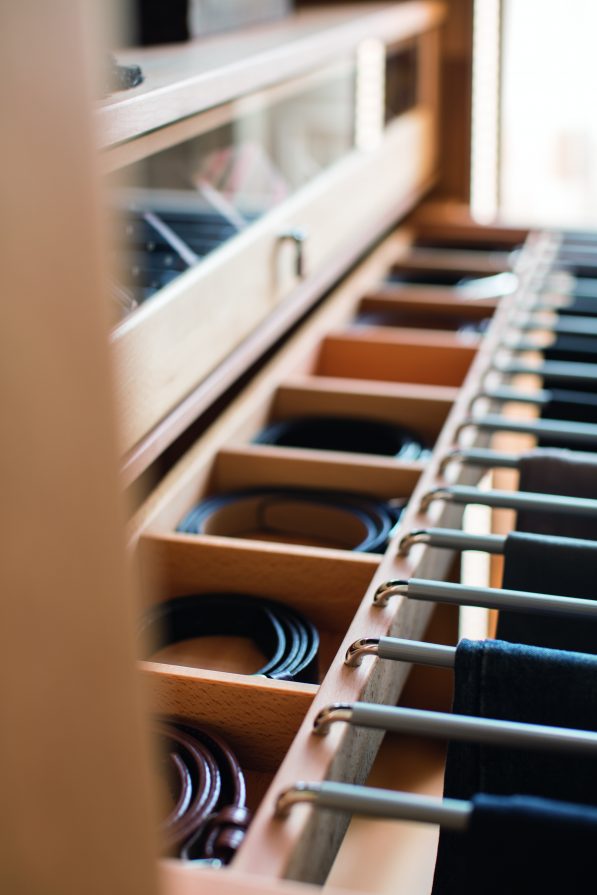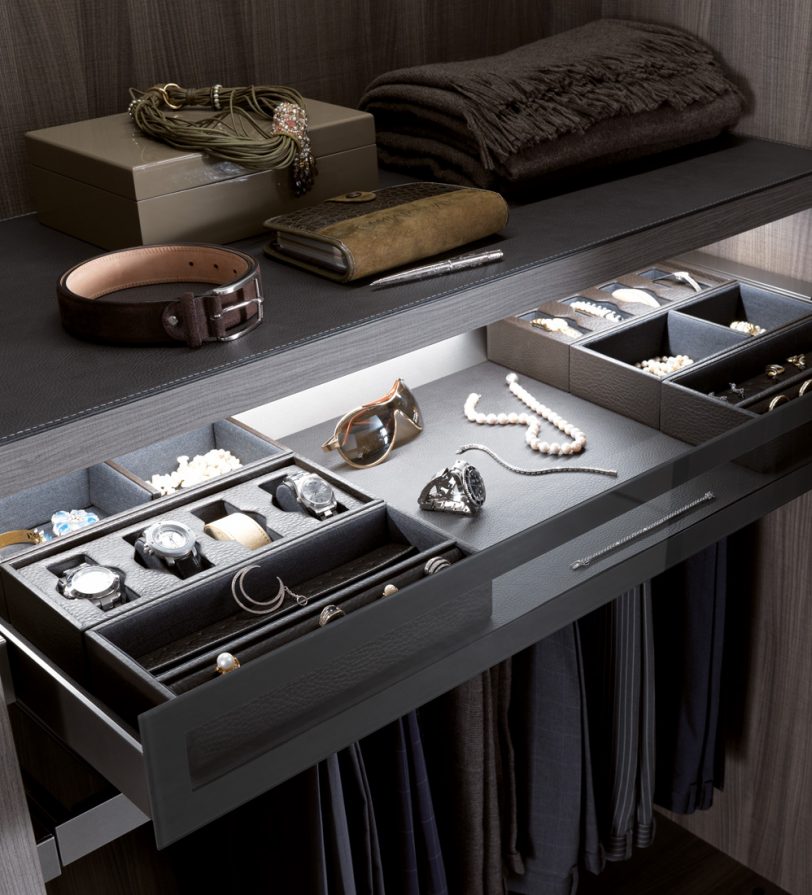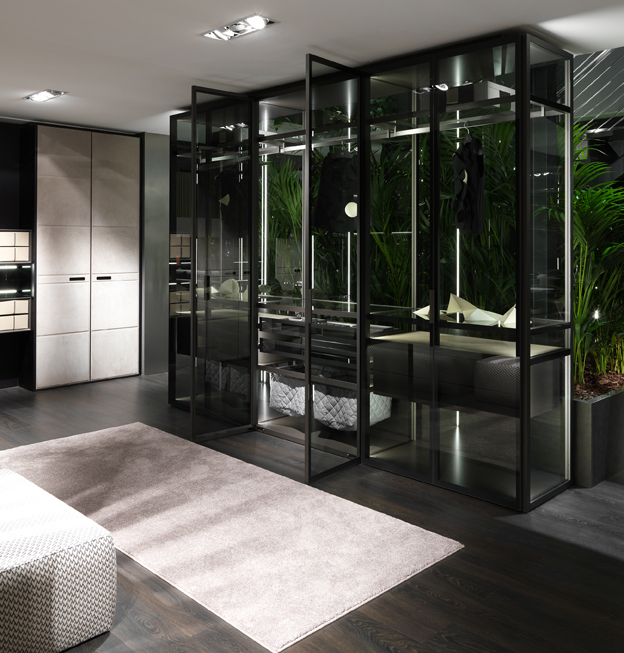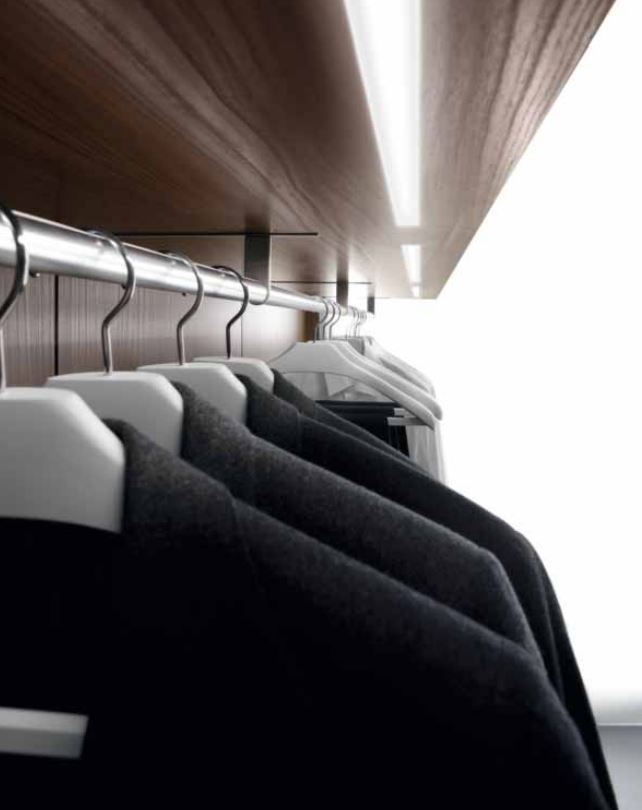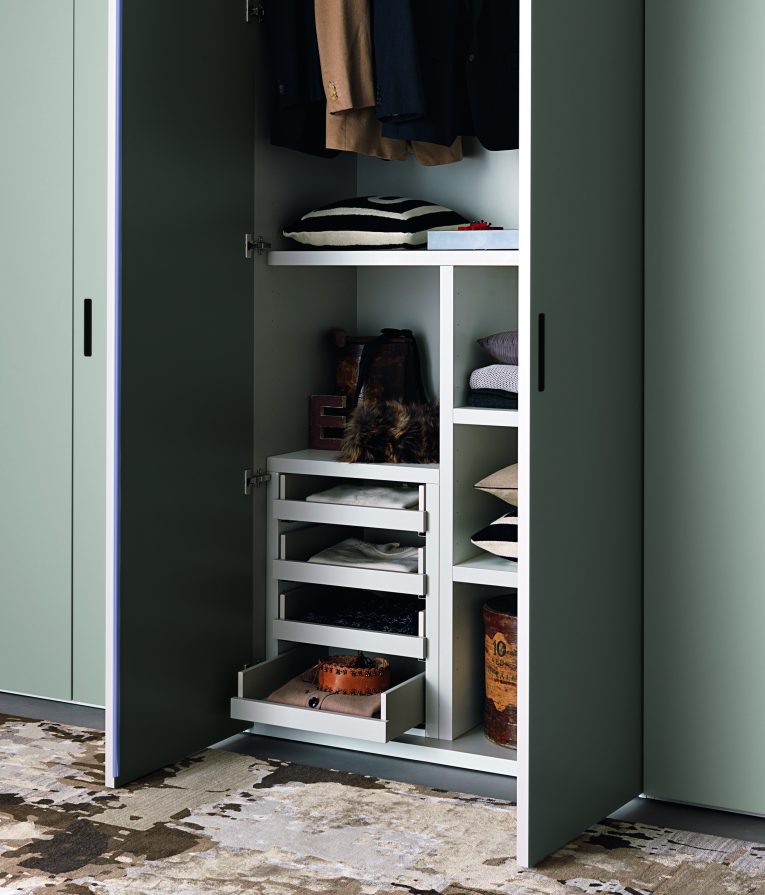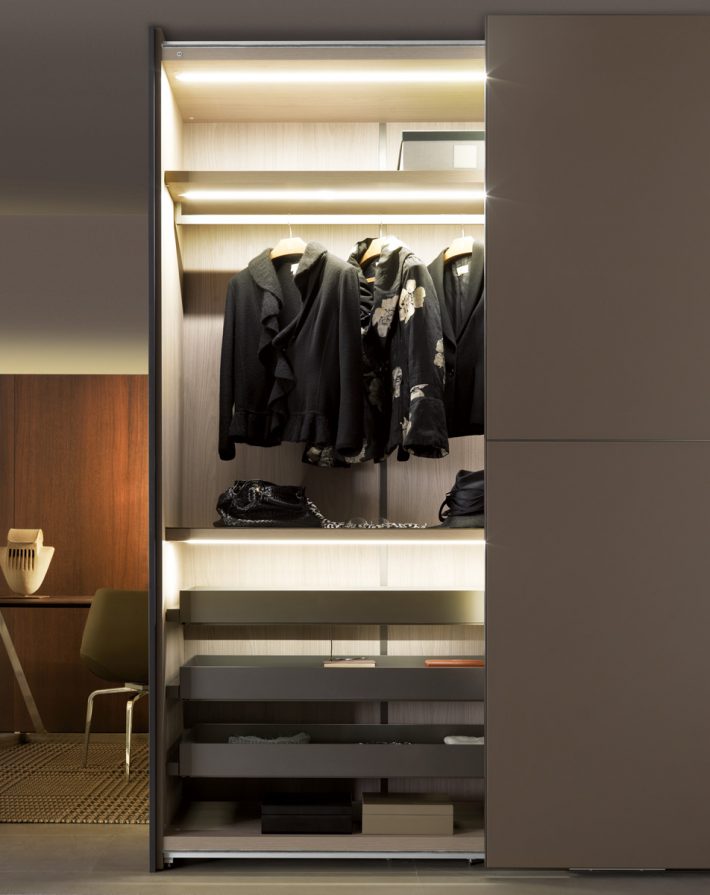 Boston's Divine Design Center doesn't underestimate the importance of wardrobe and closet design. Divine's award-winning interior designers are kindred to the Europeans' respect to detail and function. And as a result, the design team finds inspiration in the European systems they integrate into their distinctive client's homes.The interior fittings of a European wardrobe are meticulous in their realization. Additionally, the magic of European wardrobes doesn't have to end up at the bedroom – it can also be used to augment storage in a mudroom or entryway.
In essence, we are conditioned in America to believe that the gleaming wardrobes and walk-in closets referenced in pop culture are inaccessible. However, Divine Design Center and its team of designers provide the Boston area with the knowledge and application necessary to finally get the closet or wardrobe of their dreams.
Visit Divine Design Center online at divinedesigncenter.com or inside their showroom at 2 Battery Wharf, Boston, MA 02109. Call them at 617-443-0700.
This is a paid partnership between Divine Design Center and Boston Magazine's City/Studio
---