Experience Camping Like Never Before at these Ready-to-Camp Sites in New England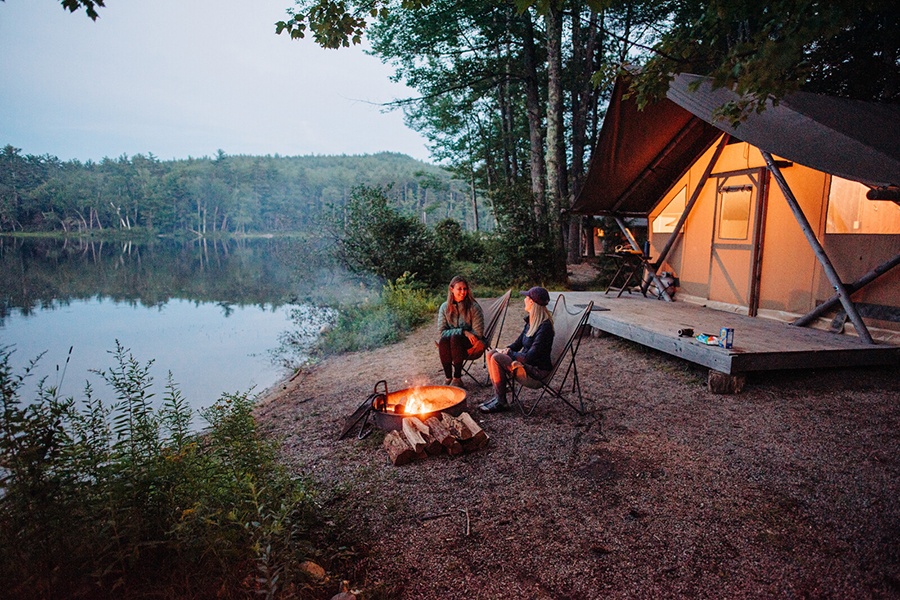 As New England thaws after the long winter, we start to remember that being outside isn't so bad after all. In fact, we may find that our desire to be in nature is reborn—and being in the land of lush forests, calm waters, and some of the world's oldest mountains, there's no place we'd rather be. Who says you need to plan more than a road trip to get the relaxing getaway you need? New Englanders don't.
That's why the Southern Maine and White Mountains Huttopia campsites are becoming perfect New England road trip options for Boston-area nature enthusiasts (especially those who, understandably, prefer not to part from the creature comforts of running water and kitchen access). Here's what you can expect on your Huttopia getaway.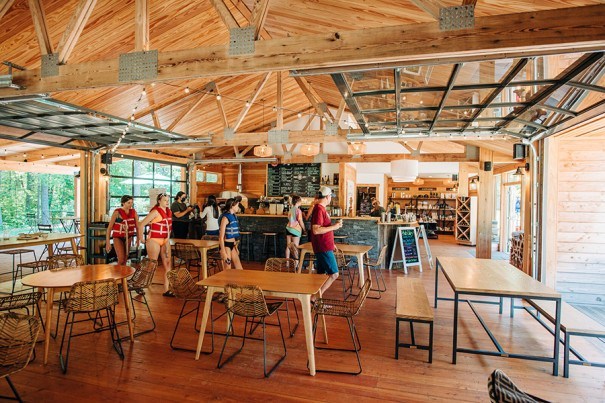 The Huttopia Experience
Huttopia is a French-born concept, known to French speakers as pret-a-camper—it's the French version of ready-to-camp. Even here in New England, Huttopia sites have an unmistakable French flair. Each location has an on-site Bistro & Café, so you can start your day with a cup of espresso, freshly made pastries, and crepes like you would in a Parisian café.
Huttopia accommodations range from tents to cabins, all with real beds and mattresses. Linens and towels are always included, as well as eco-friendly shower products. You can bring your pets for a small daily fee, and if you have a baby, you can reserve a bed and high chair when you reserve your campsite.
The Trappeur (426 sq ft) tent fits up to five people, features a kitchenette, two bedrooms, electricity, and a bathroom. Still back-to-basics with a slightly more furnished look, The Canadienne (350 sq ft) fits up to five people with all the amenities of the Trappeur plus a shared bath house.
The Vista (500 sq ft) transitions out of tent territory and into tiny house territory, with a full kitchen and screened-in porch. It's made for four or five visitors. Finally, The Chalet (625 sq ft) fits up to six people. It resembles more of a cabin, with heating, a full kitchen and two full bathrooms.
Huttopia also offers spaces exclusively for two people, such as The Trapper Duo, which has electricity, a bathroom, kitchen equipment, and a large deck, and The Bonaventure, which has electricity, cooking equipment, and access to a shared bath house.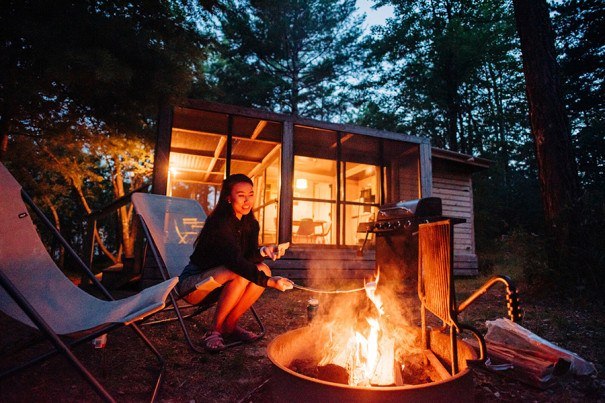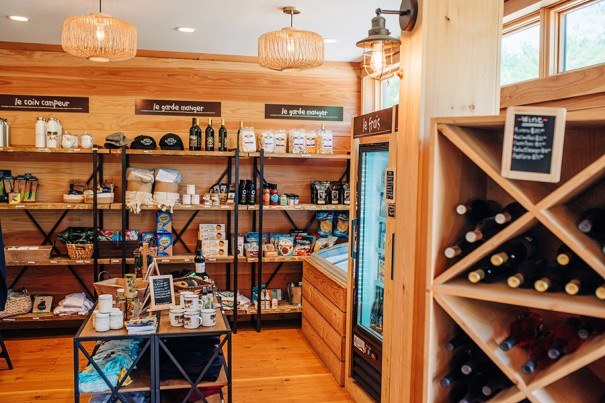 Huttopia Southern Maine
Located in Sanford, ME, just 90 minutes from Boston, the Huttopia Southern Maine campsites are a sight to behold. The location spans about 50 acres, with Trappeur, Canadienne, and Vista accommodations as well as Lakefront Trappeurs with views of Sand Pond. Sand Pond is the perfect place for swimming, canoeing, fishing, and stargazing at night.
There is a bathhouse and dishwashing station, grocery store, restaurant, swimming pool, playground, and designated places to play sports outside the main reception building in the middle of the camp.
If you're looking for more adventure, the Huttopia campsites are just a few miles from Kennebunkport and Wells, where you can spend the day at the beach and exploring the seaside towns. Enjoy a lobster meal on every corner and Maine blueberries in every dessert.
You can also sightsee at Nubble Lighthouse in York, take a scenic walk down Marginal Way in Ogunquit, and discover the walkable Port City of Portsmouth. Portsmouth is also the perfect place to plan a meal, seeing as the number of seats in all its restaurants is more than the population of the city itself.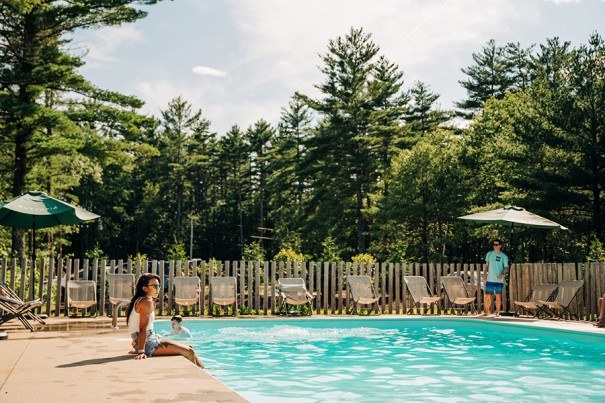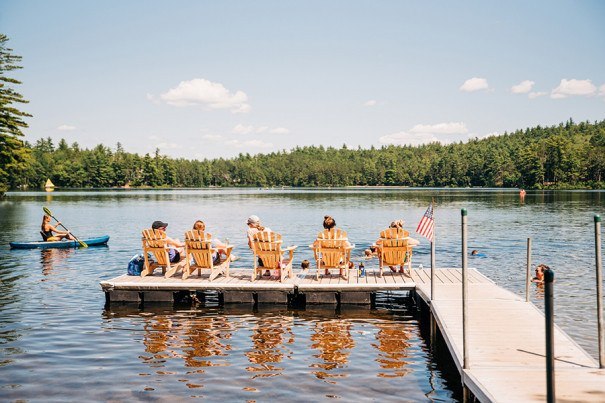 Huttopia White Mountains
Located in the foothills of the White Mountains of New Hampshire, this location is just over two hours from Boston and gives you easy access to some of the best hiking and mountain attractions in New England. The site is home to an Airstream food truck, a swimming pool, and clear lake. If you have canoes or paddle boards at home, you can bring them to use on the lake. If not, there are some available for rent on-site.
There is beach yoga in the mornings where you can immerse yourself in nature and reach inner peace, and even magic shows on the terrace that are suitable for all ages.
In the summer, ski areas turn into adventure parks, with water slides, mountain coasters, zip lines, mountain biking, and more. Diana's Baths is an easy, accessible hike for families that leads to natural swimming holes and waterfalls. Or, if you're an experienced hiker, you can face Mount Washington, about a half hour's drive away. Of course, if you'd prefer, you can drive the Mount Washington Auto Road or ride the Mount Washington Cog Railway to the summit.
If you're looking to unwind after your day of hiking and adrenaline-seeking, you can also tube along the Saco River for a day, feeling the warm sun overhead and the cool water beneath you. Take a shopping break or plan a dinner date in North Conway, whose Settler's Green Shopping Outlets features more than 70 major brand outlet stores and whose streets are dotted with fantastic restaurants.
The Huttopia White Mountains campsite has all the lodging options of Huttopia Southern Maine, plus the Chalet—so bring the whole family.
To learn more about Huttopia destinations and book your adventure today, visit Huttopia.com.
This is a paid partnership between Huttopia and Boston Magazine's City/Studio
---