Building With Joy: Transforming a Historic Barn Into a Modern Masterpiece
You feel it the moment you walk in. The passion in every detail. The love of craft. The joy of transformation. A centuries-old barn stood in disrepair until a couple, moving from Boston to Carlisle, dreamed up a new use for the historic structure. Now, it's a stunning, one-of-a-kind barnwood sanctuary fit for focused work, ethereal play, and making lasting memories.
"Our core business mantra is that the answer is always yes," says Eric Adams, co-founder of Adams + Beasley Associates (A+B), the Carlisle-based, full-service building company that partnered with the couple, the Architect Zac Culbreth, and Interior Designers Lewis Interiors. "We're experts at making a build come together, no matter the size, scope, or style."
Like all A+B projects, this one started with a conversation. A core tenet of the firm is to build rapport with the client and listen to their needs and dreams, because "every project we do is so personal and different." The couple's vision was to breathe new life into the barn so they could use it as an office and entertaining space for years to come. After determining a budget and project timeline, there was one more hurdle for the project: the barn couldn't remain on its original foundation. But A+B knew exactly how to start the transformation process.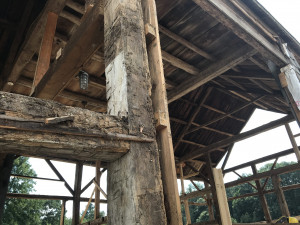 First, the A+B team stripped the barn down to the main structural components; columns, beams, rafters, and roof planking. That bare-bones structure was then relocated 30 feet away onto a brand new concrete foundation where it then underwent six weeks of manipulation using cables and winches to straighten and "true-up" the barn's frame. Now securely in place and a mostly regular rectangle, the team installed a monolithic exterior shell of structural insulated panels, an 8" thick layer of dense foam insulation sandwiched between outside layers of plywood, on the walls and roof. "It's kind of like taking an old frame and wrapping an igloo cooler around it," Adams says.
---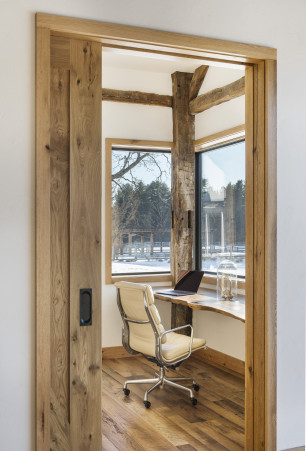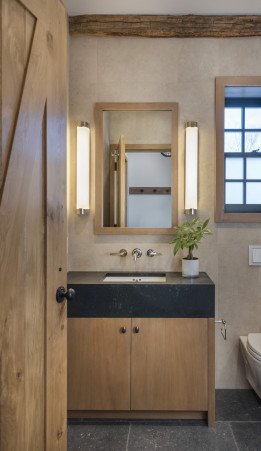 The biggest challenge, (A+B's favorite) was fitting the new features—a hardwood floor, cabinetry, and windows—perfectly into the slightly irregular frame. This meticulous, tenacious, and dedicated team has championed projects from multi-million-dollar beach house additions in Rhode Island to complex luxury condo renovations high above the skyline in Boston's most prestigious towers. "That's what differentiates us," Adams says, "our ability and experience to do these complex and personal projects successfully and seamlessly."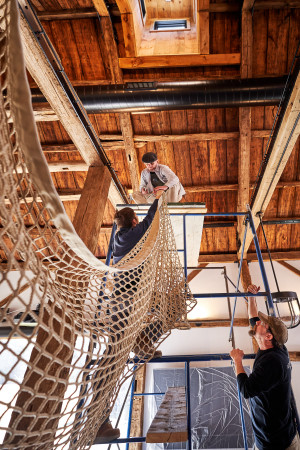 After intricately scribing all the new parts to fit with the old and blasting the exposed underside of the roof planking with dry ice chips—a "gentle version of sandblasting"—to remove all the caked-in debris and odors, it was time to modernize the space. All the latest tech was installed to make it the ideal WFB (Work from Barn) office, along with cozy furnishings for relaxing in the natural light-filled main room. One of A+B's favorite aspects is a custom cargo net suspended from the second-floor loft over the conference table on the first floor so that the couple's daughter could climb in during meetings and drop notes. "Our projects are reflections of the personalities of our clients," Adams explains.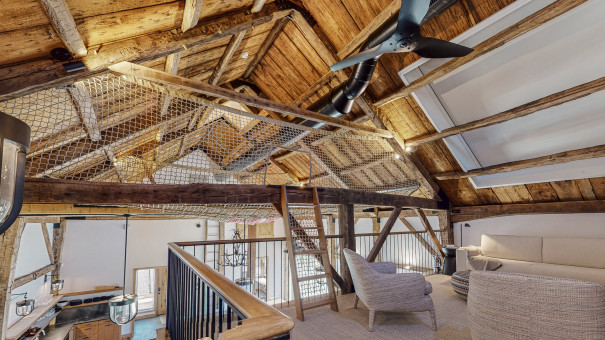 One of the most important elements the A+B team incorporates into projects is magic. The transformational quality of their work springs from the company's core values of delivering exceptional quality, rising to the challenge, showing you care, winning as a team, and bringing your joy. When the project is complete, A+B knows it's a success when the client's detailed vision has been brought to life and they feel the same joy walking into their new space that the A+B team felt building it.
"The culture of our business focuses on bringing joy to people in their homes through this transformation process," Adams says. "That's what we strive for in every project."
To learn more about partnering with the Adams + Beasley team on your dream build or renovation, visit adamsbeasley.com.
This is a paid partnership between Adams + Beasley Associates and Boston Magazine's City/Studio
---