It's Almost Party Planning Season in Boston—Here's Your Holiday Party Venue Guide
Whether you're heading into a holiday season of small gatherings and nights out or fundraisers and company-wide events, September is the time to book a gorgeous venue for your next event. Our annual list has dozens of locations, brand-new and classic, intimate and expansive, to host the perfect party. But first, party planning takes time. Let us take the guesswork out of your holiday party with our step-by-step planning guide.
Step One: Determine event date, budget, and guest list.
Before you start meeting with vendors, you'll want a general idea of what your event will look like, so you know what to ask for from your vendors—no need to get too specific, as this will probably evolve and adjust as you meet with them. Come up with the month that you would like to host your event, without getting too attached to any one date if possible. Decide on one or two must-have priorities, then research venue, catering, and entertainment costs and draw up a budget. Finally, determine an approximate guest count, which will help you find the right venue.
Step Two: Book a venue.
Your venue determines what vendors will fit at your event (literally), and will be the basis for further design and layout possibilities, so it's
important to find a venue before you go any further. You'll need to start as early as possible. If you select a midweek date, you'll probably have an easier time booking for your preferred date and time, and you should get a lower rate as well.
Step Three: Meet with your event coordinator.
Once you've secured a venue, you'll be able to decide how you're going to use the space. The more complex your plans, the earlier you'll want to meet with an event coordinator at the venue to see if they can pull off what you're looking for in regards to catering, lighting, music, and event space. Then, move on to other elements like games, booths, and decor. Be sure to communicate the venue's COVID protocols with your guests so that no one is taken by surprise.
Step Four: Send out invitations and book guest accommodations and transport.
You want to notify your guests well ahead of time so they don't end up with any conflicting obligations. Set a deadline of around one month to RSVP, which should give them plenty of time to figure out if they can attend—any longer and they might forget about the invitation. As your guest list comes into focus, you can book your accommodations and transport.
Step Five: Develop an event schedule and final layout.
Once all the pieces are in place, you can finalize the arrangement. In addition to blocking out the festivities themselves, plan for the arrival of any vendors, musicians, photographers, etc. They may need to come in one at a time to avoid bumping into one another.
Step Six: Focus on putting your plan into action.
In your last week, confirm with your vendors and give your event a run-through. Before you know it, it'll be the big day—remember to enjoy yourself!
The Venues
ALIBI
Set in the old "drunk tank" of what was the former Charles Street Jail, Alibi is a venue like no other. Original bluestone floors and brick cell walls set the (crime) scene for mingling amongst cheeky images of celebrities and their "alibis." Available for semi-private, or full buyouts, Alibi's arresting cocktails complement Chef Lydia Shire's menu making this an ideal spot to host a holiday gathering. No paparazzi please. 215 Charles Street, Boston | 857-241-1144 | alibiboston.com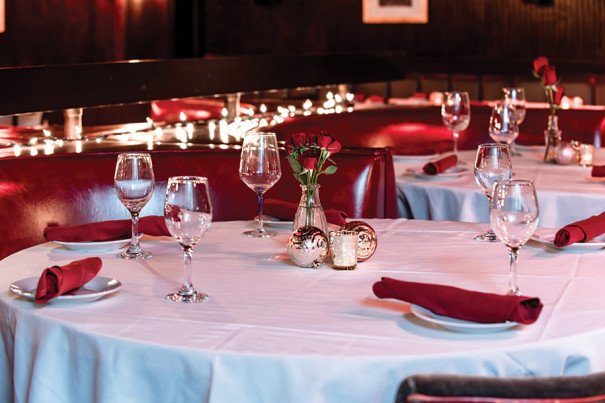 BACK BAY SOCIAL
Back Bay Social, located across from the Hynes Convention Center, is a two-floor restaurant offering fun happy hour options or seated affairs. The beautiful private downstairs bar evokes a simpler time of coup glasses overflowing with champagne. For smaller groups wanting to be seen along Back Bay's famous address, we offer many semi-private options as well. Add to your event experience with a wine tasting or cocktail demonstration. This is the office party that will be talked about for all the good reasons. 867 Boylston Street, Boston | 617-247-3200 | backbaysocialclub.com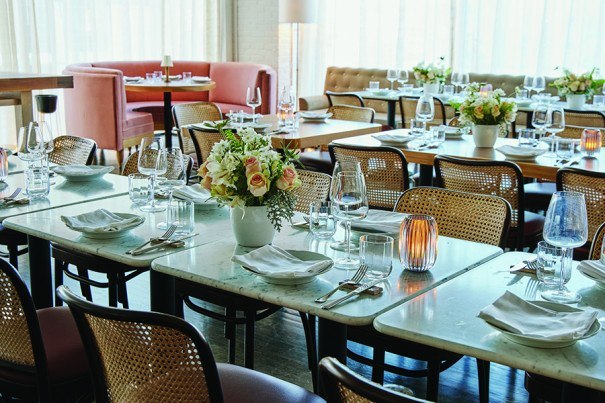 BAR ENZA
Bar Enza is a neo-trattoria serving Italian influenced fare. The restaurant is home to Michelin-rated and James Beard award-winning Executive Chef Mark Ladner. Bar Enza is located in the iconic Charles Hotel with two private dining rooms overlooking Harvard Square, the versatile space allows for creativity when planning your holiday party. Chef Ladner and team will showcase Italian dishes that are sophisticated and inventive that will pair perfectly with an Italian forward wine list. Whether you are in the neighborhood or coming from outside the city limits, Bar Enza is a holiday destination venue. 1 Bennet Street, Boston | 617-611-5050 | bar-enza.com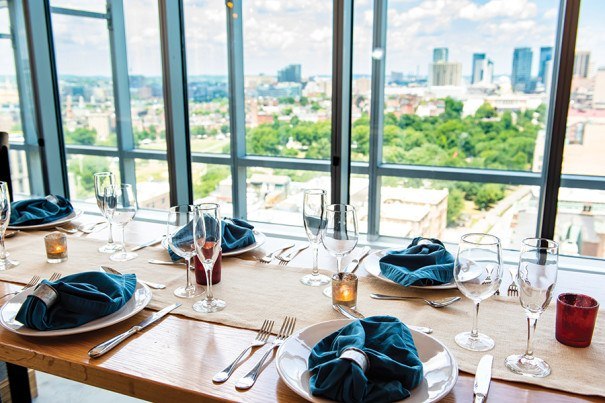 BAR MOXY
We challenge you to find a better rooftop in Boston. With its panoramic views of Boston, this unique venue is a one-of-a-kind space. Bar Moxy is a destination where imagination knows no bounds: a mime on a tricycle? Sure. A silent disco? Absolutely. Here at Bar Moxy, we want to bring your event vision to life. Located in Boston's Theatre District, in the Ultra-Chic Moxy Hotel, Bar Moxy is the easiest decision you'll make in the 4th quarter. 240 Tremont Street, Boston | 617-793-4200 | barmoxyboston.com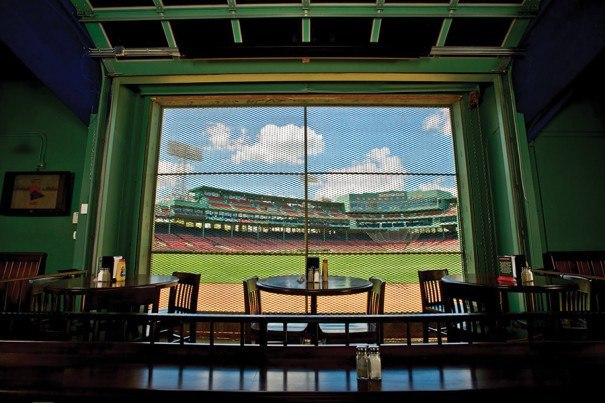 BLEACHER BAR
Combine a love of baseball, a love of history, and a love of Boston and you have arrived at Bleacher Bar. Located underneath America's most beloved ballpark this unique venue can bring baseball season, even in December. Bleacher Bar can accommodate semi-private groups with a direct view of the Red Sox outfield or full buyouts. Don't wait for spring training, get a taste of baseball for the holidays. 82A Lansdowne Street, Boston | 617-262-2424 | bleacherbarboston.com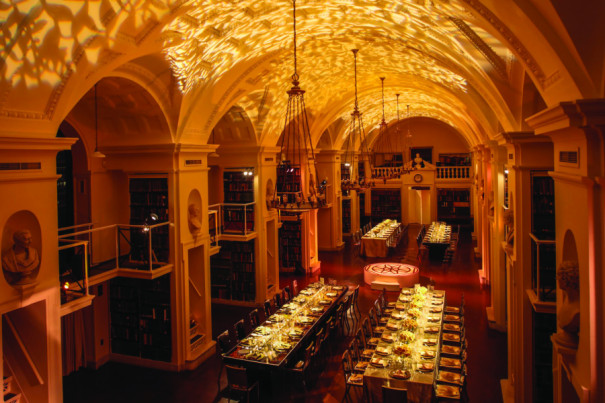 BOSTON ATHENÆUM
Books and bubbles. Recently featured in the June 2022 issue of Town & Country, the Boston Athenæum's history and thoughtful renovations offer sophisticated spaces for the most creative and discerning guests. Founded in 1807, the Boston Athenæum is one of the most distinguished independent libraries in the United States. This historic gem lends itself beautifully to intimate weddings and truly remarkable corporate events alike. 10½ Beacon St, Boston | bostonathenaeum.org | Instagram: @thecateredaffair | Instagram: @bostonathenaeum | Twitter: @bostonathenaeum
BOSTON PUBLIC LIBRARY
Tradition, innovation, and imagination. Transform every occasion into a grand celebration by pairing spectacular food and impeccable service with a truly iconic setting. Boston Public Library offers unique access to stunning spaces and an illustrious courtyard featuring a majestic fountain. For larger events and galas, the Boylston Street building offers a sleek, modern setting with floor-to-ceiling glass windows looking out onto Boylston Street. The venue lends a sense of grandeur with its distinction as a quintessential Boston icon. 700 Boylston Street, Boston | 617-859-2282 | thecateredaffair.com/bpl | Instagram: @thecateredaffair | Instagram: @bplboston | Twitter: @bplboston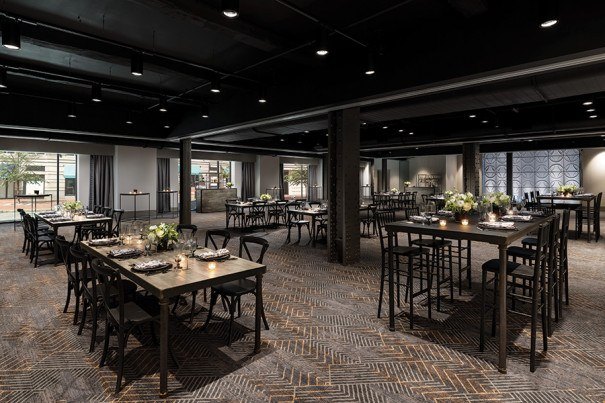 BOSTON PARK PLAZA
For nearly a century, Boston Park Plaza has hosted spectacular events. The hotel is an unrivaled destination for an unforgettable holiday party. From lavish dinners to intimate gatherings, the hotel offers a number of distinct spaces from the urban chic Avenue 34 to the historic grandeur of The Grand Ballroom. This festive season, be among the first to experience Boston Park Plaza's newest event space: The Square, a contemporary venue located just off the vibrant hotel lobby. 50 Park Plaza, Boston | 617-457-2281 | bostonparkplaza.com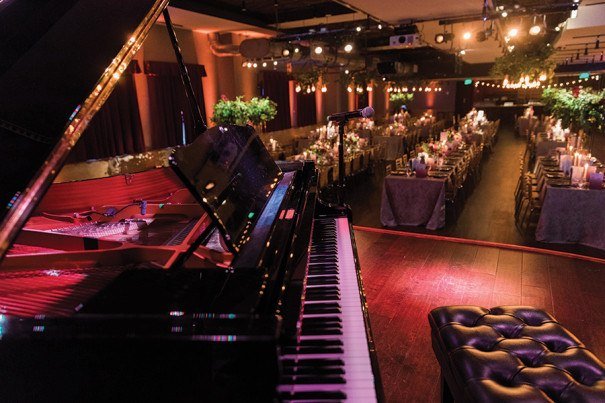 CITY WINERY
City Winery was founded in New York City in 2008 by Michael Dorf to deliver a unique combined culinary and cultural experience to urban wine enthusiasts. Each City Winery offers intimate concerts, food and wine seminars, private event spaces, upscale dining, and a fully functioning winery. Located just steps from TD Garden and Quincy Market, City Winery is a feast for all of your senses! 80 Beverly Street, Boston citywinery.com/boston | Instagram: @citywinerybos | Twitter: @citywinerybos

FLIGHT CLUB DARTS
Flight Club is the home of Social Darts, a phenomenon that has revolutionized the traditional game of darts! Flight Club has taken the game and developed innovative technology that allows groups of 6–300 to play at the same time. Flight Club offers a supercharged, social gaming experience like no other, with multi-player games set in semi-private or private playing areas, delicious food, and amazing bespoke cocktails. Call or email to book your holiday party today! 60 Seaport Boulevard, Boston 617-855-9888 | us.flightclubdarts.com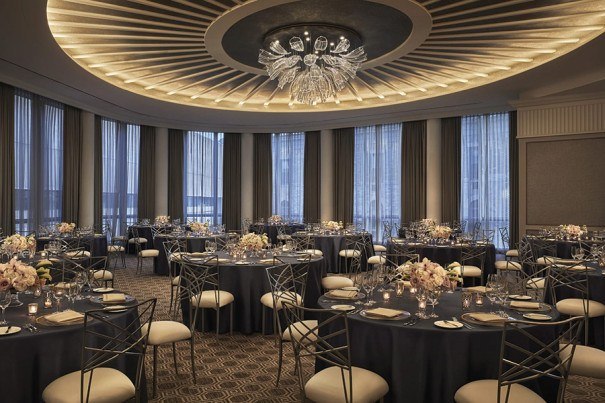 FOUR SEASONS HOTEL ONE DALTON
Discover Four Seasons Hotel One Dalton Street, Boston, a cutting-edge 61-story skyscraper in the heart of Back Bay and enhance your events for any holiday celebration. Choose from two ballrooms and five function rooms, all offering plenty of natural light courtesy of floor-to-ceiling windows with two rooms that include outdoor terraces—rare in the city of Boston. The One Dalton team will work closely with you to create a festive and spectacular event that exceeds your expectations. 1 Dalton Street, Boston | 617-530-1846 fourseasons.com/onedalton | Instagram: @fsbostondalton | Twitter: @fsbostondalton

GAME ON! FENWAY
Do your officemates like a little friendly competition? Not your average sports bar, Game On! has ping pong, Cornhole, Giant Jenga, Buck Hunter, and Pop A Shot. Located in the heart of Fenway, we also can offer batting practice at the Official Red Sox Visitors' batting cage. Our menu and cocktails are designed so you and your guests can maximize on the fun. From small suites to full buyouts, Game On! can accommodate your holiday party no matter the size. 82 Lansdowne Street, Boston 617-351-7001 | gameonboston.com
LANSDOWNE PUB
A successful holiday party has three things: crafty cocktails, solid food, and live music. The Lansdowne Pub, located in the heart of Boston in the historic Fenway neighborhood is just the place. Our booking agent is well versed in the Boston music scene and with two private spaces and multiple semi-private options, let Lansdowne Pub take the stress out of planning the perfect holiday party. 9 Lansdowne Street, Boston | 617-247-1222 | lansdownepubboston.com

LORETTA'S LAST CALL
Loretta's Last Call is Boston's original country venue, located in the heart of Fenway. The dining room boasts an open concept, with wall art, warm lights, and original décor inspired from some of Nashville's most famous honky tonks. Loretta's offers traditional southern cuisine, moonshine tastings, line dancing lessons, countryoke, and live music for guests to enjoy. From intimate gatherings to larger seated dinners, Loretta's Last Call can blend your love of ugly holiday sweaters and cowboy boots perfectly. 1 Lansdowne Street, Boston | 617-421-9595 | lorettaslastcall.com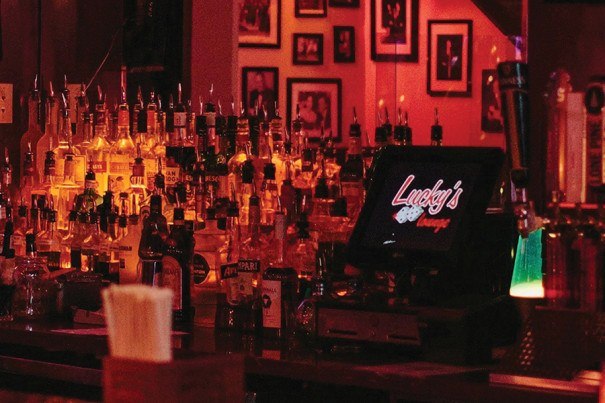 LUCKY'S LOUNGE
Located in the historic Fort Point neighborhood, Lucky's Lounge has paved the way for "Restaurant Row" in the Seaport district of South Boston. Since 2001, Lucky's has been serving elevated comfort food and drinks with style and consists of two sides of semi-private options for your holiday party. Whether you want to start right after work for a happy hour or make Lucky's the after party for your holiday party, our cocktails, cuisine, and live music will keep the smiles come Monday morning. 355 Congress Street, Boston 617-357-5825 | luckyslounge.com
OMNI BOSTON HOTEL AT THE SEAPORT
Located in the vibrant Seaport District, Omni Boston Hotel at the Seaport offers unrivaled event space featuring over 100,000 square feet of space including the largest ballroom in Boston, as well as seven unique private event spaces that can host gatherings between eight and 200 people. With an extensive art and visionary environment, breathtaking harbor and city views, unparalleled service, and pulsating Seaport location, we offer the ideal setting for your holiday event. For more information, please contact our team at bossea.leads@omnihotels.com. 450 Summer Street, Boston | 617-476-6664 | omnihotels.com/bostonseaport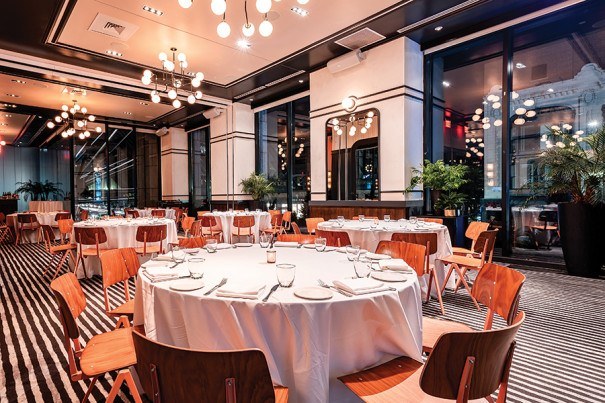 ROCHAMBEAU
Located in the heart of Back Bay, our Parisian-inspired venue takes on iconic French brasserie style dishes with a modern twist on urban cuisine. Invite your office to dine in one of Rochambeau's two dining rooms overlooking Boylston Street. Or, host a wine tasting complete with charcuterie boards in our café. Or, a happy hour vibe in our downstairs bar may be more your party theme. With its versatile layout, Rochambeau can deliver any style of holiday party you can dream up. 900 Boylston Street, Boston | 617-247-0400 | rochambeauboston.com

SCAMPO
Scampo, Italian for "escape," is the stunning, award-winning restaurant in Boston's Liberty Hotel and culinary destination created by legendary Chef Lydia Shire. The elegant, private dining room is a warm and beautiful space that provides guests with views of the open kitchen while offering a fully private experience for up to 45 guests for a seated event or 65 guests for a cocktail party. Looking for something more casual? Scampo can host reception style events in its beautiful lounge adjacent to the bar. With Italian inspired cocktails and cuisine against a backdrop of a gorgeous dining room, this venue is an easy choice for a holiday event. 215 Charles Street, Boston | 617-536-2100 | scampoboston.com

SONSIE
Located in the heart of the Back Bay, Sonsie has earned a reputation as a place to see and be seen on the world-famous Newbury Street. Downstairs, hidden away from the hustle and bustle of the dining room, is the private Wine Room. With a private bar, this is the space you need to dazzle your holiday guests with a craft cocktail demonstration or wine tasting. The intimate space can also host seated dinners. For those wanting more bustle, Sonsie's main dining room has a full bar with high-top tables, a European style cafe, and a charming wood-fired pizza kitchen. Perfect for small intimate affairs or larger semi-private receptions, Sonsie is versatile in setting the holiday mood. 327 Newbury Street, Boston | 617-351-2500 | sonsieboston.com

SUMMER SHACK BOSTON
We at Summer Shack think Food is Love and there is no better venue to share that love than our Back Bay location. With a hint of nostalgia and an adoration for Boston's coastal towns, Summer Shack evokes the feeling of a classic New England Clam Shack. Featuring fresh, local seafood and other New England classics such as clam-bakes, Jasper White's famous pan-roasted lobster, raw bar, and assorted steaks, Summer Shack Boston is an easy destination for the hard to please office mates. Or we can bring the party to you with our raw bar events and office catering. 50 Dalton Street, Boston | 617-867-9955 | summershackrestaurant.com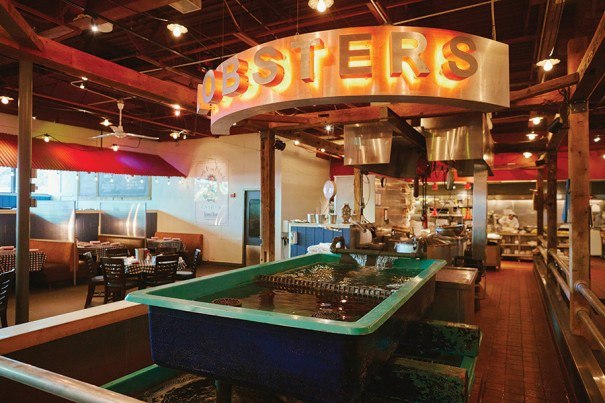 SUMMER SHACK CAMBRIDGE
Summer Shack Cambridge is the flagship location of Summer Shack. A city staple for 19 years, Summer Shack has the largest oyster bar in the city, making it a great option for the seafood lovers in your office. With a hint of nostalgia and an adoration for Boston's coastal towns, Summer Shack evokes the feeling of a classic New England Clam Shack. Featuring fresh, local seafood and other New England classics such as clam-bakes, Jasper White's famous pan-roasted lobster, raw bar, and assorted steaks, Summer Shack Cambridge harbors the best in holiday festivities. Food is Love. 149 Alewife Brook Parkway, Cambridge | 617-520-9500 | summershackrestaurant.com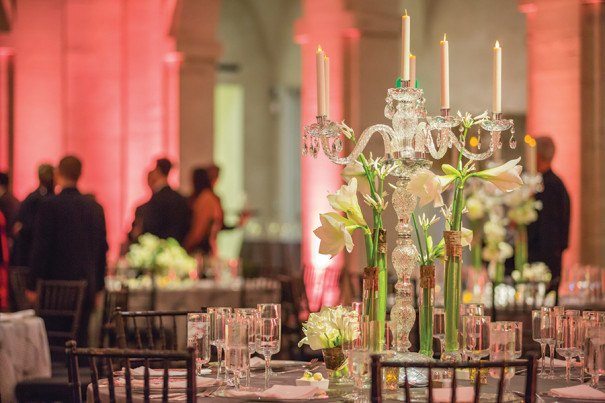 THE HARVARD ART MUSEUMS
Rendezvous in the piazza. Mingle after hours with masters Monet and Pollack, while indulging in a decadent dining experience. Designed in the style of an Italian piazza, the stunning architecture paired with The Catered Affair's culinary artistry delivers an unforgettable and immersive masterpiece. Winner of Boston magazine's Best Museum Wedding Venue 2019, this impressive setting is a highly coveted cultural destination for events of all kinds. 32 Quincy Street Cambridge, MA | 781-763-1333 thecateredaffair.com/harvardartmuseums | Instagram: @thecateredaffair | Instagram: @harvardartmuseums
THE WESTIN COPLEY PLACE
The Westin Copley Place is the ideal setting for your holiday celebration. Situated in the heart of Back Bay with 54,000 square feet of flexible event and pre-function space, find the venue that's perfect for your group and choose from three holiday-themed menus. Email boswisalesmarketing@marriott.com for more information. 10 Huntington Avenue, Boston 617-262-9600 | westincopleyplaceboston.com | Instagram: @westincopleyplaceboston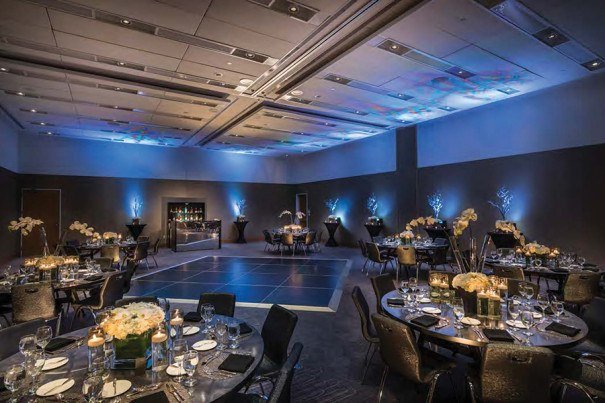 W BOSTON
W Boston's 5,000 square feet of event venues and studios will revolutionize the way you celebrate the holiday season. Utilize W Boston's modern furniture and décor to create an avant-garde event including streamlined linen-less tables, ergonomic "sparkle" chairs, mirrored "sparkle" bar, customizable table-top signage, in-house audio/visual service provider, a sleek, black dance floor, and views of Boston's dynamic Theatre District. Email boswhsalesmarketing@marriott.com for more information. 100 Stuart Street, Boston 617-261-8700 | wboston.com | Instagram: @wboston
This is a paid partnership between Boston Magazine and Boston Magazine's City/Studio
---