How Good Food and Conversation Shaped this Plymouth Village
Food is powerful. It brings people together, shapes memories and empowers communities. Rushing through the day, it's easy to forget that sharing a meal is an intimate experience, but in the case of The Pinehills — a classic New England-style village in Plymouth — that food-harvested power is kicking off a conversation that's helping the neighborhood grow and thrive.
Social psychologist Shankar Vedantam recently appeared on NPR's "Hidden Brain" podcast to talk about how food and trust coincide.
"To eat the same foods [as another person] suggests that we are both willing to bring the same thing into our bodies," Vedantam explains. When thought of outside the box, this is a notion that can be put to use in, say, the planning of a new community.
Tony Green, managing partner of The Pinehills, says that one of the first steps in creating the community was figuring out exactly how people defined a village. Cue the traditional one-way mirror focus group. While the market research collected from this task was beneficial, it was the hors d'oeuvres session after the study that proved most fruitful for Green's development team.
"We were told there was more value in the 30 minutes at the end than there was in the hour and a half behind the glass," Green said. "The food was part of what made the conversation better."
With that knowledge, The Pinehills team added more people and more food to their research, organizing intimate breakfasts that welcomed people to snack while they shared their visions of the perfect home, the perfect community. In total, more than 300 people attended these meals, and it was their words, built around good food, that informed Green and his group of the public's hunger for real community.
There are seven dining locations within The Pinehills, each with their own flavor, style and delivery. Options include a casual, family-owned Italian restaurant, a breakfast and lunch cafe, a bistro & wine bar, a garden bar with wood fired pizza oven, a farm-to-table tavern, a bar and grill at Pinehills Golf Club and a kitchen at The Market, a high-end grocery with chef-directed dishes and fare.
"We wanted to make sure we provided a variety of different ways for food to be a part of the community," Green explains. "We want to make this a place that's welcoming for everybody."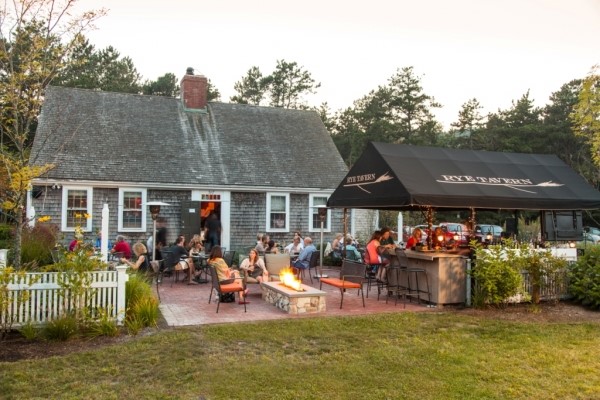 Maybe the most welcoming is the Rye Tavern, built in 1792 on the oldest unpaved road in continuous use in the country and overlooking a historic, six-acre rye field and its own garden. The farm-to-table restaurant, with its 30-seat outdoor bar and patio, hyper-locally sourced ingredients), live music and lawn games, is among many of The Pinehill's spaces open to the general public. It's another way to invite conversation into the community.
Mirbeau Inn & Spa, another Pinehills gem, is invitingly picturesque. Inspired by traditional French country manor houses with ponds, flower gardens and winding hallways. French-inspired through and through, Mirbeau's menu features authentic dishes ripe with fresh, local ingredients — think beef carpaccio, oysters, mussel flights and incredibly on-the-nose wine pairings.
As The Pinehills has proven, when you build a community with great food and company on the foreground, you have a very strong structure that can only grow. When you're in town, stop in for a meal and a good conversation.
This is a paid partnership between The Pinehills and Boston Magazine's City/Studio
---