Want to know the secret behind New England's favorite ice cream? Here's the scoop.
Few things go together quite like summer and ice cream. A cold, creamy scoop (or several) is the perfect way to beat the heat, and no backyard BBQ is complete without ice cream for dessert. For many New Englanders, their love affair with ice cream started as kids with Hoodsie Cups, the iconic 4th of July picnic, and Little League treat. Whether it's the classic Golden Vanilla or irresistibly smooth Chocolate flavor, New Englanders know that Hood Ice Cream delivers a premium taste and smile with every scoop.
Curious what makes Hood Ice Cream taste so heavenly? To find out, we figured we'd ask the expert: Peter Fabbri, plant manager of the Hood Ice Cream plant in Suffield, CT. Operating for over 50 years, the 100,000 square-foot facility produces about 100,000 cartons of ice cream every day, all with the same rich and delicious texture and taste. The secret? You can find it printed for all to see on Hood's new Ice Cream packaging: "Made With Premium Hood Milk and Cream."
"Starting with real Hood Milk and Cream gives our ice cream the creamy texture and full-bodied taste that New Englanders have consumed for years," says Fabbri.
Better Than "Good Enough"
In 1846, Harvey P. Hood decided that people deserved better than just the "good enough" milk he was delivering from other farms. So, he decided to start his own. Ever since, Hood has been synonymous with fresh, reliable, premium-quality milk—so much so that the 40-feet-tall Hood milk bottle has become one of Boston's most iconic local landmarks. Premium milk starts at the farm, and Hood has pledged since the beginning to work with only the best farmers who demonstrate the highest standards of quality, animal care, and environmental sustainability. You don't become New England's favorite dairy brand by skimping on quality, and Hood's milk ensures that it's not just the ice cream that makes you feel good, but knowing where the ingredients come from, too.
Crafted With Care
Once those premium, delicious ingredients make it to the Hood plant, the magical process of ice cream making begins. First, the team creates the base using Hood's fresh milk and cream. Then, the team adds in the specific ice cream flavor and the ice cream goes into a large freezer where even more amazing ingredients—brownies, caramel, sprinkles, etc.—are added in to create one of Hood's beloved flavors like Golden Vanilla or Cookies and Cream. There's just one more step before sending off the finished product to be picked up and enjoyed from ice cream shops and grocery stores across the region. It's also a key part of what's kept Fabbri working on Hood Ice Cream for 12 years.
"My favorite part about making ice cream is taste-testing the product," says Fabbri. "I'm so proud of the product that we make and the care we take in making it."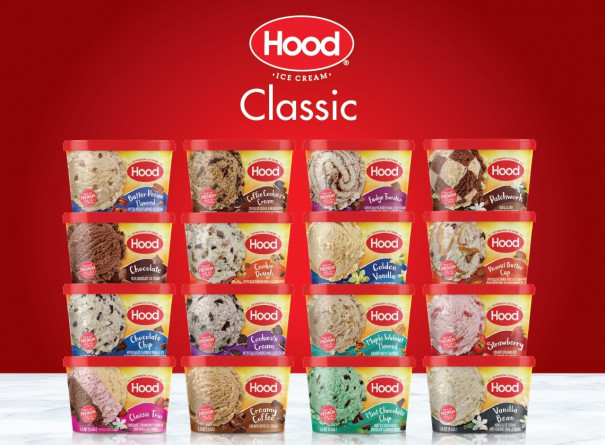 A Sunny New Look
Hood Ice Cream is made for bright, happy days full of sunshine and smiles which inspired their new packaging refresh. for their Classics line. You'll feel those summertime vibes whenever you pick up a batch from the local ice cream aisle knowing that every scoop contains premium Hood Milk and Cream for that homemade, licked-off-the-spoon taste.
"We wanted to update our packaging to highlight the premium quality that our ice cream offers," says Fabbri. "Hood has so many delicious ice cream flavors, but Vanilla, Chocolate, and Cookies and Cream are three popular flavors that offer a perfect variety of our Classics line."
Whether it's a birthday party, family vacation, or a movie night in, Fabbri says that Hood Ice Cream is made for enjoying and celebrating life's simple moments. With so many rich, creamy, and delicious flavors to try, the hardest part is picking just which Classic carton to get. Better yet, why not try them all? Just be sure to share a scoop!
To find your favorite Hood Ice Cream at a store near you, visit hood.com/store-locator.
This is a paid partnership between Hood and Boston Magazine's City/Studio
---