New Year, New Kitchen: This One Pro Tip Will Make All the Difference in Your Plan
A kitchen renovation is a tried-and-true way to breathe new life into your home. For many, it's also known to be a bit of a challenge. It's a space with so many elements that are meant to fit together in a practical, efficient and beautiful way. According to many of the country's top kitchen designers and appliance experts like the team at Clarke, New England's Official Sub-Zero, Wolf and Cove Showroom and Test Kitchen, there's one tip that can help you make sure it all runs smoothly: choose your appliances first—even before you plan your layout. Here's why.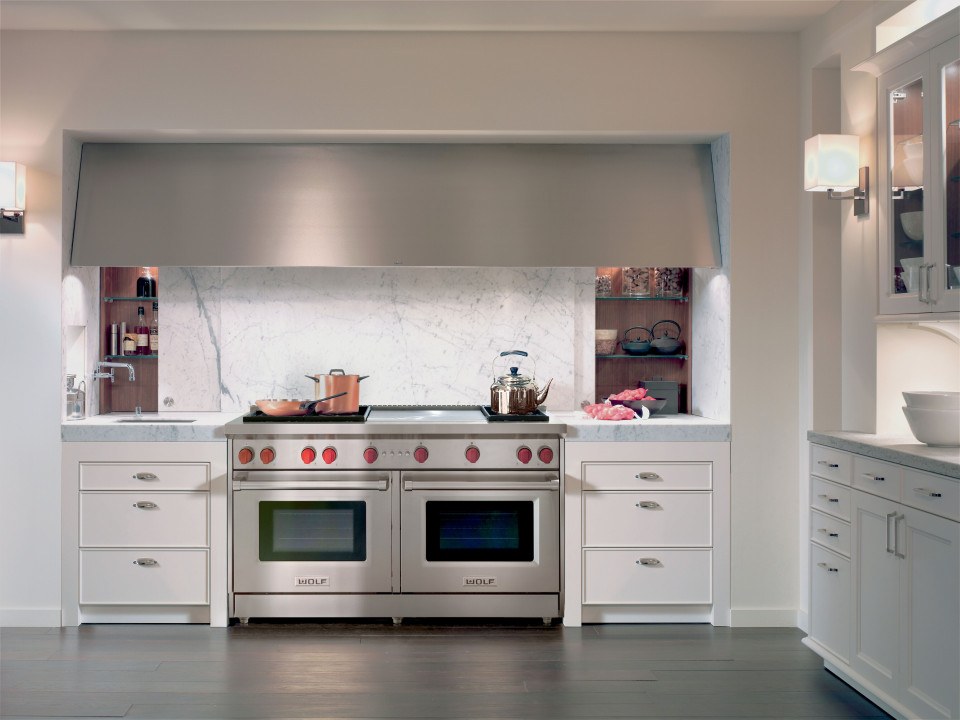 You may not know all your appliance options
Your current preferences in the kitchen will help dictate significant choices when it comes to your new appliances. But even if you suspect these will be obvious decisions, don't assume they can wait. Why? Because after visiting with experts at a Clarke Showroom, you'll discover high-performance ranges, ovens, cooktops, and refrigerators you didn't even know you needed.
One such appliance? The Wolf Convection Steam Oven. Combining steam with convection heat, this popular oven will give you the best, most delicious result for everything from crème brûlée to leftovers to a Thanksgiving turkey. In fact, more people who visit a Clarke Showroom add a Wolf Convection Steam Oven to their plan than any other appliance. Once you see it in action at Clarke, you'll wonder where it's been all your life.
If you had already decided on your layout before you test-drove a 48-inch Wolf Range, or an induction cooktop with convection wall ovens, or even Sub-Zero freezer or refrigerator drawers (just to name a few), you'd be forced to start over—or sacrifice the appliance you could've prized for years to come.
Instead, start by learning all the ways your new appliances can literally change your life. At Clarke Showrooms in Boston Seaport and Milford, MA, appliance experts will open your eyes to superior performance, energy efficiency, Wi-Fi-enabled smart features, and elegance you've been missing out on.
Your final kitchen design will revolve around your appliances
Your renovation is about more than just replacing old cabinets, tile, countertops, and appliances. It's about rethinking the space you have to actually make your life easier and your cooking more enjoyable.
Since most activity in the kitchen involves refrigeration and cooking appliances, it's only fitting that the layout of your kitchen should be dictated by the location of your most used appliances.
For example, if you prioritize organization and convenience, The Galley Workstation would place everything you need to prepare, cook, serve, entertain, and clean in one place. With 50 different coordinated products, including sinks, faucets, cutting boards, bowls, colanders, drain racks, and more, The Galley can turn five feet of space into 15 feet of functionality.
Choosing the appliances before you proceed with your kitchen layout and cabinet style is the best way to ensure that your kitchen will not only look stunning but will make the most sense for you and your family. There are even options if you want your appliances to be discreet—you can find many custom panels that match your cabinetry. Knowing this upfront will guide your selection and layout.
You can fully optimize the way you cook and eat
Once you have your major appliances picked out, you can explore other intriguing options like warming drawers, wok burners, speed ovens and more. The experts at the Clarke Showrooms can show you all the fun, yet practical add on options.
The built-in Wolf Coffee System (pictured on the left) is a perfect example. Investing in this small appliance will make a huge difference when it comes to your coffee and your kitchen. You can brew coffee, espresso, cappuccino, and more, with whole-bean or pre-ground coffee. You can save the personal settings for everyone in your home, so it's like having a barista right in your kitchen (or consider putting one in your master suite to make mornings that much more relaxed).
And, wine lovers, there's Sub-Zero Wine Storage: a gorgeous solution for all your favorite wines. It complements any kitchen aesthetic as it comes in different sizes and finishes, and it allows you to store up to 147 bottles of reds and whites in separate zones to create the perfect temperature and humidity to preserve every bottle. While Sub-Zero offers a free-standing option, building it in seamlessly into your kitchen requires advance planning (another reason exploring these options early in your design process is key).
Finally, if you're tight on space, you can even turn 15" of countertop into a unique cooking surface with Wolf's module cooktops for functions like steaming, grilling, frying, or wok cooking. The Wolf steamer module (shown on the right) gives you endless options for your culinary endeavors. Melt fine chocolate, proof bread, slow cook for eight to ten hours all with single-degree precision. And you can release all the water in the steamer in just two minutes with the electronic drain. Who knew?
Ready to start your kitchen renovation the right way? Visit clarkeliving.com.
This is a paid partnership between Clarke and Boston Magazine's City/Studio
---