Want to Treat Acne, Arthritis, Discoloration, and More? Try LED Light Therapy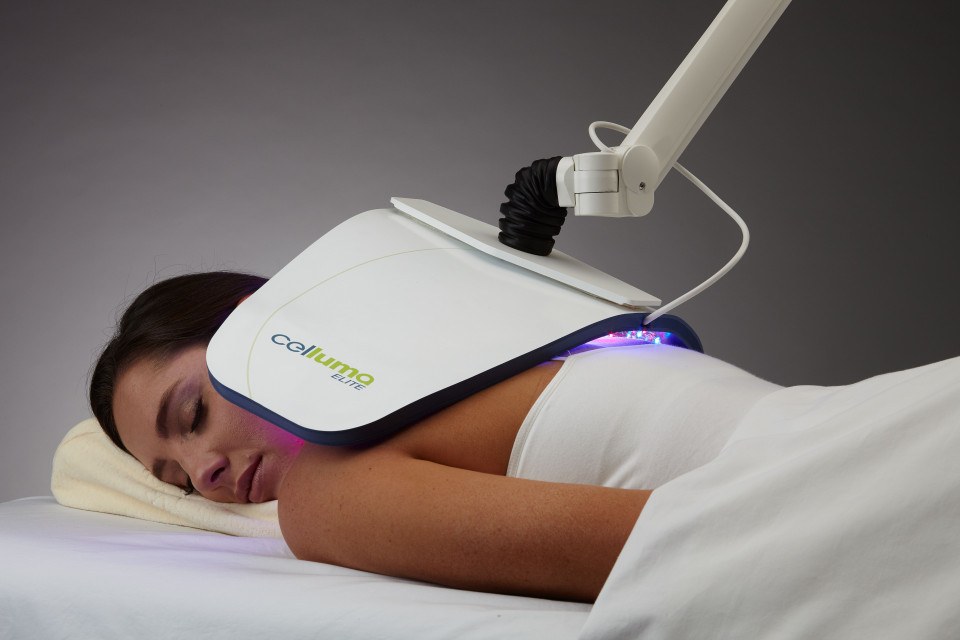 Whether you are sitting at a desk or on your feet all day, most of us live with aches and pains that we don't know how to kick. What if you could treat them, and a host of other conditions, simultaneously with no side effects or downtime? This is where LED light therapy comes in. And it's offered at G2O Spa + Salon in Back Bay.
So what is LED light therapy and how does it work?
You may have already seen your favorite beauty guru on Instagram donning a large, robotic-looking, full-face mask and touting the benefits—but do you understand how products like these, which use LED light therapy technology, actually work?
LED light therapy is an FDA-cleared treatment for a number of conditions, including acne, arthritic pain, compromised blood flow and circulation, inflammation, muscle and joint pain or stiffness, and even depression. While the technology is still relatively new—having been popularized mostly within the last decade—studies have shown promising results about the effects of blue light, red light, and near infrared light in treating skin conditions.
Most LED light therapy treatments use a combination of three wavelengths of light during treatments: blue light, known for antibacterial properties; red light, which helps generate collagen; and near infrared light to enhance tissue repair. Each wavelength treats conditions on a cellular level. For example, blue light is thought to reduce activity in the sebaceous glands (which produce oil that ultimately clogs pores) and kill the acne-causing bacteria C. acnes. Experts believe that red light, however, activates skin cells called fibroblasts that help produce collagen. Collagen helps skin recover after being harmed, which explains why red light can be effective in treating problems like inflammation.
"I've been doing treatments regularly on my hands—it makes them look younger," says G2O spa director Christine Haddad.
Not only that—but the sessions are relaxing, too. According to Haddad, you would not be alone if you fell asleep under the lights.
LED light therapy treatments at G2O take place in a clean, mostly white room. After a technician positions the lights over the target area—which is determined after a conversation between the client and technician—the lights are dimmed. The technician leaves the room for the rest of the 30-minute session, allowing the client to close their eyes and relax to the sound of ambient music. Because LED lights do not contain harmful rays like UV rays, they do not burn your skin or cause any pain. It's likely you won't feel any heat from the lights at all during your session.

Which treatment is right for you?
It's important to remember that sessions will vary based on your goal with LED light therapy. For example, if you have chronic pain or conditions like cystic acne, you may want to schedule your first few sessions in close succession, since the benefits from LED light therapy tend to be cumulative.
Experts say most people need at least 10 sessions—often done in weekly installments—to see maximum results. Technicians at G2O recommend starting out with a series of six or 12 sessions, scheduled two to three times a week for the first two or three weeks. After optimal results are achieved, they recommend switching to biweekly or monthly sessions. Because cells turn over periodically, these occasional "maintenance" sessions are recommended.
If stretch marks or scarring are your main concern, then a red light treatment may be used to increase circulation and encourage healing on a cellular level. If you want to tackle body acne, then blue light is the way to go to help clear the skin. If you're unsure what your goals are, no worries. You can talk through your problem areas with the expert technicians at G2O prior to the session to find the right solution.
The number of sessions you'll need to see results varies depending on the severity of the condition and the size of the area being treated, among other factors. Your G2O technician will help work out a treatment plan with you.

Is LED light therapy right for you?
The vast majority of people can have LED Light Therapy treatments with no side effects, according to clinical studies. However, those with serious skin concerns should always consult with a doctor prior to booking LED light therapy as a treatment. A dermatologist can properly diagnose conditions like skin cancer that require much more intensive treatment than that which light therapy can provide.
LED light therapy is also not suitable for people with epilepsy, photosensitivity or photo-immune disorders such as lupus or porphyria, lupus erythematosus, and those taking medications that amplify their photosensitivity. If you have been on such a medication, then you must have stopped taking it at least 6 months prior to receiving LED Light Therapy treatment. Anyone who has recently been on the acne medication Accutane should also check in with their dermatologist before booking a session.
Those who are pregnant or breastfeeding should not treat their chest or stomach areas and anyone with a history of cancer should check with their doctor before receiving any treatment.
Ready to book a treatment? Head over to g2ospasalon.com to learn more.
This is a paid partnership between G2O Spa + Salon and Boston Magazine
---