Lo Spaghetto al Pomodoro: A Revolution in Five Ingredients, Now at Eataly and Coming to Your Kitchen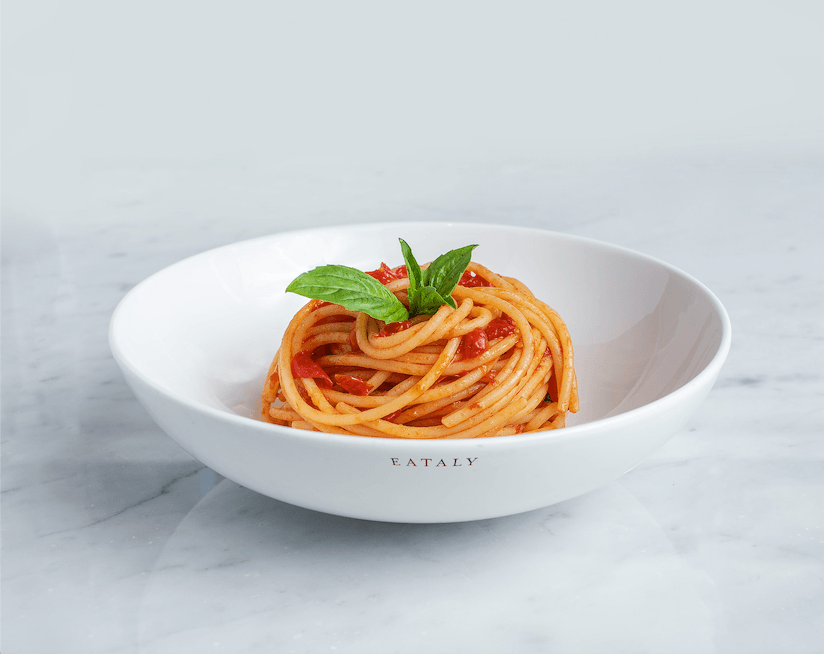 Enrico Panero was on a mission. The Eataly Italia executive chef researched, tested, and gathered the best Italian ingredients he could find to perfect Italy's most quintessential dish: lo spaghetto al pomodoro. The five-ingredient recipe he developed proved so simple and delicious that local Eataly chefs have now adopted it, including Eataly Boston's staple restaurant La Pizza & La Pasta.
"Lo spaghetto al pomodoro embodies the essence of Italian cuisine: simplicity," says Sam De Los Santos, Executive Chef of Eataly Boston. "We use only five ingredients and allow the materia prima (raw ingredients) to speak for themselves. Eataly carefully researched and selected our best products to produce a delicious, revolutionary, high-quality final result."
Want to try it for yourself? Make your reservation at La Pizza & La Pasta and learn more about the classic dish here. To learn how to make it at home, read on!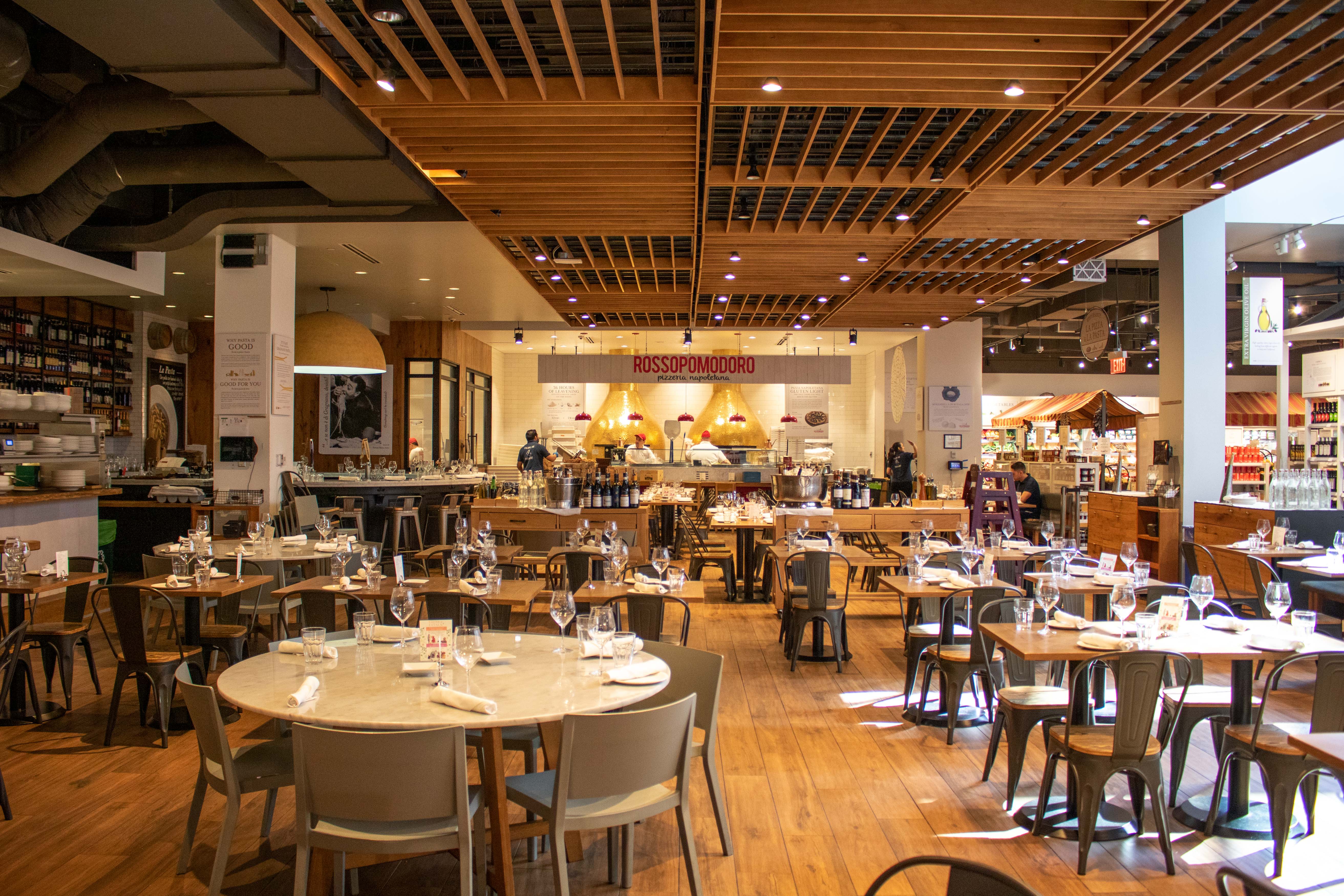 The "less is more" Italian cooking philosophy also means it's never been easier to make the signature dish at home using the same choice ingredients as Panero. No expensive cooking classes required. Even amateur home chefs can feel like top chefs by following the easy four-step recipe.
"Lo spaghetto is a dish meant to be replicated at home and everything you need can be found in the Eataly market," says Panero. "This preparation simplifies the traditional recipe to the maximum, making it lighter and healthier, but without compromising taste."
Ready to get cooking? Pick up these five ingredients on your next trip to Eataly Boston and follow this simple recipe to bring the revolutionary Italian dish to your dinner table. Buon appetito!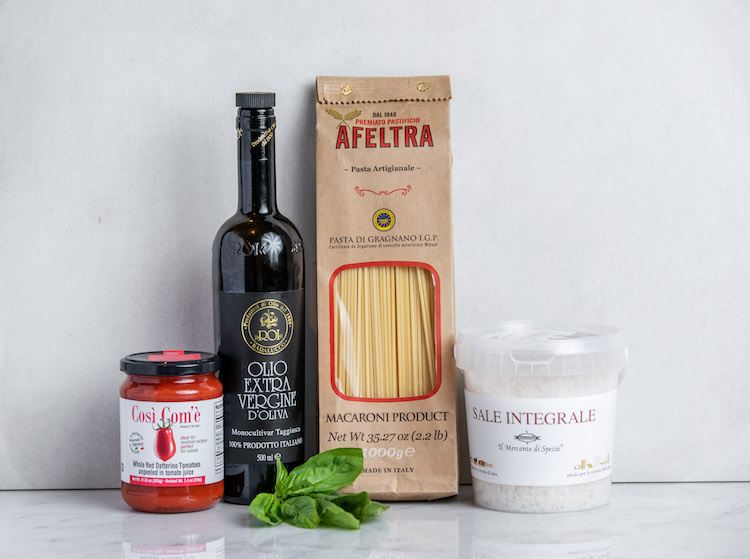 The Five Ingredients
ROI Monocultivar Taggiasca Extra Virgin Olive Oil
ROI began in 1890, when founder Giuseppe Boeri rented a communal olive oil mill in the hills of Liguria to press local Taggiasca olives. Today the Boeri family continues to use a traditional stone press for ROI's sustainable extra virgin olive oil. Panero says he chose this olive oil for its compatibility with basil and its subtle flavor — it doesn't have the bite of a Sicilian or Tuscan olive oil, which can sometimes overwhelm the palate.
Hand-Harvested Sicilian Sea Salt "Sale Integrale" by Il Mercante di Spezie
Panero tasted every salt he could carry before settling on this Sicilian "sale integrale" by Il Mercante di Spezie. It's harvested from the bottom of salt pans (other varieties like Maldon are taken from the top), and does not undergo a drying process, resulting in an earthier, more complex flavor.
Così Com'è Whole Red Unpeeled Datterino Tomatoes
After tasting many different tomato products, including fresh tomatoes, tomato puree, whole canned tomatoes, cut canned tomatoes, peeled, and unpeeled, Panero finally decided on Così Com'è Whole Red Unpeeled Datterino Tomatoes because they provide the perfect texture and balanced flavor. "Datterino", meaning "little date," is an ancient tomato variety grown in Campania with a sweet flavor. Even though the unpeeled tomatoes are less sweet and more bitter with the skins on, they help create chunks and texture in the dish because they don't break down into a pulp. Così Com'è tomatoes are carefully sowed, pollinated by bees, hand-harvested at their peak and processed within only a few hours to ensure freshness. You don't need to cook them since they're so fresh tasting. Traditionally, lo spaghetto al pomodoro is made with fresh tomatoes, so Panero says he wanted to recreate that fresh taste. With these tomatoes, you can also, even in the winter.
Artisanal Spaghetti di Gragnano IGP by Afeltra
Founded in 1848, Afeltra carries on time-honored methods of making high-quality pasta in Gragnano in the heart of Campania. Their traditional spaghetti is made from 100% Italian wheat and mineral water from the Lattari mountains. The pasta dough is extruded through a bronze die and slow-dried at low temperatures, maintaining the pasta's pale color and coarse finish. This porous texture allows the sauce to be absorbed more easily. To get the right chew, Eataly tested out three different thicknesses: spaghettini (thin), spaghetti (medium), and spagettoni (extra thick). Panero says he ended up choosing the classic spaghetto because it's the most traditional.
Fresh Basil
Right now, Panero says he's using standard fresh basil. In the summer when fresh basil comes into season, he recommends using a special DOP variety from a local farm.
The Four-Step Recipe
Recipe courtesy of Eataly Italia's Corporate Executive Chef, Enrico Panero
Yield: 4 servings
Ingredients
1 (17.6-ounce) package of Spaghetti di Gragnano IGP Carta Paglia by Afeltra

2 (12-ounce) jars of Così Com'è Whole Red Datterino Tomatoes, unpeeled in tomato juice

1/4 cup ROI Monocultivar Taggiasca Extra Virgin Olive Oil, plus more for serving

1

1/2

teaspoons Sicilian Sale Integrale Sea Salt by Il Mercante di Spezie

3 to 4 sprigs fresh basil

Kosher salt, for cooking the pasta
Preparation
Crush the tomatoes between your fingers, letting them fall into a saucepan. Stir in the tomato juices, olive oil, and season with the Sicilian sea salt to taste.

To cook the pasta, heat a large pot of water. When the water reaches a boil, add a palmful of kosher salt until the water is salty. Add the spaghetti and cook for 11 minutes. Using a slotted spoon, transfer the pasta to the saucepan with the tomatoes.

Add half a cup of the pasta water and toss everything together over medium heat to combine for about 1 minute.

Divide spaghetti into four warmed bowls. Drizzle with olive oil and add a sprig of fresh basil. Serve immediately.
This is a paid partnership between Eataly and Boston Magazine
---