Love Local Seafood? Head Over to the New Restaurant at Eataly Boston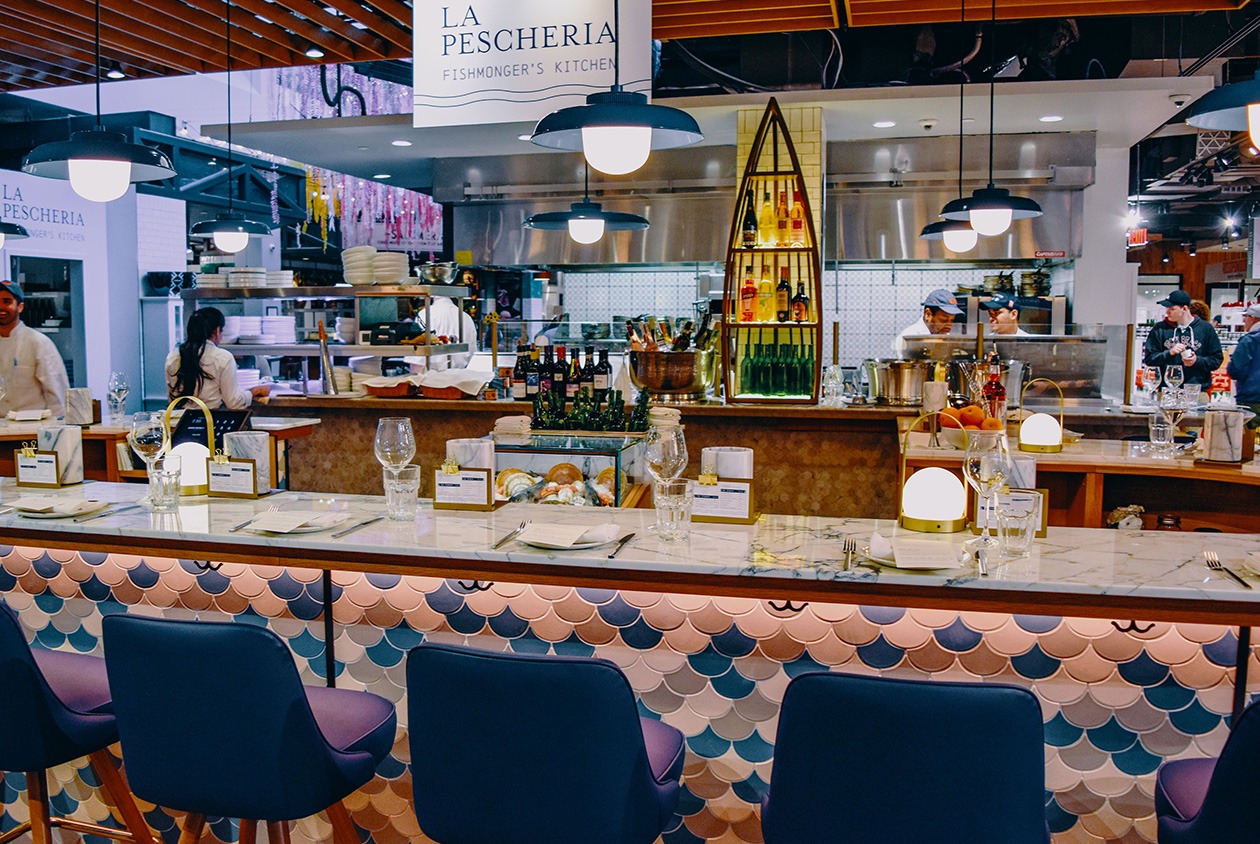 Nothing symbolizes New England like seafood.
That's why Eataly Boston is adding a new restaurant revolving around regional seafood to its artisan rotation with La Pescheria. The second-floor seafood kitchen features products sourced by local legends like Island Creek Oysters, John Nagle Co., Red's Best, and Wulf's Fish. Each partner practices sustainable fishing to stay conscious of seasonal fish populations, and the menu emphasizes no waste by utilizing all parts of the fish and by-catch product.
Under the direction of Eataly Boston's Executive Chef Sam De Los Santos, La Pescheria merges contemporary Italian recipes with local seafood for a tasting experience of small plates, a curated oyster selection, and specialty items. Fishmongers often present their finest products on a seafood cart rolled directly from Eataly's fish counter, so guests can view their dish before it is cooked.
Enjoy an ever-changing cocktail menu with summer sips of rosé, fish-friendly and fruit forward red wines, and refreshing sparkling wines. And don't worry about reservations; the 23-seat bar is first come, first served. Don't miss their full lineup of opening festivities, including live demos with local New England seafood partners like Island Creek Oysters on May 23 and John Nagle on May 29.
Take a sneak peek at La Pescheria's menu below and make your way to the new restaurant today!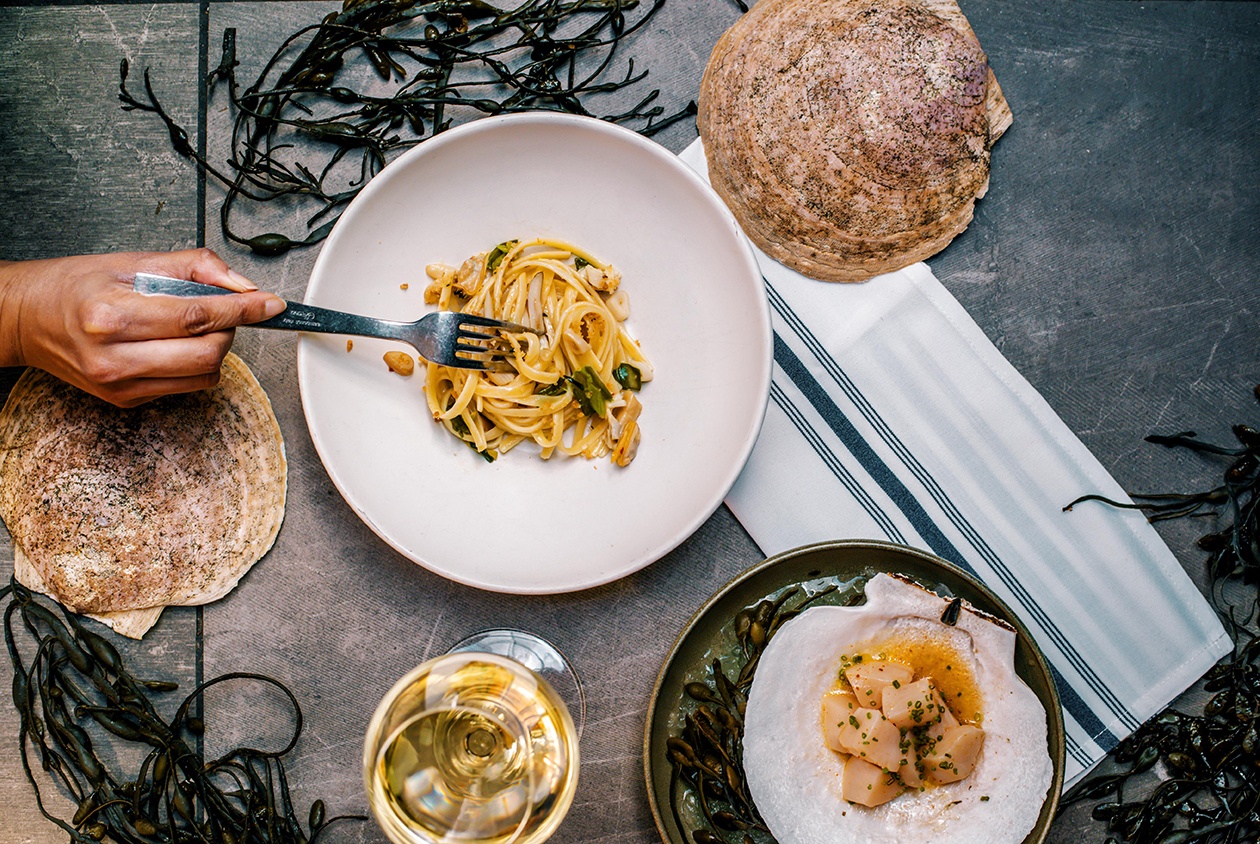 ANTIPASTI
Black Bass Crudo – Pinenuts, radish – $15
Rhode Island Calamari – Cashew crema, lemon – $14
Grilled Cauliflower "all'agro" – Eggplant, crispy lentils – $12
Olive-Marinated Spanish Octopus – Black olives, orange, mint – $15
PRIMI
Spaghetto – "Alla pescatora" – $16
Linguine – Briny clams, ramps, lemon breadcrumb – $19
Bucatini – Gaeta olives, Agostino Recca anchovies, Alfreta cherry tomatoes – $15
Casarecce – Tuna conserva, chickpeas, salsa verde – $17
SECONDI
Steamed Mussels – Saffron, potato, eggplant – $18
Chatham Skatewing – Agostino Recca capers, potatoes, Italian greens – $21
Sunday Fish Stew –Alfreta cherry tomatoes, garlic toast, shellfish brodo – $20
Boston Mackerel – Cannellini beans, grilled peppers, lemon vinegar – $23
CHEF'S TASTING
Three courses for $39
FROM THE CART
Crudo del Giorno – Roi extra virgin olive oil, lemon, colatura di alici – $18
Whole Bluefish – Salsa Rossa – $27
Polenta-Crusted Softshell Crab – Calabrian chili maionese, herb salad – $25
OYSTERS HALF DOZEN – $18 · ONE DOZEN – $36
The rotating selection of fresh oysters is curated by Island Creek Oysters in Duxbury, Massachusetts and available every day. Ask the server for the daily selection.
VERMOUTH
Borgogno Bianco – $11
Cocchi Vermouth di Torino – $13
Rhubarb Uncouth Vermouth from Brooklyn, NY – $13
COCKTAILS
Primavera Vera – Brooklyn Gin, lime, fennel – $14
Via Mirto – St. George AP Vodka, Argiolas Mirto, Dimmi, orange – $14
Ibisco – Espolon Tequilia, Aperol, pomegranate tea, hibiscus, lime – $14
Negroni – Plymouth Gin, Campari, sweet vermouth – $15
Negroni Bianco – Monkey 47 Gin, Alessio Bianco, Luxardo Bitter Bianco – $15
Spritzata – Aperol, Sparkling Rosé – $13
BIRRE
Moretti European Pale Lager – 4.6% ABV Friuli, Italy – $7
Peroni – Nastro Azzuro, Euro Pale Lager, 5.1% ABV, Lombardia, Italy – $7
Cambridge Brewing Working Class Hero – 4.5% ABV Saison, Cambridge, MA – $8
Dogfish Head Truth Serum IPA – 7% ABV, Milton, DE – $8
Dogfish Head Seaquench – Sour gose with lime and salt, 4.9% ABV, Milton, DE – $8
Baladin Wayan – Saison, 5.8% ABV, Piemonte, Italy – $8
VINO SPUMANTE
Donna Grazia Frappato, Sicilia – $15/$53
Ferrari Trento DOC Brut, Trentino Alto Adige – $15/$53
GD Vajra N.S Della Neve, Piemonte – $20/$70
Monte Rossa "Coupe," Lombardia – $20/$70
VINO BIANCO
Santa Vittoria 'Arnus' Arneis, Piemonte – $16/$56
I Clivi Ribolla Gialla, Friuli – $15/$53
Francesco Brigatta 'Mottobello' Colline Novaresi Erbaluce, Piemonte – $15/$53
Le Vigne di Zamo Bianco, Friuli – $13/$46
Fontanafredda Gavi di Gavi, Piemonte – $14/$49
Tornatore Etna Bianco, Sicilia – $14/$49
Montenidoli Vernacchia dei San Gimignano, Toscana – $17/$60
VINO ROSATO
Frescobaldi Alie, Toscana – $14/$49
Bastianich Rosato, Friuli – $13/$46
Muscari Tomajoli Velca, Lazio – $15/$53

VINO ROSSO
Glassier Schiava, Trentino Alto Adige – $15/$53
Jermann Red Angel in the Moonlight Pinot Nero, Friuli -$19/$67
Giacomo Borgogno e Figli Dolcetto, Piemonte – $13/$53
Casa di Mirafiore Barbera d'Alba, Piemonte – $14/$49
Fontanafredda Barbaresco, Piemonte – $22/$80
Bibi Graetz Grilli, Toscana – $17/$60
Cantine Rao, Pallagrello Nero Silva Nigra, Campania – $16/$56
For more information about La Pescheria, visit eataly.com.
This is a paid partnership between Eataly and Boston Magazine's City/Studio
---