These New Restaurants Are Making MarketStreet Lynnfield a Dining Destination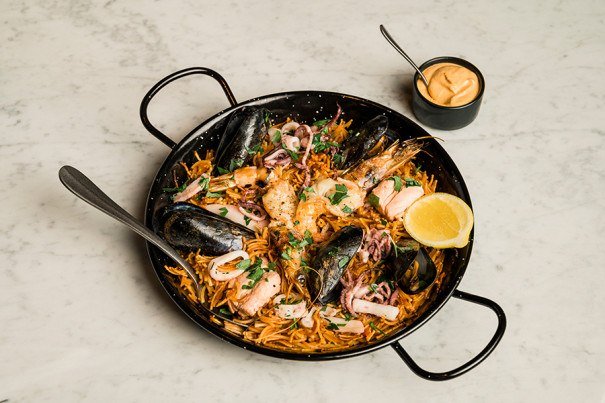 Welcome to Lynnfield, a small, friendly town just a stone's throw from Boston. It's got all the charm and character of a New England suburb—and enough flavor to make it a must-visit in the Northeast.
Thanks to MarketStreet Lynnfield, the North Shore's largest open-air shopping community and a growing hot spot for restaurateurs, the community is never running out of fantastic food to eat.
The flavors of MarketStreet Lynnfield will be even more delicious thanks to two new restaurant openings. Those restaurants are La Gallina, a Mediterranean restaurant and bar, and Chicken & The Pig, a fresh take on comfort foods like chicken sandwiches and milkshakes. You'll only fully grasp the evident care taken and time spent on cultivating these unique eateries when you taste their incredible food—so come hungry.
La Gallina
Having a meal at La Gallina (The Hen), one of MarketStreet's new restaurants, is like taking a trip from Boston to Spain with a bonus stop in Greece, all without actually leaving the country. This Spanish-inflected Mediterranean eatery has all the flavors you crave when dreaming of sunny European coastlines. From oven-baked pizza to charcoal-grilled seafood, the classics have been perfected at La Gallina.
Stop in to La Gallina at MarketStreet Lynnfield for a masterful Aperol Spritz, authentic tapas like grilled padron peppers with halloumi cheese, burrata with peaches, and cheesy ham croquetas. You'll also see plenty of marinated skewered meats and craft cocktails on the menu to choose from.
The ambience at La Gallina is reminiscent of a Mediterranean country farmhouse, including individually curated antique decor, carefully chosen glassware and plates, and an exterior inspired by the villas in the south of Italy. Lastly, of course, the restaurant is surrounded by encaustic tile walls to bring the aesthetic home–or, rather, to the Mediterranean coast. No passport necessary.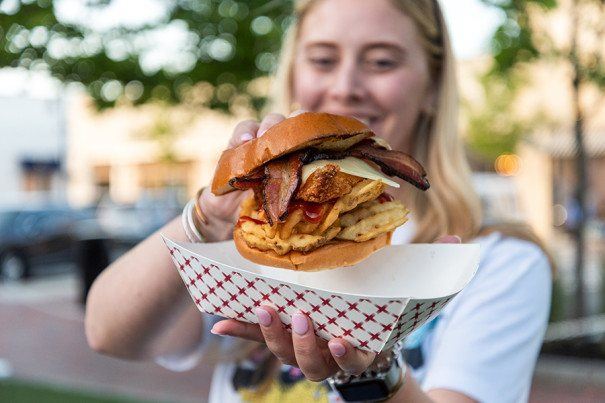 Chicken & The Pig
Chicken & The Pig comes from a food truck concept in Middletown, Massachusetts, where local owner and chef Guy Ciolfi has served hand-breaded chicken cutlet sandwiches, specialty hot dogs, waffle fries, and more to countless hungry customers.
In his new location joining MarketStreet Lynnfield's new restaurants, Ciolfi hopes to see both old and new customers taking advantage of the option to sit—inside or outside—and spend more time at Chicken & The Pig.
As menus go, the Chicken & The Pig's is satisfying to say the least. If you're looking for spice, try The Nashville Hot sandwich, which is served on a grilled, buttered brioche roll with homemade apple slaw, homemade spicy pickles, and Ciolfi's own Nashville Hot sauce.
If you're in the mood for a specialty hot dog, you can build your own, or you can choose one with chef-curated ingredients. Try the Cat-Dog, a grilled Kayem quarter-pound hot dog grilled with brewpub-style mustard, chopped bacon, and melted jack and cheddar cheeses served on a grilled and buttered bun. On the side, try bacon on a stick—three pieces of thick-cut Kayem double-smoked bacon, glazed with brown sugar and cayenne.
Want to discover more of what MarketStreet Lynnfield has to offer? Visit marketstreetlynnfield.com.
This is a paid partnership between WS Development and Boston Magazine's City/Studio
---