Fall Getaways Are All the Rage Again—Here's Why Maine Is a Top Destination for Bostonians
As the New England air cools and the leaves turn, Maine somehow becomes more beautiful by the day. Fall foliage accentuates the majestic mountains of inland favorites like Bethel, Greenville and Rangeley, and crisp breezes give waterfront towns like York and Boothbay Harbor new life after summer.
Maine's charming towns transition seamlessly into fall, with coastal locales like Kennebunkport becoming as quintessential in autumn as they were in the summer. When it comes to fall, Maine is the perfect place to immerse yourself in nature, New England culture, and rich history—here's how to experience it like a local.
Hiking
From mountain views to vast bodies of water, hiking in Maine is an absolute must. And reconnecting with nature is a great way to unwind and find peace and rejuvenation before winter sets in.
Camden Hills State Park is one of Maine's largest state parks, and it's home to a number of easy hikes with gorgeous views. Mount Battie, 1.1 miles total, is traversable by foot, mountain bike, and horseback, so you can choose between a relaxing hike, trail ride, or an exciting mountain biking adventure. No matter what mode of transportation you choose, however, the journey pays off with a lookout spot over the majestic Penobscot Bay.
Another highly recommended hike is the 3.1-mile Jordan Pond Loop Trail in Mount Desert. It takes around an hour to complete and boasts fantastic views of the mountains and water. Mount Desert is situated on Mount Desert Island, which is also home to much of Acadia National Park. Acadia is one of the most visited National Parks, boasting grand, jaw-dropping land and sea views. Don't hesitate to explore the area and get a lobster roll in Bar Harbor after your hike.
Heading north to Aroostook State Park (Maine's first state park) in Presque Isle, the picturesque Ridge Trail is the perfect hike for the whole family (ages four and up). It's just one mile long, but has diverse terrain and crosses the headwaters of Echo Lake before offering up a gorgeous photo opp of the lake at the end.
Food
Maine's dining scene offers just as much excitement and pleasure as its mountainous landscape, with food talent around every corner and award-winning, authentic dishes everywhere you look.
Beginning in Portland, Fore Street is one of Maine's most highly regarded restaurants. Its rustic interior and upscale feel creates a perfectly balanced atmosphere, with an in-house brick-and-soapstone oven visible from most tables. On the menu, you'll find a rotating collection of seafood, from oysters to mussels and squid, as well as fine meats like the turnspit-roasted, dry-rubbed pork loin served with braised cabbage, garlic, and roasted pork jus.
Fore Street has been repeatedly recognized by the James Beard Foundation, as chef-partner Sam Hayward won Best Chef: Northeast in 2004, and the restaurant has received consecutive nominations for Outstanding Restaurant since 2011.
Another James Beard winner for Best Chef: Northeast is Eventide Oyster Co. in Portland (whose second location is in Fenway), with more authentic New England fare like oysters, clams, and crab claws, and their famous brown butter lobster roll. If you're in the mood for something from the land, try the fried chicken bun (B&B daikon, chili emulsion, furikake) or the Eventide Burger.
Heading north to Bangor, you'll find Timber restaurant, a concept that pays homage to Bangor's history as the lumber capital of the world for much of the 19th century. You'll notice the theme throughout the restaurant, with natural wood decor and earthy accents around every corner. On the menu, choose from a generous list of essential tavern fare like wings, buffalo chicken dip, Point Judith calamari, and smoked seafood chowder.
Just south of Bangor in Rockland, Primo restaurant, another James Beard Best Chef: Northeast award winner (Melissa Kelly), is a fantastic Italian- and Mediterranean-inspired concept set in a restored Victorian farmhouse. Four acres of gardens, heritage pigs, and chickens supply fresh ingredients for the menu. Each part of the house offers a different dining experience, with warm, intimate energy in the smaller downstairs dining rooms and the new, larger "Primo Room" offering a more modern atmosphere. The menu changes daily, with a generous collection of salads, pastas, fish and meat dishes, and an extensive wine list.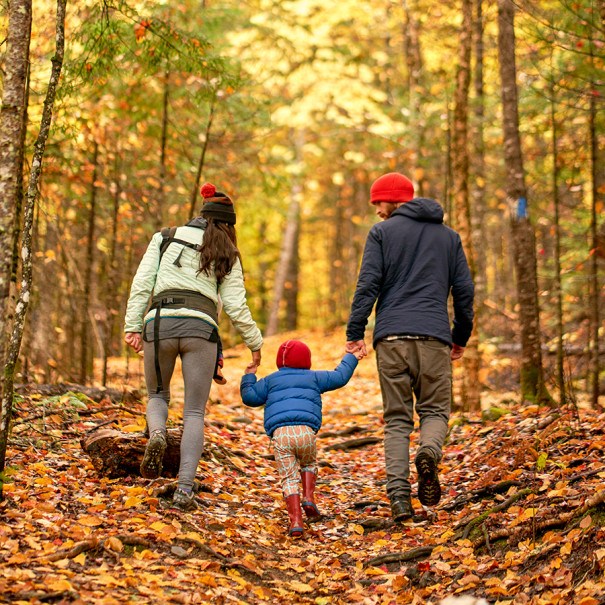 Festivals
If you're headed to Maine to look for festive activities to partake in, fall festivals are the ultimate way to experience the season. Start in Bangor at Windswept Gardens Harvest Festival on November 5 and 6. This festival celebrates the fall season with shopping and family-friendly activities. You'll get to peruse foods and local crafts, listen to live music, and meander through the venue enjoying the crisp fall air.
Maine Harvest Festival, also in Bangor on November 19 and 20, is an exciting destination for foodies, especially fresh-food obsessives and home cooks. Maine Harvest Festival is the ultimate farmer's market, selling baked goods, cheeses, artisan chocolates and more. If you're looking for fresh ingredients for your Thanksgiving dinner or the perfect gift for a loved one, Maine Harvest Festival is your place.
Finally, starting on November 19 and running until the end of the year is Gardens Aglow, a holiday-themed event at the country's largest botanical garden, Coastal Maine Botanical Gardens in Boothbay. With stunning light displays—nearly 750,000 LED lights—woven throughout 14 acres of gardens, Gardens Aglow is the perfect event to kick off the holiday season in one of Maine's most beloved coastal towns.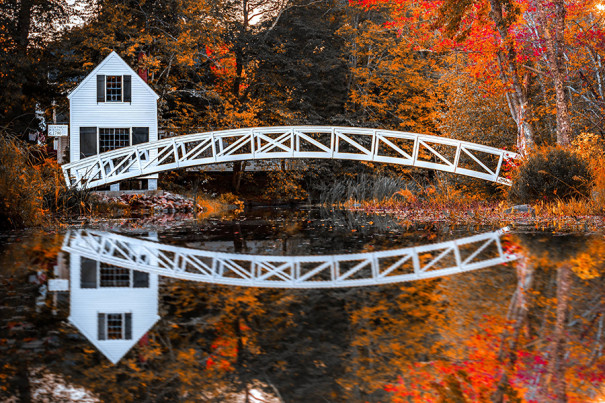 Apple Picking
You can't have fall in New England without apples. Fortunately, many of Maine's orchards are open until late fall, so you can enjoy festive farm stores throughout the state. Maine's best apple orchards have tons of varieties and unique heirloom species that are ripe for the tasting.
Sweetser's Apple Barrel & Orchards in Cumberland is open until November 27, and although you can't pick your own apples, you can choose between 50 apple varieties, including Macoun, Honeycrisp, McIntosh, Cortland, Liberty and Spartan. The Apple Barrel farm store sells local goods like maple syrup, honey, preserves, apple cider and fresh cider donuts. Sweetser's is located on a picturesque plot of land just north of Portland and gives visitors the opportunity to embrace the fall spirit and the harvest while supporting local Maine farms and vendors.
If you're looking to immerse yourself in the pick-your-own experience, Randall Orchards in Standish, open since 1906, is the perfect option. The whole family will love visiting Randall Orchards with their 20 varieties of apples (for rarer types, look at the pre-picked apples), fresh-pressed cider, and fruits and vegetables at the farm stand.
Fun on the Coast
When you're not hiking the mountains or eating fresh-picked apples, you'll want to explore the beauty of the Maine coast. Seeing Maine from the water is an essential experience, especially with lighthouse sightings and views of the endless coastline. For many, taking a walk on the beach or a scenic boat ride is just as pleasant in the cool autumn weather as it is in the beaming July sun.
On the water, Bar Harbor's Acadian Boat Tours offer sunset boat rides, sightseeing excursions, nature tours, and private family charters. The Somes Sound Fjord is particularly stunning, offering an exploration of a tranquil, deep-blue waterway formed by ancient glacial activity, with its deepest point at almost 175 feet (the fjord nearly splits Mount Desert Island in two).
You can also make your way to Camden or Rockland for windjammer day sailing. Windjamming has been around since the late 19th century, originally used for transporting cargo like timber, food grains, and organic fertilizers from continent to continent. Today, you can climb aboard a windjammer and enjoy the cool breeze as you sail across Penobscot Bay, which Captain Daniel Bennett, of popular Bufflehead Sailing Charters in Rockland, says is one of the best places to sail on earth.
While in Maine, visiting a lighthouse is an absolute must, as they are a vital part of Maine's history and culture. If you're a movie buff, you might consider visiting the Marshall Point lighthouse in Port Clyde, which makes an important appearance in Forrest Gump at the end of Forrest's cross-country run.
The Portland Head Light in Cape Elizabeth is one of the most famous lighthouses in the world—don't miss your opportunity to see it for yourself and snap some family photos. The recognizable silhouette and surrounding rocky bluffs will make for a dramatic backdrop for engagement photos, holiday card photos, and, of course, just for the memories.
Ready to take in the fall sights, smells, sounds, and tastes? Learn more at visitmaine.com.
This is a paid partnership between Maine Office of Tourism and Boston Magazine's City/Studio
---