Meet the Architecture & Construction Firm Behind Bon Me and Night Shift Brewing
The term "design-build" can often imply a de-emphasis on design and architecture. Many design-build firms are general contractors with some design capabilities, working in the homebuilding market. Boston and Providence based Stack + Co is a completely different animal.
Who they are… the only firm in the local market doing sophisticated commercial projects in which they are both architect and construction manager. Some of the principals of the firm are architects, and one is a builder — and that integration works very well for them — with a repertoire that includes projects that range from multi-unit residential and high-end custom modern homes to retail and restaurants.
Restaurant projects move extremely fast out of necessity. Every day that a restaurant doesn't operate, it's missed revenue. Time-to-market is paramount. In Boston, many restaurant projects are completed in as little as 12 weeks. With such a frenetic timeline, having a company like Stack + Co that is both architect and builder is a huge benefit. Not only does it help the project proceed more smoothly and progress faster onsite, but it also makes the upfront process go faster.
---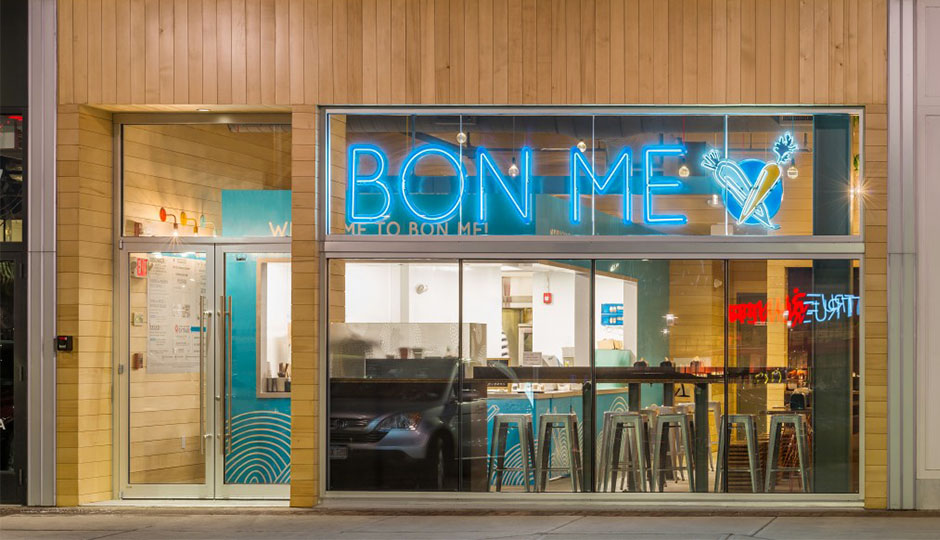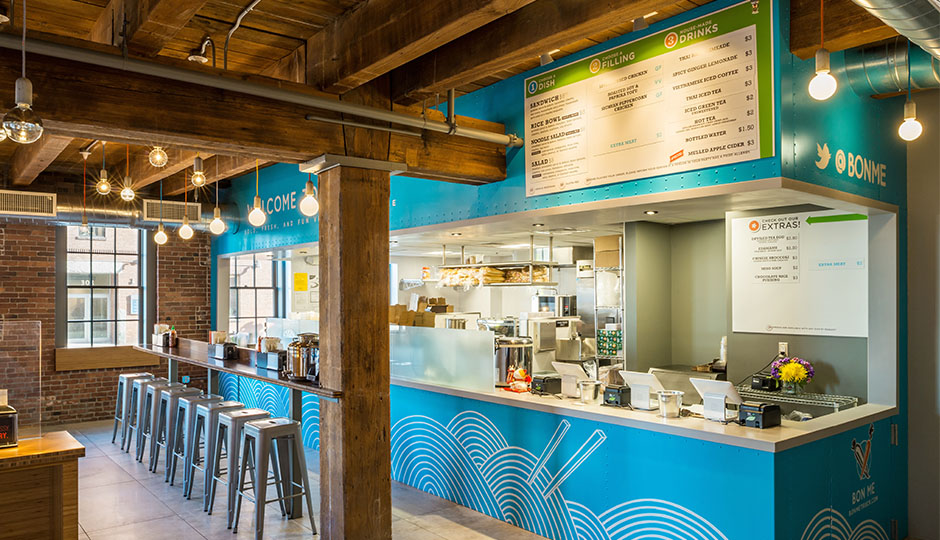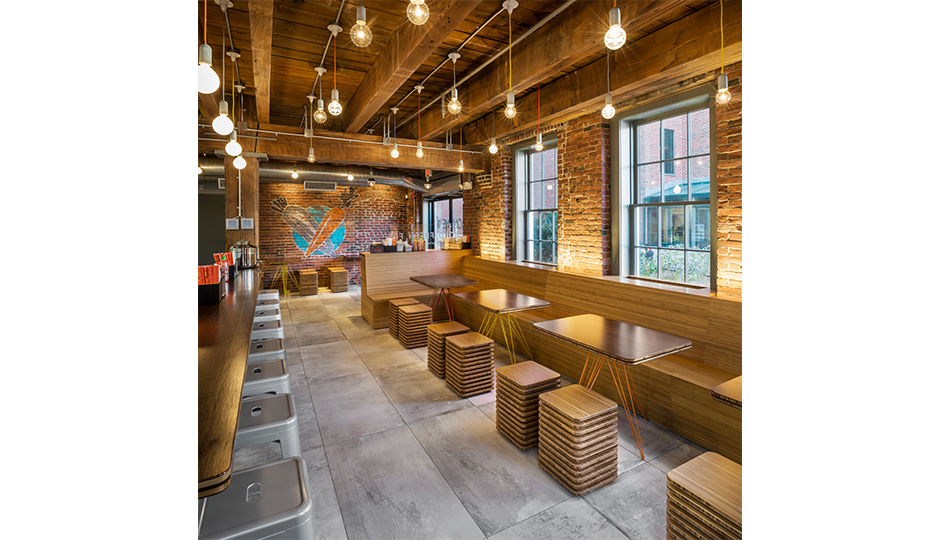 Stack + Co's youth, style and integrated approach all really translate well to Boston's cult food and beverage industry. Bon Me, perhaps Boston's hottest food truck, is a perfect example. They had one existing brick and mortar restaurant, but solicited Stack + Co's help for something that was more interesting and evocative of their brand.
The firm's first Bon Me project was their flagship restaurant at Fort Point in South Boston. Stack + Co created a strategy for them that evolved from the idea of what a food truck would look like if it were an actual indoor restaurant. Their premise was that the food truck goes into the city and creates a little restaurant wherever it is, which then activates the urban space. It actually creates a restaurant from the surrounding space. Stack + Co took that same idea and gave the brick and mortar operations — they are now doing the fifth and sixth Bon Me restaurants — the indoor/outdoor feel. Each is a little different and avoids the "cookie cutter" concept popular with chain restaurants.
The innovative Stack + Co has actually curated a new meaning for "farm-to-fork," in that they not only do the "fork" part (the restaurant), but also the "farm" part at the process end of the business. For example, Downeast Cider was a project they did in collaboration with Utile Architects. On this one, Stack + Co just handled the construction part of the project and built the entire brewery, creating the space for them to make the product — hence, the "farm" part.
The team literally went to the farm with a project for Sweet & Salty Farm. Stack + Co acted as architects and builders for the new facility of this artisanal cheese- and yogurt-making startup located on a dairy farm in Little Compton, RI. The project involved a trio of prefabricated systems, including the "Black Barn" that appears to be built into the ground. It houses the cheese cave, walk-in cooler and yogurt-making space that all required super-insulated construction.
Another recent Stack + Co project was for Night Shift Brewing in Everett. They designed and built the Annex, an event space that is an expansion of Night Shift's popular taproom, making it more highly designed than what they previously had.
There's a growing trend of sophisticated architecture firms becoming involved with more of the nitty-gritty aspects of managing construction, rather than just leaving it all to a third party general contractor. By being both the architect and the contractor, Stack + Co has expertise in both fields. That comes in handy in Boston in particular where it can be frustrating to get necessary permits — especially if the structure has historical significance. An integrated firm is better able to respond to the permit requirements and manage costs.
In terms of costs, the usual process is that an architect presents a design to the client, and then it goes to a builder. Then it is priced. Stack + Co does what they call "embedded estimating" in which the architect and the person pricing the project are likely sitting across the desk from each other and can, in real time, determine what the end result will look like, as well as what it will cost. It's a much shorter feedback loop.
For Stack + Co, the marriage of architecture and construction is a happy one … and one that is proving to be quite prolific.
This is a paid partnership between Stack + Co and Boston Magazine's City/Studio
---