Meet the Firm Creating the Modern New England Homes of Your Dreams
When it comes to designing and building your home from the ground up, it can be challenging to keep everyone involved on the same page. Typically one firm is hired to design the house, then one to construct. Time, energy, and effort are expended to streamline the process, and the pathway leading to your new home isn't always the smoothest.
So what would happen if you were to go against tradition and blend the parties into one group that takes care of it all? Enter Boston and Providence-based Stack + Co.
Known as an Integrated Architecture and Construction firm, Stack + Co is a rare commodity in the New England commercial and housing industries. Translation: those who design sit at the same table with those who build.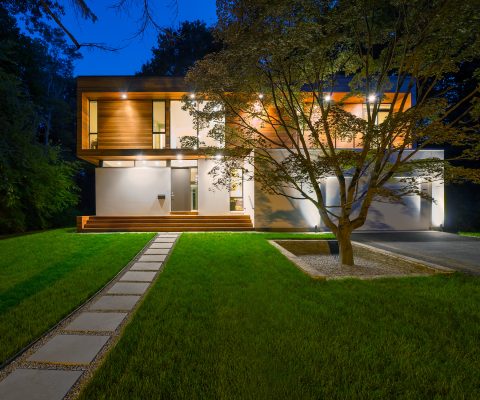 Bostonians are already familiar with the genius outcome of this no-brainer pairing. Stack + Co is the youthful and innovative firm behind the celebrated Bon Me and Night Shift Brewing locations. Along with its commercial and retail portfolio are several high-end custom homes that demand attention.
Stack + Co's teams challenge the notion that designing and constructing should be kept separate entities. Instead, their architects and builders convene on the front end to move step one to step two and so on. From the first blueprint sketch to the last screw turned, this is a gestalt approach that homeowners are now understanding is the only way to go.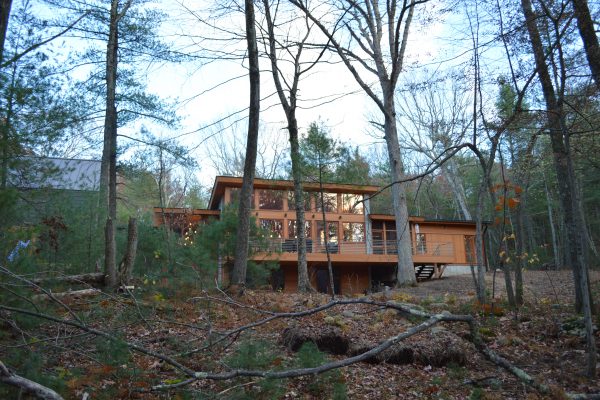 "Having these two processes occurring in an integrated way, under one roof, enables us to devote more time and effort to the quality and the success of the project, rather than the complexities of coordinating between firms," explains Andrew Wade Keating, one of the founding partners of Stack + Co. "The benefits are numerous."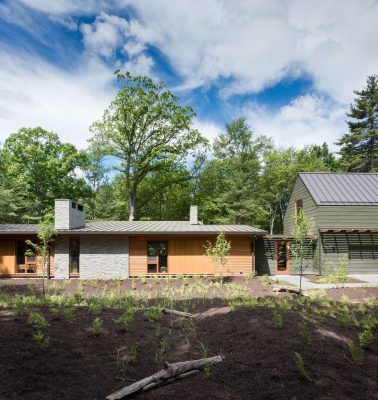 All of the potential pit falls that might come from the process of designing and building a home (think budgets, schedules, contractors not seeing eye to eye) are avoided and every step is more efficiently orchestrated.
Consider budget. With the typical process, architects draw plans, send them to builders for the price, then they often have to literally go back to the drawing board to make everything fit into the budget. At Stack + Co., there is real time budgeting, which results in more accuracy and more certainty of outcome. "Imbedding the cost estimating personnel within the architecture team enables us to assist our clients with designing the project to-budget," says Keating.
Stack + Co's homes also showcase a modern twist, a style that is far and away the exception to the area's Shingle and Colonials. While New Englanders flip through Dwell magazine and dream of unleashing their modern home desires on the neighborhood, Stack + Co allows those dreams to become well-received realities.
Their single-family custom homes are shaping more modern landscape throughout New England. From the hybrid of wood framing, steel, and concrete slabs of the 4,600-square-foot Forest Home in Sharon to the modern flat-roofs, ribbon-window conditions and cantilevers of Wellesley's 17 Caroline, those glossy magazine spreads jump to life.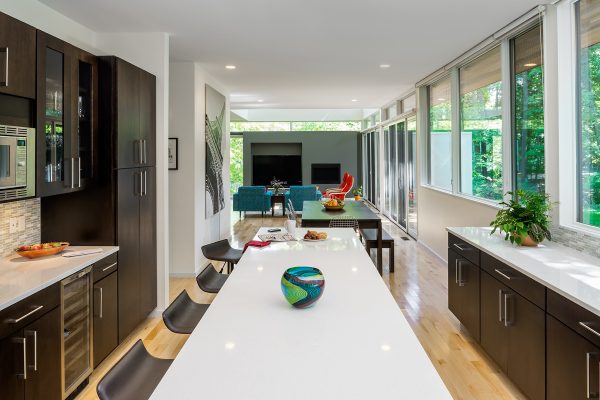 To successfully create an exciting modern home requires more technical capabilities than the traditional conventional home. When a project incorporates a lot of steel, big expanses of glass, and concrete being used in innovative ways, know-how dictates how smoothly the process will go. Once again, it boils down to the concept of everyone working in unison. Bringing architectural pros under the same roof with construction teams well versed in cutting edge technology creates a fluid conversation on building with modern systems and materials.
"It is the goal of creating unique and special projects, the passion for great design, that really drives us," says Keating.
And it's Stack + Co's same page, same table approach that is a definite recipe for success.
This is a paid partnership between Stack + Co and Boston Magazine's City/Studio
---