5 of Nova Scotia's Most Extraordinary Accommodations, from Off-The-Grid Cabins to Oceanfront Luxury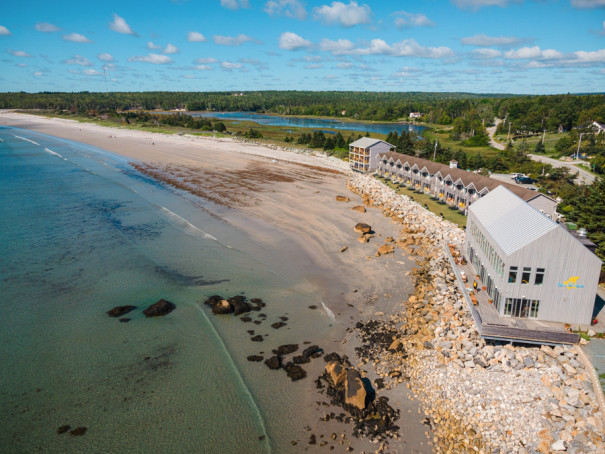 Nova Scotia is one of North America's most breathtaking places to visit, with spectacular natural seascapes such as the Bay of Fundy, six UNESCO sites including places like Lunenburg, cultural epicenters like the capital city of Halifax and thousands of miles of coastline. One of the reasons Nova Scotia is becoming popular among Bostonians is because it offers so many unique ways to stay, and an overall change of pace from the New England sea and mountainscapes we're used to.
With an emphasis on uniqueness, beauty, and proximity to the must-visit Nova Scotia destinations, unique accommodations have been cropping up all over this popular and picturesque Canadian province. They're distinctive, yet irresistible, and we've lined up some of the most extraordinary and top-rated options—all you have to do is choose.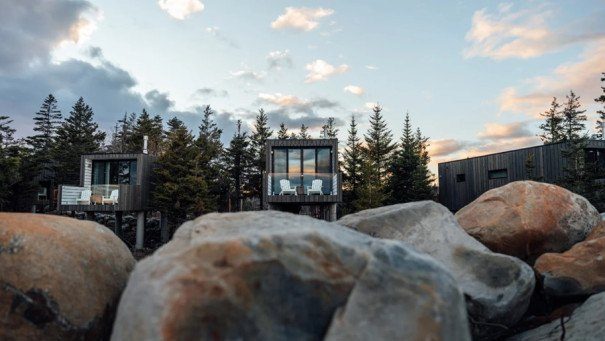 White Point Beach Resort Oceanfront Treehouses: Luxury At the Edge of the Sea
White Point, South Shore
Nestled among the trees and perched right on the ocean's edge are the Oceanfront Treehouses, the newest luxury accommodation added to the expanding grounds at one of Nova Scotia's oldest resort destinations. Intimate and inviting, private and romantic, these beautifully designed luxury accommodations allow you to wake up to the sounds of the sea and soak in stunning views from your private deck.
Unique and modern, the Oceanfront Treehouses perch you high above the ocean, lingering at its edge. Take up all the space in the luxurious king bed with fine cotton bedding, down pillows, and a down comforter. Curl up in front of the propane fireplace or retreat to the large private deck. Secluded luxury with all the amenities of a full-service resort will be at your fingertips.
The Shipping Container-Turned-Tiny Home: Cabane d'Horizon
Saulnierville, Yarmouth & Acadian Shores
If you're looking for something visually stunning and a fresh take on vacation rentals that surpasses all your standards, this is your place. Located on the shores of St. Mary's Bay in Saulnierville, these converted "sea-cans" offer city luxury amenities by the shore in a small tranquil village with all the privacy and comfort of a high-end hotel with a bit of camping fun. With striking interior design and a surprisingly spacious layout, you'll be hooked on the tiny-home lifestyle.
Great for families, couples, singles, and friends, these converted shipping containers are conveniently located in the municipality of Clare. The municipality is home to the largest Acadian community in Nova Scotia, where over 75% of its residents speak both French and English.
Next door to the cabins is one of the most authentic dining experiences in Nova Scotia —La Cuisine Robicheau—where you get a true at-home dining feeling, just like going to grandma's house. And with close proximity to one of the most well-known beaches in Southwest Nova Scotia, guests will be hard-pressed to leave.
Your Own Private Tower in Halifax: Compass Distillers
Halifax
This rental is conveniently located in the charming city of Halifax, giving you a more bustling option if you're looking for higher energy and more things to do—plus, it sits atop a distillery, for all you spirits connoisseurs.
Located in Halifax's North End neighborhood, Compass Distillers is the city's first and only grain-to-bottle distillery. It's situated on a charming street in a gorgeous tower-like edifice—and at the top is The Tower, a two-bedroom apartment that you can rent for your Nova Scotia getaway. A slightly less remote stay, you'll be just a short walk away from the city's best restaurants, bars, breweries, and even a cidery. You can also drive to the Museum of Natural History, the Halifax Public Gardens or the historic waterfront boardwalk.
The Tower is a sleek and modern accommodation with three beds, accommodating a maximum of six guests. There's a washer and dryer, kitchen, free street parking, and a private balcony with a grill where you can enjoy fantastic views of Halifax. You can even bring the family pet along for the ride.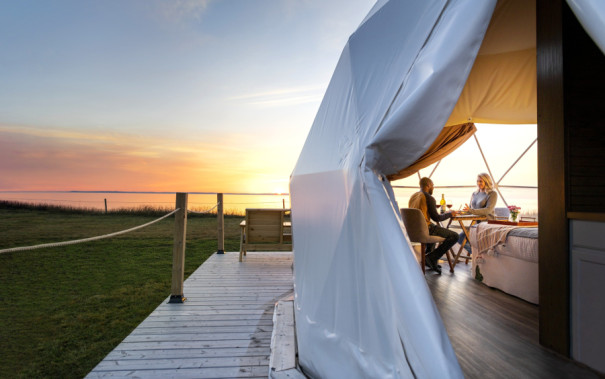 For Cultural Immersion: Archer's Edge Luxury Camping
Judique, Cape Breton Island
Archer's Edge is a luxury dome campsite located on the Ceilidh Trail near Judique. This area is known as Canada's musical coast—in fact, the Gaelic word ceilidh refers to a social event where people enjoy Scottish or Irish folk music, singing, traditional dancing, and storytelling. If you stay at Archer's Edge, you can attend a ceilidh just five miles away at the Celtic Music Interpretive Centre, which holds lunch ceilidhs from early June to mid-October and on Sundays for the remainder of the year.
You can also attend more large-scale cultural celebrations at community festivals in the summer like Kitchenfest, where locals and visitors alike will partake in concerts and ceilidhs, pub nights and square dances, eating food and listening to music. And, at the end of the day, you'll get to return to your geodesic dome—100 percent waterproof, insulated, and ventilated, with spectacular views of the sea and sky.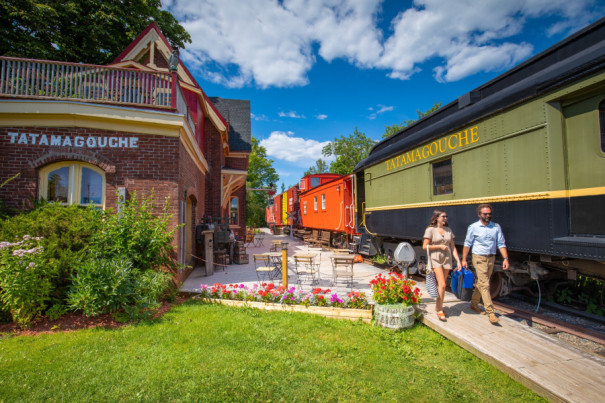 Sleep in a Caboose: Train Station Inn
Tatagmagouche, Northumberland Shore
The Train Station Inn is a labor of love with vintage Canadian-built cabooses and boxcars, authentic on the outside, redesigned and developed into private deluxe suites on the inside with reflections of their railway roots throughout. Some suites are big enough for families and come complete with bunk beds and sleeping nooks in the windowed lookouts that stick up out of the cabooses.
Shop onsite at the eclectic gift shop or enjoy locally roasted coffee in the cafe located in the original 19th-century train station, built circa 1887. The dining car dates to 1928 and is easily one of the best and most interesting restaurants in Nova Scotia. Enjoy local craft beers and meads in the Baggage Room Bar and live music nights in the summer on the railway platform. During your visit, stroll along the old rail bed (now the Trans Canada Trail) that meanders alongside a not-so-forgotten railyard.
This is a paid partnership between Nova Scotia and Boston Magazine's City/Studio
---