Now is the Time to Waterproof Your Basement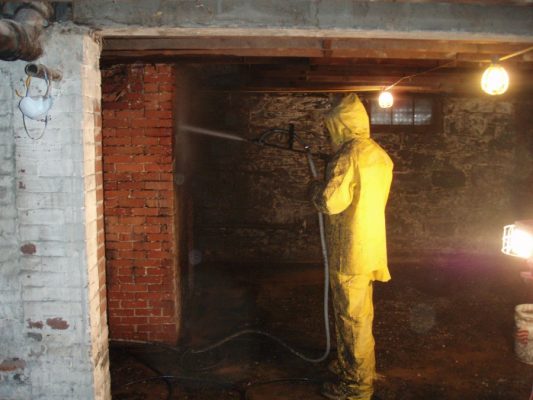 We New Englanders love the water and eagerly await the marine pursuits of summer. However, we don't like having water seep into our basements for any reason.
Many of the homes in our region are older and feature fieldstone and/or brick basements that have become porous, letting moisture or water seep, or sometimes pour, into the basement. S+H Construction, a multi award-winning firm that builds and renovates homes in Eastern Massachusetts, uses a state-of-the-art process to waterproof area basements. "We use a crystalline material that goes into our new concrete pours and that we can also apply to older foundations to waterproof them from the inside," says Doug Hanna, co-founder of S+H and Builders and Remodelers Association of Greater Boston's (BRAGB) 2013 "Remodeler of the Year." With this method, crystals form in the presence of water, and when water moves through the foundation, the crystals grow and expand, filling out microscopic "capillaries" in the concrete and mortar to prevent infiltration.
Hanna says S+H began using this method about 10 years ago as a way of keeping their landscape and site work personnel busy during the winter months. It really took off because it is so effective. Because it's mortar, it tightens the whole structure and helps to solidify a crumbling foundation. "If it's done in combination with a waterproof slab," he says, "we can pretty much guarantee that there won't be any water coming in." The caveat in the case of serious flooding is if the water rises about the basement windows. "There's nothing we can do about that," he continues. "but the water will not come through the walls."
With more relaxed zoning regulations for the use of basements, many homeowners are opting to finish them for in-law apartments, home theaters or more living space. S+H has found their method to be the best to ensure a water-tight basement, while enhancing the structural integrity of the foundation. In many cases, Hanna says he does the waterproofing when homeowners want to add more head height to the basement. "Because the old foundation walls usually do not extend below the level of the slab, we'll dig below the level of the slab and then underpin the existing foundations with treatment of the old foundation walls." S+H also now recommends adding the waterproofing product to new construction concrete pours, the time when it can be easily added to the cement mixer.
If a homeowner has a finished basement that he wants to waterproof, the process would obliterate any existing finishes. S+H would need to tear out the finishes to expose the old foundation wall, pressure wash the debris away, add the crystals and then re-do the finishes. "It's a labor-intensive process because usually it's troweled out by hand," Hanna says. As you might expect, it is also more expensive than other waterproofing systems. Hanna says most other waterproofing systems are really "water diversion" systems that still allow water to seep through the foundation, but directs it to a trench and then to a drain or sump pump. "The advantage of our system is that you truly don't get any moisture into your basement," he says. "That helps with preventing mold and mildew, as well as preventing the foundation from being weakened by constant water infiltration."
"We've had really great success with this waterproofing method," Hanna says. With spring rains on the way, now is the time to call in S+H to get the job done.
For new home construction, home renovation, site work or waterproofing, contact S+H Construction, winners of more than 25 industry awards including five "Best of Boston" recognitions.
This post is a sponsored collaboration between S+H Construction and Boston magazine's advertising department.
---