Personalized Treatment and Advanced Technologies Help This Boston Orthopedic Surgeon Achieve Better Outcomes for All Patients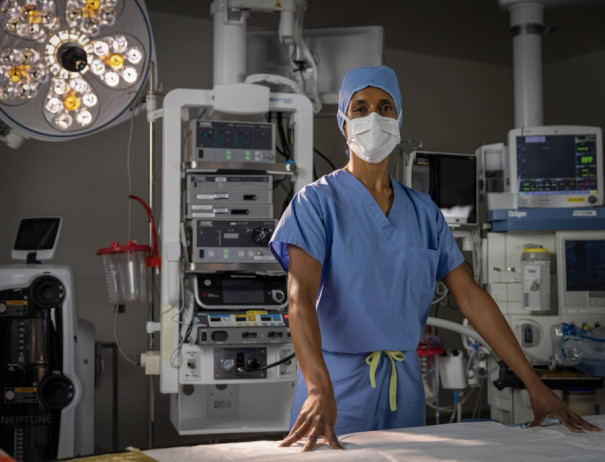 When an elite rower needed their hip replaced, they visited Dr. Ayesha Abdeen, an orthopedic surgeon practicing in Boston. Using a minimally invasive hip replacement technique, Dr. Abdeen treated the patient, who went on to compete in Boston's Head of the Charles—and win a key race. When it came time that the rower needed their other hip replaced, they returned to Dr. Abdeen, now at Boston Medical Center (BMC).
Not all patients in need of a hip or knee replacement are world-class athletes, but Dr. Abdeen still aims to give them world-class treatment by ensuring their own personal goals and desires are central to their medical plan. Maybe it's competing in the world's largest rowing competition like the patient above. But maybe a grandmother wants to kneel on the floor to play comfortably with her grandchildren. Or maybe a single father wants to get back to his day job to support his family. Whatever their vision of their life after a hip or knee replacement, Dr. Abdeen wants to give them the best possible outcome for that goal.
"It's a matter of really engaging with the person in front of you, asking the patient their opinions and their goals for their health," says Dr. Abdeen. "I believe patients benefit from treatment that is customized to their individual needs and aspirations."
Delivering Patient-Driven Care as an Orthopedic Surgeon
Dr. Abdeen's expertise is arthroplasty, or hip and knee replacement. Patients come to her for joint replacement surgery because of arthritis or other conditions that cause degenerative changes in the hip or knee. Sometimes they come for revision surgery—which means a prior replacement has failed, due to infection or malfunction of the implant. The surgeries are technically elective, which makes patient input even more important because there can be many treatment paths to pursue: the type of replacement surgery, the timing of surgery, and even whether to undergo surgery at all. And while, stereotypically, surgeons don't have the reputation of engaging directly with patients and their wants and needs, Abdeen is helping to dismantle that stereotype.
Enlisting the help of patients to engage in their own treatment plan by way of patient education is what's known in health care as Shared Decision Making. In collaboration with Massachusetts General Hospital, Dr. Abdeen and the entire department of Orthopaedic Surgery at BMC has built a shared decision making program for hip and knee arthritis, specifically.
"We engage the patient and ensure that they're very well educated about the disease process and their options," says Dr. Abdeen. "We empower them to make decisions for their health care that are appropriate to them."
Whereas a rower vying for a Head of the Charles win may want an innovative minimally invasive hip replacement, for instance, that single father may forgo surgery and opt to engage with BMC's multidisciplinary team of advanced practice providers, nurse navigators, rheumatologists, and interventional radiologists for a rigorous non-operative path—Dr. Abdeen and her team can offer both, among many other options.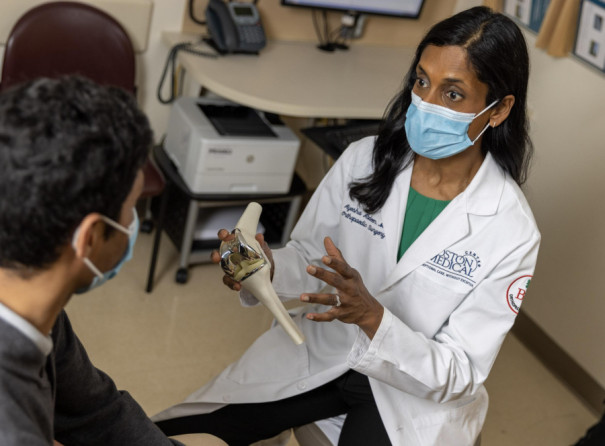 Driving Health Equity with Patient-First Care
A care provider can offer the most world-class treatments and approaches, but if a patient can't access them, does it even matter? Dr. Abdeen's patient-centered approach extends to the most vulnerable patients in Boston.
Abdeen credits BMC for already having well-established health equity initiatives that address her patients' social determinants of health—initiatives she can tap into to support her patients in their path to recovery.
"Health equity has been and always will be embedded into the fabric of BMC," says BMC Health System CEO Kate Walsh. "Programs to address racial and ethnic disparities are critical to establishing a more equitable health care environment and ensuring that equitable health practices are the standard and not the exception."
Abdeen opens up about one of her patients, a young immigrant man who is the primary support for his family. He came to her with severe degenerative joint disease in his hip, which made him unable to walk, never mind work his construction job. Like approximately 30% of patients visiting BMC's Orthopedic Surgery Department, he didn't speak English.
Abdeen and her team were able to offer their Shared Decision Making tools in his native Spanish, and they expedited his hip replacement surgery to meet his life needs. He successfully recovered from surgery and returned to work in six weeks, she says.
To treat a patient, in Abdeen's perspective, you have to take into consideration all aspects of the person's health and wellbeing.
"[Treatment] is a matter of understanding their situation in its entirety," she says. That means addressing not just their medical needs, but their social determinants of health—their social, financial, and life circumstances that are obstacles to achieving the best outcomes. True health equity means every patient has a fair opportunity for the best medical outcomes possible, regardless of race, gender, sexual orientation, or socioeconomic status.
For instance, in her practice Abdeen sees patients who are experiencing homelessness. Without a safe place to recover, the prospect of a good surgical outcome is at risk. The Arthroplasty team at BMC offers wraparound services to help patients connect to safe housing, whether that's a rehabilitation center, a family member's home, or another solution.
"The goal is to not deny anyone an operation, and to make sure that they're in the best situation to have an excellent outcome afterward," Abdeen explains.
Thoughtful Hiring
Dr. Paul Tornetta, Chief of Orthopedic Surgery at BMC, recruited and hired Dr. Abdeen with her focus on top patient care in mind.
"She is an outstanding surgeon with an impeccable reputation for valuing safety and patient outcomes over all else," he says. "She is technically gifted and has a background and experience that allows her to handle the most difficult problems."
Abdeen works in Orthopedic Surgery, a historically male-dominated field.
"Hip and knee arthroplasty, in particular, has been one of the last specialties to continue to be poorly represented by women," Dr. Abdeen says. "Within orthopedics, less than 10% of surgeons are women, but within that group, less than 1% are arthroplasty surgeons."
Building a more representative team of care providers does factor into patient experience. Studies show that having a provider with your same background can increase trust—which is crucial, particularly for patients of color who have historically been underserved and mistreated by health care systems. Other studies have shown that diverse health care teams lead to more innovation and creativity, cultural competence, and even better patient outcomes.
"Studies have shown that when patients are treated by diverse providers, it builds trust and decreases bias, which leads to overall more effective care," Walsh says. "Therefore, it is critical that we build a health care system where patients can be cared for by physicians, nurses, and staff members who may understand their culture and can connect more deeply."
This fall, Abdeen's team and BMC will be among three Boston hospitals hosting the American Association of Hip and Knee Surgeons Women in Arthroplasty fellowship program in an effort to boost overall representation and diversity in the field. She and her team will train the next generation of women arthroplasty surgeons on different techniques and approaches here in Boston.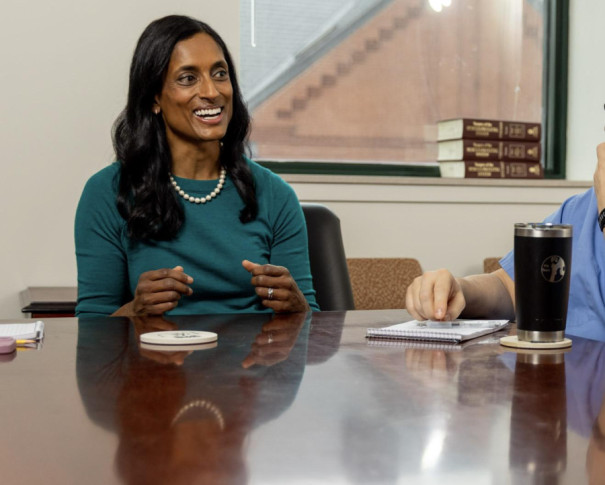 The Future of Arthroplasty at BMC
It's no surprise given her focus on patient outcomes that the topic is the driving force of her research.
"A great deal of our research is on outcomes after joint replacement surgery, how can we improve results so that we minimize the risk of infections and mechanical complications, and have excellent patient satisfaction and functional outcomes," she says.
Her focus on patient involvement doesn't stop once the surgery is complete.
"She has led a number of quality improvement projects at BMC to reduce infection rates, blood clots, pain, and other complications following hip and knee replacement surgery," says Dr. Tornetta about Abdeen's work in the department. "She has developed an Enhanced Recovery After Surgery program in order to bring fast track rehabilitation after joint replacement to an underserved patient population."
In an exciting innovation, Dr. Abdeen is enthusiastic about the future introduction of robotic surgery to the orthopedic surgical repertoire at BMC. The specific type of robotic surgery is innovative and designed to enhance surgical precision.
"Prior robotics required CT scans, which increase radiation as well as cost," Abdeen explains. "We are excited at the prospect of making robotic joint replacement surgery available to patients at Boston Medical Center."
Ultimately, Abdeen aims to ensure that her specialty care is accessible to anyone, no matter what their goals may be.
"We don't deny someone on the complexity of their medical problem or the complexity of their background because we have very robust subspecialty services in all fields of medicine here at BMC," Abdeen says. "It really is a matter of just listening to patients and understanding what their goals are so that we can better serve them."
Dr. Ayesha Abdeen is an orthopedic surgeon, Chief of Hip and Knee Replacement Surgery at Boston Medical Center, and an assistant professor of Orthopedic Surgery at Boston University Chobanian and Avedisian School of Medicine. She specializes in hip and knee replacement surgery and has expertise in minimally invasive surgery. Her application of advanced technologies and personalized patient care has earned her numerous honors for her work.
This is a paid partnership between Boston Medical Center and Boston Magazine's City/Studio
---