From Restaurants to Retail, Here's Where You Can Feel Like Part of the Community This Season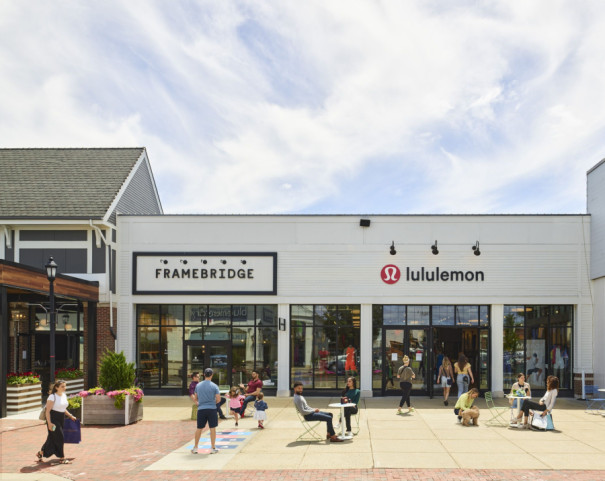 A classic New England town is, for many, a magnetic place. The charming little towns outside Boston are always lively yet familiar, offering chances to connect with others, whether catching up over coffee or meeting at a favorite local store to shop for a seasonal look. Simple spaces like picnic tables and benches become sites for community connection, and backdrops like parks and restaurants become settings for pleasant memories.
The Derby Street Shops in Hingham, an idyllic South Shore town, are an exciting new take on that kind of main-street experience. Intimate, friendly, and familiar, Derby Street is more than a place to run errands, or a collection of stores: It's a place to get to know quiet corners and shops, connect with one another without chaos and traffic, and experience the comfort of the community. With its carefully curated mix of coastal-classic building design, fun community programming, vibrant art, and an eclectic collection of local and national tenants, it makes for everything you could possibly want during a day in the South Shore.
If you're looking to get back out into the community, connect with others, and try new things, Derby Street is the place for you. Here are all the ways you can build the perfect Derby Day.
Never a Dull Moment
The shops and restaurants at Derby Street are complemented by engaging events and spaces made for making memories. Brian Moy, CEO and founder of the Shojo Group and Derby Street's modern Asian restaurant Nomai, says that Derby Street provides things to do and spaces to use, like a hopscotch area, an oversized Adirondack chair, and outdoor tables set up for eating and visiting.
"Derby Street is doing things to service the community, and the community also wants to engage back and actually participate in it," says Moy. He sees people of all ages engaging with the fun amenities. "I see families, I see young adults, I see children, and everybody generally has a smile on their face," he says.
Derby Street even has murals and public art to enjoy and use as family photo ops, like the nostalgic Woody Wall mural painted in 2018 in collaboration with Boston Art, and the Derby Pride Mural, located on the wall outside Bluemercury. Derby Street is also excited to be welcoming two new installations by LGBTQ+ artists this year: a mural by Atlanta-based artist Barry Lee, and a sculpture by Boston-based artist John Guthrie.
Moy has also observed the popularity of Derby Street Shops as a fun and convenient social place where young people can spend a day in the South Shore, a concept he worried was becoming unlikely these days. When he was younger, he explains that the social hub was at the mall. Today, in the wake of the mall's peak popularity, Derby Street serves a similar role as that in-person connection spot. "To be able to see that still happening in today's age of technology, I find that pretty cool."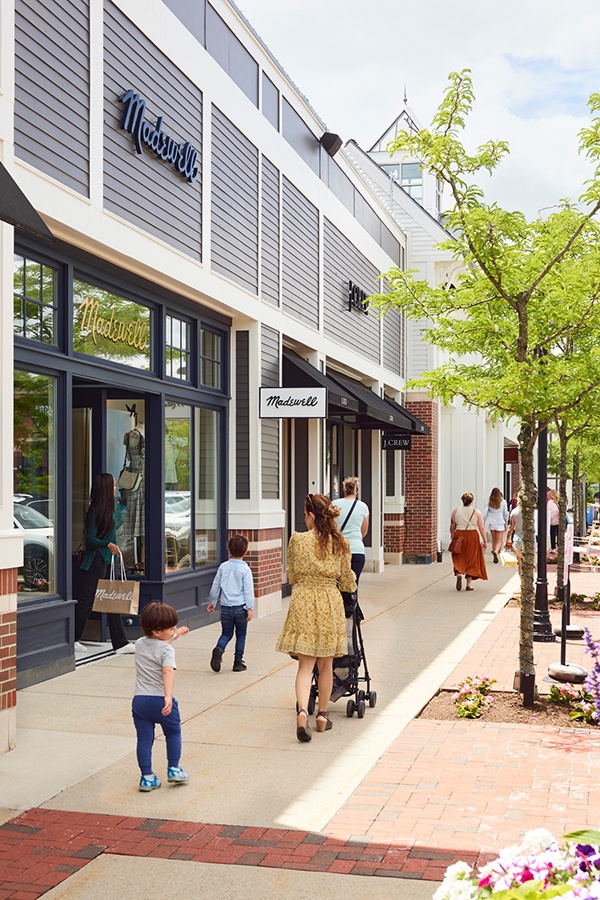 Shopping at Derby Street
Whether you're looking for a new fall layer, a luxurious moisturizer fit for the Boston winter, or a perfect pair of earrings for that November wedding, Derby Street has what you need with a wide range of new store openings. From local to national brands, the excitement of new stores never fades.
Gorjana, the Laguna Beach-based jewelry seller, is opening soon at Derby Street Shops, so you can find that finishing touch glam and thoughtful gifts for your friends and family.
Pottery Barn is also open, and is likely to become your new favorite destination for the latest trends in home decor and furniture. If you're looking to support family businesses when you refresh your home interior, Mill 77 Exchange is the place for you–featuring upscale recycled, industrial, and custom-made decor and furnishings, the imaginative and stunning wares at Mill 77 are curated and made by Gary and Julie Bergeron and their family.
Another national favorite retailer, Aerie, is coming soon to bring comfort, style, and female empowerment to Derby Street, bringing signature intimates, apparel, activewear, and swimwear designed for every body and leaving over-edited advertising in the past.
Even if you still love the flexibility that online shopping gives you, Derby Street is one step ahead of you with their brick-and-mortar variety. In stores like Cattivo, you'll see pieces from coveted brands like Loveshackfancy, For Love & Lemons, and We Wore What (and many more), which are largely found online. EVEREVE is another place to find all your favorite brands, like Blanknyc, Dolce Vida, Frame, Paige, and Schutz. Head to local retailer Shoe Market for all your footwear needs–athletic, casual, dress, and even brands like Sperry, OnCloud, Johnnie-O, Patagonia, and FRYE.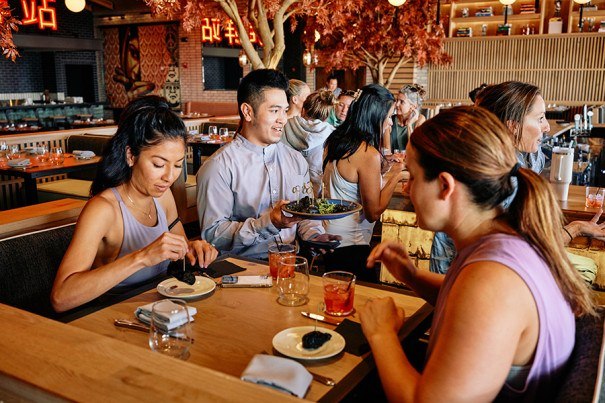 More Than Just a Meal
Derby Street has introduced another medium through which the community can connect during a day in the South Shore: restaurants. "I think food in general brings people together," says Moy. "From sitting down and grabbing a meal, to meetings, to coffee, to first dates." From fast casual classics like Chipotle and Shake Shack (coming soon) to sit-down date spots like Nomai, Derby Street has everything you may be craving. Plus, what better way to bond with friends and family than over something delicious?
Moy says Nomai gives his clientele the added opportunity of bonding over food with the menu's countless shareable plates. "Anything can be shared or not shared," he explains. "I think it's a fun way of eating. This food is meant to be eaten together, and everybody gets to try more dishes than they would have ordered by themselves."
The Chinese fried chicken (ginger-green scallion sauce, rainbow slaw, hainanese rice) is a popular menu item, says Moy, but you can choose between anything from sushi rolls, like spicy crab makimono, to snacks ranging from peking duck bao to pork and squid ink dumplings. The intricate flavors are likely to be conversation starters.
If you're in the mood for some fall-centric fun for all ages, Untold Brewing is opening a location at Derby Street very soon (their original location is in Coastal Scituate, Massachusetts). They're offering craft beers that taste like home and healthy meals in partnership with Clandestine Kitchen, a private chef catering company and award-winning home meal delivery service out of Hingham. Untold Brewing has been hosting an outdoor Beer Garden on the Green for the past two years, and Derby Street is now welcoming them to the property full-time.
Dates for Your Fall Calendar
Untold's new location, comprised of 2,300 square feet of standing room and seating, will be the perfect place for family-friendly outings and friends' nights out—it's also the perfect place for events like yoga classes, live music, dinners, cooking classes, and more. Don't miss Boos & Brews, Derby Street's flagship Halloween event, on October 29.
Nomai is hosting events this season as well, starting with a Yamazaki dinner (dishes are paired with Japanese whisky) featuring limited edition bottles. "There are three sets of them available in Massachusetts, and we have one of the sets," says Moy. The event will be a tasting dinner, sampling each of the four varieties of whisky.
Whether you're looking for a way to fill your weekend night, somewhere to reconnect with a friend, or somewhere to get away for the day, The Derby Street Shops is here in Hingham to fill all your dreams of trendy styles, fantastic food, and sharing memories with others.
To see all that Derby Street has to offer this fall, visit derbystreetshops.com.
This is a paid partnership between WS Development and Boston Magazine
---