3 Satisfying Recipes that Will Make Salad the Star of Your Meal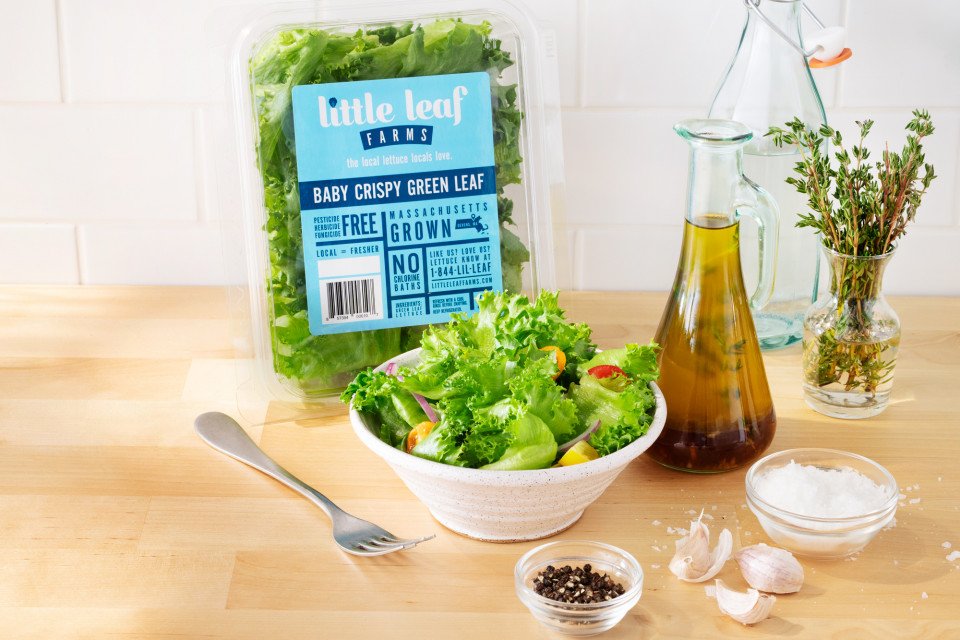 Let's face it: Eating healthy can be hard to look forward to after a long day. Many of us seek comfort in a good satisfying meal, and it's hard to find that comfort in traditional—and sometimes boring—health foods. But it's certainly not impossible. Here to prove that is Little Leaf Farms, a lettuce grower that is bringing fresh, long-lasting lettuce to dinner tables along the East Coast. Their crunchy, curly lettuce is one of the easiest ways to get your greens, and it's grown right here in Massachusetts in the largest and most technologically advanced lettuce greenhouse in the country. Here's some salad inspiration from three Boston-area restaurants who use Little Leaf Farms lettuce in their recipes. All we can say is: Prepare to be eating (and enjoying) a lot more salad.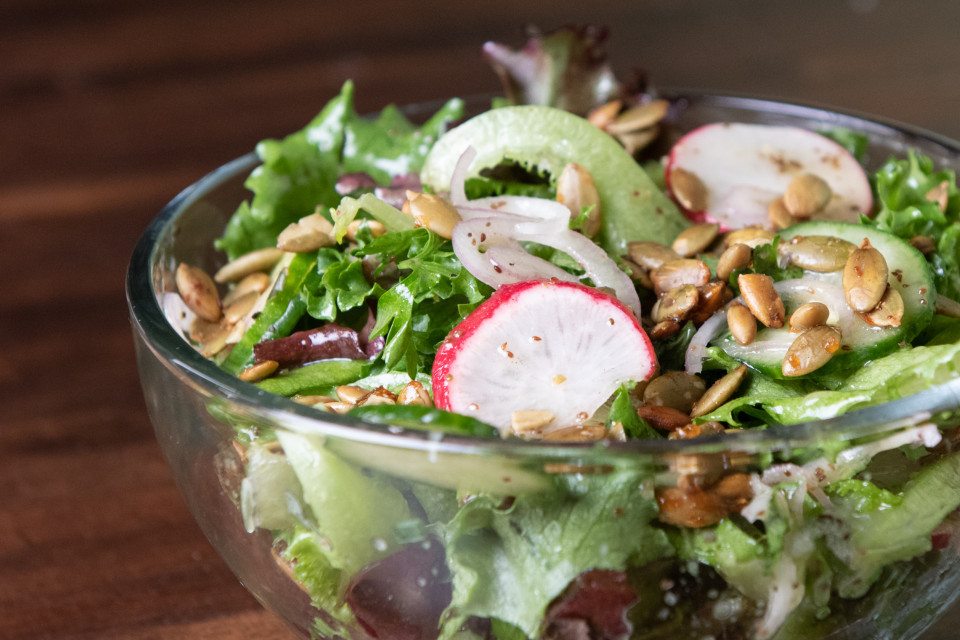 Little Leaf Salad with Celery Seed Vinaigrette, by Chef Kate Smith
This salad from Thistle + Leek restaurant in Newton, MA will show you what the epitome of freshness tastes like. The vinaigrette has a hint of sweetness with touch of honey and some warm, aromatic reinforcement from the celery seeds (which are also rich in important nutrients). It complements the crunchy, refreshing Little Leaf Farms greens perfectly. Since the recipe calls for more vinaigrette than you need, you can keep using it on your Little Leaf Farms greens even if you don't have time to prepare the rest of the recipe every night. Here are the details:
Vinaigrette
1 tbsp Dijon mustard
1 tbsp celery seeds
1 tbsp salt
1 tbsp honey
1/3 cup champagne vinegar
2/3 cup olive oil
Combine Dijon mustard, celery seeds, salt, honey, and vinegar in a medium size mixing bowl and whisk until thoroughly combined. Continue to whisk while slowly streaming in the olive oil, a little bit at a time until all the oil is added. Set aside. Vinaigrette can be stored in a sealed container in the refrigerator for up to a week.
Salad
1 package Little Leaf Farms mix of your choice
1 cup parsley, picked and washed
2 Persian/mini cucumbers, sliced
1/2 red onion, thinly sliced
Salt and pepper, to taste
1 cup pumpkin seeds, toasted and topped with salt and pepper, to taste
Celery seed vinaigrette, to taste
In a large bowl combine the Little Leaf Farms lettuce, parsley, cucumbers, and onions. Season with salt and pepper, to taste, then drizzle with enough vinaigrette to lightly dress the salad. Toss and place into a bowl and top with pumpkin seeds. Serve!

Little Leaf Farms greens, vinaigrette, matsutake mushroom, and candied sunflower seed salad by Chef Charlie Foster
This salad from Woods Hill Pier 4 restaurant in Boston combines decadence and simplicity with a traditional vinaigrette, highly sought after matsutake mushrooms with their distinct autumnal, spicy flavor, and sweet sunflower seeds candied on the stove. If you can't find matsutake mushrooms, you can use fresh portobello or shiitake varieties instead. This recipe may seem like a journey from start to finish, but trust us: The payoff is extremely satisfying. You'll discover that although the flavor of Little Leaf Farms is simple and fresh, it can be used to create a final product that is unique and bursting with flavor.
Vinaigrette
1 clove garlic, germ removed
75 oz whole grain mustard
1 oz Dijon mustard
5 oz red wine vinegar
1 tsp salt
Fresh white pepper, to taste
10 1/2 oz extra virgin olive oil
10 1/2 oz blended olive oil
Combine all ingredients, except oil, in food processor and blend until smooth. Slowly add oil until emulsified and creamy.
Matsutake mushrooms
Try to find mushrooms that are more closed than open. They can be difficult to find but are highly prized and unique in flavor. Clean the exterior of the mushroom by wiping off with a slightly damp cloth, and if very dirty, you can peel the skin off the outside of the cap and stem. Shave thin slices of the raw mushroom on a mandolin or carefully with a sharp knife.
Candied sunflower seeds
2 cups sugar
2 cups water
1 cups sunflower seeds
2 cups sunflower or other vegetable oil
Salt, to taste
Combine water and sugar in a pot and bring to boil. Add sunflower seeds and simmer for about 25 minutes, until sugar has penetrated through the seed. Strain out the seeds and discard the liquid.
At the same time, heat the oil until it reaches about 325 degrees in a tall, straight-sided pot. Carefully add half the seeds and stir into the oil; the oil should have enough room in the pot to bubble and rise when the seeds are added. When the seeds become golden brown, remove from the oil onto a tray lined with parchment and lightly salt. Repeat with the other half of the seeds. They will become crispy when they cool.
Salad
One package Little Leaf Farms greens
Dressing, as much as desired
Matsutake mushrooms
Candied sunflower seeds
Salt and pepper to taste
Combine the amount of lettuce desired with some of the dressing and a little extra salt and pepper and toss gently. Shave whatever apples you choose over the salad, and top with the shaved matsutake mushrooms and finish with a sprinkle of the sunflower seeds.
Crispy Crunch Salad by Chef Irene Li
This is a dish you can really feel satisfied by after enjoying it—who knew a salad could bring such warmth? With freshly toasted breadcrumbs, spice from the chili crisp, and the soft, gooey egg, this salad from Mei Mei in Boston will feel and taste more like comfort food than you ever thought was possible. Just think about the garlic and ginger dressing drizzled over the Little Leaf Farms greens and the breadcrumbs enhancing their crunch even more: Is your mouth watering yet?
Dressing
½ cup peeled, roughly chopped carrot
1 tbsp minced garlic
¾ inch piece fresh ginger, peeled
¼ cup rice vinegar
¾ cup neutral oil such as canola or avocado
In a blender or food processor, combine all ingredients until smooth. Season with salt to taste.
Salad
1 4 oz box of Little Leaf Farms greens
2 eggs, poached or fried
1 cup panko
2 cloves of garlic
2 tbsp canola oil
2 tbsp chili crisp – store bought (Lao Gan Ma for a classic flavor profile, Fly By Jing for an earthy note) or make your own
Toast panko: In a sauté pan over medium heat, sauté crushed garlic in canola oil for 3 minutes, then remove garlic; increase heat to high, add panko, and toast, stirring constantly for 3 minutes until golden brown.
Poach or fry eggs and set aside. For a true "Mei Mei style" oozy egg, steam at 70 degrees C (158 degrees F) for 30 minutes, then fry in a pan.
To assemble salad, gently mix Little Leaf Farms greens with 1-2 tbsp dressing. Top with egg, chili crisp, and toasted panko.
For more information about Little Leaf Farms and more delicious recipes, visit littleleaffarms.com.
This is a paid partnership between Little Leaf Farms and Boston Magazine's City/Studio
---