Here's Where to Spend Game Day Weekend in The Seaport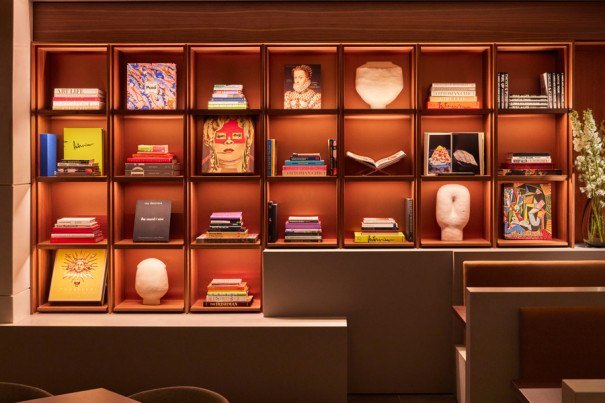 The Seaport district has become one of Boston's most attention-grabbing neighborhoods, developing by-the-day into a bustling and high-end destination gleaming with gorgeous buildings.
For visitors and stay-cationers especially, the Seaport is attractive because of its location between the iconic South Boston neighborhood and downtown Boston landmarks. Plus, the Seaport has one of the most elegantly designed and highly regarded hotels in the whole city.
If you're spending the weekend in Boston this fall, the Seaport is your spot and the Omni Boston Hotel at the Seaport is your place to stay. Here's a weekend getaway mapped out for reference. After a weekend spent at the Omni Boston Hotel at the Seaport, you'll be renewed and refreshed—and you'll be back in no time.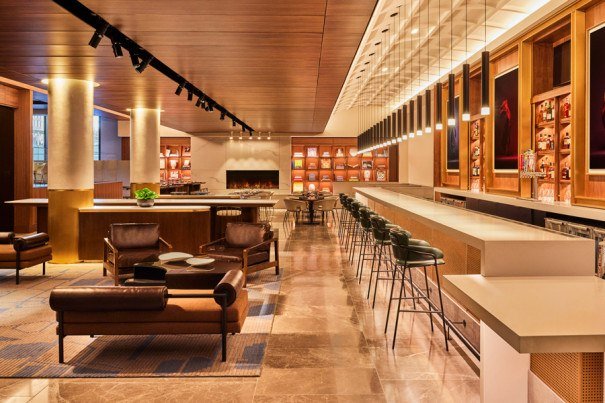 By Plane, Train, or Automobile
Traveling out of state to Boston is incredibly easy when you're headed to the Seaport. If you're arriving at Logan airport, your drive will be under ten minutes, just across the Boston Inner Harbor. You'll know you've made it to the Seaport when you pass through the tunnel.
If you're traveling by train—which is a fantastic option for East Coast dwellers who like to take in New England fall foliage—you're equally in luck. When you get off at South Station Amtrak, your drive to the Omni Boston Hotel at the Seaport is just five minutes long. Or, if you're looking to breathe in the Boston fall air and skip traffic, you can take a fifteen minute walk.
And, of course, for Greater Boston folks looking for a weekend away from home, you have some of the country's most beautiful skyline views right in your backyard. Simply take your favorite Seaport-bound bus line or catch a ride to 450 Summer Street.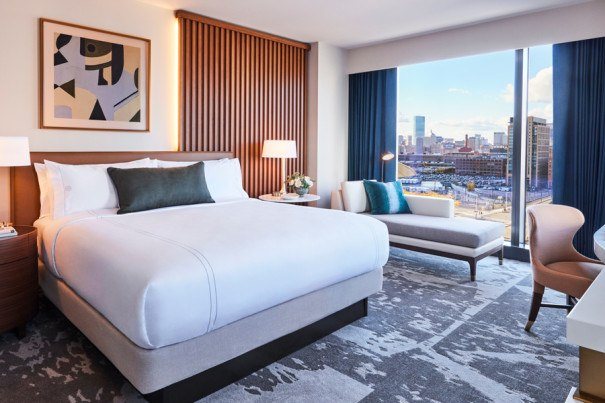 Once You've Arrived
The Omni Boston Hotel at the Seaport is unmistakable. The edifice spans two city blocks and rises 22 stories across two towers, the Artist Tower and the Patron Tower, for a total of 1,054 guest rooms including 52 suites. The sheer number of rooms is impressive, and the rooms themselves are even more impressive.

The entire property was designed by women- and minority-owned architecture firms, two of which are from Boston, and are meant to encapsulate what Boston does best: visual and performing arts, technological innovation, and outstanding academic tradition. The lobby immediately immerses you in this Boston dreamscape, feeling all at once familiar and otherworldly.
Rooms in the Patron Tower will give you access to floor-to-ceiling views of Boston Harbor and Seaport District, while Premier View Artist Tower rooms offer Massachusetts Bay or Seaport skyline panoramas. Every room has a sleek-yet-comfortable design and state-of-the-art amenities that will make your Seaport stay luxurious and cozy.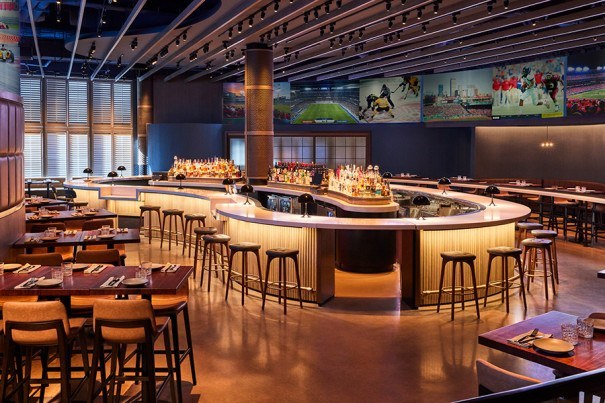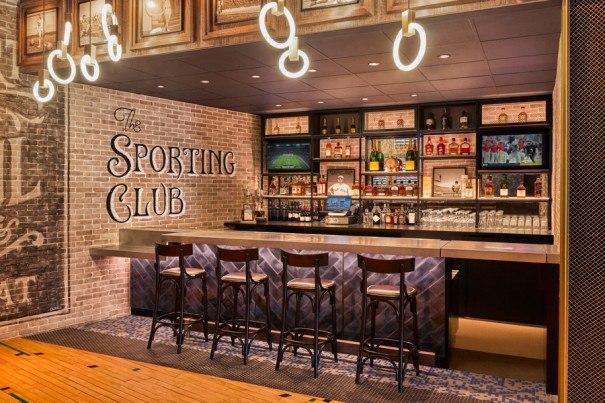 Fantastic Dining Options
When it comes to restaurants at the Omni Boston Hotel at the Seaport, they're all unique, yet equally classy–and there are seven of them. A must-visit is Coquette, 2022's Best Hotel Restaurant, whose menu is inspired by the Spanish-French coastline and features fresh seafood, raw bar, flatbreads, and drinks well worth writing home about.
Another must-visit for your weekend mornings, Cocorico, the Omni Boston Hotel at the Seaport's French boulangerie, bakes its pastries freshly each morning in-house.
If you've planned your visit around gameday, or want to get a taste of Boston sports on your weekend away, The Sporting Club has some of the best seats in the house. With twelve high definition flat screen TVs and plenty of seating both at the bar and at tables, you'll be cheering for New England in no time.

Plus, this season, The Sporting Club has introduced a Personal Seat Licensing program (PSL), so you can reserve your seat at the bar for each game day and it'll never get taken. That means you can leave the restaurant or tour the hotel's art exhibits during commercials and return to your seat without the risk of giving up your perfect view.
Step further outside of the typical Boston experience at Lifted Pool Bar, the refreshing fifth-floor open-air eatery and bar with whimsical mixology and contemporary dining by the only rooftop hotel pool in the Seaport District (which is open year round!). Grand views of the Boston skyline juxtapose the poolside resort aesthetic for an urban oasis experience.
A Spa Day Worth Traveling For
Breve Spa at Omni Boston Hotel at the Seaport is the embodiment of a deep breath. The gorgeous full-service luxury spa (and the only one in the Seaport) will renew your body and soul. The 3,000-square-foot fitness center is at your full disposal if you want to get a workout in, as well as the rooftop pool deck and Lifted Pool Bar.
Even in the fall, this fifth-floor paradise brings an urban oasis energy and whimsical craft cocktails —you can even add a 'wellness boost' (guarana plus green coffee Energy or vitamin immunity) to any cocktail or mocktail.
Monday through Thursday, the Spa Daycation Package will give you access to the rooftop pool, fitness center, an hour-long massage, facial, and a $40 credit to Lifted Pool Bar. The massage service comes with your choice of aroma-infused oil and includes sound therapy, and, of course, a masterful massage to ease your stresses, aches, and pains.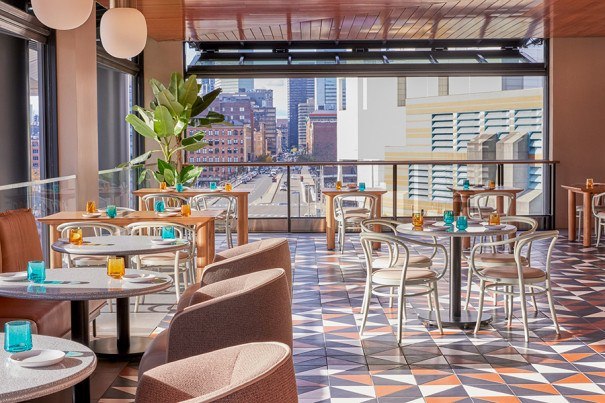 On the Town
If you've got the shopping itch, you've come to the right place. The Seaport District is home to countless unique and high-end retailers, from Alo to Bluemercury, Bonobos, Fjallraven, Le Labo fragrances, Lululemon, and Outdoor Voices—just to name a few.
The Seaport is also home to independent retailers as part of The Current pop-up collection, with stores like Hip Baby Gear, Tafari Wraps, Brown and Coconut, Little Cocoa Bean Co., and more. Plus, just in case you forgot something at home or need a quick fix, there's a CVS and a Sephora just around the corner.
The Seaport is an ideal place to spend time outdoors when you aren't cozied up in your hotel room or watching the game. The collection of parks and trails, like the Boston Harborwalk and Fan Pier Park, are surrounded by harbor views and are an excellent opportunity to get fresh air and take in your surroundings.
A walk across the Summer Street bridge into downtown Boston will open a whole host of exploration opportunities, like Post Office Square, Boston Common, and countless shops and restaurants.
To spend a fall weekend at Omni Boston Hotel at the Seaport, visit omnihotels.com/hotels/boston-seaport
This is a paid partnership between OMNI Boston Hotel at the Seaport and Boston Magazine
---