Spring Has Sprung in the Seaport. Here's Where to Stay, Sip, Dine, and Relax This Season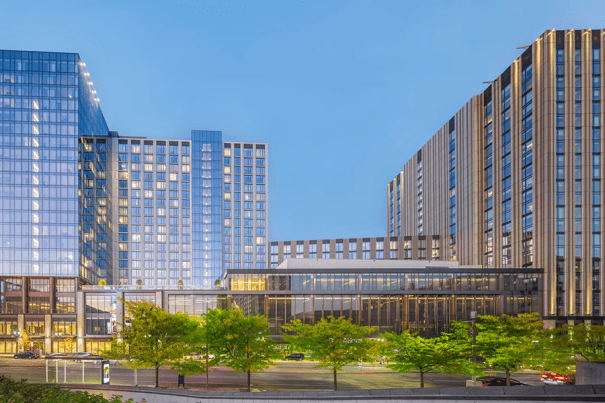 Travel is one of life's greatest pleasures, a cure-all for burdens like stress, monotony, and—the inevitable for Bostonians—spring fever. Plus, traveling is full of opportunity because of the variation it offers: Do you travel with friends and family, with a partner, or solo? Do you opt for a big enough room to enjoy downtime, or a cozier room that makes a perfect home base for your solo getaway? Lavish poolside meals or bites at the bar? Do you hone in on self-care with daily workouts or with a spa package (or both)?
Having these choices is a beautiful thing because it gives you the ability to curate the exact getaway vibe you want—but it also means you have some planning to do. The good news is that in Boston, there's a perfect neighborhood and stunning hotel that will suit any type of spring getaway you could want.
Seaport is the perfect place to plan that getaway, with some of Boston's most exciting things to do and see right in your backyard. Plus, this hotel gives you rooms of various sizes to choose from, new seasonal menus at several fabulous restaurants, and a number of ways to hone in on your spring wellness goals. Whatever your vision, here's how you can see it come to life on your spring Seaport getaway at Omni Boston Hotel at the Seaport.
For Travelers in Search of Good Food
This spring at Omni Boston Hotel at the Seaport, Executive Chef and Sommelier Yousef Ghalaini is excited to introduce new menu items that will add a flavorful dimension to your getaway at Lifted Restaurant, Kestra, and The Sporting Club.
Starting with breakfast, Ghalaini suggests indulging in Kestra's apple pancake topped with goat cheese and walnut butter if you're looking for something sweet. Kestra also does a smoked short rib hash, which they smoke in-house. "It's not your typical hotel breakfast offerings," he says.
At Lifted Restaurant, "It's a very vegetable-heavy menu," he says. "We open up with cast-iron brussels sprouts, with sumac and bacon and za'atar flavors."
The hummus has complex flavors and toppings like fava beans and asparagus, he says, making for a rather stunning dish, and the team is making a sourdough cracker for it as the dipper. "Then we go into a beautiful beet salad with a nontraditional beet salad dressing," says Ghalaini. This dish, he says, is perfect for solo diners, and pairs well with a chardonnay.
Ghalaini recommends the coconut curry shrimp if you're looking to be immersed in what tastes and feels like a Caribbean meal—and Lifted's ambience will make that all the more easier. "On the fifth floor, there's a platform that connects the two [hotel] towers together," he explains. Lifted is on that fifth-floor platform, right next to the rooftop heated pool and hot tub, which are open year-round. "It really turns into an indoor-outdoor space," he says. Plus, you'll get to enjoy uninterrupted views of the Boston skyline on your spring Seaport getaway.
Ghalaini also recommends the steak tip kebabs, and for a vegan option: the chilled soba noodles with sesame vegetables. "It has all the flavors of kimchi as the dressing—and you can get it as an appetizer, vegetarian entree, or you can add any number of proteins," he says.
Finally, if you're looking to enjoy elevated bar snacks and cocktails, The Sporting Club is the perfect place. "We make our own corn bread with honey-butter in-house that comes to the table piping hot," says Ghalaini. "And really, really great sandwiches." It's the perfect place to watch The Kentucky Derby—dress to impress—or the NBA and NHL Playoffs.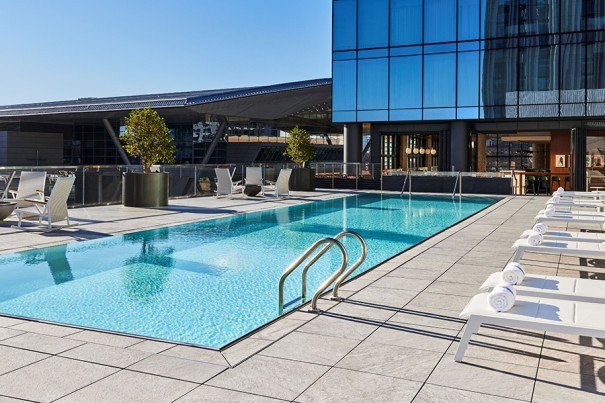 If You're Honing in on Self-Care
On your getaway weekend, you might feel inclined to step up your self-care routine. With the right amenities and resources at your disposal, you might just be able to pick up some new healthy habits to bring back home with you.
At Omni Boston Hotel at the Seaport, Artist Tower guests looking for a wellness focus on their stay can take advantage of the hotel's partnership with Boston-based athletic apparel company NOBULL. Not only will they get to use the 3,000 square-foot fitness center and the Peloton bikes, treadmills, rowing machines, free weights, CYBEX, and TRX stations, but they also have the option of complimentary outfitting with NOBULL workout gear (exclusive for guests staying in the Artist Tower). Simply reserve your gear—shirts, shorts, leggings, sneakers, and more—by calling the front desk.
And, of course, it's not a self-care getaway without a spa day. Omni Boston Hotel at the Seaport is home to Breve Spa, the full-service spa inspired by classic techniques and modern therapy. If you're in the mood for a massage, try the Recover and Reset option that promotes muscle recovery with moderate to deep pressure and assisted stretching.
Or, if you're looking for a more spiritual experience, try the Thermal Salt Detox where therapists will use warm, hand-carved Himalayan salt stones to relax your body, mind, and spirit and mitigate toxic frequencies. You'll feel deeply relaxed, at peace, and even have improved sleep so you're ready to take on the day.
After your spa day, enjoy the extended daylight and head out to connect with nature on the Boston Harborwalk, just minutes from the hotel. With gorgeous piers and vast water and city views, it's the perfect opportunity to embrace the spring Seaport weather and reflect.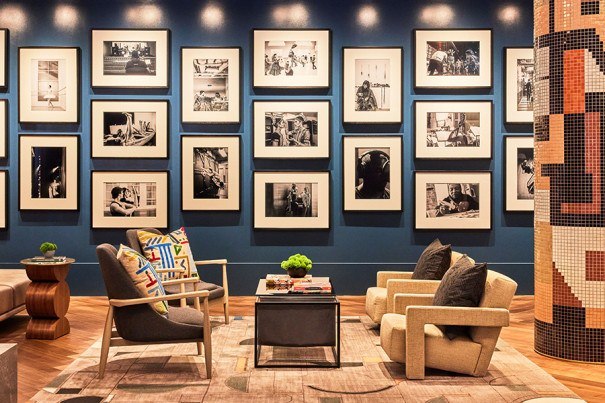 For Fun and Relaxation Seekers
Part of the fun of your spring Seaport getaway starts right when you enter your accommodations. As a hotel centered around Boston's rich performing arts history, Omni Boston Hotel at the Seaport's four-floor museum-quality art gallery is a must-see.
When you get to your room, you can immediately start to feel more relaxed and at ease. If you're traveling alone (or with your pooch), opt for an Artist Tower room, a perfect blend of a minimalistic space and innovative style featuring an open-concept layout. Enjoy your morning beverage with a state-of-the-art coffee machine on each floor, boasting options from basic coffee to espressos, cappuccinos, and hot chocolate.
For larger groups, opt for a Deluxe or Premier Patron Tower room with two queen beds or a King. Room sizes start at 380 square feet of space and include views of the skyline, the Seaport, Boston Harbor, or Massachusetts Bay, and all the amenities you need, like a complimentary coffee maker and terry cloth robes. No matter what room you opt for, you can count on miles-long views from your window that will have you feeling decompressed before you know it.
Once you're ready to hit the town, there are several options right near the Omni Boston Hotel at the Seaport where you can spend the day or night, whether you're alone or with friends. Kings Dining and Entertaining, a great spot for groups, is just a half mile from the hotel, with bowling, arcade games, and award-winning food and beverage options.
If you're in the mood for a little friendly competition with food and drinks in the mix, you can also head down the street to Puttshack, the indoor mini golf course; Flight Club, the experiential darts bar with elevated food and drink menus; and Spin Boston, the table tennis bar with other beloved childhood games like Connect 4 and plenty of playful photo opportunities so your memories last long after your weekend away.
If you're inspired by the Omni Boston Hotel at the Seaport and are eager to return, consider your upcoming events that need the perfect backdrop: bridal brunches, birthdays, graduations. Whatever you have to celebrate, Omni Boston Hotel at the Seaport has everything from live music on the weekends to private dining room areas for all your important dates.
Visit Omni Boston Hotel at the Seaport's Offers page for seasonal promotions—Take a Break spring offer for 15% off, Linger Longer for 10% off one night, 15% off two nights, and 20% off three nights—and more!
This is a paid partnership between OMNI Boston Hotel at the Seaport and Boston Magazine's City/Studio
---