5 Senior Living Amenities That Will Turn Everyday Into a Choose Your Own Adventure
You've heard it many times before: variety is the spice of life. It's true for every stage—especially older adulthood. Thanks to senior living communities like SALMON at Medway, your golden years can have as much variety—and, of course, just as much spice—as they should. The family-owned, 55-plus community on the Charles River will reimagine retirement when it opens on July 16, offering an incredible array of amenities and impeccable service akin to that of a luxury resort. The result? A relaxing, fun, and fulfilling retirement.
SALMON at Medway is overflowing with unique, state-of-the-art services. Here are the top 5 amenities that make it a standout senior community for the young at heart.
For the five-star quality seekers
Downsizing doesn't have to equal letting go of luxury living. SALMON at Medway has a community feel featuring a collection of cottage-style homes with garages and spacious, terraced apartments set on beautifully manicured grounds with maintenance-free living. In addition, the campus is integrated with apartment-style communities for assisted living and memory care residents—providing a continuum of care should residents need it and the availability of a personal care staff 24/7. "When I see the smiles on people's faces, and even having family members come in and say how happy I made their parents, that's what makes it all worth it – to know you're making a difference in people's lives," says Executive Director Andrew Freilich, a member of the SALMON Health & Retirement family for over 15 years. And unlike many communities, SALMON at Medway operates with a standard lease-style payment, and does not require large down payments, advance purchases, or long-term commitments.
For lovers of all things food
If we're talking food at SALMON at Medway, we're talking fresh, we're talking interactive, and we're definitely talking delicious. SALMON at Medway ensures residents look forward to every meal, and even have a hand in its creation. The community partners with Best Bees of Boston and Medway Community Farm to bring beehives and a hydroponic garden into the campus culinary scene, and residents can help tend both. Residents can also attend cooking classes with Director of Culinary and Dining Operations Jason Wallin.
Whether enjoying casual grab-and-go snacks from the café or sitting down for a meal, residents can trust that all of the food from SALMON at Medway is locally sourced and prepared by a skilled culinary staff. Plus, with 'Anytime Dining' meals are served throughout the day by restaurant staff. Breakfast for dinner? Why not? "Our offerings will feed and nourish the body, mind and soul," Wallin says. Proof is in the various healthy choices, like Mediterranean and plant-based options designed by Sarah Clarke, SALMON at Medway's on-site nutritionist. Not only that, if you move in within three months of SALMON's opening, you can become a member of Founders' 1713 Club and receive 10 complimentary passes to invite off-campus friends and family as your dining guests.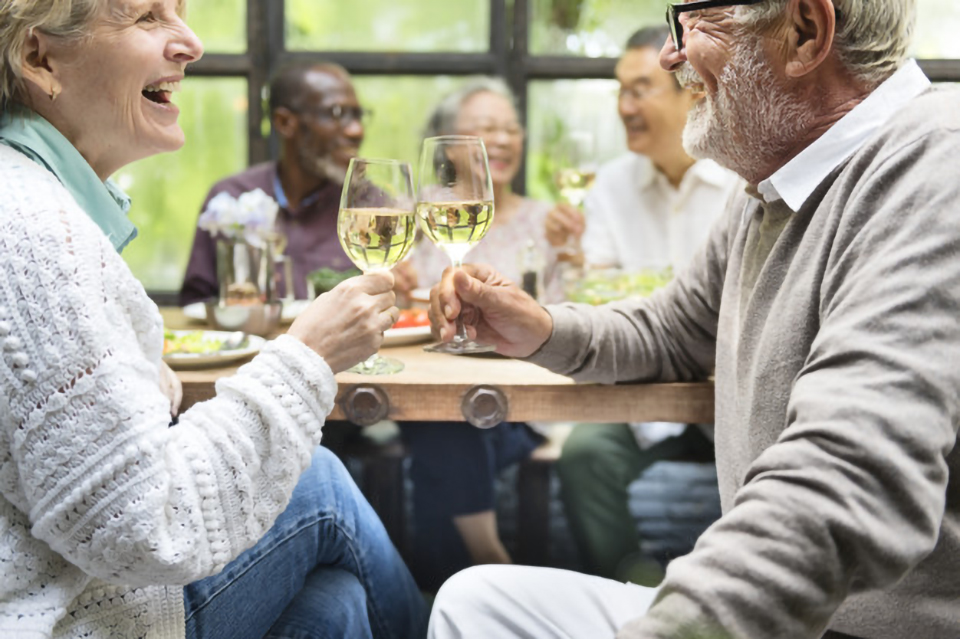 Indulge your inner social butterfly
It's easy to be social at SALMON at Medway. Beyond the three miles of walking trails and access to the Charles River, there's dozens of areas for socializing including a billiards lounge, a Great Room with a stage, and don't forget O'Tooles Bar. That's right, SALMON at Medway has a full-service bar open to the public, making it the ideal spot to entertain visiting friends and family. Grandkids will want never-ending visits thanks to the game room and arcade with a kid-friendly food menu. Residents can also pursue their passions or learn new skills—think cooking demonstrations, museum and theater excursions, art and gardening classes, and much more. "Being able to provide a positive lifestyle for people is very rewarding," says Freilich. "I'm proud of the fact that I'm able to do it, not just for the people we serve, but for the whole family."
Stay healthy in mind, body, and soul
We can all agree staying healthy is a major key to comfort and happiness, but it doesn't have to be monotonous or high maintenance. SALMON at Medway is a perfect example of this. "We're helping to keep seniors in better shape, better physical fitness and better-minded, and we're looking to break the mold as to what people think of as traditional fitness," says Freilich. The community has an indoor heated pool, hot tub, and a state-of-the-art fitness center with certified personal trainers. Plus, if you're a Founders' 1713 Club member, you'll receive six free training sessions and two free nutrition sessions. Fitness Director Michelle Tsimtsos has designed dozens of programs for all levels including cardio drumming, seated Pilates, tai chi and even disco yoga for physical and mental recentering, as well as a putting green, a pickle ball court, and bocce court for those who find they stay their most fit with the help of a little competition. For extra pampering, SALMON at Medway residents also have access to an on-site barber shop, hair salon, and spa.

Easy access to the great outdoors
For all you outdoor enthusiasts, look no further for a retirement option that satisfies your need for nature. SALMON at Medway's 57-acre campus gives residents access to a beautifully polished landscape, as well as almost three miles of walking trails, a canoe and kayak launch into the Charles River, and a pond for ice skating in the winter and peaceful views year-round. Studies have shown that nature has healing qualities like reducing stress, fear, and anger, and can also reduce heart rate, muscle tension, and stress hormone production—perfect for relaxation.
"The Town of Medway has really embraced us, and we're happy to be here," says Freilich. "I encourage people to come and see the value the SALMON at Medway community offers. We think it's a pretty special place, and think you will, too!"
To learn more about all SALMON at Medway has to offer, visit medwayseniorliving.com or check us out on Instagram, Facebook and TikTok @ SALMON at Medway. Get one month free rent and a waived Medway Assessment Fee—a $4,500 value—through the Founders' 1713 Club if you move in within three months of SALMON at Medway's opening.
This is a paid partnership between SALMON at Medway and Boston Magazine
---