Six Outstanding Coastal Hike and Bike Routes for Your Long Weekend in Canada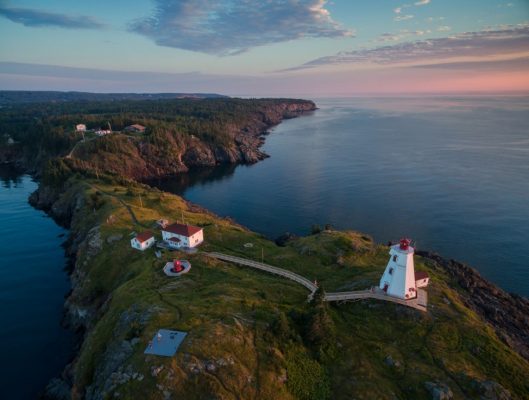 If you've ever thought about exploring a different world during your next hiking or biking trip, head north.
Just a three-hour flight from Boston across the Canadian border lies New Brunswick, where the Bay of Fundy is home to the world's highest tides. A whopping 160 billion tons of water sweeps to shore and back to sea every single day, meaning you can kayak in one spot in the morning and hike through its towering rocky formations in the afternoon.
New Brunswick has more to boast about than its record-setting tides, though. Outdoor activities abound throughout Atlantic Canada's stunning coast, with plenty of options for all hikers and bikers, no matter your level.
Total length: Over 75 miles of hiking trails
You'll find dozens of hiking possibilities in Fundy National Park. An easily accessible option that crosses through forest eco-systems and small lakes, the 1.3-mile Caribou Plain Trail is one for all seasons, with beautiful fall colors and a perfect setting for snowshoeing in winter.
For a lengthier excursion, you can try the Fundy Circuit, a multi-day hike that consists of a network of seven different trails. This nearly 30-mile long hike will take you through river valleys, past lakes, along the coast, and through the Acadian forest.
Total length: 24 miles
Winding along the coastline to the boundaries of Fundy National Park, the Fundy Footpath is a true wilderness trek that takes 3–4 days to complete. While undoubtedly a challenging hike, you'll be rewarded with views of one of the last remaining wild coastal areas between Florida and Labrador.
Line up your hike according to the tides, as some parts of the trail include river crossings that can only happen when the tide is out. Register at the Interpretive Centre and pick up a Fundy Footpath kit, which includes maps and that ever-important tide schedule.
If biking is more your thing, check out the Fundy Trail Parkway. A 10-mile ride to the Cranberry Brook lookout provides great opportunities for jaw-dropping photos of the coast as well as bird watching.
Total length: Over 37 miles of bike trails
Fantastic for exploring by bike, the trails of Kouchibouguac National Park will have you pedaling by fields of wildflowers, peat bogs, salt-water lagoons, and grand forests. Take the less-traveled route called the "bridge under the bridge," which crosses the twisting Black River, then watch lobster fishermen bring in their catch for the day at Loggiecraft Wharf.
Fat bikes, bicycles specifically designed to ride on soft terrain like sand, are available for rent at the Visitor Centre during most of the year.
Total length: 10 downhill trails
Mountain bikers, look no further than Sugarloaf Bike Park. Eastern Canada's only bike park is accessible by chairlift and includes terrain for riders of all levels. Smooth, gentle trails meander down the mountain and through the forest, while tight and steep tracks challenge advanced bikers.
Table tops, drops, and step ups add variety throughout the trails, making this coastal gem a mountain biker's playground.
Total length: Three whole islands beckoning to be explored
What would a dramatic coastline be without some island hopping? Take a ferry ride and leave the mainland behind to spend some time walking the hiking trails of the Fundy Isles.
Picturesque lighthouses and fishing villages create postcard perfect views, once enjoyed by late president Franklin Roosevelt on Campobello Island. You'll find beaches, spruce forests, and meadows dotted with colorful flowers. Once you've hiked to your heart's content, cap off your trip with a cruise on the water by kayak or on a whale watching expedition.
Total length: 1.8 miles of walking trails
Visiting a land known for its wilderness isn't complete without seeing the flora and fauna of the area. More than 150 species of birds and 200 species of plants call the Sackville Waterfowl Park home. The winding boardwalks and trails feature viewing platforms that allow you to get close-up views of animals like fuzzy ducklings, muskrats, and marsh birds.
In addition to these six gorgeous coastal routes, New Brunswick offers travelers plenty of other opportunities to kayak, boat, hike, bike, climb, paddle, and drive through its lush terrain and clear waters. Ready to discover the outdoor adventures that await you?
This is a paid partnership between Destination Canada and Boston Magazine
---