Spring Day Trip Ideas for Boston Foodies, Families, and Every Kind of Fun-Seeker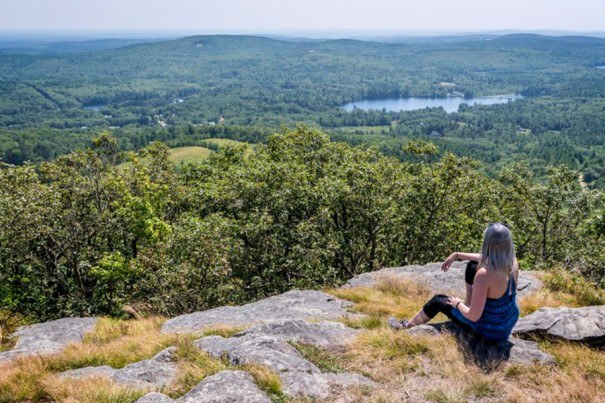 There comes a time when every Bostonian feels the need to escape the city, if only briefly. Fortunately, you don't have to drive for miles to get that experience. Only about an hour away from the heart of Boston, North Central Massachusetts has all the components for a perfect day trip or weekend getaway: rural, outdoorsy charm; good food and craft beer; and plenty of outdoor adventures to be had. You'll feel like you're a world away from the hustle and bustle of Boston, but can be back in your bed by night.
Whether you're traveling with friends, family or even flying solo, plenty of attractions await. Here are a few highlights to consider for your first trip.
Fun for The Whole Family
Must-stop spots: Johnny Appleseed Visitor's Center. 1000 Route 2 Westbound, Lancaster, MA; 978-534-2302; open 9-5 daily. The Fitchburg Art Museum. 185 Elm Street, Fitchburg, MA; open Wed-Sun. Cornerstone Ranch. 29 Dowds Lane, Princeton, MA, Open year-round Tues-Sun.
Make your first stop in the region the Johnny Appleseed Visitor's Center, which started as a small pit stop for drivers in 1997 and has grown into a destination where you can walk your dog, take a goofy family picture in front of a large Johnny Appleseed statue, explore historical memorabilia like old-fashioned snowshoes, and get information on what's happening in the region.
Diane Burnette, manager of the Center, says if you're visiting on a Sunday, the next stop is clear: the Rietta Ranch flea market, one of the most popular flea markets in the entire Northeast. With hundreds of eclectic vendors, there's treasure to be found for everyone.
"It's definitely the thing to do on Sunday mornings," Burnette says. "You'll see people leaving with armfuls of goodies, from antiques to fine crafts."
If you're up for an educational stop, try the Fitchburg Art Museum or the Gardner Museum, or even the Museum of Russian Icons in Clinton, a quirky spot with the largest collection of Russian religious memorabilia outside of Russia. The Fitchburg Historical Society is always a great choice.
"The Historical Society opens their doors on the weekends and you can see bygone equipment and objects, like war uniforms and a hand-pumped fire extinguisher," Burnette says. "Many of these objects haven't gone away; they're just out here in the country and we're taking care of them for people to see and learn from."
If the weather is nice, make a reservation at Cornerstone Ranch for horseback riding, pony rides, winter sleigh rides, and summer wagon rides, or stop by In the Meadow Farm in Lunenburg or Plain View Farm in Hubbardston for the rare opportunity to meet Alpacas. Both farms also offer shops with an array of wooly goods.
Indulge in the Sweet Life
Must-stop spots: Red Apple Farm. 455 Highland Avenue, Phillipston, MA. Open daily year-round. Davis Farmland. 145 Redstone Hill, Sterling, MA. Open Mid-April through October. 1761 Old Mill Restaurant & Country Store. 69 State Road East (Route 2A), Westminster, MA; Open Tues-Sun.
North Central Massachusetts is an unexpected foodie paradise, from farm-fresh baked goods to a burgeoning craft beer scene. To sample a few of those charms, make your first stop Red Apple Farm in Phillipston.
"So much great food grows in this region, so there's something new to try in every season," says Al Rose, the owner of Red Apple Farm. "For example, in the fall, you can come and pick apples, but also drink the apple cider or hard apple cider we make on-site, and try one of our famous apple cider donuts and other apple-based treats."
Red Apple Farm has been in Rose's family since 1912. He's the fourth-generation farmer to take the helm, and his farm has employed workers and hosted visitors from the same families for generations. The farm is open to visitors year-round, and there's something to do in every season, from picking fruit to petting animals, hiking the on-site trails, grabbing a pint at their on-site eatery called the Brew Barn, and more. Currently, maple season is in full swing at the farm, which means they're offering maple-spiced donuts and have a maple pancake breakfast coming up.
Red Apple Farm is one of a large number of farms and orchards in North Central Massachusetts that are open to visitors. Many, like Davis Farmland, have enough activities to take up a whole day and offer live music on weekends and special kid-friendly festivals throughout the year—with seasonal goodies on tap as well. Countless orchards, including Carlson Orchards, Hollis Hills Farm and Bolton Orchards, also allow you to pick your own fruit in the warmer months.
"There's something very grounding about going to a farm," Rose says. "There's the fresh, country air, and also getting to spend time somewhere very authentic and see where your produce comes from."
For a more substantial meal, try the 1761 Old Mill Restaurant & Country Store where you can sample New England classics like fresh seafood and complimentary pecan rolls. Arrive early to explore the grounds and say hello to the resident ducks. You also can't go wrong with The Bull Run, which offers something for everyone, including pizza, burgers, and sandwiches alongside more upscale entrees.
If you find yourself craving something sweet on the go, stop by one of the region's many ice cream stands, such as Kay's Dairy Bar in Westminster or Carol's Dairy Bar in Fitchburg.
Find Adventure Outdoors
Must-stop spots: Wachusett Mountain. 499 Mountain Rd, Princeton, MA; skiing typically available Nov-April, hiking available year-round. Royalston Falls. Route 32 Royalston, MA; Best to visit April-Nov. Leominster State Forest. 90 Fitchburg Road, Westminster, MA; open daily sunrise-sunset.
Every season in North Central Massachusetts brings a different outdoor activity. In spring, you may still catch some snowshoeing and skiing, as well as hiking. As the weather continues to warm up, mountain trails, campgrounds, waterfalls, and canoe and kayak trips beckon.
According to Rose, the hiking rivals any other New England region.
"Why spend three hours commuting when you could spend that time just being outdoors and enjoying yourself here?" he says. "We have so many miles of trails and hiking destinations that are as beautiful as those in Vermont, New Hampshire, or Maine."
If you only have time to take on one hike, you can't go wrong with summiting Wachusett Mountain. The trail to the stunning views on the summit is just under 4 miles round-trip, but there are shorter options in the park as well. Consider following up your hike with a visit to the incredible Royalston Falls.
Your time in the sun doesn't have to end with your wilderness adventure. The region is home to a growing slew of craft breweries, most of which are family- and dog-friendly and offer expansive outdoor seating.
"Feel free to bring your children or dogs or even a baby in a stroller," Burnette says. "You can find a spot to sit outside, let the kids play, maybe catch some live music, and just enjoy the evening."
In the summer, most of the town centers also host free outdoor concerts in the common. Get takeout from a local restaurant and enjoy music ranging from marching bands to a violin quartet.
This summer, look no further than North Central Massachusetts for your "backyard" adventure.
"We're really lucky to be in an area where we're in so many people's backyard, in their community," Rose says, "both the people live here but also those from the greater Boston area literally a stone's throw away who visit year after year as well."
This is a paid partnership between Visit North Central Massachusetts and Boston Magazine's City/Studio
---