The Faces of Women in Design
Boston is brimming with designers, architects, and creative professionals who are making the city a hub for design excellence. Below, meet some of the women who have made remarkable contributions to their professions. From rising local talent to industry leaders, these women are demonstrating what can be achieved through creativity and hard work.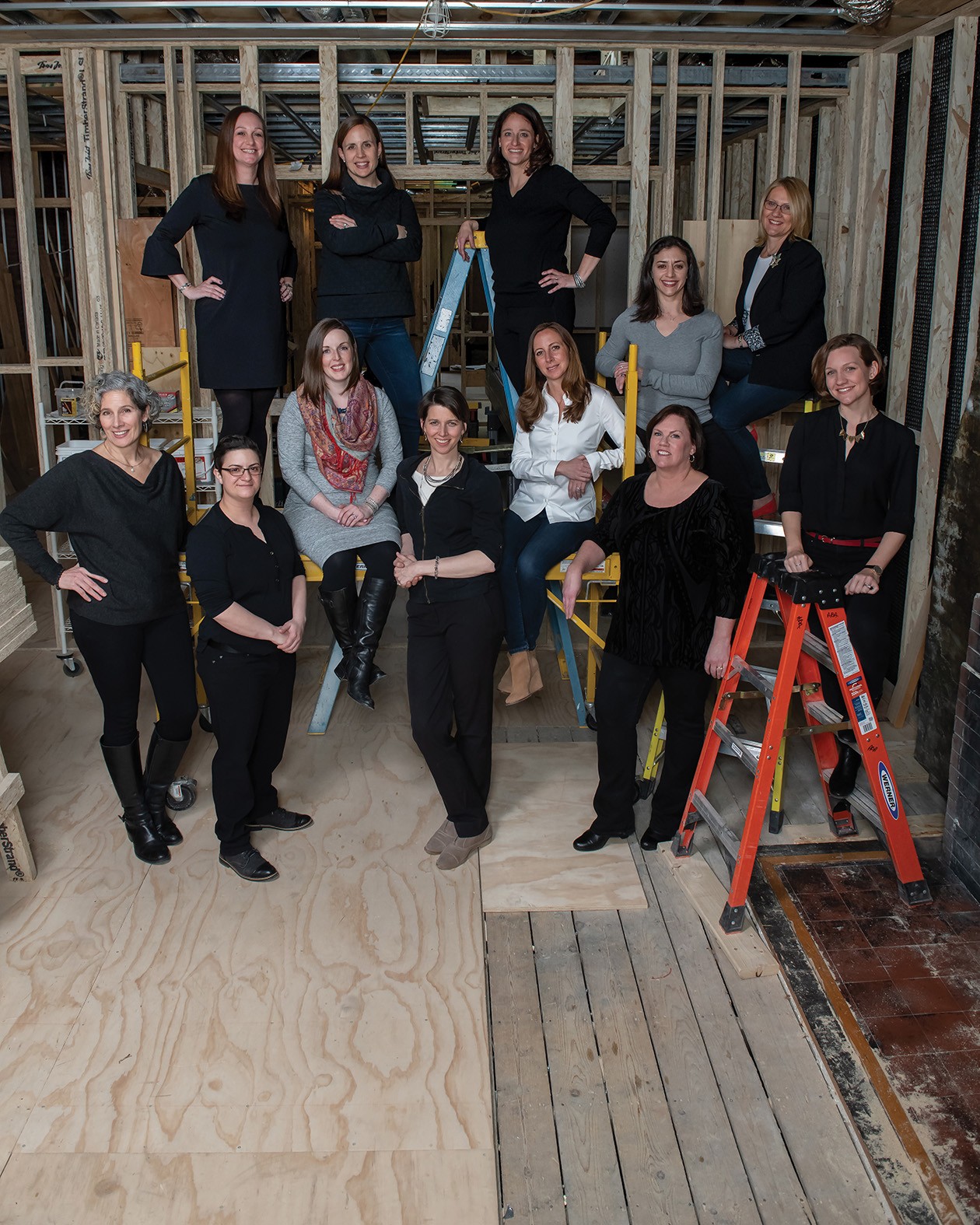 The Women of Adams + Beasley
Adams + Beasley Associates
Carlisle | 978-254-5641 | adamsbeasley.com
Adams + Beasley Associates has more women working on their team than any other builder in Boston."They've landed a jump where no one else has," says Maribeth Brostowski, a principal of Lewis Interiors. It's one of the reasons Brostowski has chosen to work with the custom building company on a dozen projects and counting.
Co-founder Eric Adams says they've worked hard to recruit talented women onto the Adams + Beasley team. "Our industry has a systemic deficiency in the presence, voice, and perspective of women," says Adams. "We consciously seek out professionals who make the experience of collaborating with us uniquely graceful and differentiated."
The women behind Adams + Beasley are project managers leading construction teams on site and project coordinators who know design and can work nimbly with interior designers and architects. "The fact that she was a cook was very helpful," says one homeowner in Lincoln, who worked closely with an Adams + Beasley project coordinator on a kitchen redesign. "She completely understood my needs for specific dimensions on things. I got no pushback. And that was a joy, her flexibility and responsiveness."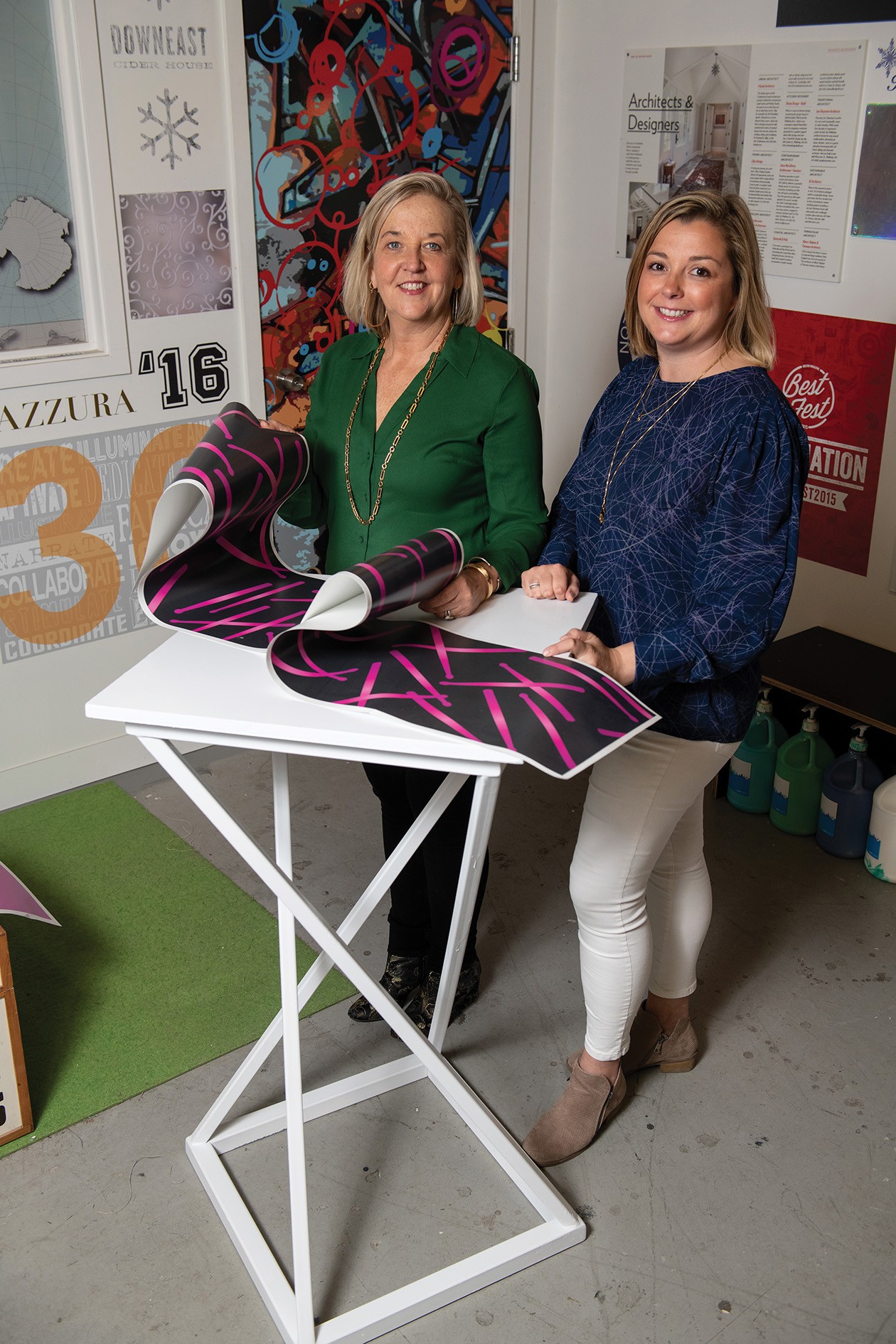 Frances C. Andahazy + Bridget Fillippelli
PBD Events
Boston | 781-848-1665 | pbd-events.com
PBD was founded in Boston in 1985 as a woman-owned-and-operated business specializing in event design. Today, the company has grown to be one of the largest one-stop-shop event design companies in New England. They specialize in custom fabrication, print, and full-service production, and employ many working artists, both men and women, who are graduates from Mass Art, Pratt, and other top universities.
Their CEO Franny Andahazy, a former graduate of Mass Art and a recipient of their Alumni Award, is an artist herself. She is the curator of Solace Gallery in New Jersey and Contour 19, an online Boston gallery, and her work is featured on Artsy.net. Andahazy considers designing a part of her life and one that is not a choice. She considers the company full of team players with strong leadership from the management team. Bridget Fillippelli, a graduate of Northeastern, has been a designer with the company for more than 15 years and leads the event design team with cutting-edge looks.
PBD loves Boston—the city has been very good to them. They have done numerous events for the Boston Red Sox, Boston Calling, Reebok, many universities, and high-end retailers. Their philosophy is: There is no job too small, and no challenge too difficult; give your customer 110 percent, and go beyond their expectations.
Alexandra Aquadro
AGA Design
Boston | 413-695-8650 | againteriordesign.com
Alexandra Aquadro is the founder of AGA Design, an interior design firm specializing in residential projects. Aquadro discovered her passion for design at an early age while growing up in an antique home. "I would frequently find paint and fabric samples as my parents worked room by room to renovate our historic home," she says. "The biggest thrill was selecting my bedroom wallpaper in the fourth grade. The cheerful yellow pattern still lines the walls today."
The brand took shape with the AGA Design Blog, an online publication devoted to all things that inspire, including interior design, art, and fashion. With experience in textile sales and working for both architecture and interior design firms, Aquadro made the leap to start her own firm in 2014. AGA Design works closely with clients to create comfortable, timeless, and sophisticated interiors to be enjoyed for years to come. Projects range from full renovations to consultations for a more DIY approach. "I want my clients to walk through their door and feel at peace, surrounded by inviting color palettes, comfortable furnishings, and personal accents," says Aquadro. "The house will feel like their home."
Faith Baum
Faith Baum Architects
Lexington | 781-674-9344 | faithbaumarchitects.com
For 20 years, Faith Baum taught an architecture course at the Rhode Island School of Design called "Human Factors." To her, residential space must be designed foremost for the people who will be living in it. A registered architect with three grown sons, Faith builds on her broad design experience working with clients to create their dream homes.
"Faith Baum has designed three homes for us—in New York, Washington, and Paris—and every time it was a unique collaboration," says one client. "She listened. She learned. And then she created a home that was truly ours."
Jean E. Brooks
Jean Brooks Landscapes
Chelsea | 617-354-0643 | jeanbrookslandscapes.com
Founded in 1990, Jean Brooks Landscapes is in its 29th year of business. Focused on the design, construction, and maintenance of residential gardens, founder Jean Brooks is committed to designing gardens with the utmost attention to quality and detail. "We spend so much time inside, it is important for me to draw people outside into nature. I want to create beautiful outdoor rooms for people to live in," Brooks says. "When I started my business, I quickly learned that it wasn't enough to design a beautiful garden. I also needed to build it, so I started my own construction company. Maintenance is the key to a long-term successful garden, so we do that too."
After spending 10 years working in antiques and fine art, Brooks brought her training to garden design. Studying color, texture, composition, and balance in painting and decorative arts has played a big part in developing her design eye. As for her knowledge of plants, she credits her father. "My father had what we like to call a 'green thumb,'" says Brooks. "I have seen it over the years in other gardeners, and it is a very special quality of bonding between living, growing things. I strive to bring that special alchemy to every garden we create."
Linda N. Cabot
Linda Cabot Design
Boston and Westwood | 617-249-1086 | lindacabotdesign.com
Linda Cabot Design, a dynamic, new luxury textile brand, recently opened a boutique store in the Boston Design Center. Cabot is a nature painter, having long created artworks celebrating the landscapes of her native New England. Her textile designs, derived from her paintings, showcase Cabot's unique artistry and deep appreciation of the natural world, honoring the iconic beauty of Maine, Massachusetts, and beyond. Cabot's beautiful quilts, blankets, tablecloths, napkins, and pillows are locally made and sustainably sourced using only certified organic fibers. Linda Cabot wants to bring the joy of handcrafted sustainable textiles to the Boston marketplace for a colorful, happy, healthy home!
Julie Arcari Cook
Landry & Arcari Rugs and Carpeting
Boston, Salem, and Framingham | 800-649-5909 | landryandarcari.com
Early on, you could find Julie Arcari Cook alongside her father—Jerry Arcari, founder of Landry & Arcari Rugs and Carpeting—cleaning and delivering rugs out of their family garage. Working after school and summers, her passion for business and beautiful rugs was sparked. After graduating from Northeastern, Cook officially joined the family business and her transition to CEO began. Alongside her brothers Jeff and Jay Arcari, and now her son Ben, Cook has cultivated a company culture that celebrates the uniqueness of each rug and project. Their simple formula is based on a commitment to producing and sourcing the highest-quality rugs from around the world, coupled with creating an exceptional and educational experience for their customers. They have built an extensive inventory of one-of-a-kind handmade rugs, from antique and vintage to simple, transitional, and cutting-edge modern.
Today, with three showrooms in Boston, Salem, and Framingham, Landry & Arcari is positioned as a pillar of the rug industry. The love of rugs and design trickles down to the next generation, as well; the rug hanging behind Cook was designed by her daughter Olivia and handwoven in Afghanistan.
Naomi Cottrell + Michelle Crowley
Crowley Cottrell, LLC
Boston | 617-338-8400 | crowleycottrell.com
After working side-by-side at another firm for seven years, Michelle Crowley and Naomi Cottrell came together in 2011 to form Crowley Cottrell, a landscape architecture practice grounded in professional respect and friendship. They shared a desire to own the creative process and decisions, and they wanted to change the way they worked within the design and construction industry. "Our 35-plus years of combined experience showed us that being considered a 'nurturing' person within this industry—usually equated with being a woman—was thought of as a weakness. We see it as a strength and have made it a principle of our practice," says Crowley.
Nurturing relationships are central to how they approach staff, clients, and contractors. "We strive to have our core values—integrity, inclusivity, approachability, and fun—translate from design to the completed work," says Cottrell.
Crowley Cottrell's vision is to improve quality of life and to promote gender equality and environmental stewardship on all projects. With a broad portfolio—including parks, campuses, cultural institutions, multi-family housing, and private residences—Crowley Cottrell consistently brings clarity to complex sites to create beautiful, approachable landscapes for living.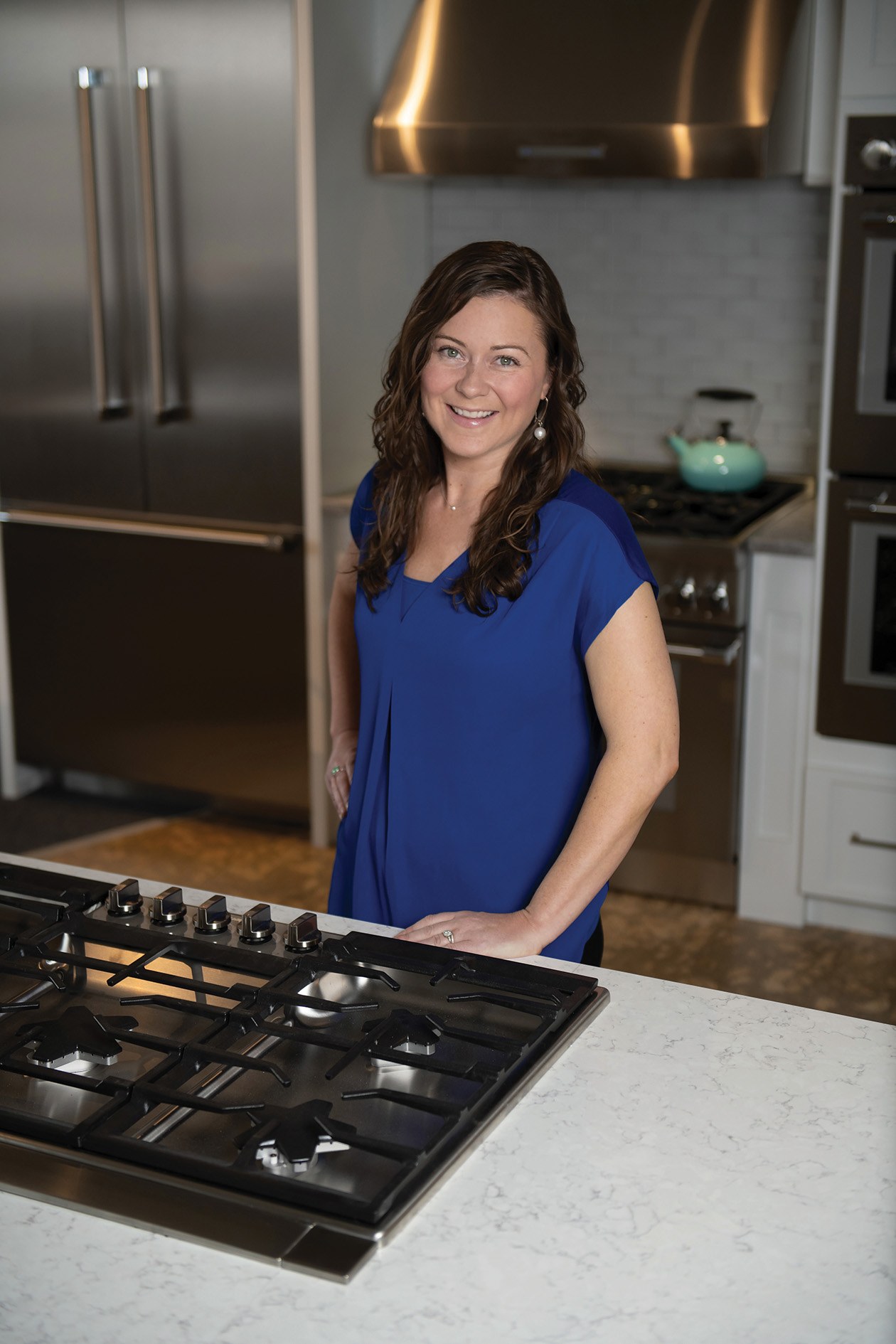 Erin Cox
KAM Appliances
Hyannis | 508-771-2221 | kamonline.com
After 15 years in advertising sales and management, Erin Cox took her talents to the local building and design industry in May 2017. As KAM Appliances' business development manager, Cox acts as a relationship cultivator and liaison for KAM's project partners (architects, kitchen designers, and contractors). Together with their customers and KAM's sales professionals, project partners work with Cox through the entire design and build phases on the absolute best choices for appliances. Cox utilizes KAM's eight live kitchens in their Hyannis, Hanover, and Nantucket showrooms for partner events, chef demonstrations, and continuing education classes for architecture and design professionals. Owned by three siblings, KAM Appliances has had relationships within the community for the last 40 years, so this is another investment in those relationships, giving them that additional key point of contact to follow things all the way through.
"My role is all about helping our project partners get a paramount KAM Appliances experience, from selection to delivery, to installation, to service," says Cox. "Together we help people get the best day-to-day experience out of their kitchen and laundry. If they love to cook or entertain, we want to ensure their kitchen is their absolute playground."
Ana Donohue
Ana Donohue Interiors
Melrose | 617-331-2663 | anadonohueinteriors.com
Ana Donohue is an award-winning interior designer. Since founding her namesake interior design firm Ana Donohue Interiors in 2002, her work has gained national recognition. Over the years, Donohue has meticulously perfected and honed her design sensibility and created signature living spaces that reflect each client's spirit, vision, and personal style. Ana Donohue Interiors projects range from chic urban residences and sprawling suburban homes to Bermuda bungalows and a luxurious mountaintop retreat in Park City, Utah.
Even at an early age, Donohue knew she wanted to work in the design field. After growing up in Oklahoma, where she was also educated, she lived in Manhattan for many years. Her professional journey has taken many welcomed twists and turns and included extensive world travel. Since making her home in New England, she continues to build her reputation and grow awareness of her firm. Next on her agenda is the opening of a boutique design studio in downtown Melrose, Mass., slated for the fall of 2019. The studio will feature unique art, curated furniture collections, and one-of-a-kind accessories, carefully selected by Donohue and her talented team.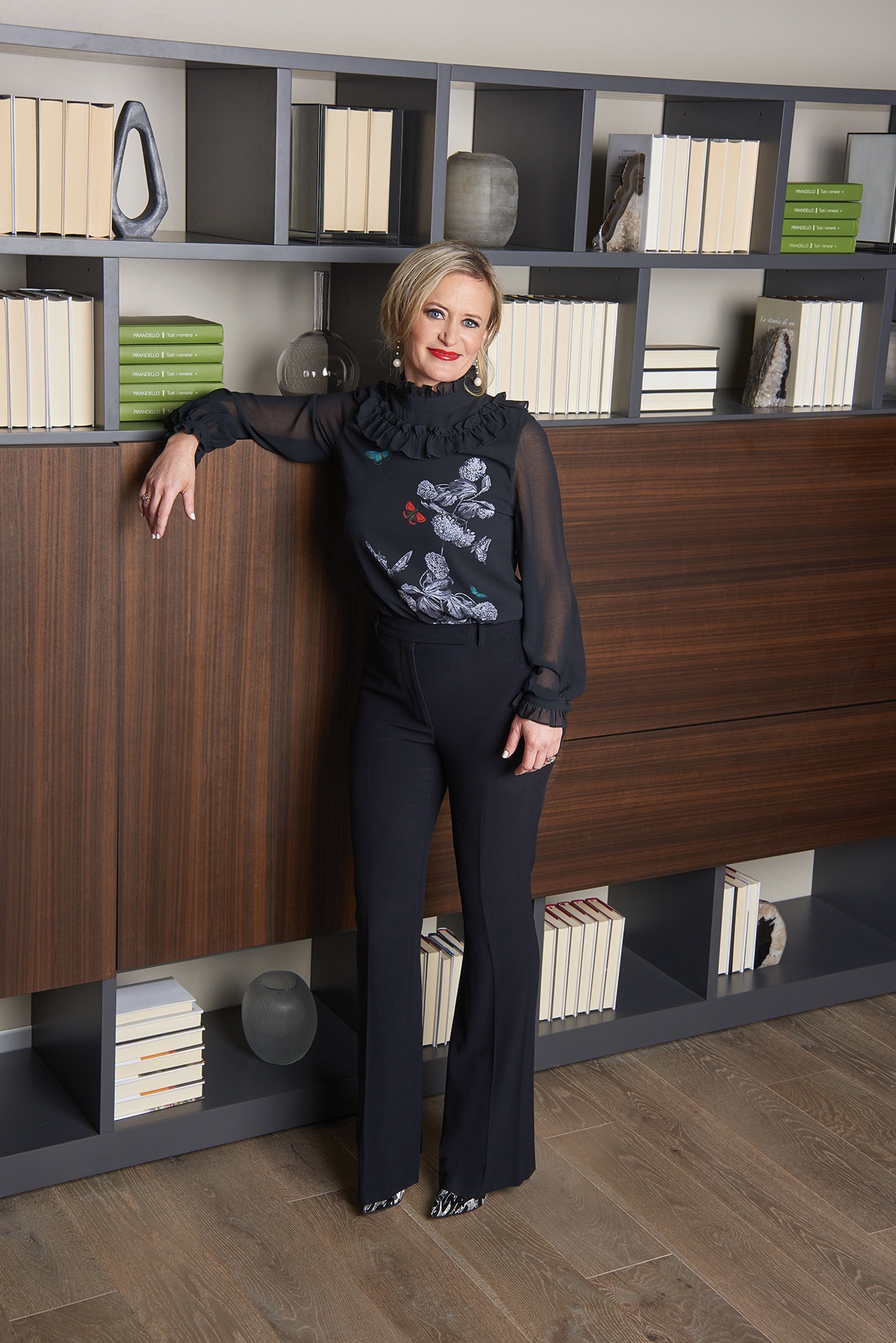 Zhanna Drogobetsky
Casa Design Group
Boston | 617-654-2974 | casadesigngroup.com
Casa Design Group founder Zhanna Drogobetsky is an acclaimed entrepreneur and interior design expert who introduced the "Made in Italy" aesthetic to Boston and East Coast design houses. After graduating from Northeastern University and owning a small basement furniture store in Brookline, she put her creative vision into opening Casa Design showroom in Boston's SoWa Art + Design District. Within the next several years, she expanded the presence in the community by opening a second showroom with outdoor furniture, followed by Molteni&C Dada Flagship Store and Casa Design Contract. Drogobetsky has been wooing Americans with the Italian sense of style and "gusto del bello" for more than two decades, while curating hundreds of the finest European furniture and lighting brands, including Molteni&C, Dada, Roda, Gallotti&Radice, Terzani, Porada, Meridiani, Henge, and Antonio Lupi.
Today, as she prepares to open her fifth showroom, Giorgetti Boston, Drogobetsky continues to evolve the boundaries of what contemporary design can do with her growing team of design experts, helping ensure her clients find exactly what they are looking for.
Ann Eckert
Concord Lamp & Shade
Concord | 978-369-3000 | concordlampandshade.com
Concord Lamp & Shade has been a staple in the greater Boston design community since 1976. Specializing in custom work in both lamps and lampshades, Concord Lamp & Shade has grown to service not only the Boston design community, but also the greater New England region, and has increasingly achieved a national reach. Owner Ann Eckert and creative director Denise Pageot-Beecy are inspired by the opportunity to take the ordinary and make it extraordinary. Personalized attention, along with a deep inventory of products and services—including lighting, shades, lamp repair, and renovation—are the foundations of this established and growing centerpiece of Boston's home design community.
Nicole Hogarty
Nicole Hogarty Designs
Boston | 617-849-8551 | nicolehogarty.com
Founded in 2002, Nicole Hogarty Designs approaches each project with respect for the process, for their trusted vendors, and their beloved clients. For owner and principal designer Nicole Hogarty, interior design is an ever-changing and challenging industry that requires more than just talent. "I like to think that we learn from each experience," says Hogarty. "We are constantly asking how we can improve, not just as individuals, but most importantly as a team." Hogarty always says that it takes a village, and believes in "please" and "thank you" along the way. She thinks it's important to remember that at the end of the day, they are in a service-based industry, and while their focus is interior design, they aim to provide an overall client experience. "Going back to my roots, I was always a creative child who loved fashion and design," says Hogarty. She remembers that, from a young age, she would ask her parents for new bedding or new furniture for her birthday. Today, she is still inspired by family, travel, and her clients. "On the most challenging of days, I still find myself excited and doing a little happy dance walking into my office each morning," says Hogarty. "Again, success is not an accident. It requires endless hours of hard work, saying 'yes' more often than not, building and nurturing relationships, a great team behind you—and maybe a bit of luck."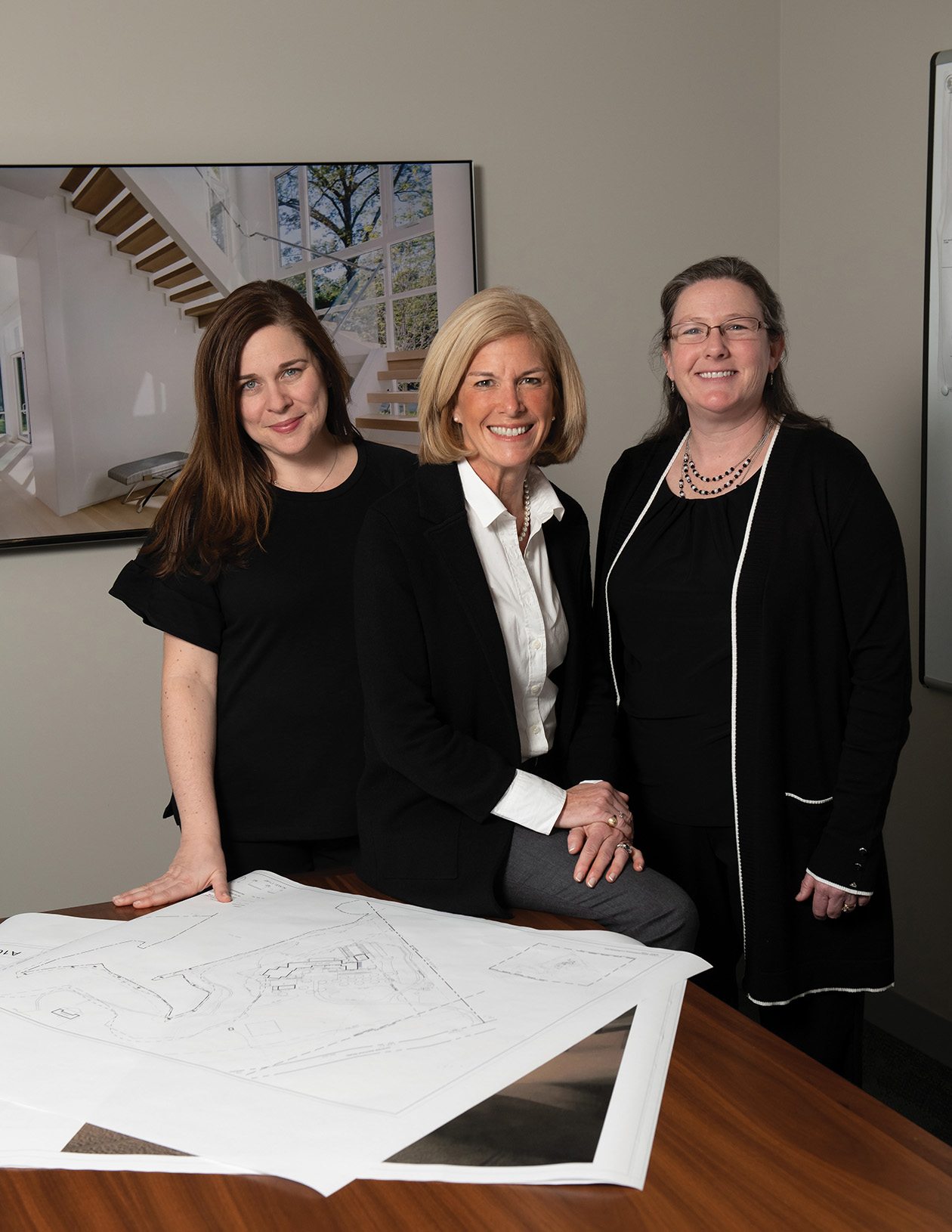 Nancy Lagassé
The Lagassé Group, Custom Builders
Boston and Hopkinton | 508-686-5040 | thelagassegroup.com
Nancy Lagassé, an attorney, and her husband, Kevin Lagassé, a construction professional, began the Lagassé Group in 2010 with a single project and three employees. Today, with 23 employees and an expansive portfolio of completed projects, the Lagassé Group has established itself as one of the premier residential builders in New England. The company also offers its clients continued care through its HomeCare division. Their dedication to delivering a high-quality finished product is precisely why the Lagassé Group is so highly sought after. The staff takes the time to understand client needs, ensuring that both the building process and completed project are truly about the client. President Nancy Lagassé credits much of the Lagassé Group's success to its hard-working staff, noting that half of the firm's six senior staff members are women, including project executive Courtney Mello and controller Julie Franks.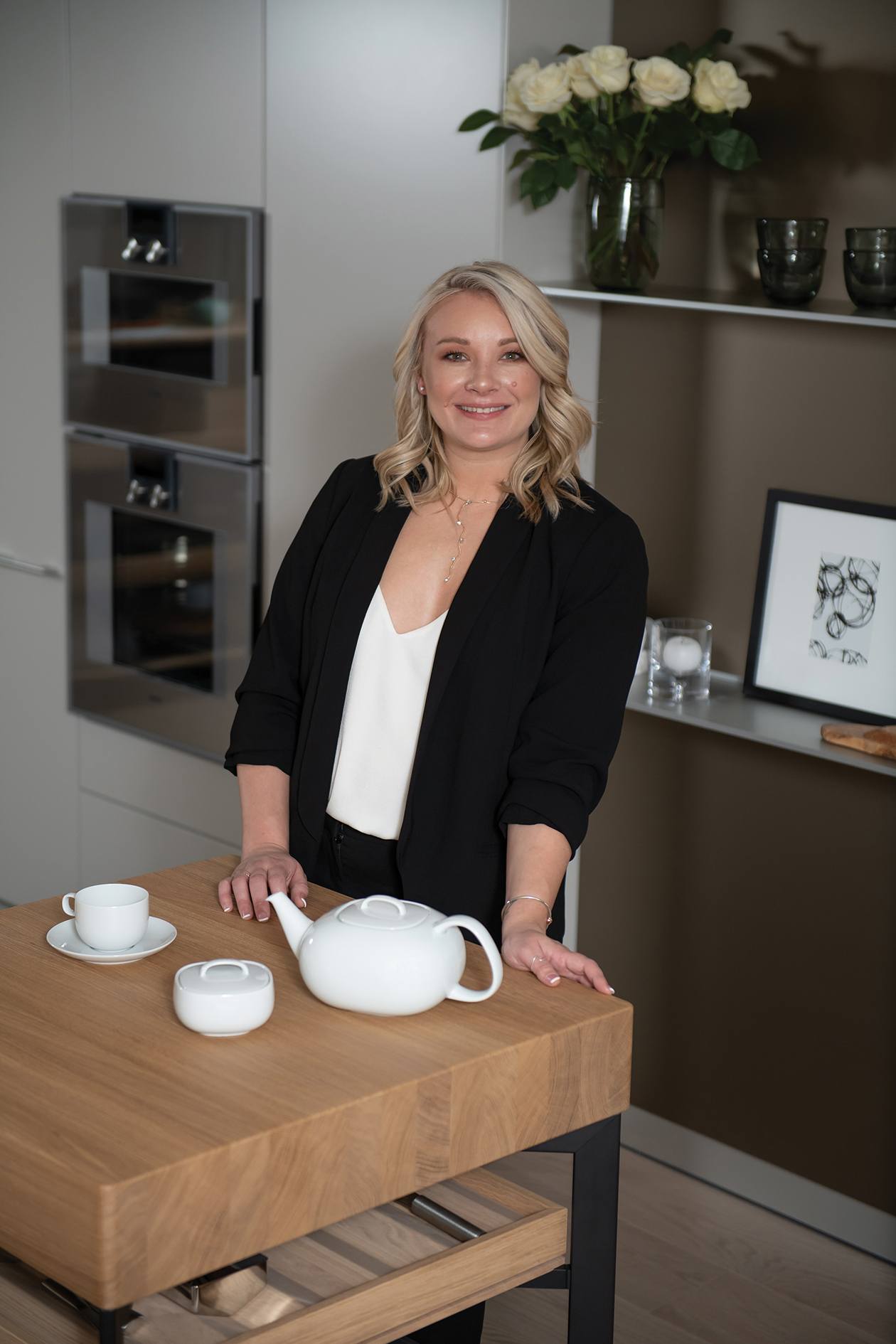 Ellen Leslie
bulthaup atelier
Boston | 857-331-4483 | boston.bulthaup.com
Design fascinated Ellen "Elle" Leslie from a very early age. In high school, Leslie took classes in interior and product design, as well as architectural drafting. After earning her bachelor's in architecture, Leslie started with bulthaup, a German-based kitchen manufacturer, working her way up from project coordinator to designer in three short years. Leslie has now been with bulthaup for seven years, and her talents include a sound sense of design, astute technical skills, and, most importantly, a talent for building strong client relationships.
"Every project is close to my heart, whether here in New England or in San Francisco," Leslie says. "I consider my clients my friends and become as invested in their home and kitchen as they are." Leslie was actively involved in the creation of bulthaup atelier, an intimate bulthaup showroom based in Boston, including a trip to Germany to work directly with the bulthaup architecture team on the design and layout. A new concept for bulthaup Boston, bulthaup atelier evokes the atmosphere of hearth and home. Since its grand opening in September 2018, the atelier has hosted conversations and tastings with designers and chefs. Leslie looks forward to welcoming you to bulthaup atelier.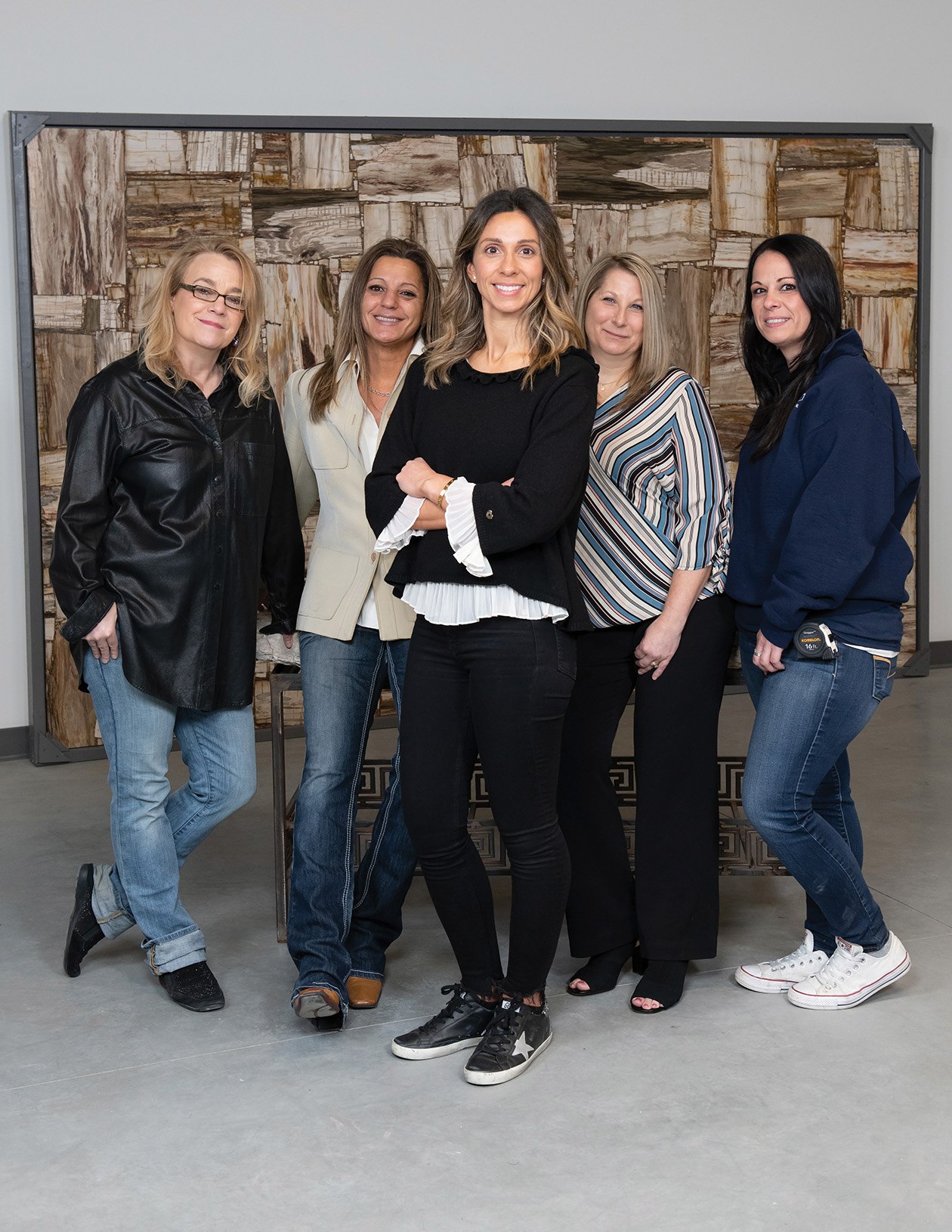 Carlotta Cubi Mandra
Cumar, Inc.
Everett | 617-389-7818 | cumar.com
Founded in 1992 by Ivo Cubi, Cumar is the finest source for luxury stone and fabrication in New England. His daughter, Carlotta Cubi Mandra, is the eighth generation to work in the industry, and as a mom of two young daughters, she hopes to inspire them to become the ninth. Since choosing Boston as the American home for the business, Cubi, Mandra, and the Cumar team have collaborated with preeminent architects, builders, and interior designers to enhance the interiors and exteriors of residential and commercial spaces in the region.
Mandra is joined by a talented team of skilled professionals, many of whom are the faces of women in design and leaders in a male-dominated industry. These women's innate sense for what clients want, combined with their extensive knowledge of stone, has kept Cumar the preferred partner for marble, granite, quartzite, and semi-precious stone.
Mandra's office displays a quote by Michelangelo: "I saw the angel in the marble, and carved until I set him free." This sentiment resonates for her and so many others at Cumar because so much inspiration is found from the natural beauty in the stone.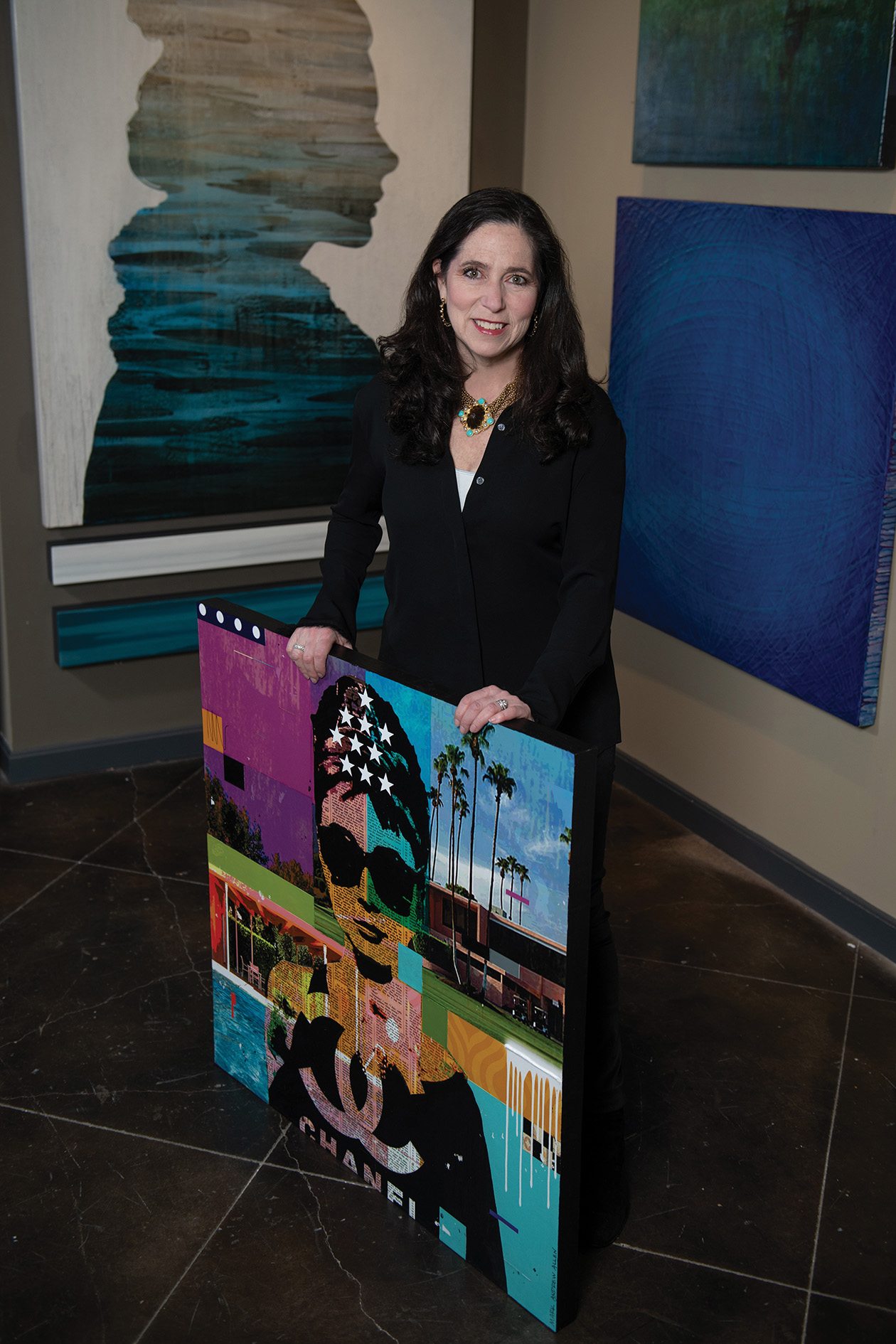 Julie Mussafer
Jules Place
Boston | 617-542-0644 | julesplace.com
Julie Mussafer opened Jules Place consulting and art gallery more than 20 years ago in a loft in Boston's South End. From the beginning, Mussafer traveled extensively attending shows and visiting artist's studios in search of unique affordable art, resulting in a superb roster of artists whom she promoted in monthly openings. Mussafer quickly recognized the importance of offering one-on-one consulting and expanded the business to be a full-service art consulting company for residential, corporate, and commercial clientele. Her company's services include: developing art plans, site visits, virtual previews, delivery, framing, and installation.
Today, Mussafer represents more than 150 artists and partners with leading art dealers from across the country, giving her clients access to a remarkable selection of mid-career artists. Technology is a key part of the Jules Place business model. Virtual presentations allow her clients to experience artwork in advance of seeing it in their homes and offices. Jules Place is located on the second floor of Laconia Lofts in Boston's SOWA district and is open daily from 9 to 6 p.m. Weekends and evenings are by appointment or announcements.
Jill Neubauer
Jill Neubauer Architects
Falmouth | 508-548-0909 | jnarchitects.com
Jill Neubauer Architects was established in 1994. The 10-person, design-focused firm's projects include renovating historic properties, new modern homes, summer spaces, additions, and projects with regulatory challenges unique to the coastal environment of Cape Cod. "We work closely with clients to build personal relationships that we maintain throughout the project and beyond. We consider views and sight lines, sunlight, breezes, and environmental fragility in orienting and designing structures to incorporate the property into the design," says principal architect Jill Neubauer.
She finds inspiration everywhere—from her grandparents' log cabin in the woods of her native Wisconsin to the coastal environs of Cape Cod. "I was fortunate to be exposed to the sentiment of a family cabin growing up," Neubauer says. "Making memories in spaces is what drives my design process."
An advocate for aesthetic justice and architectural advocacy, Neubauer is involved with community infrastructure and housing. "Aesthetics matter to everyone—residents, neighbors, and the fabric of the community that is created by all buildings," says Neubauer. A member of the U.S. Green Building Council, JNA designs using LEED best practices and embraces all aspects of sustainable design.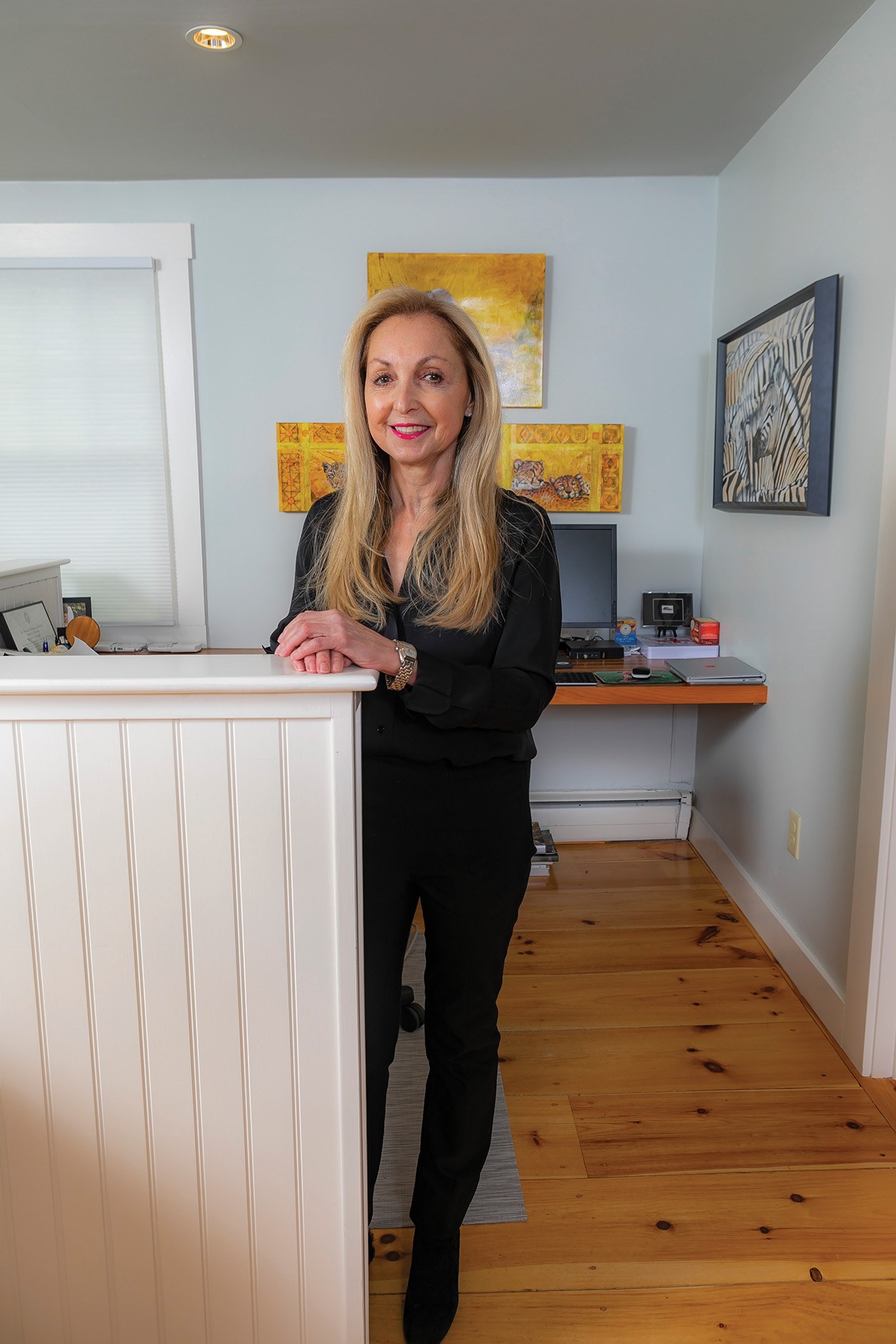 Doreve Nicholaeff
Nicholaeff Architecture + Design
Osterville | 508-420-5298 | nicholaeff.com
Doreve Nicholaeff's innovative approach to residential design is consistently recognized and honored in both the media and the industry. A native of South Africa, Nicholaeff studied architecture at the University of Witwatersrand in Johannesburg. She was awarded the South African Institute of Architects' Graduate Scholarship to study for her advanced master's degree in architecture at the Massachusetts Institute of Technology. After seven years in commercial architecture—including positions with Gensler Associates, Moshe Safdie & Associates, and Sasaki Associates—Nicholaeff transitioned to residential design by launching her own firm in 1986: Nicholaeff Architecture + Design, headquartered in Osterville, Mass. Nicholaeff is a member of the American Institute of Architects, National Council of Architectural Registration Boards, Boston Society of Architects, and Royal Institute of British Architects. "We believe that a home is much more than a place where you live; it should be a reflection of how you live," says Nicholaeff. "We analyze the context, the site, and its characteristics—with a distinct focus on technology and its impact on the overall project. We call upon our collective education and experience to make tangible the dreams of our clients to create a home that is truly theirs—singular and uncompromising."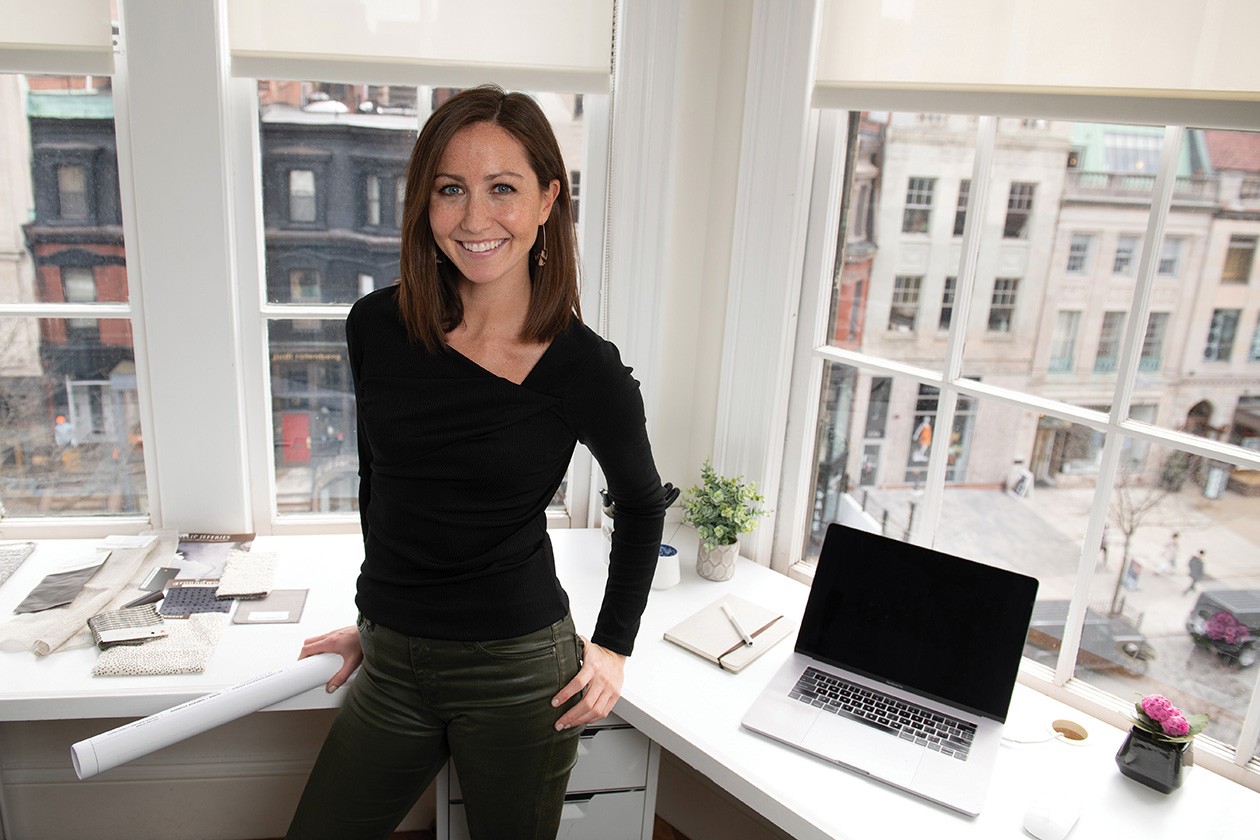 Maura O'Malley
Maura O'Malley Interiors
Boston | 617-680-1633 | mauraomalley.com
A native Bostonian, Maura O'Malley founded Maura O'Malley Interiors, a full-service, residential interior design firm focused on creating sophisticated and distinct spaces that reflect her clients' individual personalities. Inspired by Boston's rich history, O'Malley looks to celebrate the existing architecture and character found in each home while simultaneously introducing fresh, contemporary elements to achieve a balanced interior.
"I love the collaborative process of working with my clients," O'Malley says. "Together, we solve design challenges and create beautiful living solutions that improve day-to-day functionality and flow, essentially elevating how my clients live in their home." O'Malley and her team enjoy bringing their clients' vision to life by creating functional, well-appointed, and timeless homes.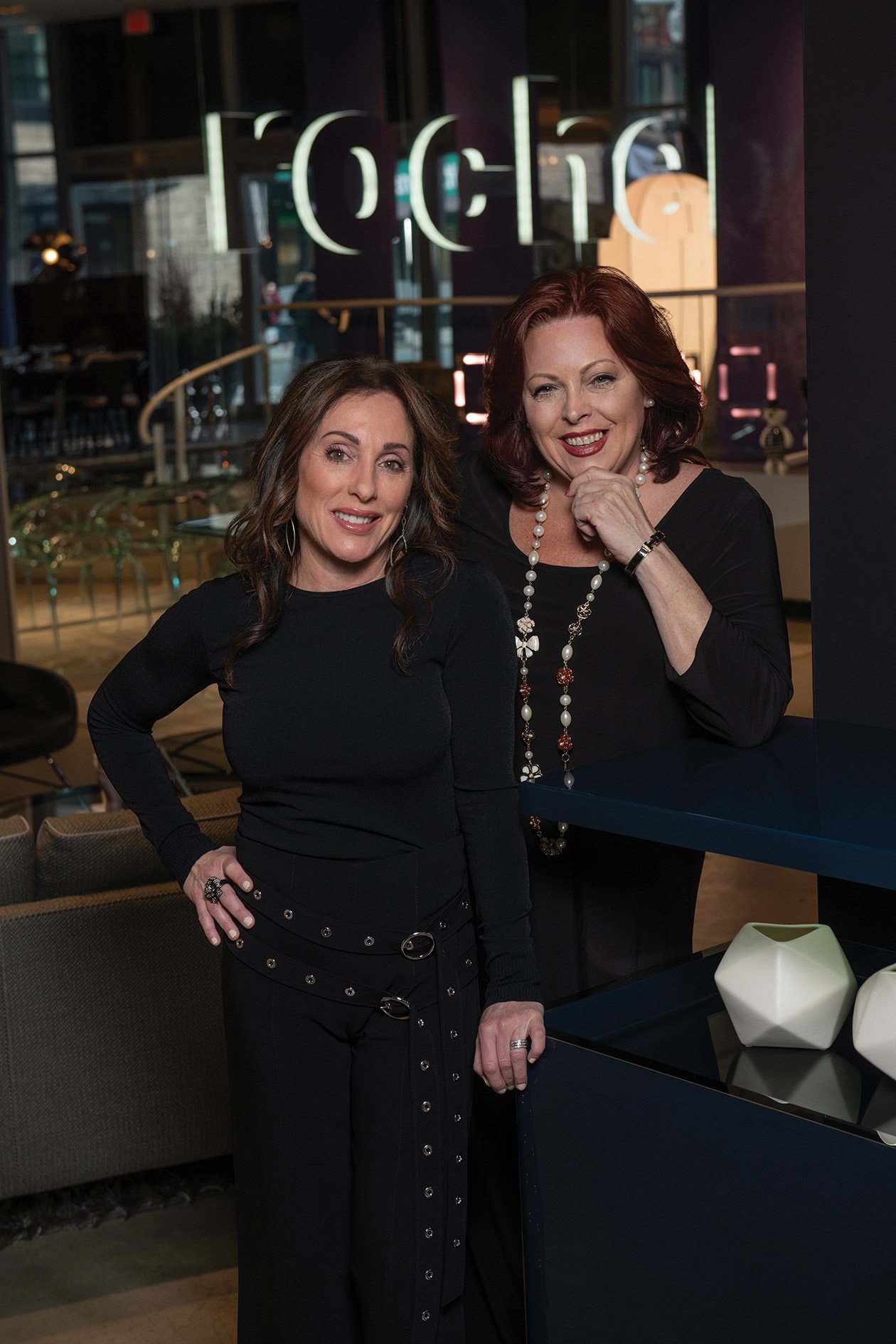 Paula Pomponio + Amy Dumas
Roche Bobois
Boston | 617-742-9611
Natick | 508-650-5844
roche-bobois.com
For more than 45 years, Roche Bobois has been New England's destination for European furniture. Known for its innovative design and savoir-faire, the Paris-based company has grown since its inception in 1961 to more than 255 stores in 55 countries. At the helm of Roche Bobois in Boston and Natick are interior designers Amy Dumas and Paula Pomponio. Both women bring years of business experience from all areas of the design industry to manage the showrooms and create breathtaking interiors for their clients.
Dumas' career began at Tradewinds Boston, followed by the direction of a design studio, work with White Glove delivery service, and showroom merchandising. She found the perfect home at Roche Bobois nearly 28 years ago. Her work has been featured in Boston magazine, the Boston Globe magazine, and NECN's New England Dream Home. Pomponio began her career importing luxury furnishings from Europe. She has worked with prominent interior designers and museum curators throughout the country and established a distribution of luxury furnishings in design centers for the trade across the U.S. Her work has been featured in many national design publications, including Elle Decor. Pomponio's creativity inevitably brought her to Roche Bobois—the perfect fit.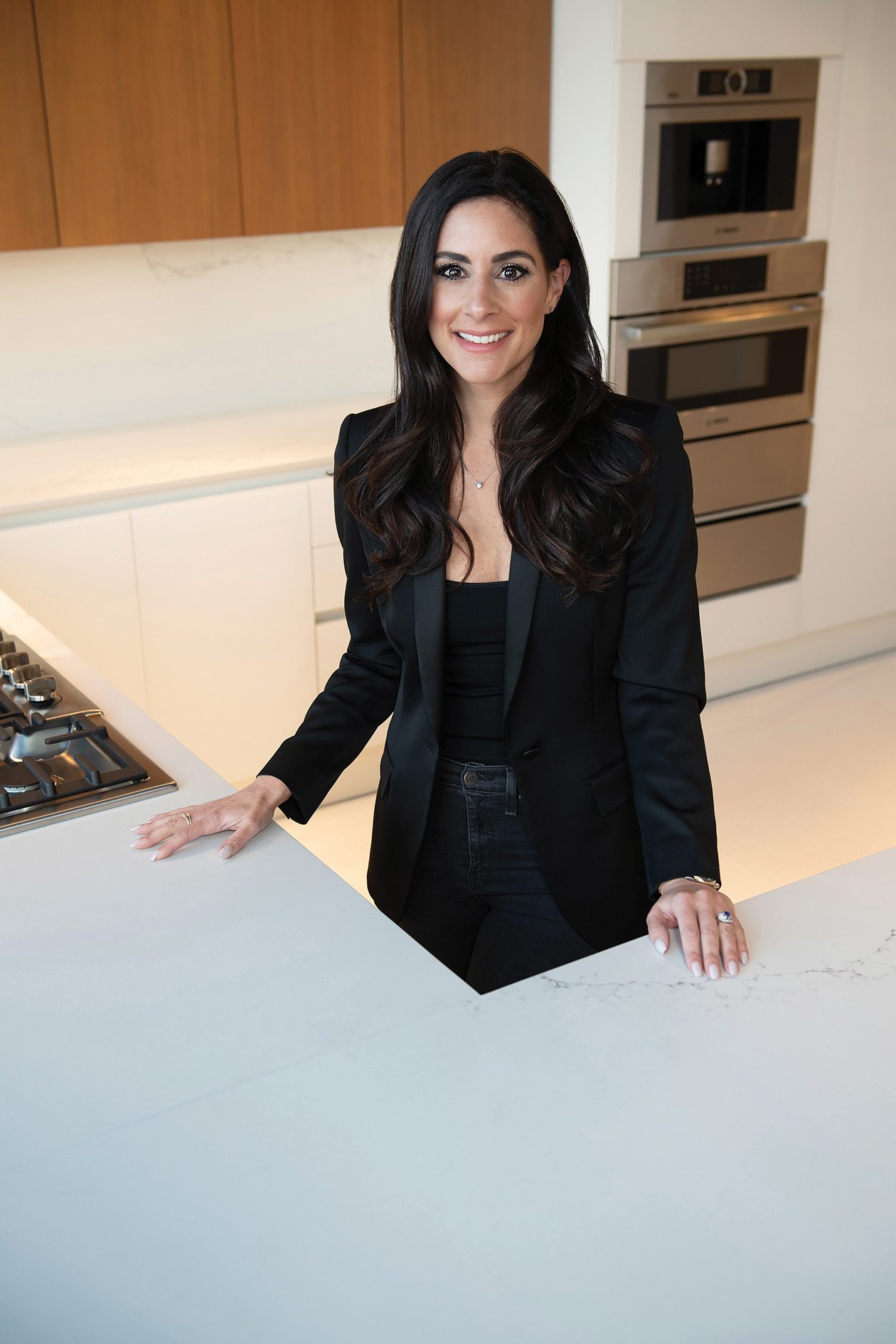 Alisha Serras
Scavolini Store Boston
Boston | 857-284-7334 | cucinamoda.com
Alisha Serras is the owner of Scavolini Store Boston, Chicago, Detroit, and Washington, D.C. Serras is known for her fierce tenacity and ambition. In 2008, Serras was introduced to Scavolini—an Italian kitchen-and-bath cabinet brand. Serras was enamored by Scavolini's Flux kitchen, designed by Giugiaro in Ferrari-red glossy lacquer. She took a leave of absence from her clinical psychology doctoral program and in 2009 established Scavolini Store Detroit with two business partners, her sister Niki and husband Brian.
Because of their success in Michigan, the partners were offered the bid for a location in Chicago. In January 2013, they opened their second showroom in the Merchandise Mart, one of the premier locations for luxury home furnishings in America. In May 2016, Serras and her partners took over a Scavolini dealership in Washington, D.C. That September, they opened their fourth and largest location in the Boston Design Center, the leading location for design in New England. Boston is now Serras's base, where she executes single and multi-family projects. What started out as a three-person company has grown to 20 employees in four states, with sights set on other markets in Florida, Colorado, Texas, and California.
Catherine Truman
Catherine Truman Architects
Cambridge | 857-285-2500 | truman-architects.com
Catherine Truman Architects is a contemporary architecture and interior design firm based in Cambridge and working throughout New England. They focus on working with existing, especially older, buildings, transforming and expanding them to meet contemporary needs. Projects range in scale and complexity, from small interior renovations to major home transformations and new construction. Designs are characterized by simplicity and clarity, the result of careful collaboration, communication, and attention to detail. "I love transforming an old building into a new home," says founder Catherine Truman. "I love the overlap of the old and the new, keeping and restoring some elements and inserting modern ones."
Truman believes that the best design solutions are achieved through a collaborative process between client, architect, and builder. "We like to partner up early with a builder and work on the design and estimate in parallel, to avoid surprises when a project is fully developed and goes out to bid," she says. "It makes the team stronger and the project better to have everyone collaborating early in the project." The collaborative strategy leads to unique, beautiful, and award-winning results, like the IIDA New England Best in Massachusetts award and Best of Boston (Transitional Architect, 2018).
Donna Venegas
Venegas and Company
Boston | 617-439-8800 | venegasandcompany.com
Donna Venegas founded her namesake kitchen design firm 10 years ago. In the time since its inception, Venegas and Company has grown to be recognized as an industry leader and innovator that advances the specialty of kitchen design and custom cabinetry. Venegas and Company is unique in that it combines the bespoke offering of a millwork operation with the convenience of a showroom experience. Venegas is inspired by witnessing the women she employs grow and develop as professionals and leaders within the design industry themselves. After spending a number of years in the technology field, Venegas turned to a career in design, where she faced and overcame many challenges.
With Venegas and Company, it has been her goal to eliminate those challenges for others and build an environment that retains and cultivates talent. It is very important to her that Venegas and Company be a place where one can thrive, learn, build a personal brand, and build a family. The environment and culture that she offers to her employees is as important as the environments they give their clients. Ultimately, it is her goal that each designer in her firm will be experienced, knowledgeable, and equipped to successfully lead her own business one day.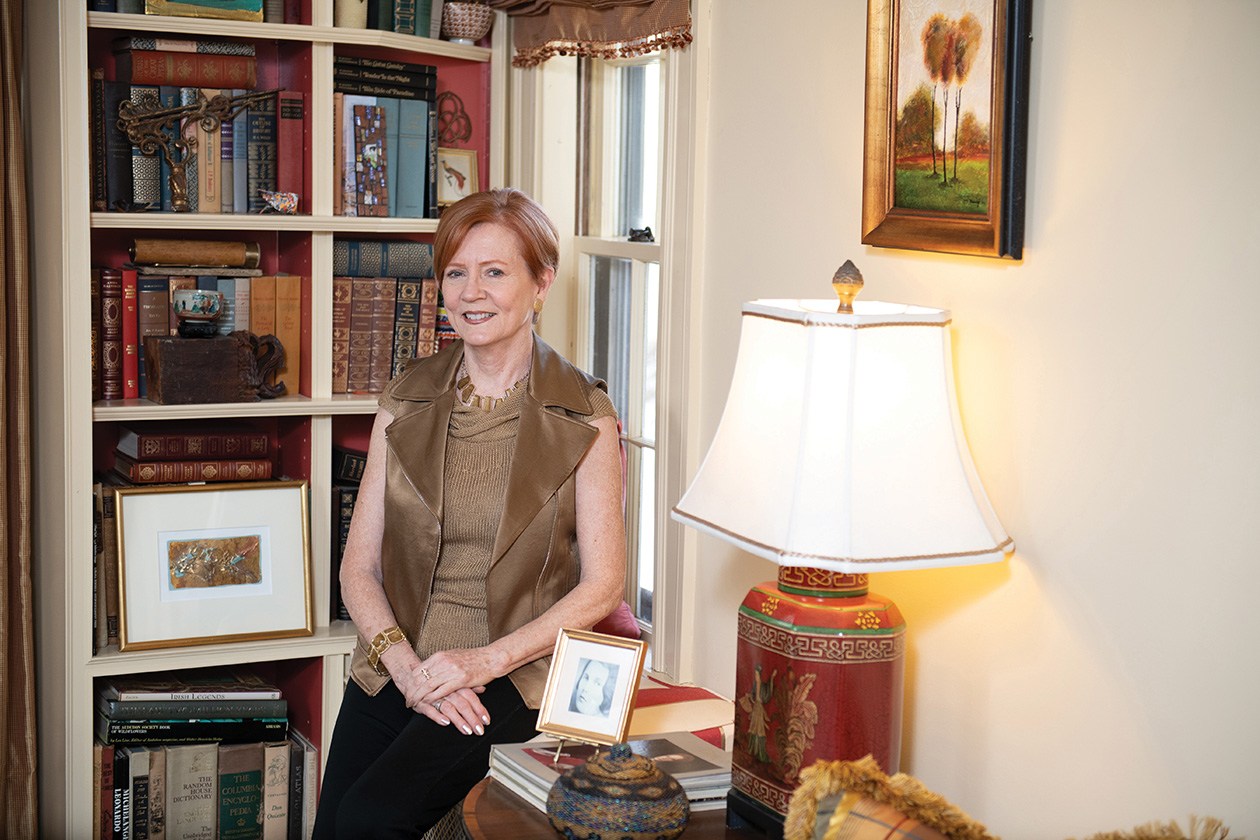 Rebecca Wilson
RW Interiors
Needham | 781-449-7407 | rwinteriors.net
RW Interiors offers a full range of interior design services, space planning, and redecoration. Rebecca Wilson founded RW Interiors in 1997, fulfilling her dream of making the world more beautiful, one room at a time. Wilson was raised in the South, where roots run deep, and she believes that the best designs evolves over time, reflecting and inspiring those who live within. She brings that design sensibility to a wide range of interior projects and clients, creating spaces layered with a unique warmth and graciousness designed for contemporary lifestyles. Her goal is to work with her clients to discover the comfort and style that bring their dream rooms to life, while helping to ensure a smooth process and avoid costly and time-consuming mistakes. RW Interiors' designs create welcoming places to gather, share secrets, stories, and laughter—places to create memories.
Cassia Wyner
CW Design, LLC
Brookline | 617-733-4201 | cwdesignllc.com
Cassia Wyner has been cooking, baking, and designing kitchens since she was a kid. But it wasn't until 2001, after careers in arts administration and high tech, that she returned to her roots to study interior and kitchen and bath design at Boston Architectural College. She went on to found CW Design, LLC, an independent kitchen and bath design firm in Brookline, Mass. Wyner is passionate about making each project a positive experience for the client, from design to move-in. She collaborates with her clients and industry partners to design distinctive, classic, and timeless living spaces that are both highly personal and also highly functional.
Find the print version of Faces of Women in Design in the Boston Home Summer 2019 issue.
This is a paid partnership between Boston Magazine and Boston Design Center and Boston Magazine's City/Studio
---