INBOUND 2021: The Ultimate Guide to the Immersive New Experience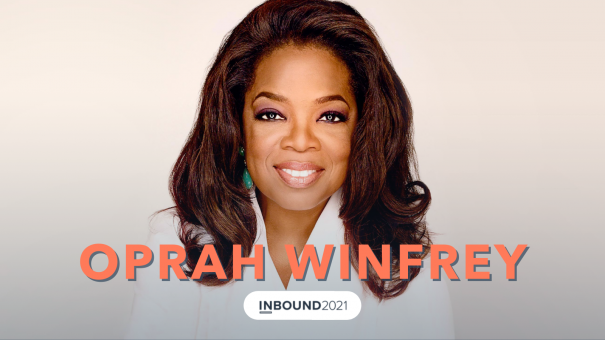 Leave it to INBOUND to plan an epic digital event that blows all others out of the water. The 10th anniversary of the annual gathering of marketing leaders from around the globe may not be in-person this year, but the immersive online experience planned for Oct. 12-14 is the next best thing. Don't worry. Everything you know and love about INBOUND like the inspiring speakers, educational breakout sessions, and meaningful networking opportunities haven't gone anywhere. Whether you're a regular or a first-time attendee, though, INBOUND 2021 offers so much more to discover. Not sure where to start? Here's what you need to know to make the most of this year's reimagined INBOUND experience, hosted with love by Hubspot.
OPRAH + YOU = Absolutely FREE Tickets
You read that right. This year, there is absolutely no barrier to entry for anyone around the world to join the INBOUND experience and OPRAH will be speaking at INBOUND. All you have to do is register online for a FREE Starter Pass to tune into the Spotlight sessions, including Oprah's, and connect with fellow attendees.
Insider tip: Ask your boss if you can expense a Powerhouse Pass for access to the full three-day experience, including all of the breakout sessions, curated meetups, and all kinds of extras and surprises.
MIND-BLOWING Speakers
OPRAH, Hasan Minhaj, Tristan Walker, Judith Heumann, Brian Halligan, Dharmesh Shah, Yamini Rangan…that's just a small selection of the next level speakers that will inspire audiences at INBOUND. This year's lineup is being curated to inspire the next level of transformative business. Oh, and you can bet that there's plenty more where that came from, they'll be announcing talent all summer long. So keep your eyes on their social media channels @inbound.
A NEXT-LEVEL Session Lineup
Bright lights, brighter minds. Whether you're a content producer, SEO specialist, data analyst, or just interested in how to grow your business, the INBOUND 2021 agenda includes an incredible variety of sessions that can help enhance your skillset. Get inspired from Ask Me Anything sessions with leading sales experts and hear the powerful stories of leaders who took their start-ups to the stratosphere. The best part? All sessions will be on-demand so you can experience INBOUND at your own pace and catch any you missed. No need to look at your computer screen all day either. Just put in some headphones to go audio-only and take them with you while running errands and giving your eyes a break.
Grow Your NETWORK and NET WORTH
Ask any past INBOUND attendee, and they'll likely tell you that their biggest takeaways each year are the connections and friends they made in between sessions and speakers. Consider it as a dating app for networking, only there's no swiping required. Moving online also has the added benefit of expanding the pool of people that can attend the conference, allowing attendees to connect with people from all over the world. Who knows? Someone you meet during a breakout session may just be your next business partner.
So, what are you waiting for? INBOUND 2021 promises to be an unforgettable experience unlike any other "digital event" before it. Plus, did we mention you can get a ticket for FREE? That's a pretty good deal when you consider the valuable connections and action steps you'll bring back to the workplace when it's over. INBOUND 2021 is an investment in yourself. Inspiration awaits.
To discover more of what INBOUND 2021 has in store and snag your FREE Starter Pass, visit inbound.com/register.
This is a paid partnership between INBOUND and Boston Magazine's City/Studio
---