5 Unique and Unexpected Places to Paint and Transform Your Home
Planning a home makeover? There's something you should know before you drop big bucks on a costly and time-consuming remodel or redesign. Many designers consider it the easiest and most inexpensive way to transform the look of your home. The secret? It's all in the color.
"Changing the paint color is the quickest and easiest way to refresh your space and show off your personal style," says Michele Holbrook, Founder and Principal Designer of Casabella Interiors, a boutique design firm based on the Cape.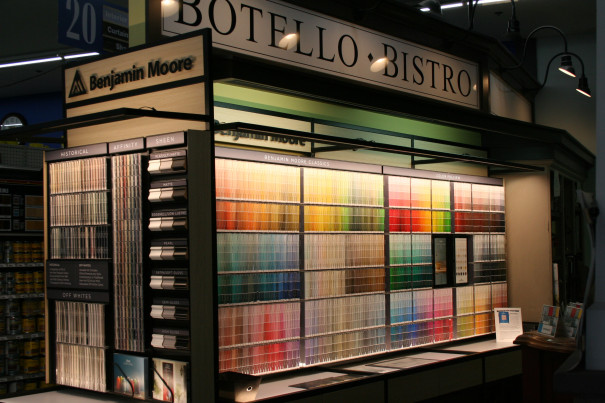 Though walls get most of the attention when it comes to paint, Holbrook says there are many overlooked areas where just a splash of paint can freshen up the whole space. Before diving into any DIY home paint project, though, she says selecting the right high-quality paint for the job is key. That's why she says she almost exclusively uses premium Benjamin Moore paint available at Botello Home Center, a one-stop home improvement shop in Mashpee, and authorized Benjamin Moore retailer with a huge collection of over 3,500 paints in stock in their stunning showroom. "Their saturation of color is amazing and it's a product we're confident in," says Holbrook.
Ready to see what just a few gallons of Benjamin Moore paint from the Botello showroom can do to make your home feel fresh and new? Here are five oft-overlooked areas where Holbrook loves to add color that can help you get inspired.
Floors
One of the most ideal spots to coat with color may just lie beneath your feet. Painting the floor is a great way to cover up imperfections—especially in older hardwood floors—without a costly refinish and adding a color like a deep, warm blue can do wonders for breathing new life into the entire room. "People don't often think about painting the floors and they can have a lot of fun with it," says Holbrook.
Doors
Color shouldn't just be for the front door. If the idea of painting a whole room is overwhelming, consider painting the interior doors in a bold, vibrant color to add a dash of surprise and playfulness to your space. For a subtler change, Holbrook suggests painting just the door edges for a sneaky peek of color that pops whenever the door is opened.
Ceilings
In a smaller space with limited options for design, Holbrook says the ceiling can be an additional canvas to give the room an added dimension of color. Just consider it a fifth wall. Dark colors can open up the space, just don't veer too far from the color of the other four walls for a crisp, clean look. Holbrook says she loves the "sophisticated East Coast" look of Benjamin Moore colors like gray owl, white dove, and titanium. "Put it all together and you have a gorgeous palette on your walls," she says.
Bookshelves
Few things draw attention as soon as you walk into a room as much as the bookshelf. It's a natural focal point due to its size and a great feature for expressing your personality through your literary and design tastes. Try adding a bright backing or painting the bookshelf to match the wall color to instantly wake up the room. Love how it looks? Holbrook says adding a colorful interior to other shelves and cabinets is another way to make a big impact with minimal fuss.
Chairs
No need to toss those vintage chairs leftover from the previous owners. All it takes is fresh paint to gloss over those stains on most materials and give them a modern look that can transform any room from drab to chic. Holbrook also suggests giving your patio furniture a colorful makeover to brighten up your outdoor space.
Whether your dream redesigned space is eclectic and energizing or cool and calming, Holbrook emphasizes that thinking outside of the box where you normally paint is an easy and fun way to make that dream a reality. Don't worry. You don't have to do it all yourself. Come in and explore the Botello showroom and see for yourself how Benjamin Moore paint colors come alive in every display. The local friendly experts at Botello Lumber are also eager to help and are dedicated to helping you select the perfect Benjamin Moore paint color for your unique space. You're going to love the way it looks.


Start picking out paint colors and find everything else you need to build and maintain a home by visiting botellolumber.com.
This is a paid partnership between Botello Lumber and Benjamin Moore and Boston Magazine's City/Studio
---