5 Fabulous Wedding Trends That Boston Brides Are Swooning Over This Season
_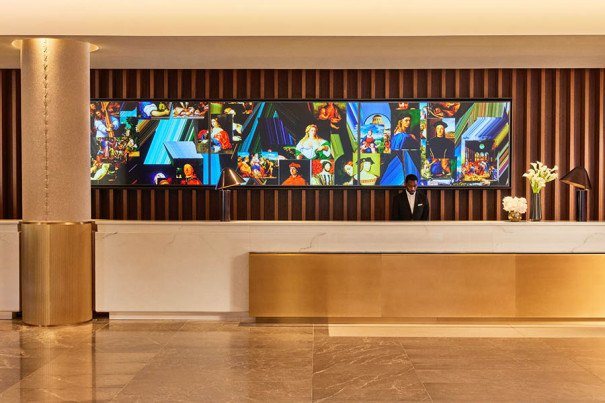 There are, as you may be discovering as you piece together your dream wedding, a million choices to make during the hectic planning phase. Some are small choices (What filler flower goes with this peony?), but many seem to be make-or-break: What will our wedding song be? Where should I host the post-wedding brunch?
When it comes down to making those choices—especially planning celebrations surrounding your big day—it may help to find current trends that speak to you to help you shape your vision. And if you're getting married in Boston, you're surrounded by en vogue, always-fresh inspiration: There are timeless reception venues, classy and upscale restaurants for showers and brunches, luxurious spas, and obliging hotels around every corner.
We spoke to wedding experts at the Omni Boston Hotel at the Seaport to find out real trends for Boston weddings happening now—trends that are sure to make your wedding smooth, elegant, and unforgettable.
Bridal Brunches
Brunch is big in Boston weddings. Whether it's a brunch after the wedding, a brunch for a wedding shower, or a wedding that is a brunch, it's a charming and delicious way to celebrate love. Since brunch takes place during the day, there's lots of potential in terms of lively energy and atmosphere—an al fresco meal the morning after the wedding could be just what the doctor ordered.
"Post wedding brunch is a time to share stories and highlights of the wedding itself while wishing the couple a happy journey together," says Wayne Kirsten, director of food and beverage at Omni Boston Hotel at the Seaport. He says their Lifted Restaurant and Bar, which overlooks the city from a fifth-floor perch, offers the perfect tropical brunch vibe for any time of year. And yes, the pool will be available for your festivities—the gorgeous heated oasis stays open year round.
Boston brides are also looking for places to customize their menus for meals, and brunches are no exception. "​​The menu is fantastic for bridal groups, and our executive chef, Yousef Ghailani, can tailor the menu to the bride's exact preferences," says Kirsten.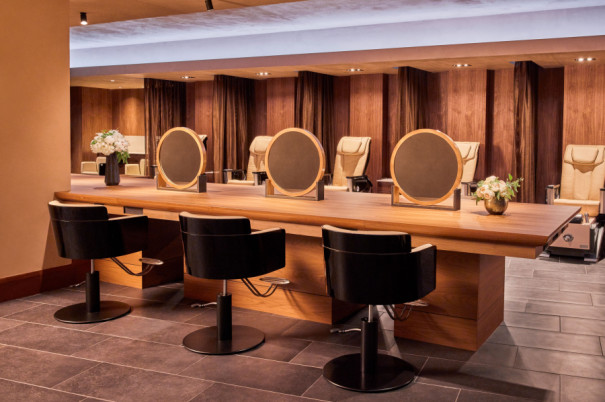 Spa Packages
A bridal party or couples spa day is another great way to elevate your wedding celebrations, as part of a wedding shower weekend or as a way to unwind and connect in a calm environment before your big day. Breve Spa at the Omni Boston Hotel at the Seaport offers Bridal Bliss at Breve Spa, which is a bridal party package that is meant for the two days immediately preceding the ceremony, according to hotel manager Dave Han. The spa setting is a gorgeous urban oasis, perfect for both relaxation and cultivating excitement surrounding the celebrations.
"The first day of the spa package focuses on pampering, relaxation, and pre-wedding celebrations with massages, facials, and nail services," says Han. "The second day consists of ceremony-centric services such as hair and makeup with complimentary styling consultation." Plus, you have the option to bring your own hair stylists who are invited to use the on-site equipment.
The culinary team at the Omni Boston Hotel at the Seaport has even put together a festive collection of prosecco with puree shooters and healthy small bites to accompany the spa day, so your celebration can continue as you pamper yourselves and anticipate the days to come.
If you're looking for a spa getaway a few weeks or even months before your wedding with just your future spouse, the partner-oriented treatments in the Couple's Suite may be just the thing you're looking for. "The double-sized treatment room features a shower, two massage tables with luxurious high thread-count linens, hot Himalayan salt stones, and the option to access through a private entrance," says Han.
Room Blocking
Room blocking is becoming a popular choice for wedding parties, according to marketing manager Alex Edens, because it unlocks a discounted rate for friends and families traveling in for the celebration. "When bridal parties are looking for 10 or more overnight guest rooms, our team is able to look at the hotel's availability over their requested dates and determine a discounted wedding rate for the block of guest rooms," he says.
You can even create a custom booking link for your wedding website, or request a custom page on the Omni Boston Hotel at the Seaport's website where your guests can easily book their rooms.
The Bridal Suite at the Omni Boston Hotel at the Seaport is The Choreographer Suite, which consists of 1,600 square footage of artistic design with thoughtful, detailed architecture inspired by the ballet. The suite boasts corner views of the Boston skyline and Massachusetts Bay from the 21st floor, as well as a spacious and sparkling master bathroom with a dressing room and powder room.
The Choreographer Suite is romantic to say the least. "Dimmable lights, contemporary fireplace, automatic shades, drapes, and blackout curtains—not to mention the soaking tub with a view of the Bay—make The Choreographer Suite a stunning bridal venue," says Edens.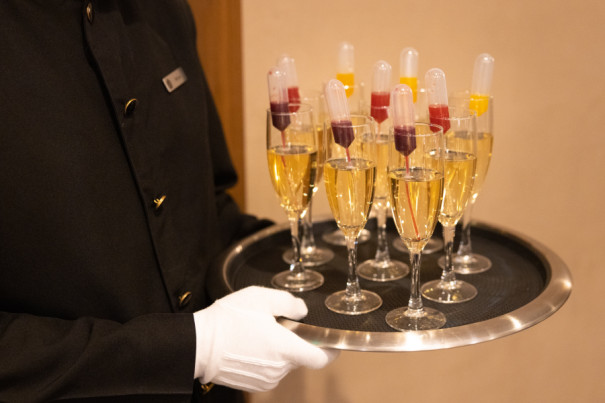 Lavish Dinners
Fantastic food will be a game-changer for your wedding. Having the right restaurant for your rehearsal dinner, or a place for welcome drinks when other guests arrive, will set the scene for the rest of the celebrations. "As with any celebration, the breaking of bread and raising a glass creates bonding moments," says Kirsten. "The more special the food and beverage selection, presentation, and flavor, the more memorable the occasion will be."
Omni Boston Hotel at the Seaport offers seven dining options to include in your Boston wedding celebrations, including the gorgeous restaurant Coquette, Boston's current Best Hotel Restaurant, which boasts a Basque-rooted upscale food and drink menu that, according to Edens, "oozes romance." You can see for yourself that the thoughtful decor, dreamy lighting, and gold and pink accents throughout make that undeniable.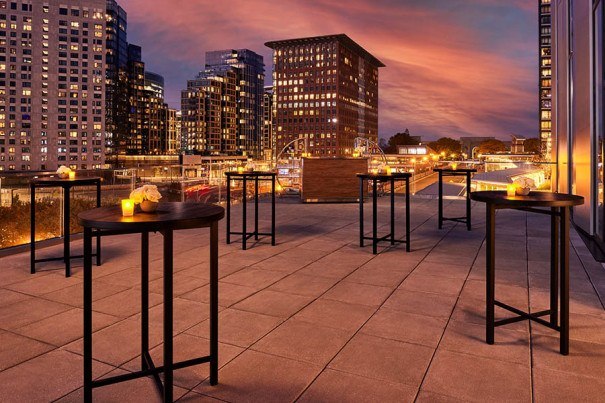 Timeless Classics
Hotel weddings carry an elegance and class that seems to never get old. Year after year, hotels host nuptial ceremonies and receptions as the site of people's dream weddings and become central to memories that last a lifetime. So, it's no surprise that hotel weddings, especially in beloved cities like Boston, continue to trend.
Besides, if your rooms, spa, restaurants, and reception can all be in the same place, that's a convenience that's hard to pass up—especially when it doesn't require sacrificing quality.
The Omni Boston Hotel at the Seaport catering staff can host parties of anywhere from 8 to 2,000 people, while maintaining your personal flair, making it the perfect place to host a wedding. "We offer full-service coordinating offering dream-team referrals, private menu tastings, and a timeline to keep you on track," says Edens. With the biggest hotel ballroom in Boston at more than 25,500 square feet, the hotel makes a stunning canvas for your personal choices—floor plans, lighting, floral, linens, and more.
For more information about how to make your wedding festivities come to life at the Omni Boston Hotel at the Seaport, visit omnihotels.com/hotels/boston-seaport/weddings
This is a paid partnership between OMNI Boston Hotel at the Seaport and Boston Magazine's City/Studio
---