Meet the Winners of Boston's Ultimate Whiskey Cocktail Challenge
Coming out of the pandemic, there are new demands on Boston mixologists as a new wave of drinkers head back to the bar. The challenge of great bartending is back and in high-demand, and bartenders need to move fast for a crowd used to on-demand culture, stay creative and interesting to meet expectations for a special experience, and create crowd-pleasers that appeal to new, younger palates, all at the same time.
In honor of those bartenders working to keep up the craft, Boston magazine partnered with Keeper's Heart Whiskey, a new whiskey brand that is growing in popularity in the city, to identify the bartenders who are meeting the moment with flair. The challenge was simple. Mixologists needed to build a cocktail around the flavors of Keeper's Heart Irish + American whiskey, a completely original style of spirit that combines rich Irish pot still whiskey with Irish grain and the bold American flavors of rye. It's the most awarded new whiskey of 2022 and already a local favorite, and the bartenders therefore needed to create a cocktail that just about all of Boston would love.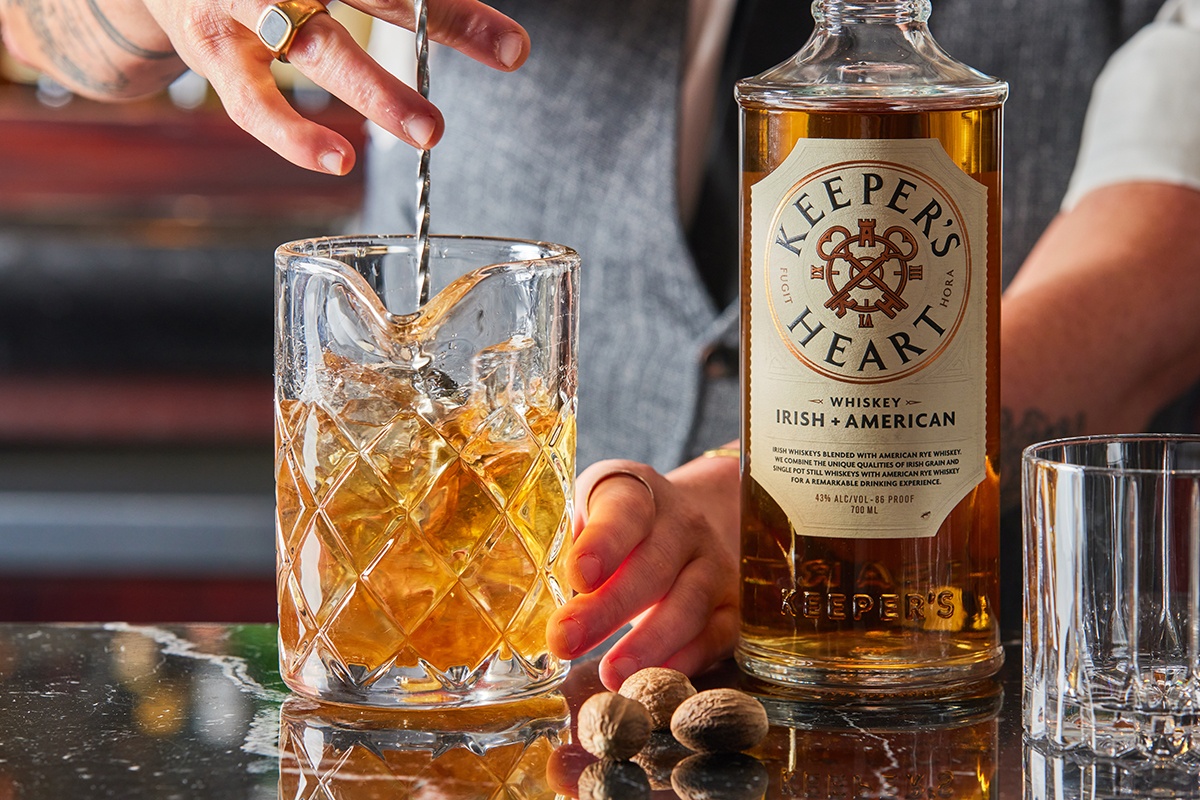 Irish whiskey, familiar but exotic at the same time, contains a lot of promise as an ingredient for the Boston craft cocktail scene as it seeks to both attract and surprise new and old patrons alike. So it made sense that a cocktail built around an Irish + American whiskey blend could be just the drink for the moment.
"I think what it's going to do is attract some Irish whiskey drinkers more into American whiskey, and attract some more American whiskey drinkers into Irish whiskey. I think it's the best of both worlds," says master distiller Brian Nation, formerly the master distiller at beloved Irish brands Jameson, Redbreast, Midleton, and the Spot whiskies for 23 years. "We got such a variety in the styles and flavor profiles that it really did showcase as well the overall versatility of the whiskey. But they also enhanced its flavors with their creativity around the liqueurs and bitters that they were adding."
Three cocktails in particular stood out in that effort, enough to be selected by Nation as his top three. Those cocktails, he said, played up the highlights of the whiskey: the mouthfeel, a combination of syrupiness from the rye with the creaminess of the pot still whiskey; and the flavor profile, which is anchored by the fruitiness of the Irish whiskey, featuring cooked apples and cooked pears, combined with the tropical fruits of the rye (think melon and peach). Those flavors are balanced with notes of baking spices, which results in a complex spicy-sweet profile, almost like candied ginger.
It's a fun base on which to construct a whiskey cocktail that's aspiring for the top spot in the city. So to give you a sense of which bars and bartenders are leading the next wave of craft cocktails in Boston, here are the three cocktails and their makers that came out on top in the Boston magazine and Keeper's Heart Cocktail Challenge.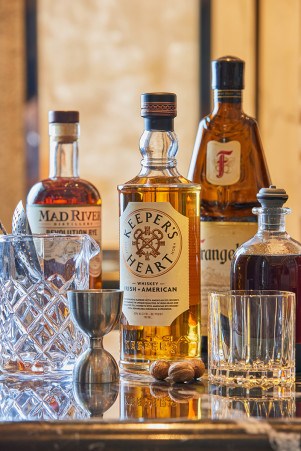 Keeper's Hearth, Trifecta
Trifecta, the craft cocktail bar located inside the Four Seasons One Dalton, has made a name for itself with high-concept drinks that are surprising in their presentation, ingredients, and flavors. That's thanks to lead bartender Troy Ali's creative, collaborative approach, where his team of mixologists are asked to regularly bring in ideas taken from dreams, favorite artists (a drink based on Frida Kahlo's childhood home is a popular conversation piece), and more. Having opened just before the pandemic and reopened as the pandemic receded, Ali has had the flexibility to calibrate his approach to the new environment.
"I think there's been a huge shift in how we approach craft cocktails in Boston, for better and for worse. I think post pandemic you've had a lot of interesting places opening up in place of legacy spots that had to close down," Ali says. "One new challenge is that the clientele coming out now can be absorbed in social media a little too much. And we want to figure out how to get them to put down the phone for a little bit."
His creation, the Keeper's Hearth, creates a warm, contemplative mood in the drinker that might get them to stop with the selfies for a moment.
"I was thinking of images of log cabins and rolling fields, and wanted to play with that," Ali says. He focused in on the baking spice notes, vanilla, and sweetness present in the blend of Irish and rye whiskies, adding in more rye whiskey and black walnut bitters to increase their intensity.
"The addition of the rye and the black walnut bitters, it brought an absolute warmth to the whiskey, and it really did showcase the true character of Keeper's," Nation says on his selection.
"It's a drink that I would want after pumpkin picking in the fall or after skiing in the winter," says Ali, before noting that the complexity of the whiskey provides a flexibility that could lead to all kinds of drinks. "I'm interested in seeing the different directions that the other competitors took the spirit in."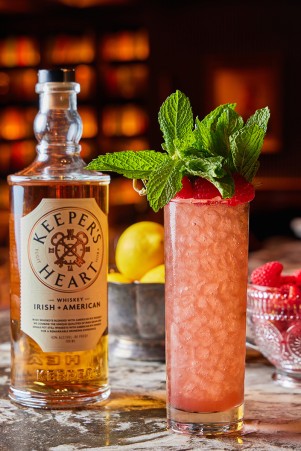 Solera, Yvonne's
The pandemic saw multiple classic cocktail bars close down, but Yvonne's has managed to survive as one of the institutions of the craft cocktail scene. Now, cocktail enthusiasts are flocking back in droves.
"There's lots of fresh new faces, which means you have to navigate pushing boundaries and making sure it's a fun experience," says former bar manager Shayne Beauvais. "Our cocktails need to be beautiful and delicious and served quickly, and I think it's important to show people the magic of spirits. If you just put the right two ingredients together, you can see by the look on the customer's face that they're surprised by how much is happening in the cocktail with so few ingredients."
Beverage director Raymond Tremblay points out that the cocktail he and Beauvais created for the competition, the Solera, offers a lot of different flavors but can appeal to both whiskey and non-whiskey drinkers alike. In doing so, it can serve a key role in shaping someone's experience for the night.
"We've definitely had people say they were surprised by it–some who don't traditionally love whiskey cocktails, but find it wildly refreshing. And others who are big whiskey people who are surprised by how refreshing it is," Tremblay says. "Everybody enjoys it, and they either get another, or the flavors they like most in it help us select their next drink for them. It also pairs well with a lot of our different dishes for that reason."
The Solera, a riff on a classic sherry cobbler, achieves that effect with layered flavors built carefully around the full profile of the Irish and rye. It uses a balance of two different types of sherry–the nutty, aged Amontillado and dry Manzanilla–to bring out a combination of traditional whiskey flavors and brighter notes.
"The final drink is very whiskey forward, but chocolatey and inviting on the nose, with hazelnut, nutmeg, and an initial brown sugar character," Beauvais says. Those initial sweeter components of the whiskey are followed by the freshness of the Manzanilla and added raspberry and lemon, which bring out a floral character in the spirit.
"What I loved about it was the refreshing nature of the drink, the raspberry and the lemon juice. It's that little bit of acidity that really, really worked," Nation says.
"And then right at the tail end, you're left with a beautiful Irish whiskey finish that flushes the cheeks and makes you feel warm after. Everyone loves Irish whiskey, especially here in Boston," Beauvais adds. The reactions the drink gets are what make mixology fun for her.
"Being able to be part of a creative team that's excited about what we're doing and introduce guests to new experiences, that's what's important to me in all of this," she says.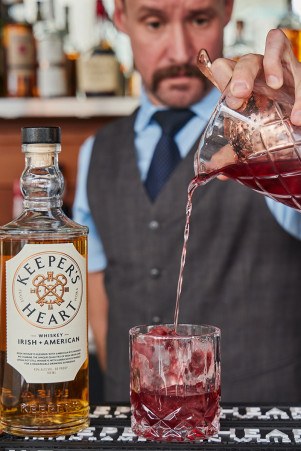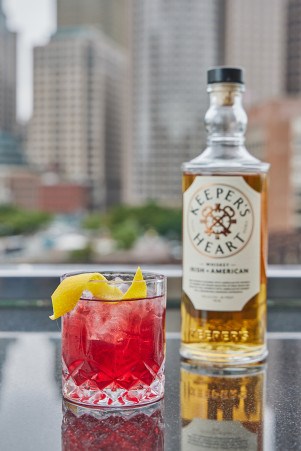 Break My Heart, Lookout Rooftop & Bar at the Envoy Hotel
Brian McDougall at Lookout Rooftop & Bar has seen a lot of new clientele after the pandemic. His bar's panoramic views of the harbor attract all kinds, and he's been surprised by the number of young people coming up to order old-school classics like old-fashioneds and negronis.
"That's something that we really didn't have five years ago, where the breakdown is maybe half the crowd wanting a craft cocktail and the other half looking for a ready-to-go canned cocktail. It's a really different dynamic," McDougall says.
In trying to connect with that broad audience, he creates three- to four-ingredient cocktails that are complex but accessible and still spirit-forward, not unlike the drinks at Yvonne's. But McDougall picked up on a sweet and floral element in the whiskey, which he describes as almost like honeysuckle. His introduction of Campari emphasized that note in the finish, while the introduction of orange flavors from fresh orange juice and sweetness from tawny port fit the rich, malt flavors of the pot still.
"It was a surprise for me that he managed to keep the flavor of the whiskey as the hero of the drink, despite the introduction of the tawny port," Nation says.
McDougal feels that the drink could help start conversations between bartender and patron, something lost when doing bottled cocktails during the pandemic.
"It's something we need to rebuild as a community, having a conversation with the bartender about your drink," McDougal says. "And the fact that it's an interesting spirit, the fact that it's Irish-American, I can see it piquing people's interests."
It's innovators like Keeper's Heart and the bartenders who use it that are adding that kind of inspiration and passion to Boston's cocktail scene, an industry essential to Boston's character and one full of driven, creative makers. And that means Bostonians can take pride in the fact that, when they head out to try a great cocktail, they're helping a recovering community come back better than ever.
The Keeper's Heart Cocktail Challenge isn't over! All of these cocktails will be available to try at the Keeper's Heart bar at Boston magazine's Taste event on November 1, and attendees will get to vote for which one they think is the best of the best. If you want to help select a winner, purchase your tickets today.
This is a paid partnership between Keeper's Heart Whiskey and Boston Magazine
---