The Wilderness Vacations with Incredible Amenities That Are Within Driving Distance of Boston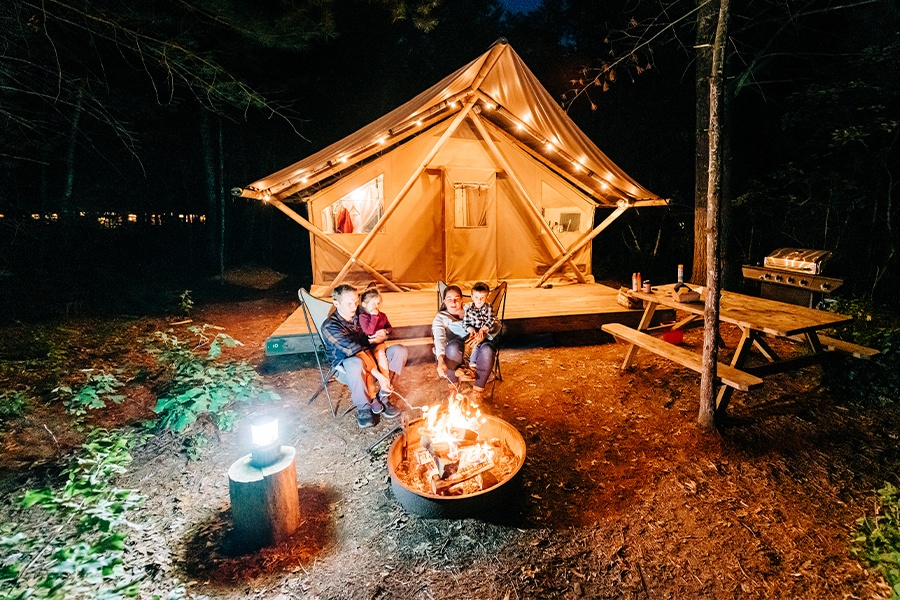 We all have dreamy visions of leaving Boston and venturing into the great outdoors, especially when the changing season brings lovely weather and lush greenery. But it can also be difficult to leave behind your comfy bed for nights in a sleeping bag.
Fortunately, you don't have to choose between nature and comfort when you find the right place to camp. Today's top camping sites feature not just plenty of comfort, but a range of fun activities and socializing opportunities that can excite everyone from kids on their first adventure to veteran naturalists. We took a look at some vacation sites by leading travel company Huttopia that are within an easy drive of Boston, to find out how to plan an incredible wilderness vacation, no matter how much wilderness experience you have.
How to Camp
You no longer need to be a hardened outdoor enthusiast to master the wild, thanks to contemporary accommodations. At Huttopia, you can choose from a range of places to stay, from tents to cabins. No matter which style of living you choose, you'll have elevated amenities (including real beds). Fresh linens, towels, and eco-friendly shower products are included in your stay, so even the most intrepid adventurer can start the day clean.
If you do want to embrace the wild a little, try the Trappeur tent–it fits five people, and provides a sense of frontier living while still an upgrade from standard camping accommodations, with a kitchenette, two bedrooms, electricity, and a bathroom. For smaller parties, try The Bonaventure, which features electricity and a shared bath house.
If you want to go family friendly, you have options to fit all types. Pets can come along for a small fee, and families with babies can reserve a high chair and sleeping arrangements specifically for young children. Try the Vista option, which offers a kind of tiny house for about five campers, or the Chalet, a small cabin for up to six. They have heating and a full kitchen, so if one of your party is a bit of a homebody, they'll still feel comfortable.
And if you're a couple, you can stay in the cozy and comfortable Trappeur Duo. Designed for two people, it has its own bathroom and electricity, plus a large deck.
Where to Stay and What to Do
Southern Maine and the White Mountains of New Hampshire are becoming go-to outdoor destinations for Bostonians, and each offers unique landscapes that can provide something for everyone to enjoy. With Huttopia, you'll have easy access to the best of each region, plus amenities including a large heated pool, a kids club playground, and on-site shopping.
In New Hampshire, for those who are experienced hikers, try Mount Washington, the highest peak in the Northeast. For hikers who want something more laidback and scenic, Diana's Baths offers a sloping path lined with waterfalls and natural swimming holes.
Families will love the ski areas of New Hampshire in the summer, which become adventure parks full of zip lines, water slides, and mountain biking trails. The adults can release some stress with a morning yoga session on Huttopia's lakefront beach, or with an afternoon of shopping and supping at North Conway's shops and restaurants.
In Southern Maine, outdoor enthusiasts will enjoy swimming, canoeing, and fishing at the Sand Pond, right by the camp. Families can join in the fun, or stick to the sports grounds in the middle of the camp.
For couples looking to get out, socialize, and shop, the Maine campsite is also located near the lovely coastal towns of Kennebunkport, Wells, York, Portsmouth and more. Each destination has classic Maine views and New England dishes.
All Huttopia sites include a café-bistro offering Parisian-style pastries, crêpes, and artisan espressos, so you can rest assured that you'll start your adventure on a high, no matter which location you choose.
This is a paid partnership between Huttopia and Boston Magazine's City/Studio
---