Martha's Vineyard: Up-Island
When you've had one too many Mad Martha's ice cream cones, ditch the crowds and catch an ocean breeze on the laid-back side of the Vineyard.
---
SWIM
Lucy Vincent Beach
With its one-of-a-kind rock formations and, ahem, clothing-optional section, Lucy Vincent is such a locals' spot that it was named for one of Chilmark's longest-serving and liveliest librarians. But we'll let you in on a little secret: Though this stretch of sand is technically limited to Chilmark residents and their guests, those staying at the inns in town are usually granted a day pass. Snag one—and a carton of juicy strawberries from Morning Glory Farm at the West Tisbury farmers' market, and spend the day watching the spirited surf roll ashore.
Or Try: Seeing red at Moshup Beach, set against the backdrop of the sanguine Aquinnah Cliffs. Though it may be tempting, refrain from building sandcastles with the cliffs' reddish clay to help protect against further erosion.
EAT
Outermost Inn
Glass of sancerre on the table and rolling hills as far as the eye can see: This is a meal at the insanely picturesque Outermost Inn, perched on the Aquinnah Cliffs. But the restaurant, with its enormous windows overlooking the stunning landscape, is more than just a pretty face: Chef Christopher Gianfreda, who's worked with such big names as L'Espalier's Frank McClelland, serves up an elegant prix fixe drawing on vegetables from the inn's own garden.
Or Try: Tucking into the dry-aged rib-eye at West Tisbury hot spot State Road—any place that's good enough for the Obamas is good enough for us.
PLAY
Charlotte
On a hot, breezy island day, there's nothing better than throwing on a pair of swim trunks and popping a bottle of bubbly at sea. Especially if you're cruising on a classic yacht like Charlotte, a 50-foot-gaff-rigged wooden schooner designed, built, and operated by famed shipwright Nat Benjamin. With few frills and many comforts, the interior was built with the graceful simplicity of the golden age of yachting. But the real pleasure is feeling her heel and accelerate in a stiff breeze as you lounge on the sun-warmed teak deck. If winds permit, charter the boat and tack west out of Vineyard Haven harbor (which is, yes, down-island) to take in the lush green coast of West Tisbury, Chilmark, and Aquinnah from a whole new perspective.
Or Try: The reward at the end of Chilmark's Great Rock Bight Preserve trail is 1,300 feet of unspoiled shoreline. Take a dip in the water and behold the 1.5-mile hike's namesake: the mightily scalable (and Instagrammable) Great Rock.
STAY
Beach Plum Inn
The first sign you've made it to this up-island retreat? The chickens roaming freely on the grounds (their eggs are on the menu at the in-house restaurant). The almost 70-year-old inn exudes a rustic elegance: Appreciate the stillness of the property on its patio, surrounded by hydrangeas and roses, and peep its unparalleled views of Menemsha harbor. All of that R & R will leave you recharged for the outdoor activities that await—the inn provides bike and kayak rentals.
Or Try: Built by a whaling captain during the 18th century, Captain Flanders House harkens back to the island's agricultural past, thanks to stone walls, grazing horses, and antique cottages on the grounds.
---

LOCALS KNOW BEST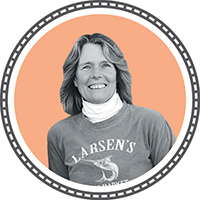 Saltwater is practically in Betsy Larsen's blood: As the daughter of a lifelong fisherman, Larsen, along with her sister Christine, took over the Menemsha Fish Market from their parents as teens. Now, Larsen and her extended family dominate the Vineyard's fishing industry, with a total of four markets. Ahead, she shares her picks for what locals eat up-island—and where to eat it.
1. "To see the sun set in Menemsha, your best bet is to utilize the free parking on Tabor House Road and take the free shuttle bus to Menemsha. Once there, you can grab lobster rolls from Larsen's Fish Market or—if you call us ahead that day—a steamed lobster."
2. "Driving up to the Gay Head cliffs for fried clams and ice cream is another must. Enjoy both at the Aquinnah Shop."
3. "There are a number of roadside farm stands, each of which has its own character and special items. Among my favorites: Mermaid Farm, Beetlebung Farm, and Ghost Island Farm."
Photograph by Christopher Churchill
---
More from our Escape to the Islands feature.
---