Nantucket: Out of Town
Growing tired of shopping and museums? Sink your toes in the sand and savor every last second of seclusion on an island where all roads lead to the beach.
---
SWIM
Madaket Beach
At around 7 p.m. in June, something magical happens in Madaket, 7 miles west of downtown. As the sun worshipers make their way off the sand, they're replaced with the evening shift, toting a favorite beach chair on one arm and a picnic basket brimming with wine and cheese in the other. There they sit to watch the most spectacular show on the island—the sky turning from bright blue to gold, orange, red, and purple—until they've worked up an appetite for a cone of s'mores ice cream at Millie's Market. If heaven is a place on earth, it's Madaket Beach at sunset.
Or Try: Staking a claim to a beach all your own on Esther's Island. To get there, simply air down your tires, drive onto the sand at Smith's Point, and follow deep tracks until you can go no farther.
EAT
The Chanticleer
Nantucket, meet England: housed behind thick green walls of privet, this charming, rose-swallowed 'Sconset respite has a tea-party-chic vibe—in fact, the building opened as a teahouse more than a century ago. The beloved Sunday brunch is best enjoyed at one of the sunny tables under a heavy awning of ivy. If you while away the entire afternoon hovered over a mimosa and several orders of the famous cod beignets, we promise you'll fit right in.
Or Try: When the thought of changing out of your beach clothes is too much to bear (and why shower off that summer glow?), head back west to Millie's Restaurant, where you can tuck into striped-bass tacos accompanied by a refreshing Madaket Mystery (spoiler alert—it's rum punch).
PLAY
Sankaty Head Lighthouse
It's as pretty as a picture, but there's more than meets the eye at this landmark, which still sweeps its light on Nantucket and the surrounding sea with a continual seven-second rotation: Due to heavy erosion in the area, in 2007 the historical lighthouse was moved 405 feet from the edge of the bluff to stable ground. Make a day of it and stroll the 'Sconset Bluff Walk, a gorgeous walkway that begins by the rose-covered cottages and ends at Sankaty. Or come at night and revel in the beauty of an oh-so-timeless light show from the warmth of your car.
Or Try: Trekking out to Great Point, the northernmost tip of the island, reachable only by sand (the Trustees of Reservations offers tours). Here you'll find hundreds of nesting seals and you'll soon learn why—the water is excellent for fishing.
STAY
The Wauwinet
The only thing more classically Nantucket than arriving at the Wauwinet's elegant restaurant, Topper's, by water taxi? Lounging on one of its white-wicker chaises overlooking the harbor. But those aren't the only plush amenities at the luxe resort, situated along the northeast point of Nantucket. From the daily port and cheese in the library to the fire pit on the flagstone patio, the hotel offers something for every kind of island hopper.
Or Try: Visiting the pros at Compass Rose Real Estate to rent a rose-covered 'Sconset cottage of your own.
---

LOCALS KNOW BEST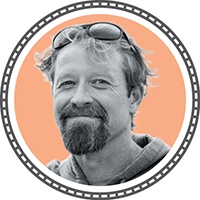 Wooden-whale sculptor Sunny Wood knows a thing or two about life on the water, having spent nearly 10 years on a sailboat in the harbor. Now happily residing on dry land, the tradesman turned artist gives his tips on how to make the most of Nantucket's less-traveled shoreline.
1. "My perfect summer day would be heading out to Cisco Beach, renting a board from Gary 'Kona' Kohner at Nantucket Island Surf School, and paddling out onto the waves."
2. "Take a hike! I load my dog into the car and head to any of the south shore beaches, which are great for walking because they are wide and generally blocked from the wind. Nobadeer is a favorite."
3. "Kiteboarding is my new passion. Anyone can learn; call the guys at KiteTucket or Next Level Watersports and book a private lesson. I'm happy I no longer live on a sailboat, but when I spend my days kiteboarding out in the harbor, I think I begin to miss it!"
Photograph by Katie Kaizer
---
More from our Escape to the Islands feature.
---