New Hotels for Getaways by the Ocean, in the Country, and in Beacon Hill
Because who doesn't love a brand new hotel room?
---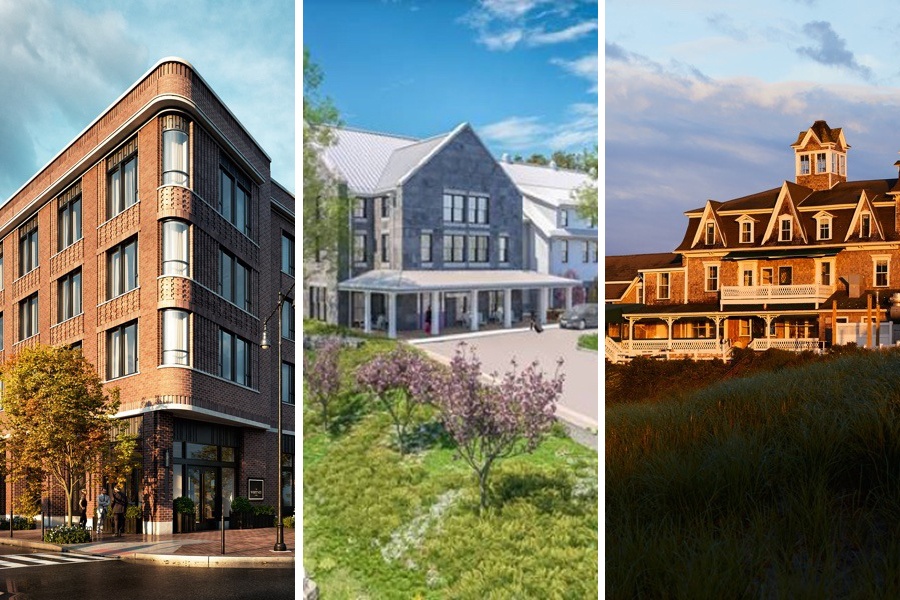 Let's all decide to ignore our chores for yet another weekend and book a last minute getaway! It certainly feels like everyone else is on vacation in the city, so why be one of the few suckers still commuting to work? Extend your summer Friday into Thursday or even all the way into Monday and book a room at one of these hotels, brand new this summer, on the ocean, in the country and in our own backyard in Beacon Hill.
Block Island Beach House
Those who love to ride the waves and those who just love surfers can both rejoice—the iconic Surf Hotel has been totally renovated and re-opened as the Block Island Beach House by design-forward hotel company Lark Hotels. Although the company owns more than 25 properties in New England and across the country, this is their first full resort and Block Island's only beachfront property.
The wood-shingled Victorian was originally built inn 1873 as a house for the island's doctor, but quickly became a seasonal hotel in 1876. This past year, Lark Hotels bought the property and reimagined the interior with the help of Boston-area firm Elder & Ash. Paying tribute to the history of the resort and the island, the decor features antiques scoured from beach cottages, and all 31 guest rooms have hand-turned wood poster beds and vintage rugs lain over the original naturally-finished hardwood floors. There are also old surf boards from the '60s and '70s scattered throughout and manipulated Polaroids from artist Matt Schwartz of She Hit Pause with images of the landscape's bluffs and breaking waves that evoke summers past. And if the budding artist within you is inspired to capture some new memories, Polaroid cameras are available for guests to use.
Block Island deserves exploring, but this hotel makes leaving hard, given all the delicious food options. There's the Surf, named after the original hotel, which is located right on the ocean under a covered porch and serves barbecue and fresh seafood, there's an oceanfront bar aptly named the Beach Bar, which hosts Sunday clam bakes as well as daily cocktails, and a lobby cafe that has locally roasted coffee, wine, craft beer, draft cocktails and an eat-in or grab-and-go all-day menu. Stay tuned for more reasons to stay following a reopening next May which will bring the addition of pool and oceanside cottages and suites and an outdoor event space.
32 Dodge St., New Shoreham, RI, 401-466-5500, blockislandbeachouse.com
The Williams Inn
The journey is half the fun when traveling to the Berkshires. Views from the road are breathtaking soon after leaving the city limits and only get better the farther west you go. And just at the moment when it's time to stretch your legs, you'll pull onto the corner of Latham and Spring streets and be in front of the new Williams Inn, set to open on August 15.
This three-story, 58,000 square-foot property has 64 rooms and was designed by Cambridge-based architecture firm CambridgeSeven, to mimic and champion its quintessential New England surroundings. The hotel is located on close to 4,000 square feet of green space, the majority of which can be tented and enjoyed year-round. There's also a restaurant on the property called the Barn that has an outdoor patio for enjoying the locally-sourced cuisine in agreeable weather, and the Taconic Golf Club can be found right nearby as well as many hiking trails. And after a long day of enjoying the great outdoors, unwind in rooms decorated with a thoughtful contemporary art collection created by area artists including Barbara Takenaga and Laylah Ali.
101 Spring St., Williamstown, 413-458-9371, williamsinn.com.
The Whitney Hotel
It would be nearly impossible to construct a brand new 65-room hotel in historically prohibitive Beacon Hill, and so developers Related Beal wisely built inside the existing former budget-friendly John Jeffries House bed and breakfast after a massive gut renovation of the property. Next they added a 12,000 square feet addition along the corner of Cambridge Street and Charles Street to house additional rooms. The hotel's name comes from the original owner of the Georgian Colonial revival building, Henry Melville Whitney, who made his fortune in the rail industry and allegedly was the first person to propose digging a subway tunnel under the common in 1887.
The lobby, anchored by a large fireplace, acts as a dining room for coastal Mediterranean restaurant Peregrine, the second concept from Joshua Lewin and Katrina Jazayeri of Somerville's Juliet. The space feels contemporary with its high ceilings, spotlight chandeliers and subdued color palette of navy, gray and black, but also classic with reclaimed French oak wood floors, and stately sofas and chairs. Enjoy a cocktail or coffee outside in the adjoining garden, or gaze at the garden through the oversized windows when the air has a chill. Designed by Boston-based Hacin + Associates, the whole property feels like a friend's townhouse that you're lucky enough to house-sit. It's luxurious, but also uncomplicated and rooms have large windows, Frette bed linens, organic bath products from Grown Alchemist and original art with a local bent decorates the walls.
In addition to a fitness studio decked out with Hydrow rowing machines and a free bike program, guests can also take advantage of the Whitney on the Water program and rent a sailboat or yacht to cruise the Charles River.
170 Charles St., Boston, 617-367-1866, whitneyhotelboston.com.
---
---