Where To Try Snowshoeing in New England
You don't even have to venture beyond Worcester for a stunning trek.
---
From day trips to weekend getaways, our biweekly Traveler newsletter shows you the best of New England and beyond.
Around 4000 B.C., cold-climate dwellers in Central Asia hatched the ingenious idea of strapping broad cuts of wood to their boots, allowing them to walk on snow without sinking down into the deep powder. The first snowshoes literally traveled on foot into North America across the Bering Land Bridge. Over the next centuries, American Indians modified the early prototypes, taking wooden frames and overlaying them with girds of rawhide lacing—to improve the snowshoe's buoyancy and reduce weight. As a type of gear, snowshoes have often been a lifesaver for hunters, rangers, rescue crews, and others whose jobs involve a lot of time in the winter woods.
But the first pandemic winter sparked a new wave of public interest in recreational snowshoeing. In early 2020, REI was struggling to keep snowshoes on its shelves. Snowshoeing offers a robust workout—essentially, learning how to walk with a new gait—a chance to get deeply immersed in rustic winter wonderlands, and it's an inexpensive activity to boot. Contemporary snowshoes, which mostly eschew the classic lacing pictured above, are made of lightweight metals and plastics; they include traction for sloped terrain.
Whether you're looking to bumble along a frozen pond or to ascend an enormous hill for panoramic views, snowshoes can be a more forgiving and affordable approach to serene winter adventuring than, say, snowboarding or alpine skiing. If you've been looking to give it a whirl, consider an inaugural trip to these New England snowshoeing trails.
This guide was most recently updated on February 3, 2023.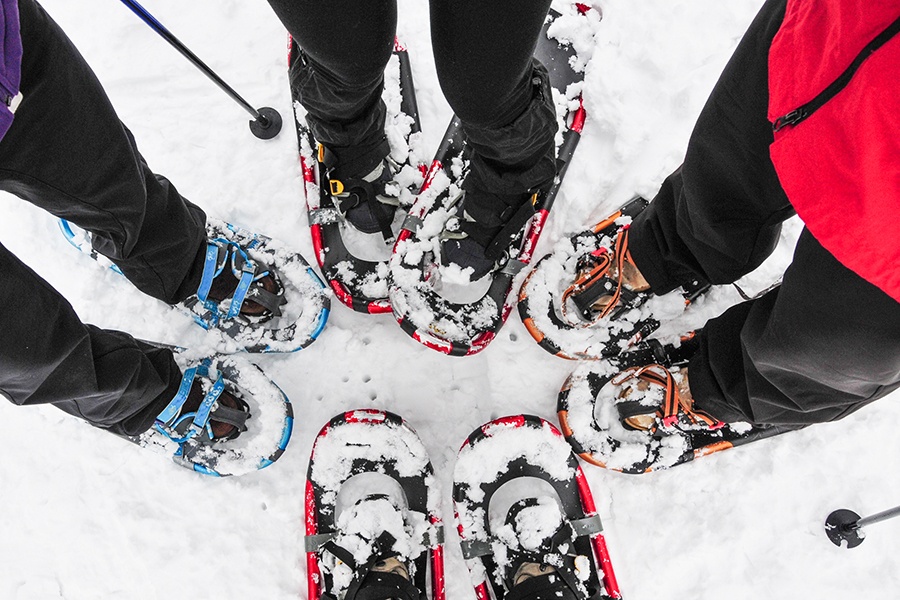 Broad Meadow Brook Wildlife Sanctuary
(Worcester, MA)
Contrary to what most would assume, you don't have to leave the city to go for a stunning snowshoe trek. Tucked in the residential hills of Worcester, Mass Audubon's Broad Meadow Brook Wildlife Sanctuary is the largest urban wildlife refuge in New England, with more than 400 acres of forest and wetlands where owls, rabbits, and deer make regular appearances. And when Broad Brook is freshly blanketed with at least half a foot of powder, it becomes enviable snowshoeing territory. The maze-like trails that meander through the woods here are so inviting in the winter that Mass Audubon offers rental snowshoes through the onsite visitor center, for anyone who's just getting acquainted with the art of walking atop the snow. The five-mile trail system, which features paths such as The Enchanted Forest Trail and the sunny Powerline Trail, are gradually graded and perfect for beginners—or anyone seeking a meditative walkabout through the winter elements.
Broad Meadow Brook Wildlife Sanctuary, 414 Massasoit Rd., Worcester, 508-753-6087.
Northwest Park (Windsor, CT)
When New England's farms go into hibernation mode for the snowiest months of the year, those sprawling fields and rolling pastures become a primo venue for snowshoers. And in the town of Windsor—the first English settlement in Connecticut—473 acres of former tobacco farmland have long-since been transformed into a place for winterized souls to roam and to ramble. Northwest Park features more than 12 miles of snowshoeing trails in its expansive fields and woods―some of which offer excellent views of the Farmington River and beaver bogs on the river's edge. And as you might expect at a former farmstead, the trails at Northwest Park also bypass manmade features such as old tobacco sheds, bird houses, and the park's very own Nature Center. Here you can rent snowshoes, observe live animals, and get nice and toasty again after a gusty hour or two of clomping around the Connecticut snowscape.
Northwest Park, 145 Lang Rd., Windsor, Connecticut, 860-285-1886.
Woodstock Nordic Center (Woodstock, VT)
Whether you're hiking, canoeing, or strapping on snowshoes, traveling from Boston to Vermont is an escalation. If you've gotten the basic gist of snowshoeing and you're looking to do more than amble along an icy brook, then set the controls for the Woodstock Nordic Center. Owned and operated by the Woodstock Inn & Resort, this robust network of skiing and snowshoeing trails encompasses several big hills—which are really more like little mountains, compared to the hills of southern New England. With snowshoes and trekking poles (for balance and stability), you can huff your way to the top of North Peak or The Pogue Hill. Both high points offer banger views of local ponds and waters, and the surrounding Green Mountains. Most modern snowshoes contain a set of dull metal "teeth" on the underside, which will give you a solid foothold on the slopes here. You can rent snowshoes and poles at the Woodstock Nordic Center. Plus, guided snowshoeing tours are also available by appointment.
Woodstock Nordic Center at Woodstock Country Club, 76 South Street, Woodstock, Vermont, 802-457-6674.
Champney Falls Trail (Albany, NH)
Let's say you've stalked across fields and climbed some snowbound hills, and it's been lovely. Now, you're ready to get into wilder and woolier snowshoe territory. First, take a drive along the Kancamagus Highway to admire the White Mountains in all their namesake glory. Then, pull into the parking lot for the Champney Falls Trail and set off into the Sandwich Range on a densely wooded trail that climbs the north side of Mount Chocorua at a gentle-to-moderate grade. After 1.3 miles, a spur trail on your left will take you to the base of Champney Falls, a 70-foot cascade that transforms into a wall of icicles each winter. A narrow gorge to the left of Champney Falls offers a bonus cascade: Pitcher Falls, named for its elegant plume-like shape. Progressing above the Falls will require microspikes or crampons, so plan to begin your return journey from the cascades. And be sure to leave time for a celebratory altbier at Tuckerman Brewing in Conway, or a Shepherd's Pie at May Kelly's Cottage in North Conway.
Champney Falls Parking Lot/Champney Brook Trail, Kancamagus Highway, Route 112, New Hampshire.
---