The Ultimate Parents' Lockdown Guide
Parents, we know you're stressed. With schools closed and social contact discouraged, it's hard to think of ways to keep the kids active, entertained, and educated. That's why we're putting together this guide to getting through a lockdown with your little ones. Browse on for activities for kids of all interests.
Table of contents
Binge-worthy TV and movies
Frozen 2 (Disney+, ages 7 and up)
Disney generously sent this one over to Disney+ early, so if you missed it in theaters, now's your moment to catch up with Elsa, Anna, and the gang. Keep an eye out for more moves like this from the company, too—the latest Pixar entry, Onward, is currently shriveling on the vine at theaters, and it's not out of the question the company will yank it and throw it on the streaming service.
One Day at a Time (Netflix, ages 12 and up)
This Norman Lear-produced reboot got canceled by Netflix and then revived on PopTV, but the first three seasons are still streaming on Netflix. Three generations of a Cuban American family all live in one apartment, and have the sort of sitcom family hijinks you might be imagining, but the show is uncommonly sensitive and heartfelt, with powerful performances from Justina Machado as the single, former military mom, and the two actors who play her kids. But parents will get a kick out of West Side Story legend Rita Moreno's performance as the grandmother.
She-Ra and the Princesses of Power (Netflix, ages 7 and up)
This revival was created by artist Noelle Stevenson (who was also one of the co-creators of the beloved comic series Lumberjanes, a great series for middle graders who like comics), and is a good fit for kids who like adventure stories. There's also a ton of great stories about friendship and working as a team and how to handle conflict, if you're worried it's all sword fights.
Raising Dion (Netflix, ages 11 and up)
A superhero show, but for kids, Raising Dion follows the adventures of second grader Dion, who develops telekinesis powers, and his widowed mom, who's trying to keep him safe. Common Sense recommends it for kids aged 11-12, with some light violence that's generally less than what the usual superhero movies in theaters show.
Pixar shorts (Disney+, ages variable, but are par for the course for full length Pixar movies)
If you're looking for something shorter for the kids, the Pixar shorts collection is the way to go. Pixar bats at an incredibly high average, and the short films they show before full-length features are just as heartfelt and adorable as everything else, but about ten minutes long at most.
On: Disney+
Adventure Time (Hulu, ages 10 and up)
Finn and his talking dog Jake go on a series of adventures (see: the title) in the land of Oo, where they face off against various nemeses to help Princess Bubblegum. Episodes are brief (about 12 minutes, but there are eight seasons), for those with short attention spans, and the show's slightly darker themes and immense creativity have made it a hit with adults, as well.
Dragons: Rescue Riders (Netflix; ages 5 and up)
Featuring kid-friendly dragons and monsters, this off-shoot of the movie franchise How to Train Your Dragon is pure sugar (despite what Common Sense might argue), but is captivating and well done.
Vamparina (Disney Plus; ages 5 and up)
Full of non-scary ghouls and ghosts, this show about a young vampire making her way in the world is great for girls who are looking for a compassionate role model and learning to believe in themselves.
Odd Squad (PBS; ages 5 and up)
Detectives solve mysteries using grade-school math, which means it's a good way for your little investigator to kill a little time. Plus, you know, it's PBS.
Magic School Bus Rides Again (Netflix; ages 5 and up)
A relaunch of the original '90s show, this version introduces science in an easily understandable and fascinating way (how rocks are formed; plate tectonics; how the body works), plus there's a magic bus and it stars the voice of SNL's hilarious Kate McKinnon.
The Aquarium (Animal Planet, all ages)
This brand-new series takes you behind the scenes of the Western Hemisphere's largest aquarium, the Georgia Aquarium in Atlanta. Of course, there are plenty of cute animals like sea otters, and adorable storylines like teaching a young turtle to interact with toddlers. But the show is wonderful for all ages, as each episode provides many lessons in marine biology for older viewers as well, and the aquarium workers and animal trainers are kind and hardworking, never mugging for the camera. And indeed, it's mesmerizing seeing whale sharks and massive rays float through the Ocean Voyager tank, the largest indoor aquatic habitat in the world.
Wild Kratts (PBS Kids, ages 6-8)
Chris and Martin Kratt are brothers and the hosts of this nature-show juggernaut that teaches kids about individual animals, types of ecosystems, and ecological responsibility…but with an equal focus on entertainment. Each episode is a hybrid: In the live half of the show, the Kratt brothers visit nature preserves around the world and explain the concepts in a high-energy but informative way, while the surreal cartoon half animates the brothers as they go on action-packed adventures using shapeshifting bodysuits to go undercover with the animals in order to save them. With science and entertainment entwined like this, kids can't go wrong.
Nature Cat (PBS Kids, ages 3-8)
This wonderfully goofy cartoon is helmed by its titular character, a bumbling feline who knows much less about nature than he thinks he does. Thankfully he has loyal Hal the Dog, tough Squeeks the Mouse, and intellectual Daisy the Bunny to help him learn about everyday nature as they explore their neighborhood. The characters are funny but relatable, and in one recent episode—even among the slapstick hijinks—kids were encouraged to start nature scrapbooks, go camping, and learn how lightning and thunder occur. Perhaps one big reason the characters work so well and have such great comic timing is that most of them are current and former Saturday Night Live cast members, including Taran Killam as Nature Cat himself, as well as Bobby Moynihan, Kate McKinnon, and Kenan Thompson.
Kids Baking Championship (Food Network, ages 6-13)
If you have kids that love to help bake at home…or if you have kids who love to eat baked goods (which is every kid), then they'll love all the baking shows on Food Network. But if they love gawking at the insanely elaborate creations made on the adult-contestant shows, the kids' shows are where they get invested personally. Not only is it fun for them to watch their peers create some pretty impressive cakes, cupcakes, and cookies, but they also get inspired by how they work under pressure, cope with failure, and are gracious in success.
And for when the kids have gone to bed:
McMillions (HBO)
The bizarre and true saga of how a group of people cheated at the famed McDonalds monopoly game in the '90s. The documentary has twists you wouldn't believe, and the sheer number of people the directors got to speak on camera is particularly impressive. A bit of true crime escapism to help you power through.
Exercises for the whole family
Time to kick the creativity into top gear, parents. We've got a lot of time on our hands and an immense amount of pent up energy to burn. Just like we're fumbling with what to do without our fitness studios and gyms—kids are going to be itching for recess and play time.
Jessie Burdick, local strength coach and personal trainer, says to turn everything into a challenge. "Kids love challenges that are timed," she tells me. Turn body weight exercises, like planks, wall-sits, and squats into a competition between you and your kid, your kid and their sibling, or your kid and the clock.
"My favorite thing to do with kids is to tell them to walk with a heavy kettlebell for as long as they can," Burdick adds. "In this case, it could be a bag of canned food—since we're all stocked up on those now."
Partner workouts are also great to implement like push-ups with high-fives or passing a ball in-between, she says. And don't just utilize the couch for gaming or television. Burdick says to use it for things like elevated push-ups, rear-foot elevated split squats, or even triceps dips—as long as the couch doesn't move.
Justin Kompf, personal trainer and exercise science lecturer at UMass Boston, says to take a deck of cards and have your kid pull a card out. For whatever number they pull that's how many squats, push-ups, or you-name-the-exercise they have to do.
"The floor is lava is also a fun game," he says. Utilize household items like pillows, books, and blankets to avoid "burning" in the lava and bet chores on it—cause why not? Heck, Burdick says you can even turn chores into a fun excuse to get moving. Laundry carries, anyone? You also might never see the bathroom get cleaned so quickly and left so spotless.
If you're in need of a little more guidance, the YMCA of Greater Boston is adding virtual and live stream classes within the next couple of days enabling families to work out together at home. Plus, be on the lookout for other local fitness instructors and studios offering similar services, which can certainly be modified for children and adults of all ages and ability levels—using proper judgement of course.
At the end of the day, it's about interjecting a little fun and lightheartedness, through movement, into our time at home—endorphins, baby!—and we can all benefit from that.
Kid-friendly recipes
Petra's Shrimp Tacos by chef Michael Schlow
Starting tomorrow, Boston restaurants will have to close their dining rooms until April 6—and that means "Taco Tuesday" plans are officially canceled. Unless, of course, you pull together these tacos from Tico chef-owner Michael Schlow, a favorite of his daughter, Petra. (Schlow says the recipe works just as well with chicken, too.)
Ingredients (makes two tacos):

* 2 6-inch corn tortilla
* 4 large shrimp, cooked, peeled, deveined, and cut into pieces
* 2 pieces of cooked bacon, cut into pieces
* ½ a ripe avocado, mashed
* ¼ lime, juiced
* pinch of salt
Procedure:

Mix the avocado, lime and salt. Warm the 2 tortillas, either in the oven or on a grill or griddle, for 30 seconds. Place a small amount of avocado on warm tortilla. Place shrimp and bacon on top. Garnish with a bit more of the avocado on top. Serve.
Flaming Hot Cheetos Mac-n-Cheese by chef Jason Santos
What's one easy way to get your kids into cooking? Why, involve a little junk food, of course. Even better, use it to spruce up a comfort-food classic like mac-n-cheese using this recipe from Santos. He included it in a recent cookbook that is based on his New Orleans-inspired Back Bay restaurant, Buttermilk & Bourbon.
Ingredients:

* 4 tablespoon of unsalted butter
* 1 cup of diced bacon
* ½ cup of diced celery
* ¾ cup of diced shallots
* 1 tablespoon minced garlic
* 1 tablespoon of tomato paste
* 1 cup of white wine
* 2 bay leaves
* 1 tablespoon fresh thyme chopped
* 8 oz cream cheese
* 1 cup heavy cream
* 1 cup half and half
* ½ cup of grated parmesan cheese
* ½ cup shredded fontina
* ½ cup shredded gouda
* ½ cup shredded yellow cheddar (If other cheeses aren't available, just add to the cheddar!)
* ½ pound of campanelle pasta, cooked (Or whatever pasta is available to you, says Santos)
* Salt and pepper to taste
* 1 cup of Flaming Hot Cheetos, slightly crushed
* ¼ cup of minced chives
Directions:
Preheat the oven to 400 degrees. In a heavy-bottomed pot, melt two tablespoons of butter and saute the bacon until lightly browned for about 5 minutes. Remove the meat, reserving the fat. Then add the celery, shallots, and garlic and cook for about 3 to 5 minutes. Add the tomato paste and cook for another 3 minutes to incorporate. Deglaze with the wine and reduce by half, about 10 minutes. Add the bay leaves, thyme, cream cheese, heavy cream, and half and half. Bring to a simmer for 10 minutes.
Add the parmesan, fontina, cheddar and gouda and simmer for 10 more minutes. Remove the bay leaves and puree the entire mixture with a blender. Add the bacon back to the pot. Combine the sauce with the cooked pasta and season with salt and pepper.
Divide the mixture into 4 casserole dishes. Melt the remaining tablespoons of butter and combine with the crushed Cheetos and scatter on top of the pasta mixture. Bake for about 7 minutes until bubbly. Garnish with chives and a couple whole Cheetos.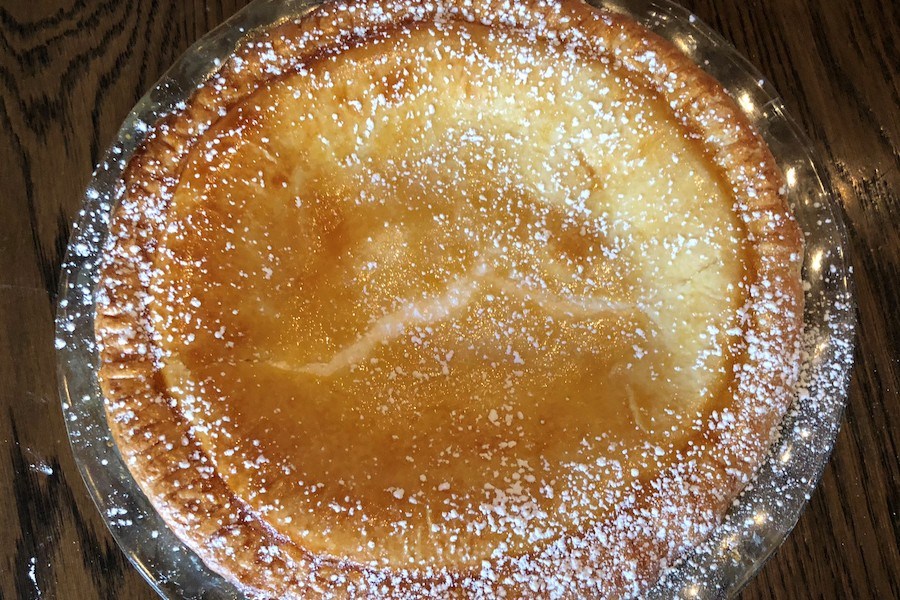 Angelina's Ricotta Pie by chefs Carla and Christina Pallotta
Talk about a family affair: Every single dish at Nebo Cucina & Enoteca, run by this pair of sister-chefs, is inspired by a recipe from their mother, Angelina. That includes this ricotta pie, which should satisfy any cravings for cannoli while your brood is stuck at home.
Ingredients for ricotta filling:

* 2 pounds Ricotta cheese
* 1 cup sugar
* 4 egg whites
Mix ingredients by hand and set aside.
Ingredients for pie crust:
* 2 cups all purpose flour
* ½ cup sugar
* 6 tablespoons Crisco
* 2 teaspoons baking soda
* 3 egg yolks
* 1 egg yolk (separate, to brush pie)
* 2 teaspoons vanilla
Directions:
Form a well with flour. Sprinkle sugar and baking soda over the well. Add three egg yolks, vanilla and Crisco to center. Mix well. Incorporate Crisco into dough. Add water as needed to make the dough easy to roll out.
Divide into two balls. Roll to ¼ inch thick. Place one dough in a pyrex pie dish. Fill with ricotta. Cover the ricotta with the other piece of rolled dough; leave extra dough at edges. Fold over the extra dough to close. Beat the last egg yolk and brush over the crust. Bake at 325 degrees for 1 hour (check at 50 minutes).
Board game recommendations
When your eyes get tired of all that blue light from binging every show you've been meaning to watch, it's time to turn to some good old analog entertainment. We polled our coworkers for their favorite board games, as well as David Leschinsky, owner of Eureka! Puzzles in Coolidge Corner, for his top recs when you're staying indoors and you have nothing but time. "Mark Twain reportedly said that you can learn more about people in three hours of gameplay than you can in three days of conversation," says Leschinsky. So go ahead: Collaborate, create a little friendly competition, and maybe even grow closer in the process. And don't forget—win or lose, you'll be stuck with your fellow players, so keep it cordial. Plus, Leschinsky recommends washing hands, wiping down game components, not touching your face, and keeping a box of tissues handy are all winning moves.
If you want to support a local business (and don't want to wait for Amazon), Eureka! Puzzles is currently planning to have normal hours this week, and is practicing best sanitizing measures in the meantime. However, be sure to call before heading over just in case. Not comfortable going into the shop? You can also have them ship to your house, or if you drive by the store, an employee will run out and bring the game to you.
Pandemic: It may be a little on the nose, but it's also never been more relevant. The game board is a map of the world, and the job of the two to four players (playing the role of researchers, quarantine specialists, medics, and more) is to stop the spread and find the cure.
Codenames: Spymasters must choose their words carefully in this two to eight player card game—make your clue too obvious, and you'll give it away, but make it too cryptic, and you risk confusing your own teammates. Rounds fly by in 15 minutes, so you can whiz through multiple games in an afternoon.
Dixit: Let your imagination run wild in this storytelling adventure. Based on beautifully illustrated cards, participants spin the best tale they can, and everyone gets a solid storytime out of it.
Bananagrams: The banana shaped packaging is as cute as this game is fun. Like Scrabble's more fast-paced cousin (no endless waits for the hourglass to run out), this one is all about seeing how quickly you can form an interconnected web of words. Bonus: Great for practicing vocab while schools are closed.
Sushi Go!: Picture the moving conveyor belt at a sushi restaurant—this game involves quickly collecting the adorable sashimi, nigiri, and wasabi cards to gain the most points. You'll likely work up an appetite, so losers and winners alike should try to make some homemade sushi afterwards.
Arboretum: Plant your own lovely woodland in this diversion that grants points to those with the prettiest parks. Of course, if you live near a living arboretum and can give fellow visitors at least a six-foot berth, go enjoy the fresh air.
Jigsaw puzzles: Not only are puzzles strangely relaxing (and in our experience, addicting), but they're all about working together and you can start and stop them as you please. And "when you're finished, you have a wonderful picture—as well as boasting rights," says Leschinsky. Eureka! Carries about 2,500 puzzles of all kinds, including a Disney-themed Ravensburger with more than 40,000 pieces.
How to play teacher at home
This week is the first where your kids are staying at home from school, but as many public health officials and school administrators stress, social distancing means that this is not an extended snow day where your kids can just do what they want. But on the plus side, you don't have to think of this hiatus as a lost period of time to educate the kids. Many local school districts are emailing materials and resources to families, and there are also a great selection of educational websites and lesson plans online to keep those young brains working, growing, and staying healthy. These four free options are just a start.
The huge children's book and educational publisher offers daily lessons, with four learning experiences, tailored to individual grade levels from pre-K to sixth grade. Topics include nature, robotics, American history, and music, along with e-books and videos to help introduce the topics and keep them entertaining. Free with online registration.
This nonprofit has been helping students of all ages around the world to learn online, in subjects as far-ranging as AP chemistry, 2nd grade math, art history, and storytelling. Students earn progress points as they move through the detailed lessons in this deep curriculum that has been educating learners for years before the coronavirus crisis. Free with online registration, though donations are encouraged.
Lesley University's Center for Mathematics Achievement
Math educators at our own Lesley University have teamed up with the Kentucky Center of Mathematics to create a vast list of resources that will educate and engage kids from preschool through 5th grade. It's a Google Doc packed with links to activities, online games, printable worksheets, and even educational songs. Obviously a labor of love by these educators, this is your one-stop list to making your child's school days at home fun and fulfilling. Even better, almost all of the activities are free, with the exception of a couple online games.
Over the past several years, this educational app produced by the Lifelong Kindergarten group at the MIT Media Lab has been using visual cues, basic math, and simple commands to teach kids about coding, and has grown exponentially in popularity in Boston-area schools. Kids can use these elements to create animated movies, but by creating them using increasingly elaborate steps, they're not only having fun being creative but getting an early leap forward into their technological education. Scratch is for kids ages 8 to 16, and its simpler edition, Scratch Jr., is geared to those ages 5 to 7. Free, but donations are encouraged.
Get a jump start on spring cleaning
Cue up the kids' favorite playlist, because there's a whole lot of time for tidying ahead. Here are eight boredom-busting projects that are just as productive for you as they are enjoyable for youngsters.
Craft Supply Testing
Lay all paints and markers out in a large pile along with sheets of paper and have the kiddos doodle and create while also sorting out unusable, dried up markers and paints into a pile to be tossed.
Chore Chart Masterpiece Making
Now that you know which markers are in good shape, have the kids use them to create their own chore charts with your help. This will help you both prioritize what needs to be tackled when and learn what they'd most like to help out with establishing an encouraging system. Pro tip: Nothing maintains good habits quite like sticker rewards.
Skating for Dust Bunnies
Have dusting sheets on hand? Now's the time to use 'em, and have some fun with them too. Put a cloth under each foot and dance and skate all around the house picking up dust along the way. (Don't miss those often-overlooked corners!)
Fridge Scavenger Hunt
There are two things most kids are captivated by: scavenger hunts and anything that the rest of us find, well, squeam-inducing. Have them pull on some rubber gloves, and scour the refrigerator for items that are past their expiration dates. If you haven't done this in a while, they'll be sure to make some fascinating discoveries towards the back of shelves. And you'll free up plenty of room for your big grocery store haul.
Loose Change Treasure Chase
When the kids are ready for another scavenging mission, give them a small bag or jar and send them off on a search around the house for loose change. Tell them they can keep the spoils and they'll be flipping over couch cushions in record time.
Beat the Clock
Pick a room in the house and have the little ones pick up and put back in place any items left on the floor or on chairs or countertops. The catch: Set a timer and challenge them to tidy the entire room within the allotted period.
Sock Matching Spree
Never have the time to pair up the family's clean socks? Have kids sort through drawers or piles of fresh laundry with the task of reuniting them with their other halves.
Closet Clean-Out
With a new season comes the perfect time to sort through last year's spring and summer clothes. Ask the kids to put on a solo fashion show with the clothes and shoes in their dressers and closets, trying them on and sorting them into piles to keep and donate. If this task was a breeze, have them sort through dress-up clothing and toys next.
Work on some at-home science experiments
As you've assuredly noticed if you have found yourself suddenly at home with school-age kids, their minds require lots and lots of stimulation. And if you'd rather they didn't find it exclusively in mindless iPad games, getting them to roll up their sleeves and do some hands-on science experiments is one way to keep them occupied, and maybe make up for all that lost classroom time in the process.
After all, says science educator Jessica Garrett, science just doesn't have the same resonance with kids if they can't see, feel, smell (and potentially get delightfully grossed out by) experiments up close. "I think doing science experiments at home can be a fun way to learn with family and to exercise your curiosity," she says. "At home, kids get to be independent investigators and be the first to find something out. Science is all about wondering why and how something happens. It's about asking questions to discover how our world works. Then those questions can lead to even more questions and explorations."
Garrett taught in Massachusetts schools for six years, has worked at MIT's education-focused Edgerton Center, and in 2016 co-authored a book for kids called, Oh, Ick!: 114 Science Experiments Guaranteed to Gross You Out! With Garrett's permission, we've reprinted a handful of experiments from the book, which she says are fun and easy to try at home. Crucially, during these uncertain times, the required ingredients are likely to be readily available in most kitchen cabinets, so won't require any trips to overrun grocery stores.
A belching bottle band
Go fetch:

3 rinsed-out plastic bottles (similar or different sizes)

Enough space in your freezer to hold the 3 bottles

3 quarters

Bowl of water
They may not be as big as Beyoncé or the Beatles, but this rockin' little belch trio will give you a better understanding of how burps work.
Use the marker to draw a pair of eyes and nose on each bottle. The bottle openings will be their mouths.
Put the uncapped bottles in the freezer and wait one hour.
Before you remove the bottles from the freezer, put the three quarters in the bowl of water. You only need enough water to get the quarters wet.
Remove the bottles from the freezer and immediately place a wet quarter over the opening of each bottle. The quarters will act as the sealed lips over the mouths of the bottles.
Wait for your band to warm up—literally! After a few seconds (depending on how warm your kitchen is and the size of the bottles), the bottles will start to burp, causing the quarters to rattle on top of the openings.
Each bottle should produce several polite burps. A burp might move the quarter off the center, breaking the seal. If necessary, carefully reposition any quarter that was moved to create a new seal and enjoy a few more burps.
What just happened?
Air is made of gazillions of tiny particles of different gases, such as nitrogen, oxygen, and carbon dioxide. The air inside each bottle chilled when it was in the freezer but warmed up again when outside. When gases get warm, they expand and take up more space. They need to get moving—just like you and your buddies when school lets out for the day. So, the gases tried to escape from the bottle, but the quarter kept them trapped. The water on the quarter created a better seal, completely trapping the air inside. (This "stickiness" property of water is called adhesion [ad-he-zhun]. Adhesion is why small water droplets can stick to a window instead of falling down.)
As the air inside the bottle continued to warm up, the increasing air pressure eventually became so strong that it overcame the water adhesion and weight of the quarter, breaking the seal and pushing the quarter off. Your bottle has burped, and a rock star is born.
Something So Cool It's Hot
Go fetch:

An adult to help with hot liquids

4 cups white vinegar

4 tablespoons baking soda

Medium saucepan (stainless steel, enamel, or glass. Don't use copper!)

Spoon

Container that can go in the fridge and microwave, like a plastic takeout dish or a coffee mug covered with plastic wrap

Refrigerator

Plate

Thermometer (optional)
Want to do some REAL chemistry? Well, dear science wizard, today is your day. You're going to make sodium acetate, a really interesting chemical, and then get it to crystallize on your command. It's a super-cool "super-cooled" liquid! And all it takes is good ol' vinegar and baking soda, and a little bit of patience. Well, a LOT of patience…. This takes a long time to boil and may not even work the first time you try it. But persevere, and your labors will be rewarded with lots of hot-and-cold fun.
Pour the vinegar into a medium saucepan
Add 1 tablespoon of baking soda at a tie, letting the bubbles disappear before you add more. Enjoy the show each time!
Stir (once all 4 tablespoons have been added).
If you have a lot of patience, then you could just set this on a shelf and let it evaporate for 2 weeks. But if you want it sooner, then put the saucepan on the stove and turn on low heat. Leave the cover off. It will take between 1 to 2 hours to boil off all the water. The lower your heat, the less likely it is to turn yellow. (But since this book is about icky things, you might like making something that looks like yellow snow. If you don't mind, then you could boil it down in about a half hour.) Enjoy reading more of this book while you wait.
You want to boil off about 90 percent of the liquid. When the liquid level gets low, keep a close eye on it. You are looking for little crystals to form on the top, similar to the ice fronds that form on a cold window. As soon as you see crystals, take the pan off the heat and cover it. (this prevents more evaporation from happening). You now have sodium acetate trihydrate.
Pour the liquid into another container and cover with plastic wrap or another kind of cover Scrape some crystals off the sides and bottom of the pot to save for later. You can put those in a separate container or on a small plate. Don't wash out your saucepan yet. You might need it again if your first try doesn't work.
Chill your liquid in the refrigerator until it is cold to the touch. Or, if you are getting impatient, make an ice bath for your liquid by putting some ice cubes in a baking dish, and add some water. You could even throw a little rock salt into the ice bath because now you know that makes it even colder! Put your container of liquid in the ice bath, being careful to keep it covered.
Once your liquid feels cool to the touch, take the temperature with a clean thermometer. It will likely be 15-20° C (59-68° F).
Drop one of the crystals you set aside into the liquid. What happens? The liquid should turn into solid crystals really fast! And it should get surprisingly HOT! That's hot-AND-freezing! Amazing! If nothing happens, dump it back in the pot, add a little more vinegar, and boil it down again. Our first "failed batch froze instantly when we added a teaspoon of vinegar, stirred, and poured it all back in our saucepan! (Another method to get the liquid to freeze is to sprinkle a tiny bit of baking soda on it. This will contaminate the mix, so after it freezes, add a teaspoon of vinegar, mix, and boil it down a little.) If you get really frustrated, or are really into this ick-speriment, your friendly adult can purchase sodium acetate trihydrate online. It will make nice white crystals instead of these homegrown yellow ones.
Feel the "ice." What do you notice? If you have a thermometer, stick it in the "ice" and take the temperature. That's hot!
Want to play again? Melt the sodium acetate in your saucepan. Even easier, nuke it for 45 seconds in your microwave in a microwave-safe covered mug or plastic container. Swirl to make sure all the crystals melted. Then cover it and put it back in the fridge until it's cool. Always keep it covered once it's become liquid sodium acetate trigydrate. You can use it over and over again if you keep it clean.
Clean up your mess and wash everything with soap and water so that the dishes will be safe to use for food again.
What just happened?
You made "hot ice!" Yes, it is really frozen, but don't use it to chill your drinks. It will actually warm them up! And though it's not toxic, it sure tastes nasty.
If you've already read about acids and bases (page 11), you know that when you mix vinegar and baking soda, you get a chemical reaction. Mixing those two produces carbon dioxide gas (which you saw bubbling up), water, and sodium acetate. That's three new products! When you boiled down the liquid, you made a special kind of product called sodium acetate trihydrate. Putting it in the fridge cooled it quickly to make a super-cooled liquid. Basically, super-cooled means you cooled it below the temperature at which it would usually freeze into a solid, but it didn't become solid.
Here's the really "cool" part. Super-cooled liquids will freeze really quickly, but they need a little kick-start. Add something like a piece of dust or another crystal, and the liquid will start to crystallize around the solid bit until it's all froze! This happens in nature too. Freezing rain is an example of super-cooled water. IT's liquid, but it freezes the second it hits the road or your car's windshield. Sliiiiippery!
But why did your "ice" get hot? Heat is released when molecules go from a less ordered state (moving around in the liquid to a more ordered state (being stuck in a crystal). When they were in liquid form, the water molecules were actually zooming around with quite a bit of energy (not as much energy as they'd have in a gas, but more than in ice). When they were forced to sit still in ice—or mostly still' they still vibrate, kind of like kids trying to sit still in class—the energy they had was released into the surrounding air as heat. That's why the ice felt hot! And that's the way many instant hand warmers work!
Want more fun? Try making hot towers. Put one of the tiny crystals from your pan on a small plate. Begin to pour the super-cooled liquid slowly onto your plate, right over the tiny crystal. The liquid should immediately start crystalizing, and you can make a tall ice tower.
Pick up one of those extra crystals you set aside with a small spoon and stick it in the super-cooled liquid. The liquid should form solid "ice" around the spoon. We don't recommend using your finger, as the liquid gets quite hot!
Jumping Thumbs
Go fetch:

Your eyes

Your thumb

An object in the distance
Because your eyes are in slightly different locations on your head, each eye sees a slightly different scene. Your brain puts the two scenes together to create one clear image. Here's a fun activity to help you understand this concept.
Look at an object in the distance, such as a light switch on the wall
Close your right eye.
Hold up your right arm and line up your thumb with whatever object you are looking at.
Don't move a muscle other than the ones in your eyes. Open your right eye and close your left. Did your thumb jump?
Compare how much it jumps when your thumb is close to your face ato how much it jumps when it's as far away as you can reach.
What just happened?
This little activity shows that each eye sees a slightly different image, making your thumb appear to hop as you switch between eyes. The illusion of your thumb moving is called parallax. The word comes from the Greek word parallaxis, which means "alteration."
Parallax allows us to see depth—giving us 3D vision! Astronomers can also find out how far away nearby stars are by using parallax. They take a picture of a star in January (when the Earth is on one side of the sun) and again in July (when the earth is on the other side). Imagine that those two points of the Earth's orbit are like two giant eyes in the sky. Because we know the distance between those two location (186 million miles—that's the diameter of the Earth's orbit), astronomers can then compare how far the star "jumped" in relation to stars behind it. And from that they can calculate the distance from the Earth to that star!
Holey Hands!
Go fetch:

Piece of paper (8.5 x 11 inches) or an empty paper towel or toilet paper roll
Okay, okay… don't get all worked up. We're not going to make you cut a hole in your hand. But (together with your awesome eyeballs and brain) we can give you the ILLUSION of one.
Roll up the paper the long way, so that you have a tube that is about a half inch wide.
Put the tube up to your left eye, holding it with your left hand.
Put your right hand about 3/4 of the way down the tube so that the tube rests in the curve between your thumb and pointer finger.
Keep both eyes open. With your left eye look through the tube, and with your right eye look at your hand—at the same time. Can you see the hole in your right hand?
Slide your right hand up and down the tube. Where can you see the hole best? What happens if you put your right hand far away?
What just happened?
Your brain got two images but couldn't make sense of them. It freaked out, so you saw both at the same time, making it look like you had a hole in your hand!
Antigravity Rust?
Go fetch:

4 empty, skinny see-through spice jars (or test tubes), lids not necessary

Pen

Tape and small pieces of paper or sticky notes

Measuring spoon and measuring cup

3 small bowls

Vegetable oil

Steel wool

Salt

Water

Flat, see-through container that's large enough to hold all the spice jars, such as a Pyrex baking pan or food storage container

Food coloring (optional)
Want to see some rust in action? Don't worry, you don't need a junkyard or giant bridge. In this experiment, you'll run a rust race with steel wool, and you'll see water "magically" defy the tug of gravity.
Think about a hypothesis. What will happen to the steel wool when it comes in contact with water, salt water, oil, or just air? Which one will cause the most rust?
Label your jars with the pen and tape (or a sticky note). They will be called salt water, water, oil, and control. Stick the labels about halfway up each jar.
In one bowl mix 1 teaspoon of salt with 1/2 cup of water, in the second bowl just add 1/2 cup of water, and in the third bowl add 1/4 cup of vegetable oil.
Rip the steel wool into four pieces that are the size of the width of your spice jars—about the size of a large cotton ball. You want the steel to fit so snugly in the bottom of the har that it won't fall out when you hold the jar upside down.
Take the first piece of steel wool and dunk it into the salt water. Squeeze out the excess water, stretch the wool out a bit, and then shove it down into the bottom of the jar labeled salt water.
Take the second piece of steel wool and dunk it into the oil, then squeeze out the excess oil. Stretch it out and then shove it into the bottom of the jar labeled oil.
Take the third piece of steel wool and dunk it into the plain water. Squeeze out the excess water, stretch it out, and shove it into the bottom of the jar labeled just plain water.
The fourth piece of steel wool will stay dry. The cool science word for this piece is the control. A control is the part of an experiment that you don't do anything to. This enables you to compare your results to a piece of "normal" steel wool. Shove it into the bottom of your jar labeled control.
Place the jars upside down into the see-through container. (Remember, don't use their lids.)
Add about an inch of water to the container. Before you pour it in, you might want to add a few drops of food coloring to make the water level more visible. Notice how the water level inside the jars is lower than the water level of the container. This is because the air in the jars is preventing water from rising up inside the jars.
Pledge not to lift the jars out of the water for two to three days. Keep them safe from nosy relatives or pets with a strong interest in science. You don't want them to accidentally ruin your experiment.
Each day, check for rust forming on the steel wool. Equally important, keep your eye on the water level inside the jars as compared to the water level inside the container.
What just happened?
Congratulations, you've grown your very own rust! Okay, that's not quite true; rust isn't alive, so it doesn't actually "grow." Rust (or iron oxide, as it's technically called) is simply two iron atoms connected to three oxygen atoms with water molecules attached, and it forms when iron is exposed to air and moisture. The steel wool is full of iron, but where did the oxygen come from? It came from the air inside the jar. Air is a mixture of different gases, but it's mostly made of two gases: nitrogen (78 percent) and oxygen (21 percent). So, there was plenty of oxygen just hanging around in the jar.
Was your hypothesis correct? The most rust probably formed on the steel wool that had been soaked in salt water, because salt helps speed up the rusting process. The oil-coated steel wool probably had the least rust, because the oil acts as a raincoat, keeping the water away from the steel wool. Iron needs water to rust.
Now, check the water level inside the jar with the most rust. We bet you'll see that it's higher than the water level of the control container. The water inside the jar seems to defy gravity! But it isn't magic—just air pressure. When you started the experiment, the air pressure in the room was equal to the air pressure in the jar, but after the oxygen in the jar combined with the iron in the steel wool, there was less oxygen gas available to push back against the water. It looks like the steel wool is sucking up water, but that's not what happened. The air pressure in the room pushed the water higher up into the jar, where there was less air pressure. Air can be SO pushy!
pHinders Keepers
Go Fetch

An adult (boiling water is involved here)

Red cabbage

Cutting board and knife

A cooking pot

Water

Strainer

Bowl

Spoons

White bowls, glasses, or paper cups

Edible liquids, like vinegar, lemon juice, apple juice, and soda, and mild household cleaners, like dish soap

(Science Safety! Never play with bleach, ammonia, rubbing alcohol or hydrogen peroxide. They are toxic and can create more toxic chemicals when mixed. Always ask your parents before you mix any chemicals and double check the ingredients. Right now, cleaning supplies are in short supply so it's best to keep them for cleaning anyway.)
You probably spent some time on a seesaw when you were younger. Every once in a while the seesaw would be perfectly balanced, with both ends equally off the ground. You could say that acids and bases are on one big seesaw too, but instead of a piece of playground equipment, chemists made up something called the pH scale. And just like the playground, it's tons of PHun! (Aren't chemistry jokes great?)
The pH scale is the way scientists divide the world up into acids and bases using numbers. The pH scale starts at 0 and goes to 14. Anything with a number from 0 to just under 7 is acid. Anything more than 7 up to 14 is a base. Pure water is right smack-dab in the middle at 7. Your blood is just a scooch over—around 7.4 on the scale. Different chemicals in your body have different pH numbers—for example, stomach acid has a much lower number (more acidic pH) than your saliva.
Lick a lemon! SOUR!!!! That's one way to tell if something is an acid. Remember, acids tend to taste sour and bases taste bitter. But, since many acids and bases are truly ICK-tasting or even poisonous, there's a tongue-free way to find out if something is an acid or base. A pH indicator measures the pH of a liquid and changes color depending on whether it is an acid or a base. You can buy fancy pH paper (also called litmus paper), but you can also save money and rustle up a pot of pH-testing potion in your own home. Then use it to test your hypothesis about which liquids in your house are acids and which are bases! Here's how:
Before you start, develop some hypotheses about the liquids you've gathered. Which ones do you think will be acids, and which will be bases? Why?
Ask your friendly adult to help chop up about 2 cups of red cabbage leaves. The pieces should be small but not so tiny that they can slip through your strainer.
Put the cabbage pieces into the pot and add just enough water to cover the cabbage. Bring the pot to a boil and let simmer for about 20 minutes or until the water is dark purple.
Remove the pot from the heat and let it cool.
Strain the cooked cabbage juice into a bowl. It's the purple juice that you're after: When it comes to testing pH, this stuff is more valuable than liquid gold. Why? Because red cabbage juice changes color when exposed to acids or bases. (The leftover cabbage pieces are perfectly edible).
It's pH test time. Pour two spoonfuls of a household liquid into a white bowl, glass, or paper cup.
Mix in one spoonful of your cabbage juice indicator. There's a good chance that it will turn color. The color suggests the pH of your test liquid (though it's not going to be quite as accurate as the pH strips that you can buy).
Repeat Step 5 with other liquids you can find using the other white bowls, glasses, or paper cups. Try to assemble an array of different colors to make your own pH scale! Were your hypotheses correct?
Acids:
pH 1-2—dark red
pH 3-4—purple
pH 5-7—blue
Bases:
pH 8—blue/green
pH 9-10—green/yellow
pH 11-12—yellow
What just happened?
The reason that many plants and flowers are red, purple, or blue is because they contain colorful chemicals called anthocyanins (an-tho-si-ah-ninz)—the word means "blue flower." Apples, cranberries, blueberries, strawberries, and definitely red cabbage are full of these pigments. When you cooked the cabbage, anthocyanins leached out of the leaves and into the water. Anthocyanins normally look purple but they change when they get near hydrogen. Acids have lots of extra hydrogen floating around. So when you mix and anthocyanin with an acid it turns pinkish. Think of anthocyanin as being embarrassed by acids. It blushes! Anthocyanin reacts differently around bases, turning blue, yellow, or green with envy (ha-ha), depending on how strong the base is.