About
Life's most important moments deserve nothing less than Designing Images Florist and Event Planning. We will can help you express yourself with a level of elegance that will long be remembered and appreciated.
Our unique floral arrangements blend colors with structure and depth to present the flowers with both eloquence and aesthetics. Our wish is to create aad have your vision come to life for the day of your dreams.
Our Designing Images event planners can also provide theme props; lighting; linens; chairs; tables; custom favors; balloons; candy; and more. Contact us at 781-961-8100 to schedule an appointment to discuss your specific requirements.
What is your typical process for working with a new client?
Phone consult or person to person consult
What services are you most excited to offer?
Designs for weddings
What makes your business stand apart?
Our personalized service
What do clients have to say about you?
Simply the Best
Carole and her Designing Images team exceeded our expectations. From the moment our daughter and son-in-law met her; they knew she was the one to make their vision come together. Being from out of town; the bride and groom were happy with her familiarity with the venue and our other vendors as well as her knowledge of the variety of flowers that would be available and would work with their ideas. Her creativity and pleasant personality made them feel comfortable. They never felt rushed or criticized for their questions or requests as Carole listened and executed their vision through pictures and samples. The day of the wedding Carole arrived with all bouquets and boutonnieres and presented them to the bride and groom. She stayed as the bridal party lined up to make sure all was set. Entering the room was a dream come true. Everything that was asked for was done with beauty and class. We highly recommend this magical team.
100% recommend Carole & team
Had wedding October 2019 at the Ritz-Carlton in downtown Boston. Carole went above and beyond from the first time we spoke by phone. Designing Images was spot on with the flowers - creating the exact look and feel we had dreamt of with warm colors and romantic tones. We received countless compliments from guests; describing the elegance we had achieved. I would absolutely recommend Carole to any bride or event. She and team won't disappoint!
Amazing! 5 stars
This is an amazing florist. I highly recommend them for a wedding or any occasion. I found them on the Knot and I am so glad I did. Carol is amazing to work with; very responsive to emails and easy to get in touch with. The quality of their arrangements is amazing. They are reasonably priced as well. My wedding flowers were more beautiful than I could have ever imagined they would be. Thank you Carol and Designing Images!
Hours of operation
Tuesday to Friday 9-5 (covid hours 10-4) Saturday 9-2 (Covid 10-1)
What geographic areas do you serve?
Boston & surrounding metro
What items or products you can provide to clients?
Flowers; lighting; linens; chairs; dance floor- props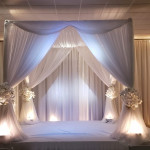 Keywords:
flowers; linens; lighting; props